In the previous article about survey results we had the chance to find out why It's great to have more than one tier of services to offer to your clients. And what's best about it, is that it was based on the actual results provided by you, WordPress professionals. We couldn't have done it without you!
We received a lot of positive comments and decided to do a follow-up, giving you back some extra information and consolidating statistical data into practical, real-life, actionable insights. Here we go.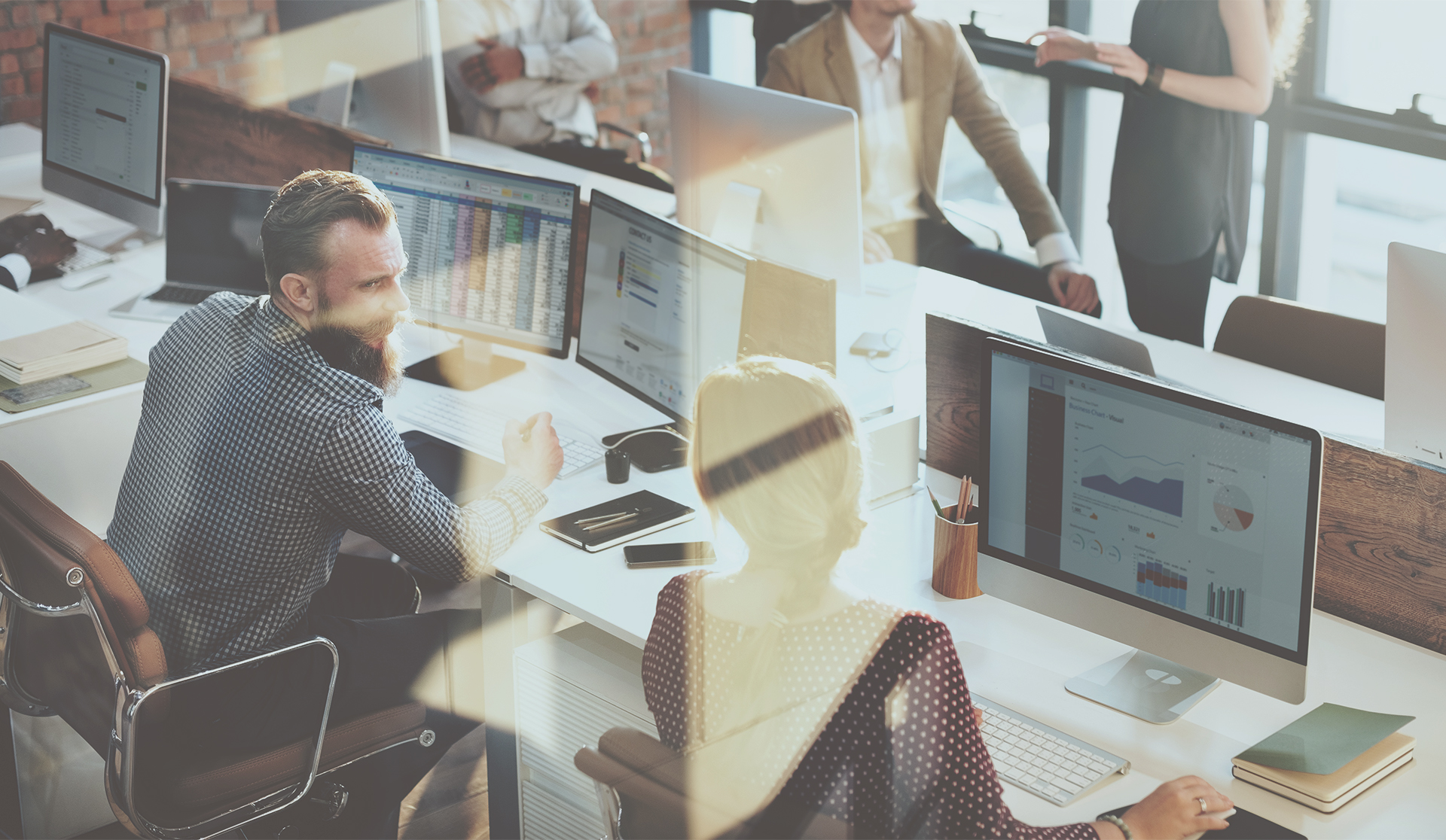 Location, Location, Location
As we move further into the digital age location is becoming a more and more 'unimportant' category in defining someone's online business. More often than not clients find the location irrelevant when choosing their business partners (as long as you are at their disposal when they need you).
However, most of those clients are connected to the 'local' or regional markets that are subject to all of the rules and economic factors that are specific to individual countries (average pay, cost of business, taxes, cost of living, etc).
Therefore, we decided to present the data according to the location and to see what valuable information  we can deduce from that.
Since we had a lot of submissions from many countries we decided to group the results and deliver only the data that represented the 'bulk' of the entire set. We also decide to honor the exit of the UK from the European Union by giving them their own group category.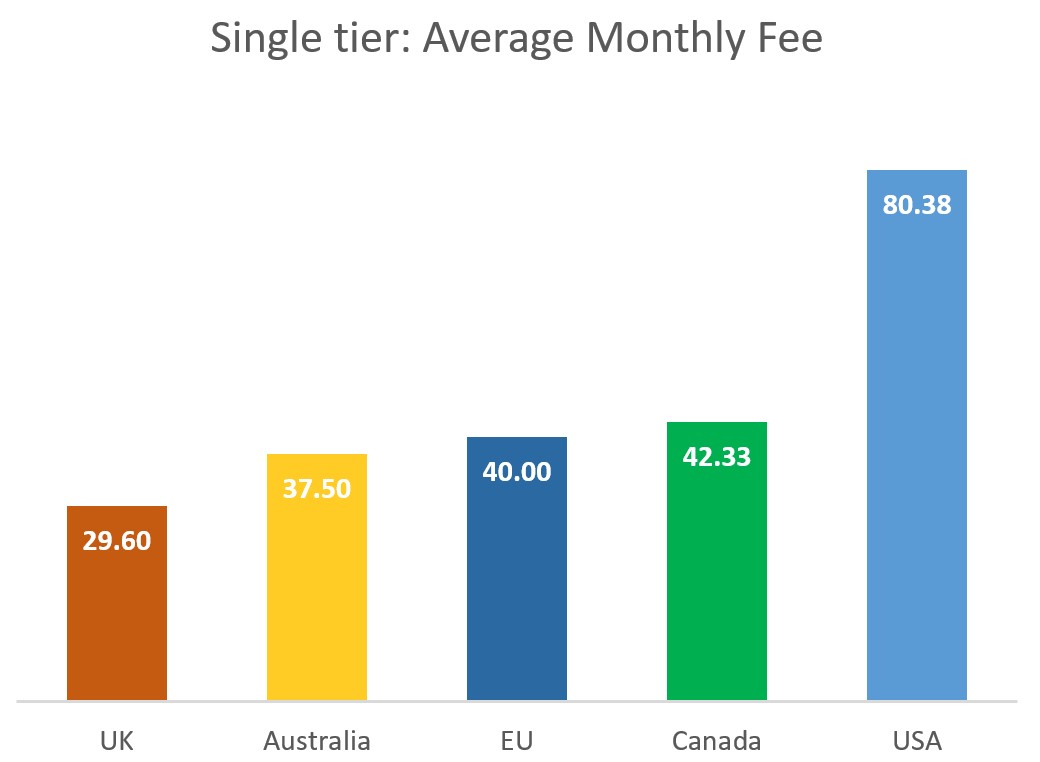 It was a revelation to see that the WordPress maintenance services are valued so greatly in the US. The average monthly fee for WordPress maintenance services in the US is nearly double compared to what is charged in other groups (Australia, EU & Canada) with the UK having the lowest average cost.
We must emphasize here that the results from UK & EU are a bit lower compared to the other groups because they are (in most cases) shown without included taxes.
While analyzing the results for multiple tiers, we found out that the results vary greatly so we decided to throw out a few of the 'outliers' as they are far away from the bulk of the other submissions and have a great impact on the final results.
Here are somewhat 'normalized' results that give valuable information about average monthly fees in Top and Bottom tiers respectively.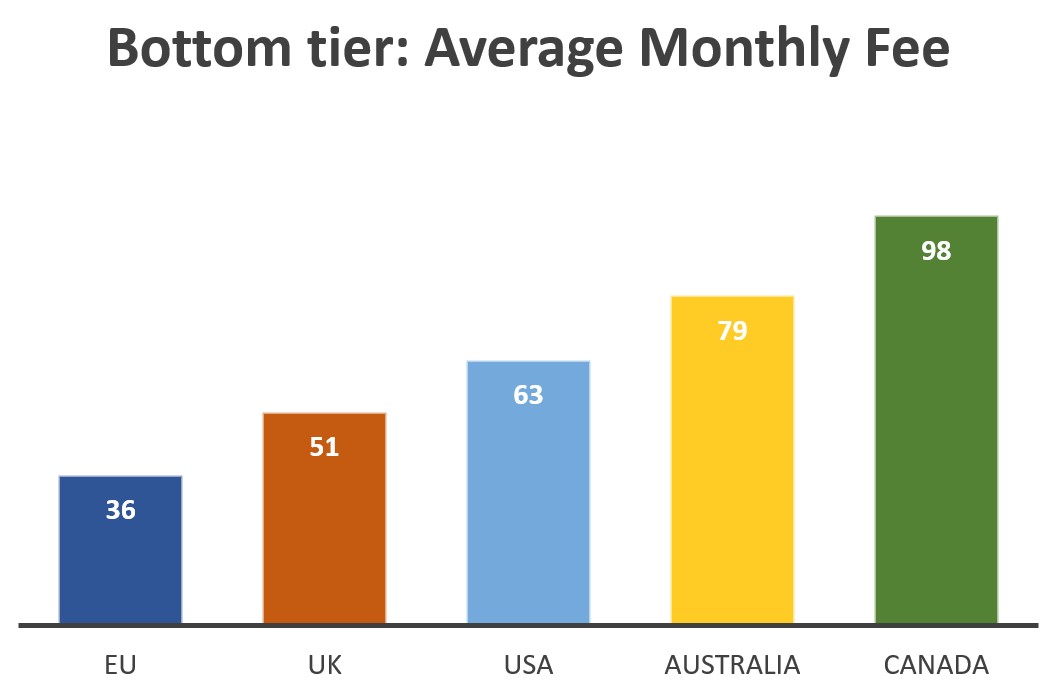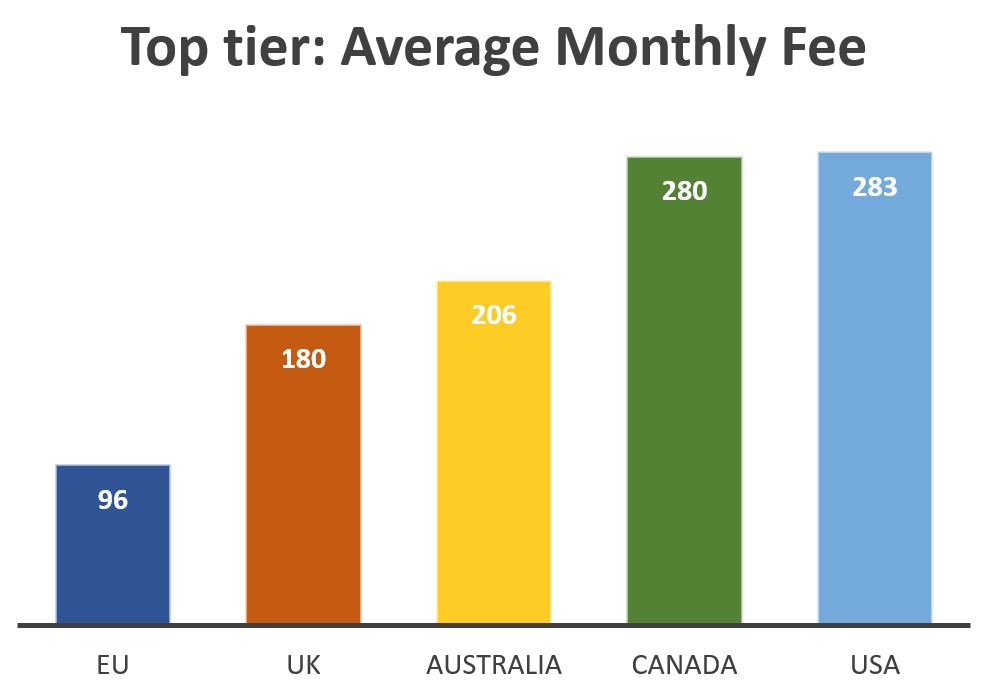 As we can clearly see the EU has the lowest rates for WordPress services in both categories, while US and Canada keep their top spots.
Key Takeaway
We can conclude that in the US and Canada WordPress & IT professionals are highly valued, and while such trends are somewhat transferred to the UK & Australia, it is definitely not so widespread in the EU and the rest of the world.
It definitely pays off to have US/Canada based clients.
Value of Services
We also wanted to dig a little deeper into the value of each service offered, so we analyzed the monthly fee, distributed it for each offered service and finally displayed the results in a way that was easy to 'read'.
Single Tier Services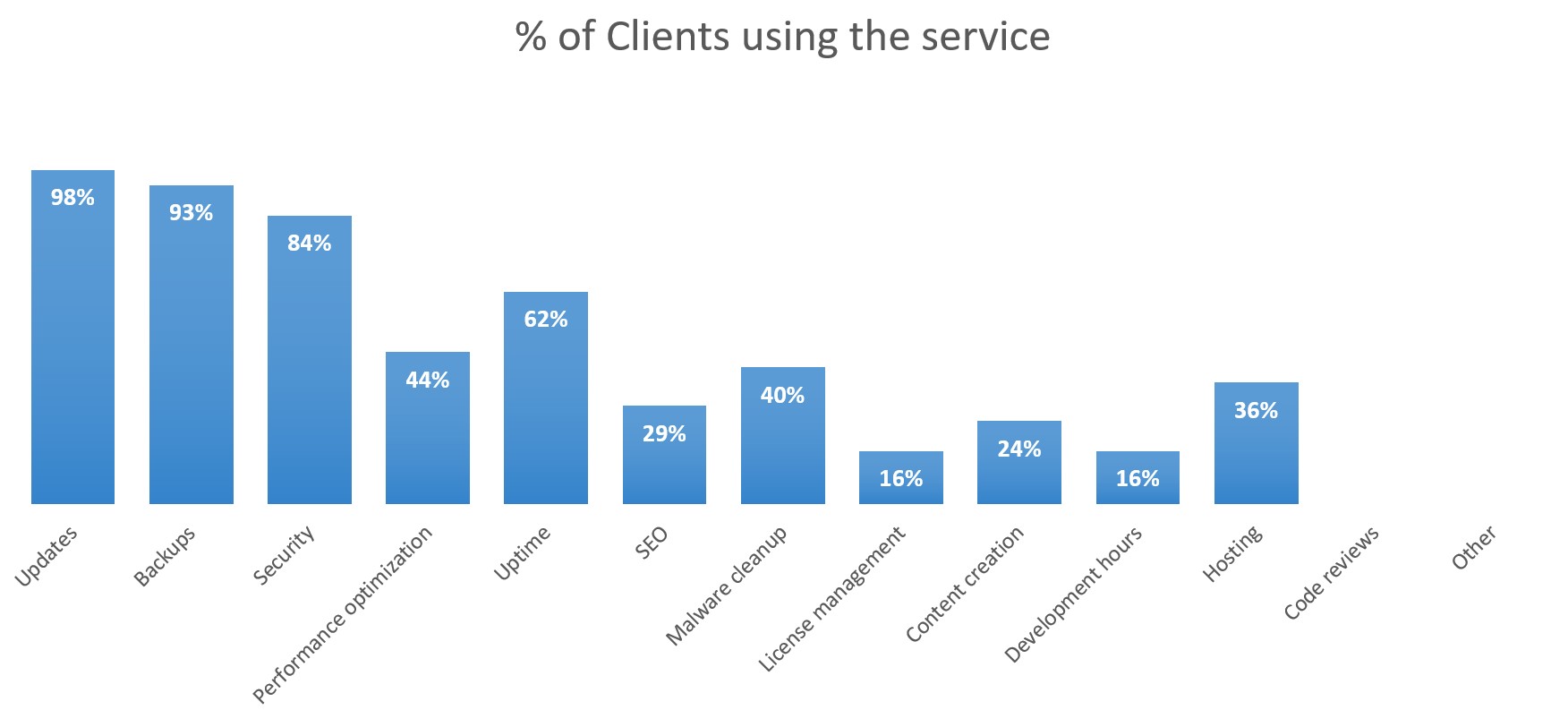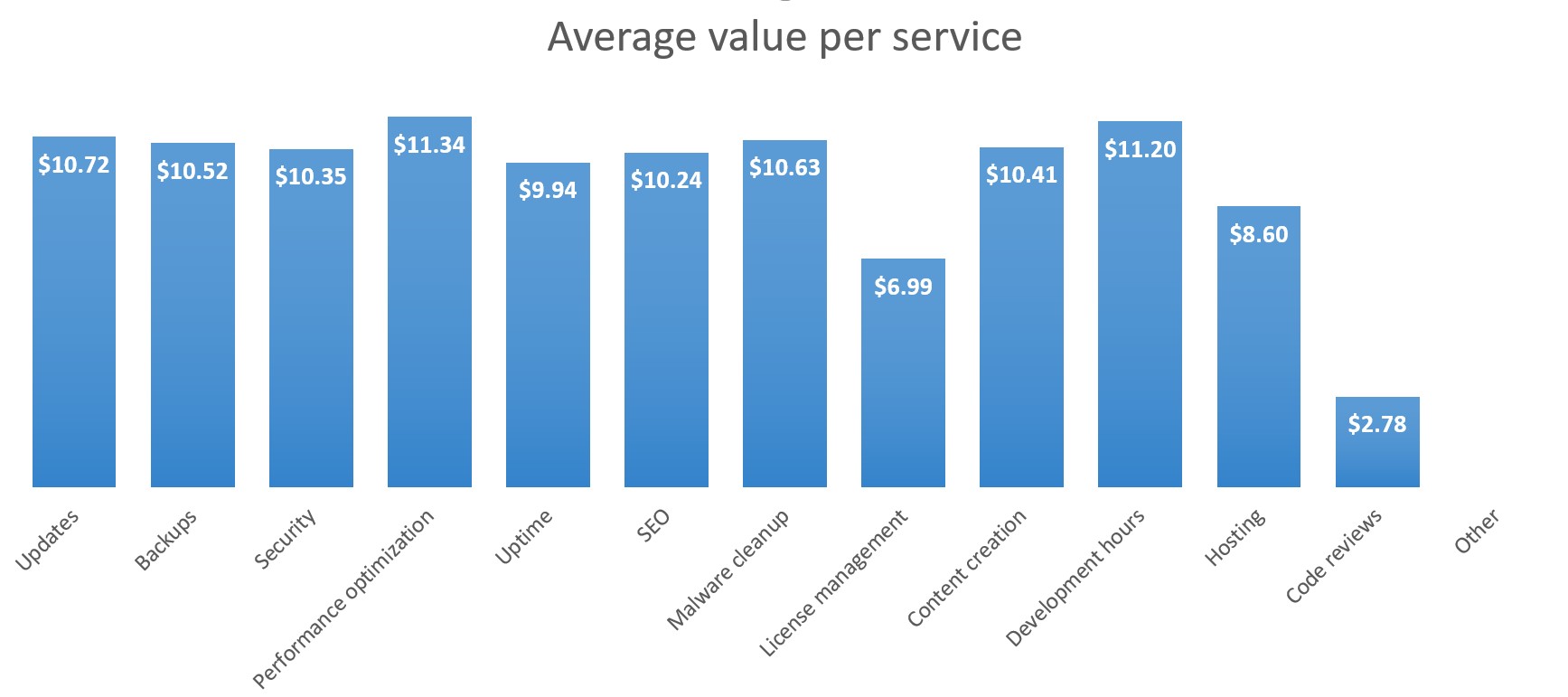 Even in the single tier service systems, it is obvious that the most valued services are Performance optimization ($11.34) and Development hours ($11.20). While they are not the most commonly used services (44% of the clients pay for Performance optimization & only 16% for Development hours), they are obviously considered premium value services and paid accordingly.
Updates, Backups and Security are used almost by 91% of all clients and as such make the bulk of the value of all the services. We could even add the Uptime monitoring to this group as it is the 4th most commonly chosen service.
What is surprising, is that services such as SEO, Malware cleanup and Content creation hold rather high value, despite the fact they are used by only 30% of the clients.
Hosting is used by 36% of the clients, which tells us that more than a ⅓ of the clients completely delegates website management to the professionals – but as a service it holds a rather low value. License management and Code reviews hold the lowest value as a service and they are equally rarely used.
Multiple Tiers: Bottom Tier Services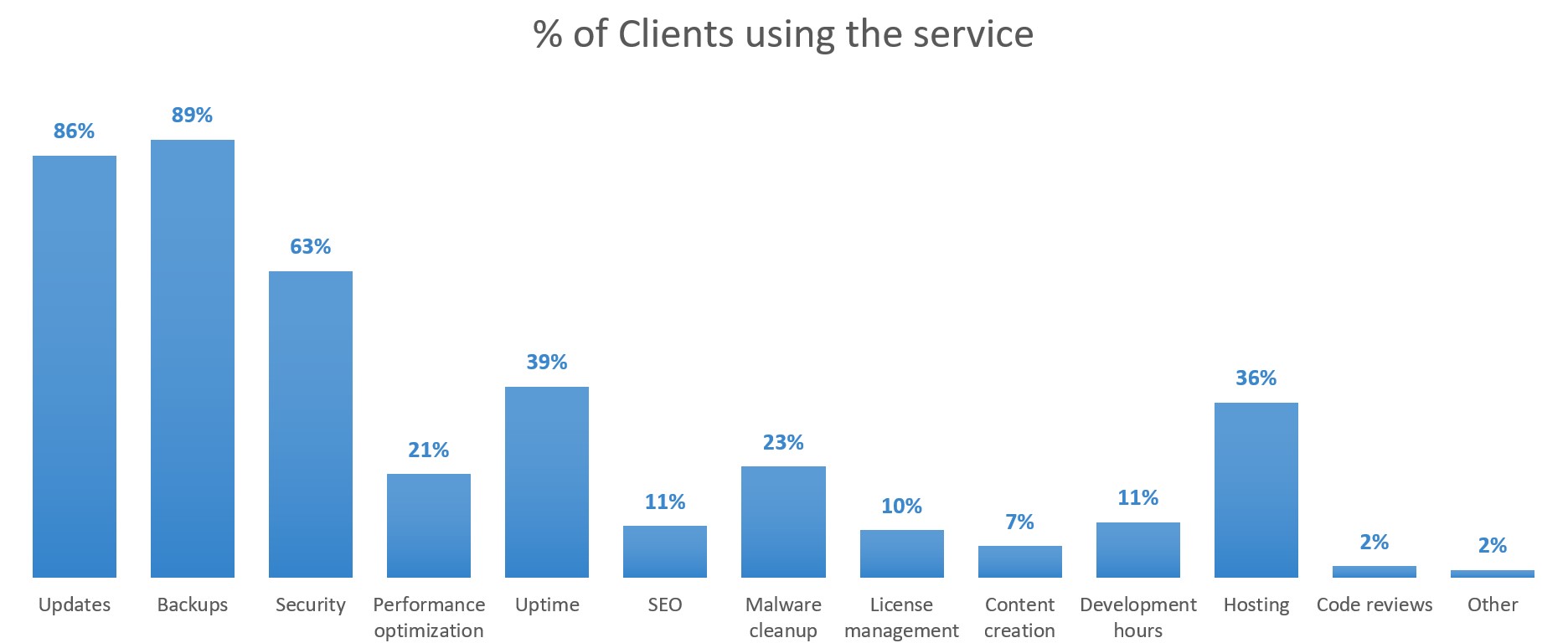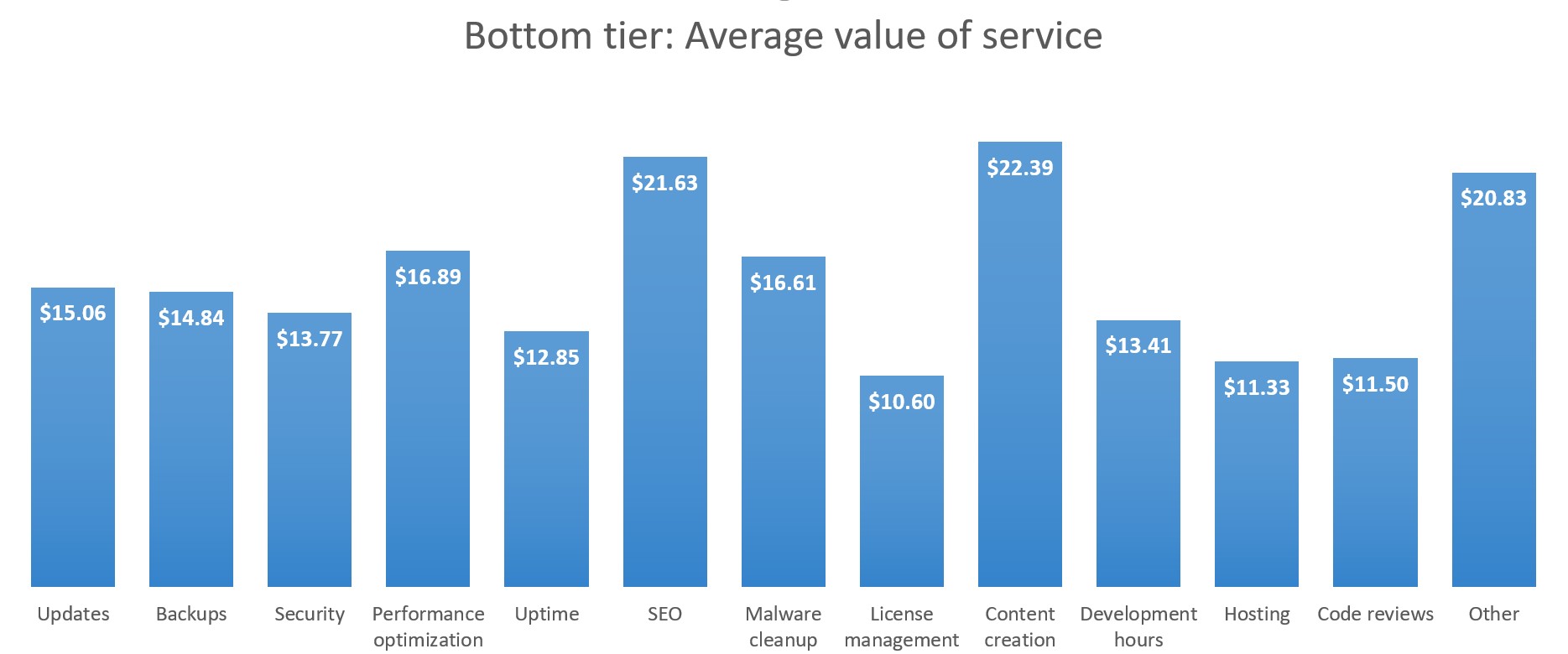 As expected, in the bottom tier results we see that the most used services are those connected to the 'core' (updates, backups & security). However we can also see that precisely because of this segmentation, there is a much greater value for those rarely used services.
Basically this means that the core services are valued, but in those rare instances when clients choose other services (Performance optimization, SEO, Content, etc.) they are much more expensive that in the case with single tier services.
Multiple Tiers: Top Tier Services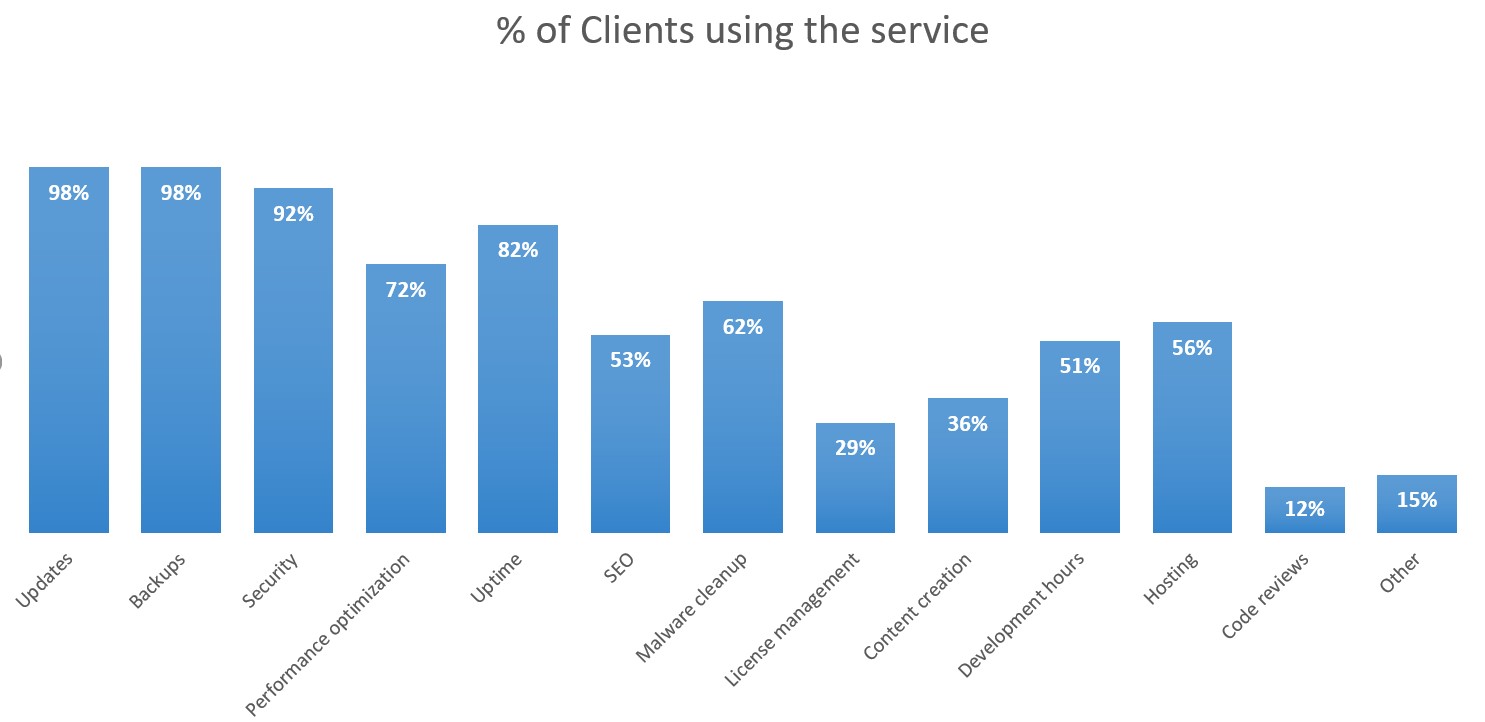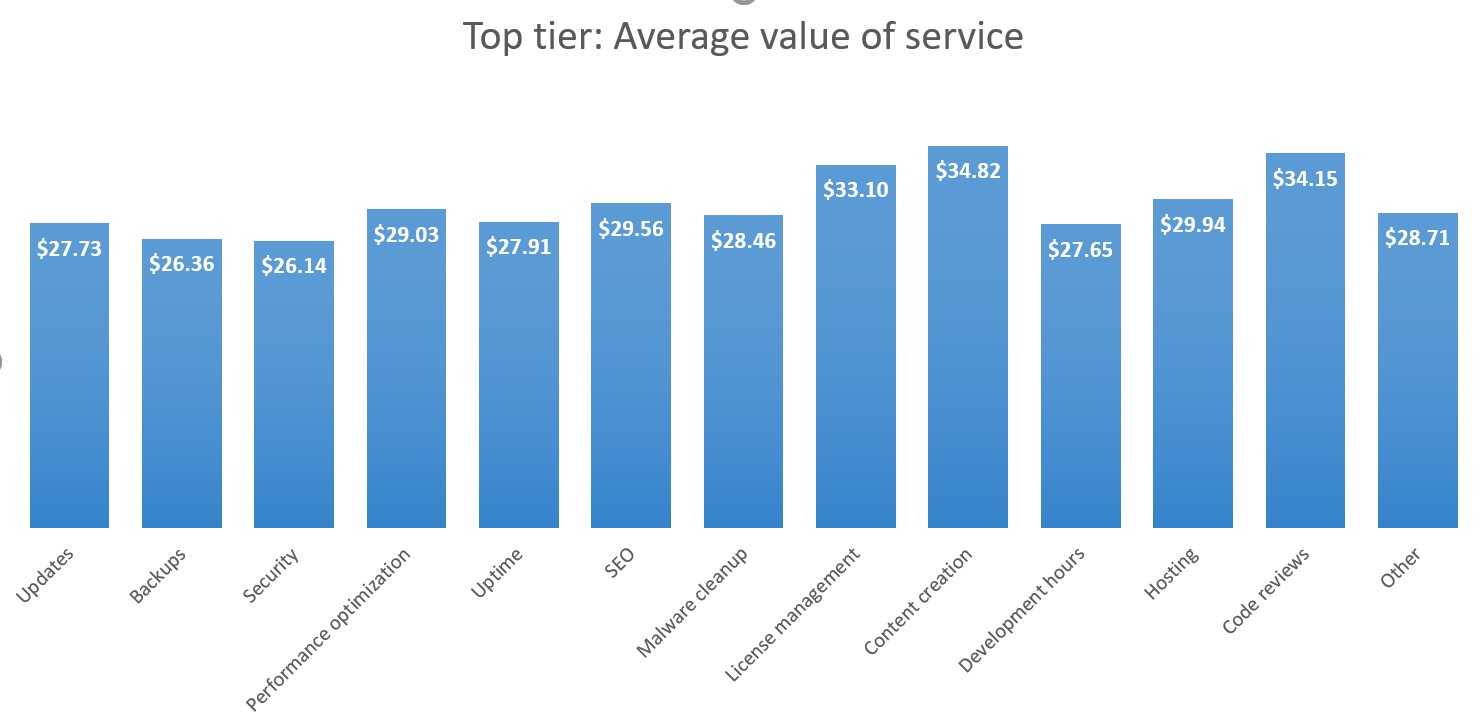 If you look at the results you will undoubtedly see that the least valuable services are those connected to the core maintenance services (updates, backups, security & monitoring).
The bulk of the value of the entire results comes from the fact that the clients are paying much more for "top tier services" leading to top values for those individual services that is also reflected to the 'included' core services, taking the entire pricing system several categories higher that it is the case with single & bottom tier setups.
If we take a look at the following graph, that shows average value of services and their adoption for all the tiers combined, we can clearly see that the largest room for improvement (the gap between the value and the usage) is with the middle and high tier services.

Key Takeaways
Updates, backups, security and uptime monitoring could be considered as a core website maintenance service and should be offered to clients as such.
Performance optimization, SEO and malware cleanup could be considered as separate groups of potentially valuable services offered to clients as addition to the 'maintenance part' of the available services.
And top tier should be reserved for services such as Content creation, Development hours, License management and other specific services that include special development or 'custom' jobs for the clients.
"Clients are more inclined to pay you higher fees if you improve their websites & businesses instead of just maintaining them." – N.A.
How does this help me improve my business?
Well, I'm glad that 'you' asked.
Focusing our results around the question: "What's the biggest challenge you still haven't overcome?", we will try to find the best answers and turn these problems into opportunities.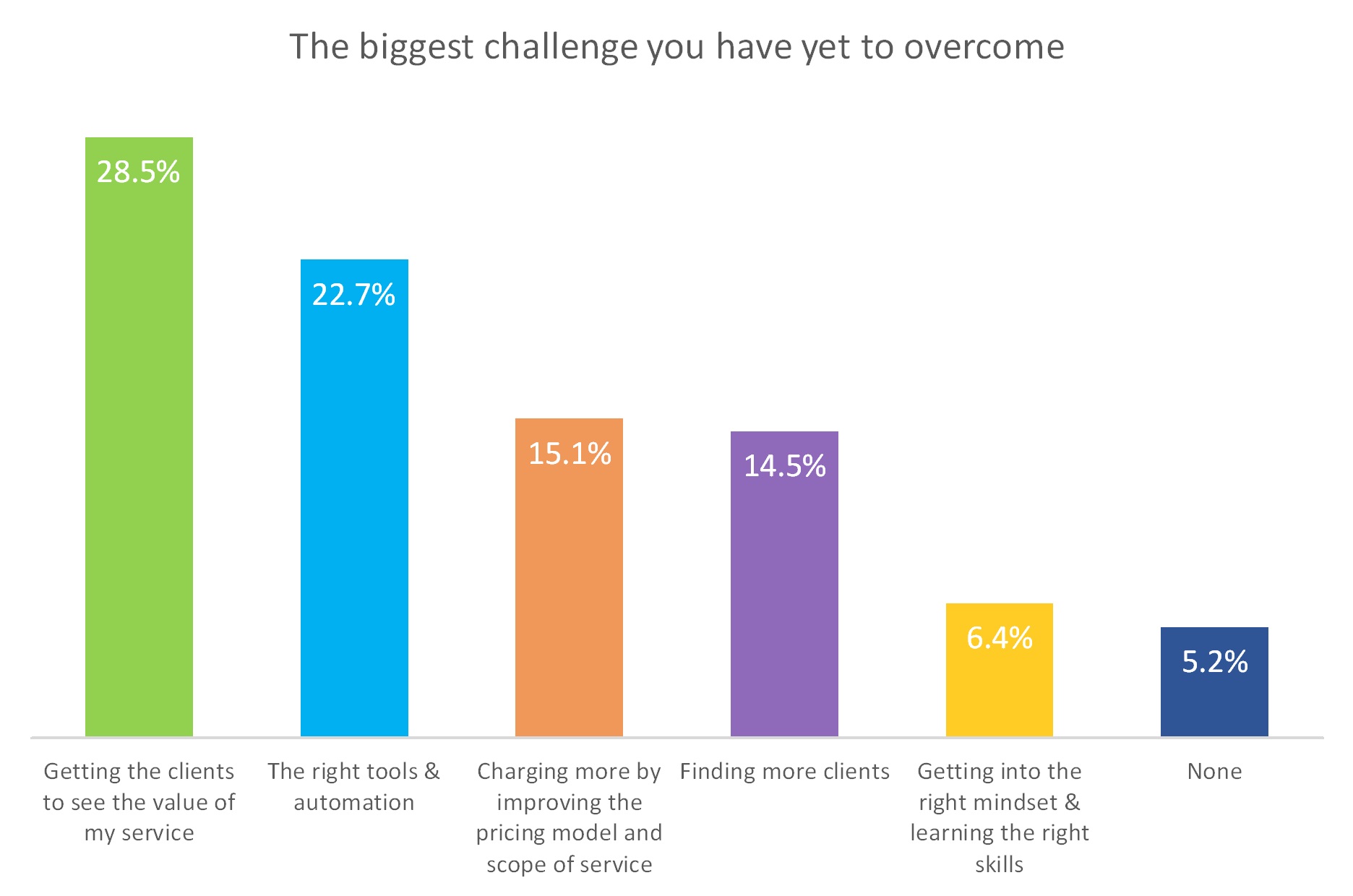 Getting the clients to see the value of my service
Don't try to 'justify the cost' of services. Focus on pointing out the value they provide.
Segmenting the services into tiers may help you to more clearly convey to your clients the "difficulty" and the amount of work needed for separate services.
Consider attracting new clients from locations where such services are valued higher, for example US or Canada.
Charging more by improving the pricing model and scope of service
Setup a multi-tier system of services as it will give you an opportunity to 'nudge' you client toward higher tiers and also set the stage for those higher tier service as something more valuable.
Low tier services should be the one that (with the right tools and automation) take the least of your time and are focused on maintenance & security.
Middle tier services should focus on optimization and improvement.
High tier should focus on clients that are prepared to pay the premium for the top quality custom jobs & developments.
The Right Tools & Automation
Right automation tools can free up a lot of your time, giving you space for additional clients or simply more time to enjoy yourself.
Here we can wholeheartedly recommend ManageWP as your 'weapon of choice'. It may also give you insights into how can you structure your tier system and how can you present the higher value of 'premium' services.
Final Word
As always, getting into the right mindset or good old "know-how" is the most valuable and most elusive of skills.
Business results such as these or detailed case studies are great fountains of knowledge. However, the best advice that we can offer is to learn from those with more experience or attend some great trainings and webinars (such as those that our friends at WP Elevation offer) as it will give you practical knowledge about how you should structure/restructure your approach to business.
Here are the results from the survey. Let us know how you are tackling the issues from above, and just make sure to link back to this article is you publish anything. We are looking to do more surveys, and haven't settled on a topic for the next one so all suggestions are welcome. Leave a comment or email us with your ideas. Thank you!