Before making my way to the world of WordPress I spent my work life in housing support, an industry that wasn't really up to date with the latest technology, at all. I'd always had an interest in tech but my job took most of my energy and other interests took over. My dream of making money in tech faded.
Experiencing life abroad, away from the UK, had me investigating my tech interests again and a chance encounter with WordPress was my introduction to the CMS I now use every day.
Now, I work freelance with WordPress exclusively. I work from home, remotely, but let me tell you something: it's not always an easy road. Working remotely isn't always the Instagram-worthy sunset many would have you believe!
Building solutions with WordPress is a great source of income, but chasing your own clients can leave you stuck in a bit of a money/client chasing cycle. When I learned that other freelancers were earning recurring income by providing website "aftercare" to their clients I started investigating how I could do this, too.
It wasn't long before I came across ManageWP.
What is WordPress maintenance?
When you launch a WordPress project for a client, you could hand over the reins and walk away, but does your client have the time to manage the website once you're gone?
Will they keep their WordPress installation up to date and protected once new security and maintenance releases come out? Will a busy business owner have time to update their plugins and WordPress theme so the website doesn't sit vulnerable to hackers?
These are just a few of the pain points most clients experience once their WordPress website is launched.
The chances that your clients can do all of these things (and more) and run their businesses are very slim. That's where WordPress maintenance monthly retainers come in. That's where you can provide value after you've delivered an awesome website to your client.
Keep your client's website running smoothly for them month after month and they'll keep coming back to thank you. The time and future stress that you'll save them are invaluable and the predictable monthly income you'll receive will keep your business afloat through the good times of WordPress freelancing and the bad.
Problems and barriers to providing WordPress maintenance services
When you first start looking at offering WordPress maintenance services, one of the first things you'll likely do is explore what other people are charging and what they're offering. You'll notice that services offered and prices charged range a lot amongst freelancers. That's because setting up your WordPress maintenance service has to make sense for you and your business.
You have to be able to provide a great service, which means charging enough to be able to deliver that value.
What to offer your clients on an ongoing basis, what to charge for that work, and how to deliver it efficiently are the biggest problems you'll have to overcome.
Thankfully, the folks at ManageWP have your back. Using the simple pricing system and range of features, you can design a WordPress maintenance service that makes sense for your business and your clients.
Using ManageWP to provide WordPress maintenance packages
Managing multiple WordPress websites for different clients without the help of ManageWP would involve keeping tons of different login details and manually logging in to each installation to check for updates. Not to mention creating individual backups for each website and then going through the timely process of safely updating things.
If that sounds like a huge pain, that's because it is. Not only is it a pain but it takes a lot of time, too. And time = money.
The time you'd spend logging into each client website, making manual backups and updates, sifting through and deleting spam comments, and running performance checks would eat into your profits. To make it worthwhile, you'd have to pass on a relatively high monthly fee to your clients, making converting them to a monthly package pretty tricky.
For freelancers providing monthly maintenance services, ManageWP has made all of that go away. In your Dashboard, you'll be able to see your client's websites and any live personal projects you have easily. They're presented in list format, color-coded, and tagged by client, if you wish!
The color of a listed website turns amber if an action is needed. If things are ticking over fine, it'll remain green.
Bringing all websites that you manage together in this way gives you one central place to visit when spending time on maintenance tasks. Safely bulk updating plugins is a breeze.
How to create your first WordPress Maintenance Packages with ManageWP
Before you can start offering this service to your clients, you'll need to know how much ManageWP will be charging so you know what to include in your packages and how to mark up your services to make a profit on your work.
ManageWP allows you to add an unlimited number of WordPress websites for free and then pay individually for the services you provide your clients. Not all of your clients will need the same services. ManageWP allows you to pay per service, per website, which is super handy for when you're structuring your maintenance packages.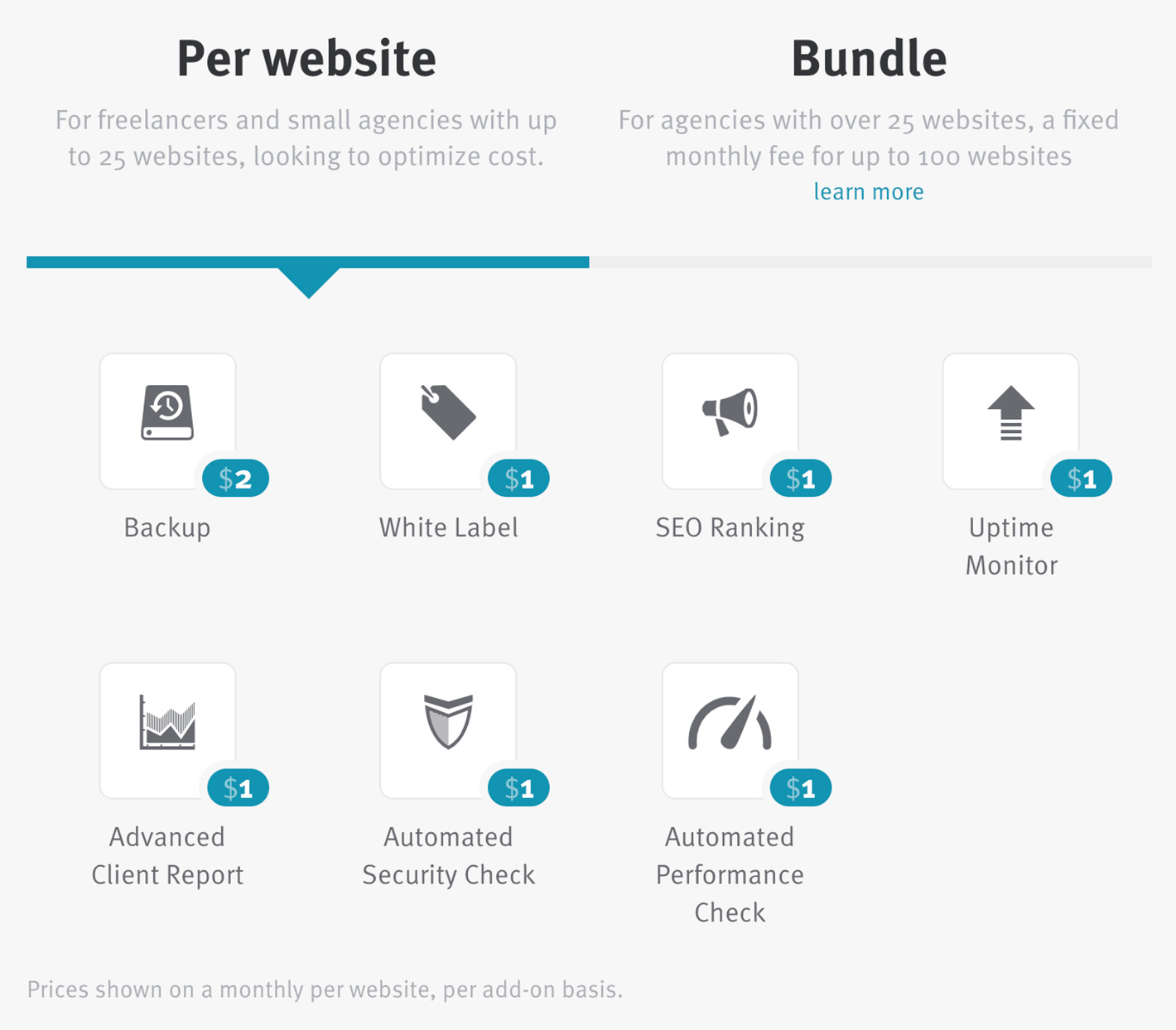 Now you know how much each individual service will cost it's time to work out what to include in each package.
What to include in your WordPress package offering
Most freelancers offer a 3-tier service which increases in price and features:
TIER ONE
Tier One, (often named something like Basic, Bronze or Beginner), would usually support small businesses, bloggers, and individuals. Use ManageWP features to include the maintenance basics like monthly or weekly backups and the essentials like plugin, theme and core updates, performance checks, security scans, and spam comment removals.
At this level, you might also want to add in uptime monitoring which is a paid service from ManageWP ($1 per month, per website). Your client's with mission-critical websites will appreciate the peace of mind that comes with knowing their website is up and running.
Beginners Tip: You can add up your prices if you want to automate some of these things using ManageWP, or if you want to complete tasks like security and performance scans manually from within the dashboard you can continue to do this free on unlimited websites. This is great for when you're just starting off. Ultimately, it comes down to personal preference: pay a small automation fee or spend the time manually running scans and updates. If you choose to automate and pay the small monthly fees, collect your client's monthly payments ahead of providing the maintenance service and you'll have no upfront costs.
TIER TWO
Tier Two (this might be called Business, Silver or Advanced) usually includes all features from Tier One but also has features that will target your clients who are running small- to medium-sized businesses with websites that change often.
They'll appreciate services like daily backups (and restores when required), daily security and performance monitoring, as well as uptime information and SEO reports.
TIER THREE
Tier Three (often referred to as Professional or Agency) targets those business clients whose websites bring in revenue. These clients will be so busy running other aspects of their website that they'll love handing over the technical tasks to you.
Here, you can offer everything in Tier One and Two, plus extra tailored services for your clients.
The extra services you include here will depend on the type of clients you work with. Some may be glad to hand over small content tasks to keep their content fresh and up-to-date. Others may want extra SEO services where you track keywords for your client's website as well as their competitors (yes, all through ManageWP!) and include SEO Reports for them, too. You'll need to evaluate the types of clients you have and decide on the services to include based on that information.
Launch a WordPress Maintenance Service with ManageWP
You have the freedom to choose which services you want to provide. It all depends on what makes sense for your business. You have the freedom to choose what you want to charge and be responsible for, too.
With ManageWP's easy pricing model, you'll be able to easily develop a tiered WordPress maintenance service which gradually increases in price and features, enabling you to cater to a wide range of clients.
What's more, because all maintenance takes place through your ManageWP Dashboard, all activity is logged and can be compiled into a custom report for each of your clients, branded with your logo. You'll be able to deliver something tangible to your clients that helps them see the work you've done for them.
Providing WordPress maintenance is a valuable service, so be sure to show your clients what you've done to keep their website safe.
Have you recently set up a WordPress Maintenance service? How did you organize your services and pricing? Feel free to share your thoughts in the comments below.
SaveSave
SaveSave