It was pretty hectic during the first quarter here at ManageWP. The number of active customers has almost doubled. The Customer Happiness team has 4 new members, we have organized 3 WordPress Academies, have been on more than 10 WordPress meetups and visited WordCamp London. Our engineering team has resolved 243 issues you reported, ManageWP dashboard has been optimized, websites sync and load time are reduced by more than 60%, new features for WordPress Multisite networks (Backup,Clone, and Restore) are released. All of this would not have been possible without your feedback and support.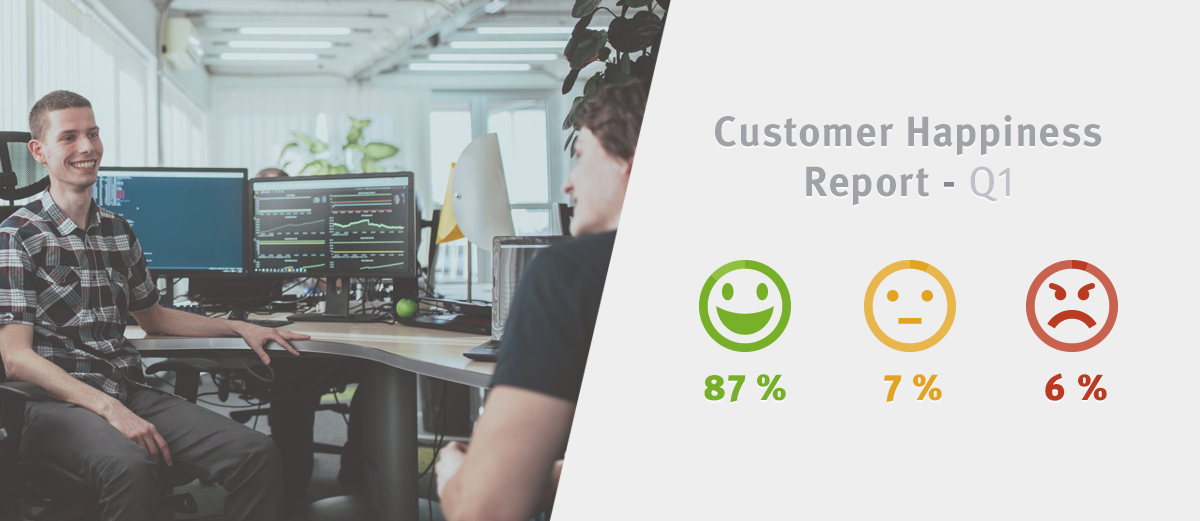 Customer Happiness ratings
Your feedback means a lot to us, and we would really welcome all your thoughts and suggestions. So please rate your experience with our Customer Happiness team, and let us know how we're doing.
Here are some of the positive feedbacks from our customers:
The team was extremely supportive. The three members of the team that I dealt with, along with ongoing support from the Host server was integral to a successful end. All those involved took the time to resolve my problem. A problem that took over 4 days to fix. This commitment proves why this plugin, ManageWP, is such a great management tool for running multiple websites. Again thanks to all, Steve
Best support ever. You've solved my problem in the time-frame that other people generally begin to analyze it.
Great! Very comforting, cordial, friendly, and helping. The best of all the hosting and other website service providers I've tried so far. Keep it up. 🙂
ManageWP support is quick, to the point and most importantly, gets the issue solved. You guys clearly know what you're doing. Please don't change! Thanks, Paul
From the negative feedback we learned that the user onboarding experience should be redefined and that's the project that we are currently working on. Stay tuned for better onboarding in the following months!
Statistics (reply time)
The number of active customers has increased by 97% in the previous quarter. In order to improve efficiency and communication, we have redefined our training process and introduced a mentoring program. If you received a reply signed by Customer Happiness Trainee, don't worry: every trainee answer is vetted by an experienced mentor. It affected our stats, and we will do our best to improve it as soon as possible.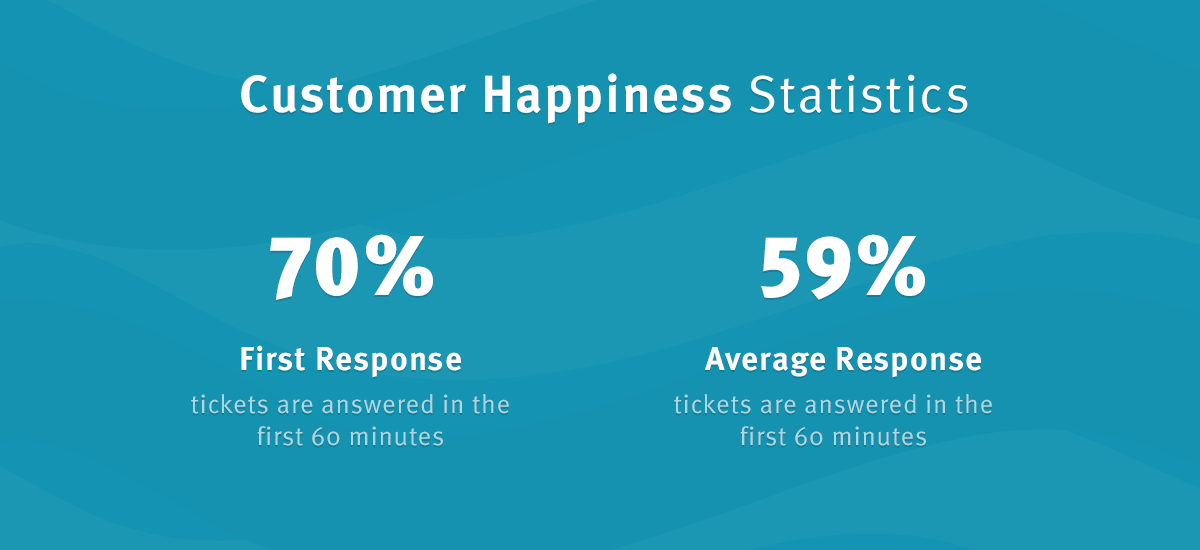 Team members
We are growing, and I have the privilege to introduce new team members that are mostly responsible for delivering happiness in the last quarter. Meet Stefan Karamancic, Vladimir Tanovic, Ivona Brajovic, and Predrag Zdravkovic.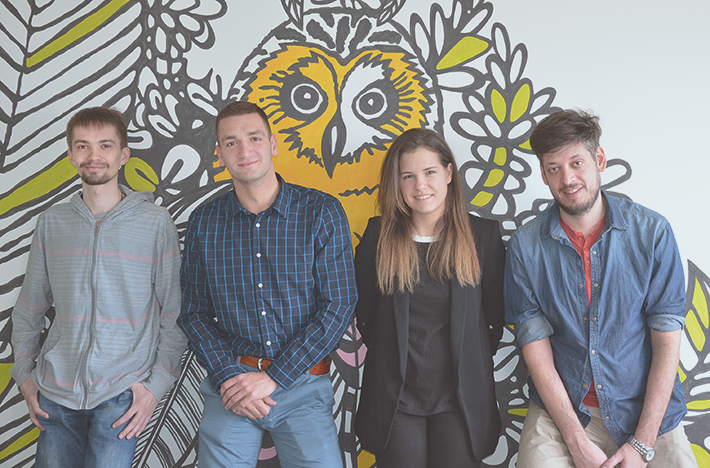 Ivona Brajovic: Ivona is a very ambitious, responsible, communicative and self-disciplined person. She has an excellent eye for details and is always willing to take responsibility as well as initiative.
Predrag Zdravkovic: Predrag is a great listener, he pays extra attention to everything you say, and how you say it. He is like a duck, very calm on the surface, but underneath the water he is paddling tirelessly.
Stefan Karamancic: Stefan always works hard. He is passionate about Sci-Fi. Every day Stefan is trying to learn something new and likes to tinker with everything he can get his hands on. He is always available to resolve customer complaints via phone, email, or social media.
Vladimir Tanovic: Vladimir has been interested in Information Technology and Digital Science since he was a little kid. He is open minded, intelligent, honest and consistent. Sounds like fluffy nonsense, but his ability to make minor changes in his conversational patterns truly goes a long way in creating happy ManageWP users.
Product changelog
To make it easier for users to see precisely what changes have been made on the product, we are using a chronologically ordered changelog list where you can see all notable changes such as bug fixes, new features, improvements, etc.
January 24th, Improvement: Website View – visual improvements – We have made this part of the dashboard more responsive, grouped some actions and made visual changes on list/thumbnail view along with the top action bar improvements. All of this changes should make Website View more clear and easier to use. For more details and improvements breakdown, please read our blog post.
January 30th, Improvement: Dashboard optimization – Speed improvements. You should see the increase in speed while using the dashboard, but most noticeably the increase in speed during the login.
February 10th, Improvement: Login to Clients page after login – you are now able to set Clients page as your default login page in Setting > General under: "Upon login show me"
March 8th, New: Multisite network backup, restore and clone integration is here – You are now able to activate the backup tool on your Multisite network websites, which also includes restore and clone options. For more details and breakdown of improvements, please read our blog post.
You can access the changelog by logging into your ManageWP dashboard. On the right-hand corner of the top bar you will see your Login Details and after you click on them, underneath you will see the changelog option.
See WordCamp London through Nevena's eyes.
What we did well?
In January 2017 we started the WordPress Academy in our local community. We got a lot of positive feedback, and right now we're working on expanding it to multiple cities, as well as bringing the content online for the international audience.
Here you can see the interviews from the first WordPress Academy.
Being an active part of the WordPress community is very important for us, therefore I am really proud to say that two members of our Customer Happiness team are in the WordPress Europe organization team. Milos is part of the Public Relations team, and Aleksandar is part of the Community team. Don't worry, those of you who took part in WordCamp Europe in Vienna last year got used to meeting a bigger ManageWP crew there and we won't disappoint you – Petar, our head of Customer Happiness will be volunteering this year, Milan and Nevena from the Growth team will take part in the organization team as well and ten more ManageWP members from all our teams will be there, we are looking forward to seeing you in Paris and talking with you.
What we can do better?
We are always setting high goals and doing our best to achieve them. Our primary goal for the next quarter is to improve our statistics and response time. We expect that more than 85% of tickets will be answered in the first 60 minutes.
Customer Happiness roadmap for the next quarter
Improving user on-boarding
Creating two separate support communication channels, Tier 1 and Tier 2
– Tier 1 – support channel for questions that could be answered quickly without additional troubleshooting
– Tier 2 – support channel for more complex issues and issues that need longer investigation process
New User Guide
Improving FAQ
Improving Troubleshooting Guide
We've got new features coming soon, follow them on our product roadmap.
Where you can meet us?
Useful Articles
Here are a few links to the articles that will help you to improve your business and website performance.
Heartfelt Act
Something that I left for the end of this article is a project that the whole team is proud of, the project is called "HEARTFELT ACT". As a team, we want to remind everyone that this project is about people and their feelings. We want this program to become a part of everyday culture, making somebody happy is something that we all need to care about. Other people's happiness is important as well as our own. Thanks to Aleksandar, here you can see how we are spreading happiness in everyday actions.