Like previous years, ManageWP did a yearly WordPress Maintenance Survey to get more useful insights about this type of service and help you grow your business. We did a survey of around 1000 professional WordPress service providers, and here are all the interesting details together with our key findings.
As author Paul Cookson once said: "Websites promote you 24/7: no employee will do that.", more and more people realize the importance of having a website. Not only that, it became even more important to have it fully functional, safe, and secure. This is where maintenance providers come in place, especially WordPress ones.
For many years, we've been asking participants to share their experiences and insights as WordPress Maintenance providers. We do so with the goal of shining light on all the ways you can automate and improve your business, your offers, and your own site management if you come from the content creation spectrum.
Trend 1: Most of the respondents are web developers, web professionals, and web designers
Of all of the participants, the vast majority define themselves as web developers, designers, and other types of web professionals: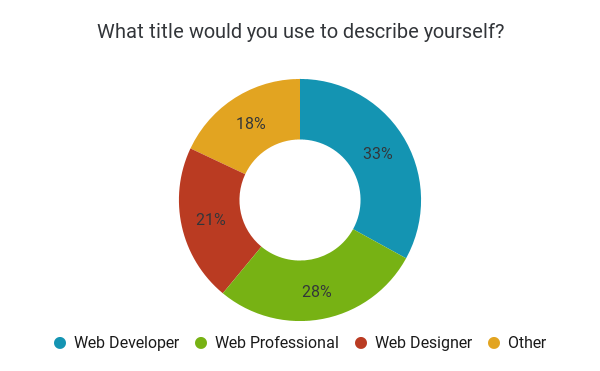 The remaining participants describe themselves as marketers, business or agency owners, bloggers, CEO's. It's safe to say there is an increase in the number of web professionals compared to last year, which is a good sign. More and more people are getting in the IT business, making it stronger for all of us.
Unlike our 2021 WordPress Maintenance Survey, the majority of participants came from North America (49 percent), following Europe & UK in a close second (30.6 percent):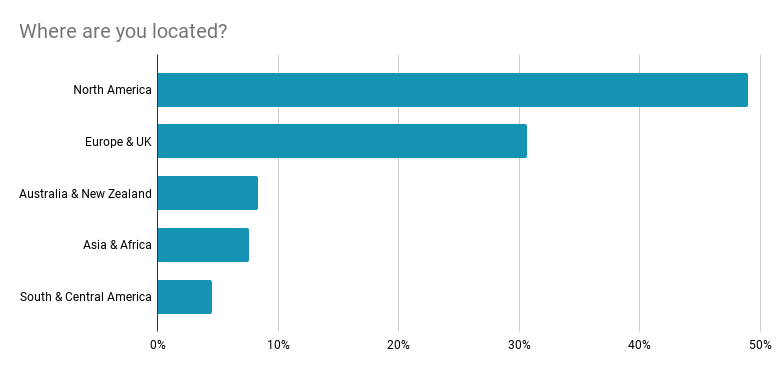 A steady 85.3 percent of respondents offer WordPress maintenance services which is still a strong indicator of how popular and important this service is:
Trend 2: Multi-tier packages are on the rise
"The first rule of any technology used in a business is that automation applied to an efficient operation will magnify the efficiency."
~ Bill Gates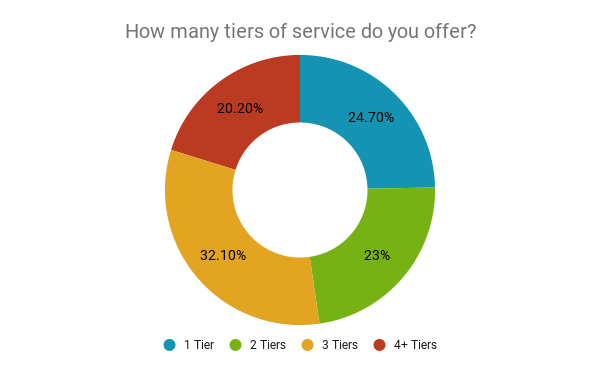 More than half of respondents (52.3 percent) offer 3 or more service tiers to their clients. The most popular services that multi-tier providers offer come from a security category and include:
· plugin, theme, and core updates;
· backups; hosting; uptime monitoring;
· security and malware cleanup.
As for branding and graphic design, marketing and advertising, and social media management, those services are still on the lowest end of services from maintenance providers for some clients. However, for clients on their highest tier, those are becoming increasingly popular offers people respond to since it's giving a clear all-in-one approach. From a client perspective, knowing you can finish multiple equally important things all from one place is a game changer, and maintenance providers who acknowledge that they are ahead of the competition.
Single-tier providers are the ones who are mostly freelancers (53.3 percent) who offer similar services as multi-tiers. The vast majority is also from a security category and development hours, followed by more marketing-related categories such as content creation and management, branding & graphic design, SEO, SMM. This is a clear signal that smaller teams and freelancers are seeing the big picture of offering a personalized all-in-one approach in maintaining their clients as well.
Overall, the survey showed us that freelancers are slightly more comfortable in offering single-tier services compared with agencies and multi-tier services they provide.
Trend 3: Services
Based on the data provided, it appears that the most popular offers for WordPress maintenance services are:
· Plugin, theme, and core updates (95.3%)
· Backups (87.3%)
· Security & Malware cleanup (62.7%)
· Uptime monitoring (58.7%)
· Hosting (57.3%)
The remaining services come from marketing, social media, content creation and management categories. This tells us that clients value and ask that their WordPress websites run smoothly, are secure, and are protected against potential issues.
Multi-tier providers have the similar type of offers popular, but then again, they are slightly different for the clients on the lower compared with the ones on the highest tier:
While the clients on the lowest tire were more interested in the bare necessity such as plugins, theme and core updates, backups, and hosting; those on the highest tier were nearly equally interested and were paying for uptime monitoring, security & malware monitoring and performance optimization as a must-have. From these results, we can conclude that:
Multi-tier providers offer similar types of services, but there are slight variations in the services that clients on lower and higher tiers are interested in.
Clients on the lower tiers prioritize the bare necessities such as plugins, theme and core updates, backups, and hosting, while clients on the higher tiers place equal importance on additional services like uptime monitoring, security, and malware monitoring, and performance optimization.
It is likely that clients on the higher tiers are willing to pay more for additional services that they see as essential for the optimal functioning and security of their website.
It is also possible that the clients on higher tiers have more complex and demanding needs for their websites and therefore require more advanced services.
Trend 4: Service prices and increases
In a year of post-pandemic, where the WordPress maintenance industry has seen an impact as well, there has been a slight shift in pricing. While most freelancers remained their prices unchanged, many agencies have increased their service prices. As to why we can only assume it's likely due to the increased demand for services and the need for businesses to maintain a strong online presence during these uncertain times.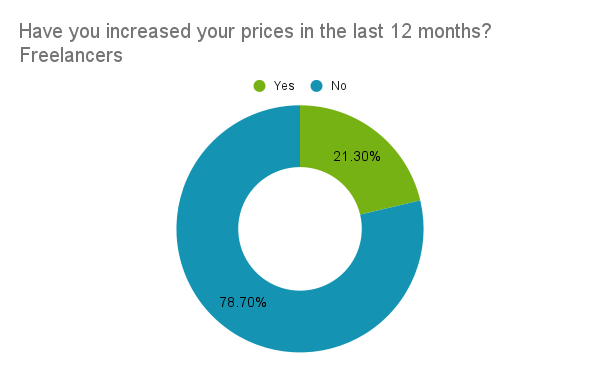 Now, this trend doesn't necessarily mean that freelancers are providing inferior services. Many freelancers can keep their prices low by keeping their overhead costs low and being nimble in how they run their businesses. On the other hand, agencies may have higher overhead costs and therefore need to increase their prices to sustain their business. As WordPress professionals, it's important to understand the market conditions and make informed decisions on pricing, but always keep in mind the value that you bring to your clients.
Trend 5: A close tie between a small and big group of clients
Analyzing this year's survey, we've seen a significant shift in the number and size of clients WordPress maintenance providers serve this year. Unlike previous years, we have an almost 50-50 split between serving a small group of clients and serving larger organizations with 21 or more employees and even beyond 50. This trend is likely a result of the impact of the pandemic on businesses of all sizes, as many have had to quickly adapt to a digital-first environment. It's a testament to the versatility and scalability of WordPress that it can serve the needs of both small and large organizations alike.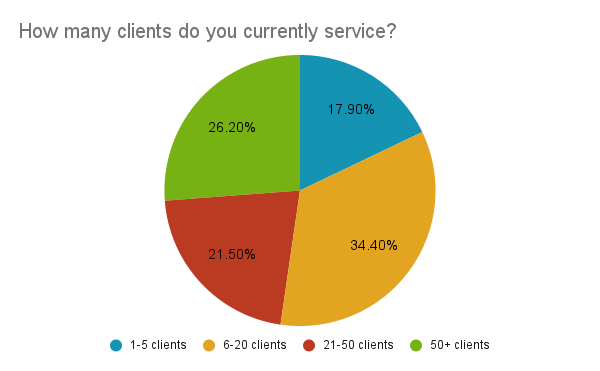 Again, as WordPress professionals, it's important for us to be able to adapt and provide tailored solutions for clients of all sizes and it's exciting to see how we are able to serve a diverse range of clients this year. We are proud to be a part of helping businesses, as well as service providers of all sizes to have a strong online presence and solid businesses during these challenging times.
Trend 6: WordPress Page Builders aren't going anywhere any time soon
The most popular Page builders are Elementor, Divi and Gutenberg, which clearly tells they are here for the long run, although the not-so-warmly welcome start: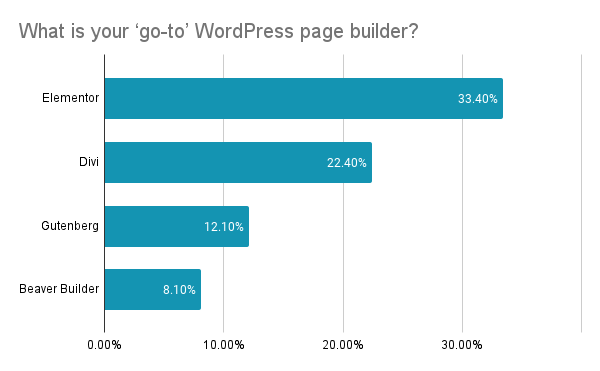 Beyond regular users, developers and web professionals use Page Builders because they eliminate the need to code, help in advanced customization, and are extremely user-friendly. And, if you were to explain this to a client, here's what you might say about the popularity of Page Builders:
First and foremost, page builders allow for a more user-friendly and intuitive website-building experience. Instead of writing code, page builders offer a drag-and-drop interface that makes it easy for non-technical users to design and customize their websites.
Another reason is that page builders come with a wide range of pre-built templates, modules, and elements that can be easily customized to suit the specific needs of a website. This saves time and effort for web professionals as it eliminates the need for them to start building elements from scratch.
Lastly, page builders are designed to be highly responsive and mobile-friendly, which is crucial in today's digital landscape, where most web traffic comes from mobile devices. This means that we as web professionals can create websites that look great and function well on any device without having to worry about the technical details of responsive design.
Trend 7: hosting service is getting popular
Of all of the respondents, 74.4 percent of them do offer hosting services, either on their own (41.4 percent) or as a reseller (34 percent):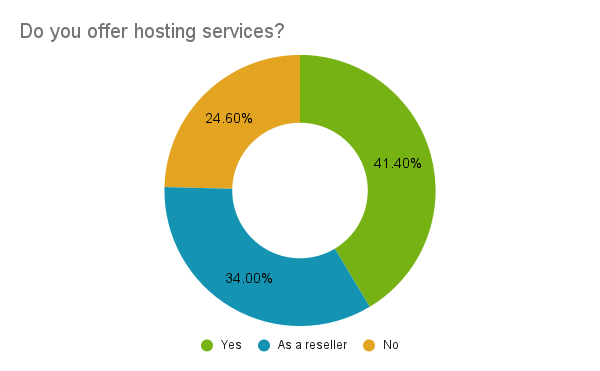 What this tells us is that hosting is becoming an additional go-to service and an important add-on in the overall scope of offerings. It can be used as leverage (from a client's perspective) when deciding where to go for all-inclusive WordPress maintenance service and support.
5 key findings or takeaways
· Marketing and content creation are a huge opportunity
As seen in survey results, with the rise of digital marketing and the importance of a strong online presence, there is a growing demand for services that can help businesses optimize their website for search engines, create engaging content, and build a strong brand. By offering marketing and content creation services, WordPress maintenance providers can tap into this growing market and increase their revenue.
· Multi-tier packages
As more businesses look to outsource their maintenance needs, providers are increasingly offering different levels of service to meet the diverse needs of their clients. From basic website updates and security checks to advanced performance optimization and custom development, multi-tier packages allow providers to cater to the specific needs of different businesses and generate more revenue.
· Servicing and pricing
Service and pricing variations within the WordPress maintenance industry come from a point in which agencies typically offer a wider range of services and have a larger team of experts to handle more complex projects. As a result, they often charge higher rates than freelancers. However, agencies also have the benefit of being able to handle large-scale projects and offer more comprehensive solutions to businesses.
· Page builders
Page builders are drag-and-drop website creation tools make it easy for users to create custom pages and layouts without the need for coding. As more businesses look to create custom websites, page builders are becoming an increasingly popular service for WordPress maintenance providers to offer.
· Automating maintenance with Manage WP saves time and increases revenue
By automating many of the repetitive tasks associated with website maintenance (such as updates, backups, security checks, to name a few), we not only save you and your clients time but increase revenue as well. We do it in a way in which you'll be able to handle more clients and take on more complex projects in the future, whether as a freelancer or an Agency.
WordPress Maintenance Survey Results Footnotes
The 2020 WordPress.org Annual Survey has shown us that "Auto updates making respondents nervous" which is where ManageWP comes in handy. By delegating some of the workloads to us and automating it, you'll get more time and space to do what you're really good at, which doesn't cause you stress but improves productivity and brings more revenue. A win-win situation, don't you think?
Do you have any questions in regards to this survey or offering WordPress maintenance services? Share them in the comments below!