Running an active website these days is a time-consuming business, with a multitude of moving parts to juggle. If you're tired of keeping all those balls in the air at once all by yourself, why not let technology help you out?
Developers have created tools to help give you a break by handling database backups, post promotion via social sharing, image optimization, and much more. Most WordPress site owners — especially those running two or more sites — find some level of automation saves significant amounts of time, stress and energy, leaving them free to engage in those tasks that directly grow their sites and audiences.
Yet the question remains: Which WordPress tasks can be automated, either fully or in part?
Updates, Backups, and Storage
At the top of most owners' list of "least favorite WordPress tasks," you'll probably find the chore of updating core, theme or plugin files, with making site backups a close second. These tasks can wind up taking a lot of time, especially if you do the job right with a full backup of all content files and databases — and even more so if you have more than one site.
Major core file updates are now processed automatically through WordPress by default. Still, this means minor updates need to be covered. In addition, theme and plugin updates can create a huge claim on your time. How much time could you save if you never had to scan down a long list of plugins to find the ones that need updating, check to make sure there are no conflicts with the new updated files, backup your site, perform the update, then thoroughly check your site to make sure nothing broke in the process?
Moreover, you'll want to have some method of creating automatic updates and storing the resulting files securely on a regular basis. Creating backups of your site and content is crucial if you want to keep your site up to date and functional. Those backups turn essential when your site gets hacked or infected with malware, or when an update goes awry.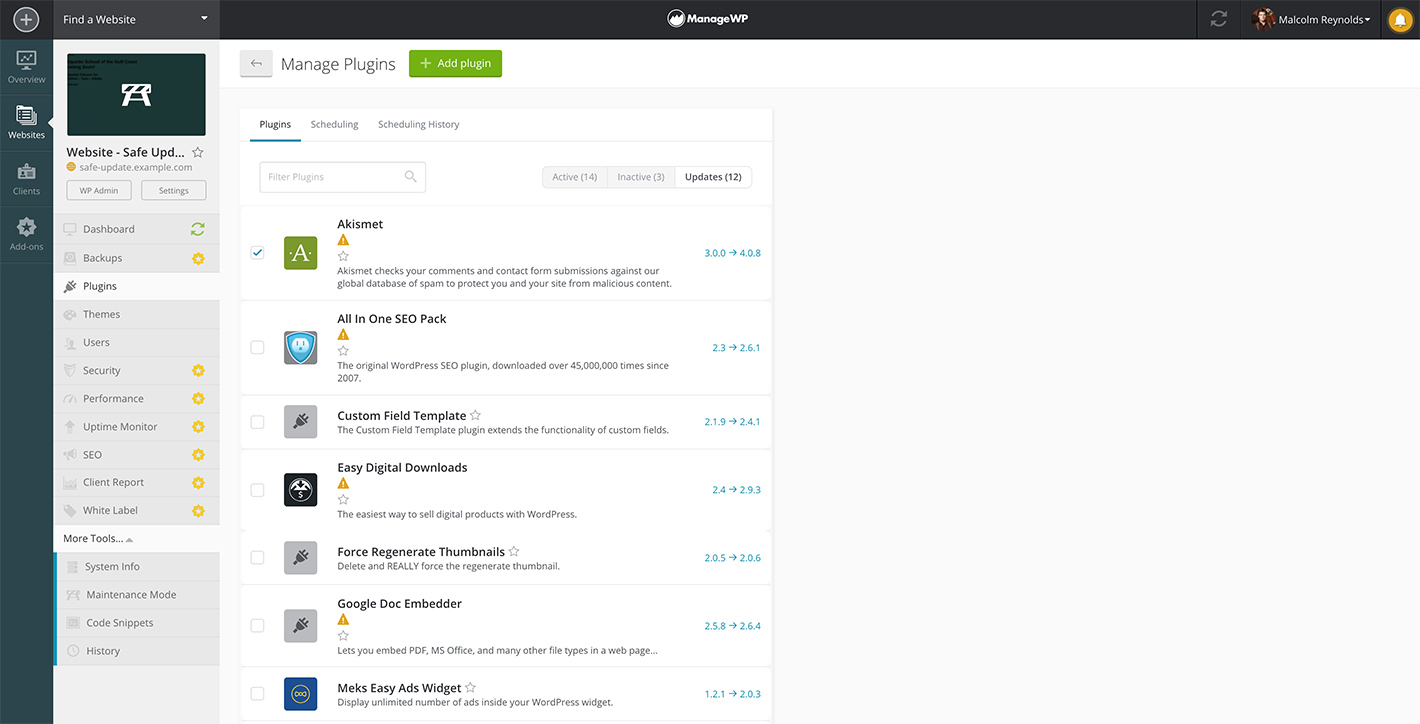 To automate updates for your WordPress site, take a look at ManageWP's ability to manage plugins, core files, and themes.
This tool compiles all of your site's plugin, theme and core updates into one easy-to-use list. Then you can use the built-in one-click update function, or tell the system to ignore the updates. It also allows you to perform bulk installations or deactivations. You can even use the tool to reinstall an older version to write over the current version, if you prefer.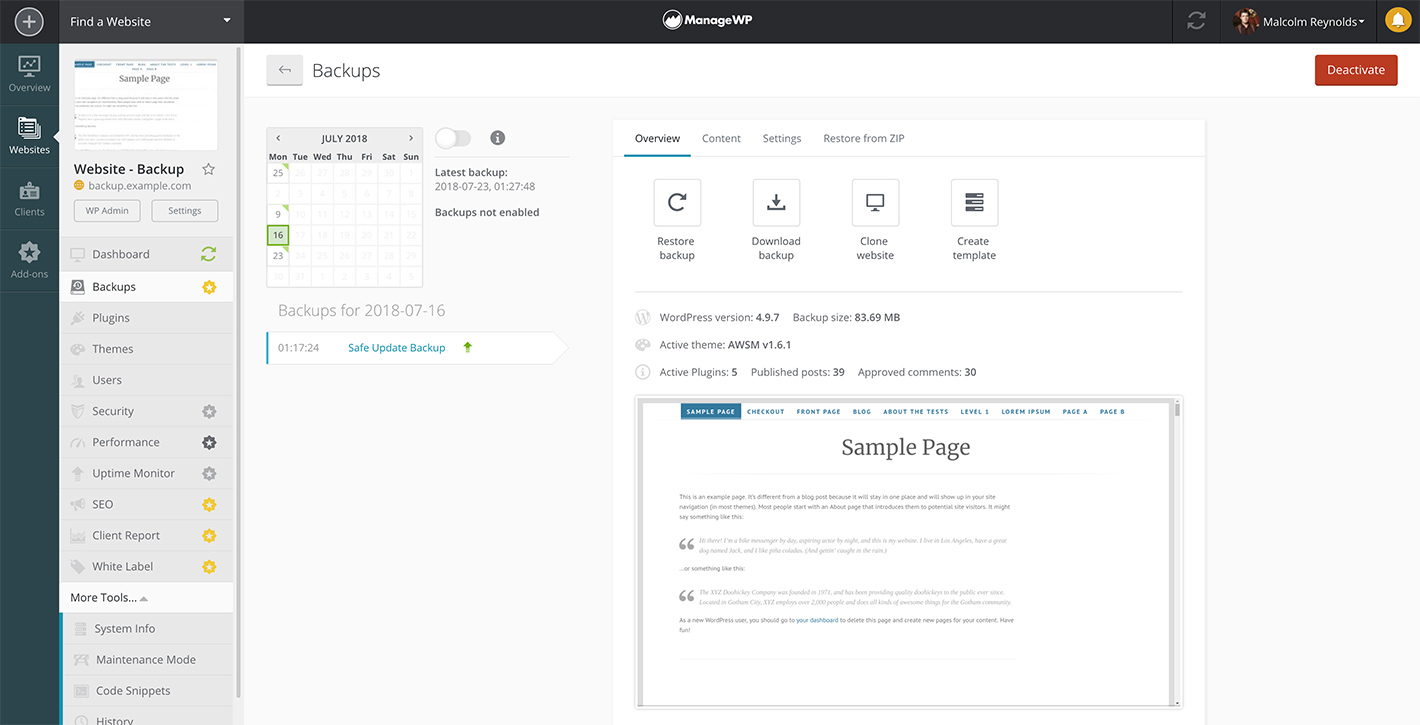 ManageWP can also take care of automatically creating backups of your files and database, as well as storing them securely on sites such as Dropbox or services such as Amazon S3 and more. Monthly backups are free. Once you configure the settings, it runs seamlessly in the background, allowing you to continue working without interruption.
Automating backups isn't just a time-saver. It also provides a significant degree of reassurance. You can rest easy knowing that whatever happens to your site, you'll be able to restore it to a recent working version with relative ease.
Finally, you can put your sites into maintenance mode while you're updating them or working on them behind the scenes. This lets your visitors know what you're doing so they don't assume your site is simply down or nonfunctional.
Managing Comments
Comment management is a WordPress task that many users ignore or put off. Yet comments are one of the most obvious ways you can review and assess user engagement on your site.
What's more, spam comments have to be weeded out promptly. Spam can be incredibly irritating, but it can also harm your site. If spam comments accidentally get approved and published on your site, you can lose credibility with your readers. If it continues to happen, you'll lose SEO juice and see your rankings start to sink.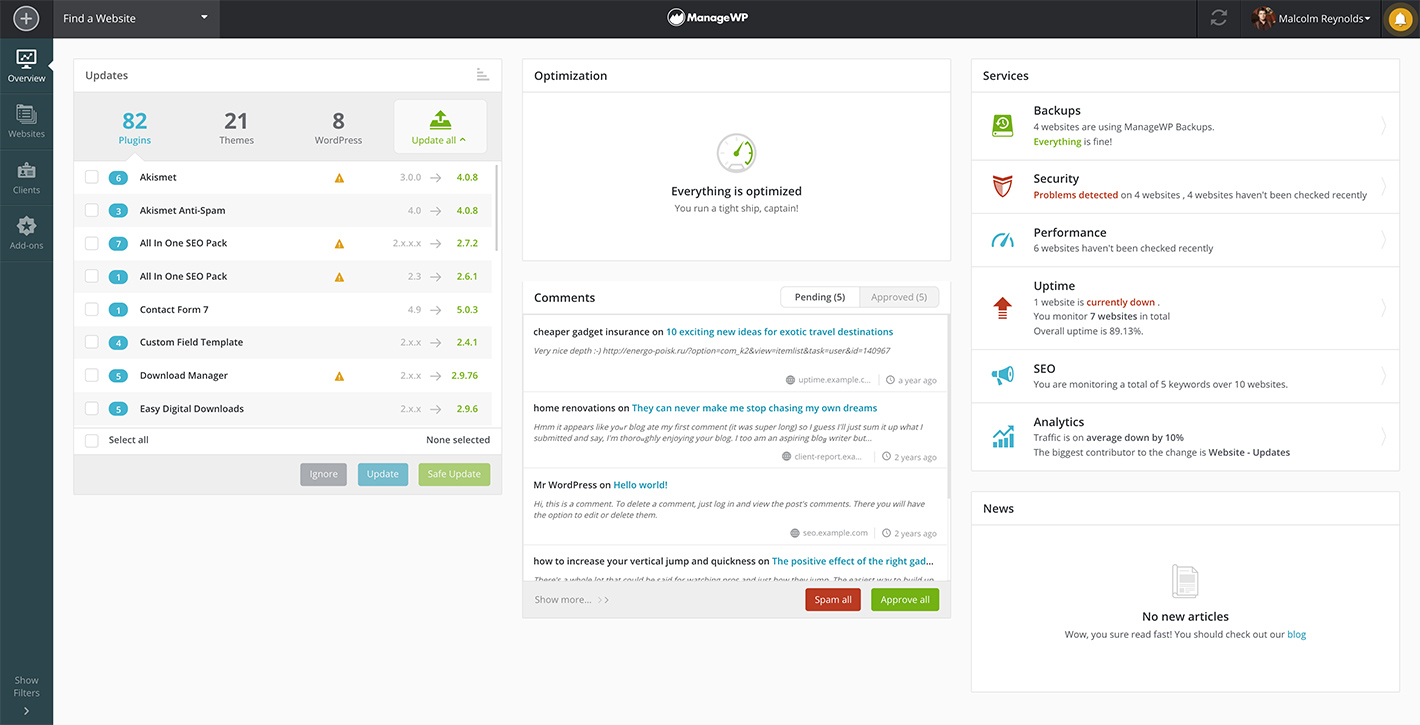 Comment management can be even more of a drain on your schedule if you have multiple sites. That's why ManageWP built an easy to use tool into our plugin that lists all comments, from all the sites you've connected to your account, into a single screen. No more logging in to each of your sites separately to manage your comments. Instead, you can approve, publish, and mark as spam all of your comments in one workspace.
Social Sharing for Your Content
You know that promoting your site's content via social media is imperative if you want to attract new readers and grow your brand. There are several well-coded plugins to help automate social sharing available to WordPress site owners and bloggers.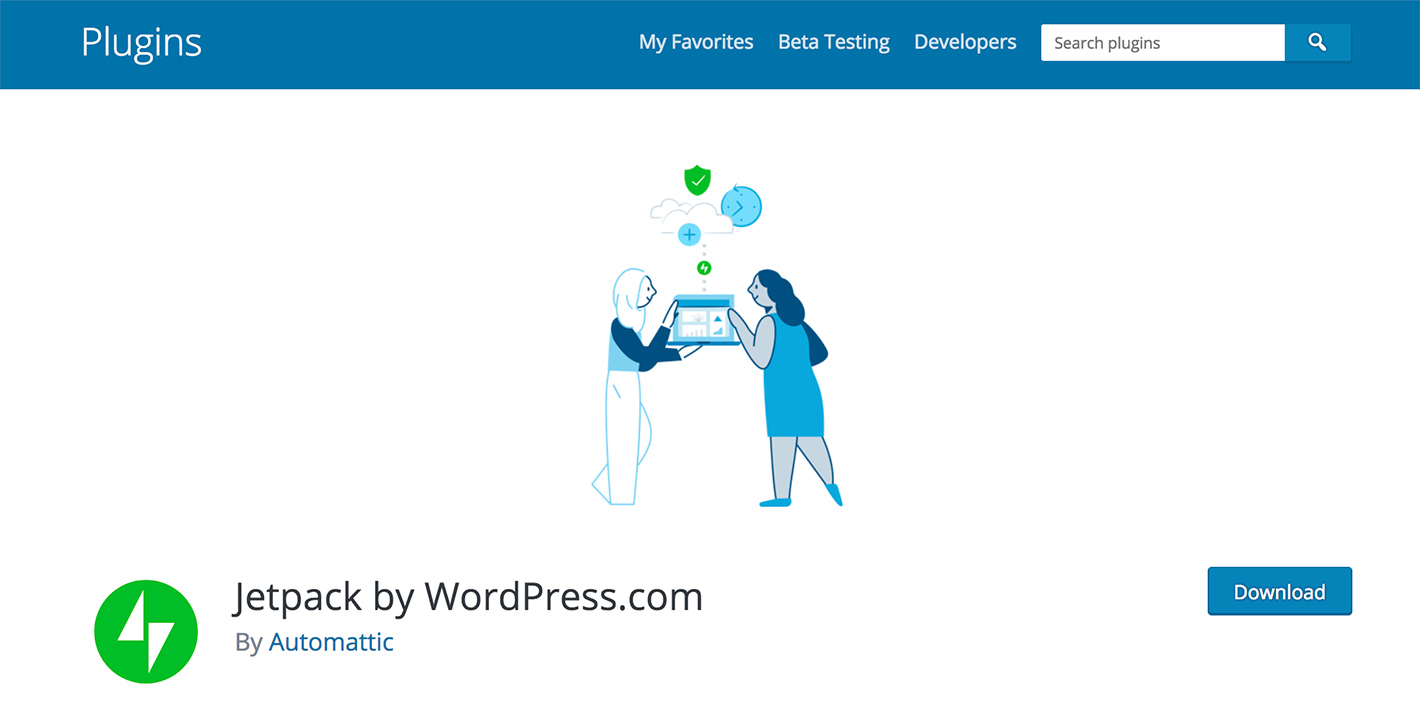 Jetpack can help social media promotion by way of its Publicize module. Once you've configured it to connect to your social media profiles, it will instantly promote posts to those profiles once they're published.
Another option is the Social Networks Auto Poster plugin. It integrates with over 20 different social media sites. And if you use Buffer for social media management, take a look at WP to Buffer. It feeds your content directly into your Buffer content queue.
Another great function to add to your site is a mechanism that automates the sharing of older posts as social media content. The Revive Old Post plugin does just that. Once it's configured,it will automatically pull both new and previously published posts from your site, then promote them via your social media accounts.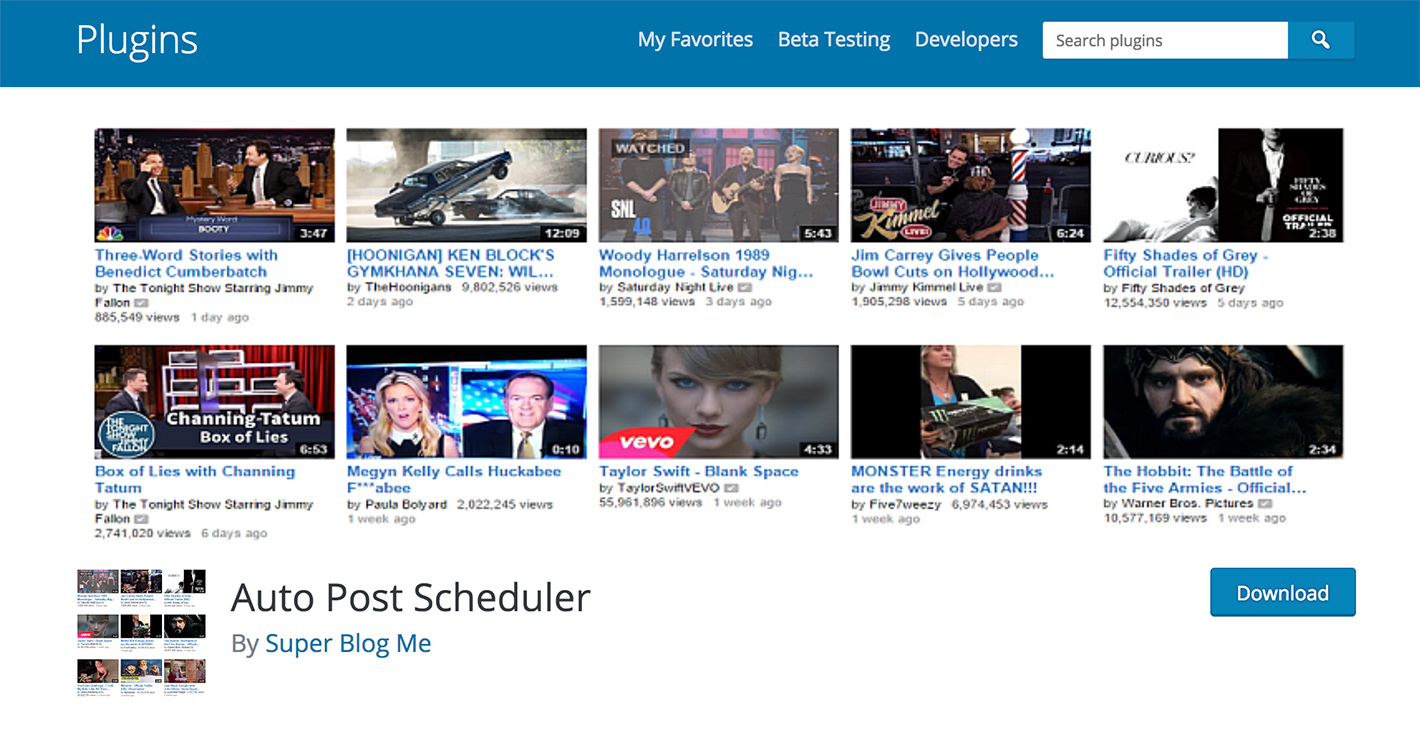 Scheduling your posts ahead of time is a great way to enhance productivity and save time.
You're probably already aware of the scheduler that's built into the WordPress dashboard's "Add Post" page. For most blogs and websites, this may be sufficient. But if you have a site that regularly publishes a large volume of posts on a regular basis, you may need additional help, such as a plugin like Auto Post Scheduler.
Manage your content plans with an editorial calendar. The free Editorial Calendar plugin helps you establish a schedule for publishing your completed content. You can manage your drafts, view post status, and even make quick edits from the plugin's interface.
It's not wise to completely automate content creation. However, you can take advantage of some plugins to help streamline the process:
Image Optimization
Image work can be quite tedious, if you're working with a large number of files. All image files should be compressed before you post them on your page or upload them to your site's Media Library. If you don't optimize the images, the size of these files can eventually cause a serious speed problem for your site, which will negatively impact UX and SEO.
To make the optimization job easier, look into WordPress plugins such as EWWW Image Optimizer and Short Pixel Image Optimizer. Both automatically compress images as you're uploading them, and can even optimize images you've previously added to your site.
If you always seem to struggle with finding a great featured image for your posts, check out Magic Post Thumbnail. It will scan sources of free, royalty-free images from sites like Google Images, Pixabay and Flickr, then automatically create a featured image out of it. However, whether it restricts itself to CC-0 licensed images is unclear.
Link Management
Broken links can present a big problem both for SEO and for UX. It also looks unprofessional and can frustrate users, or even make them think your site isn't up to date.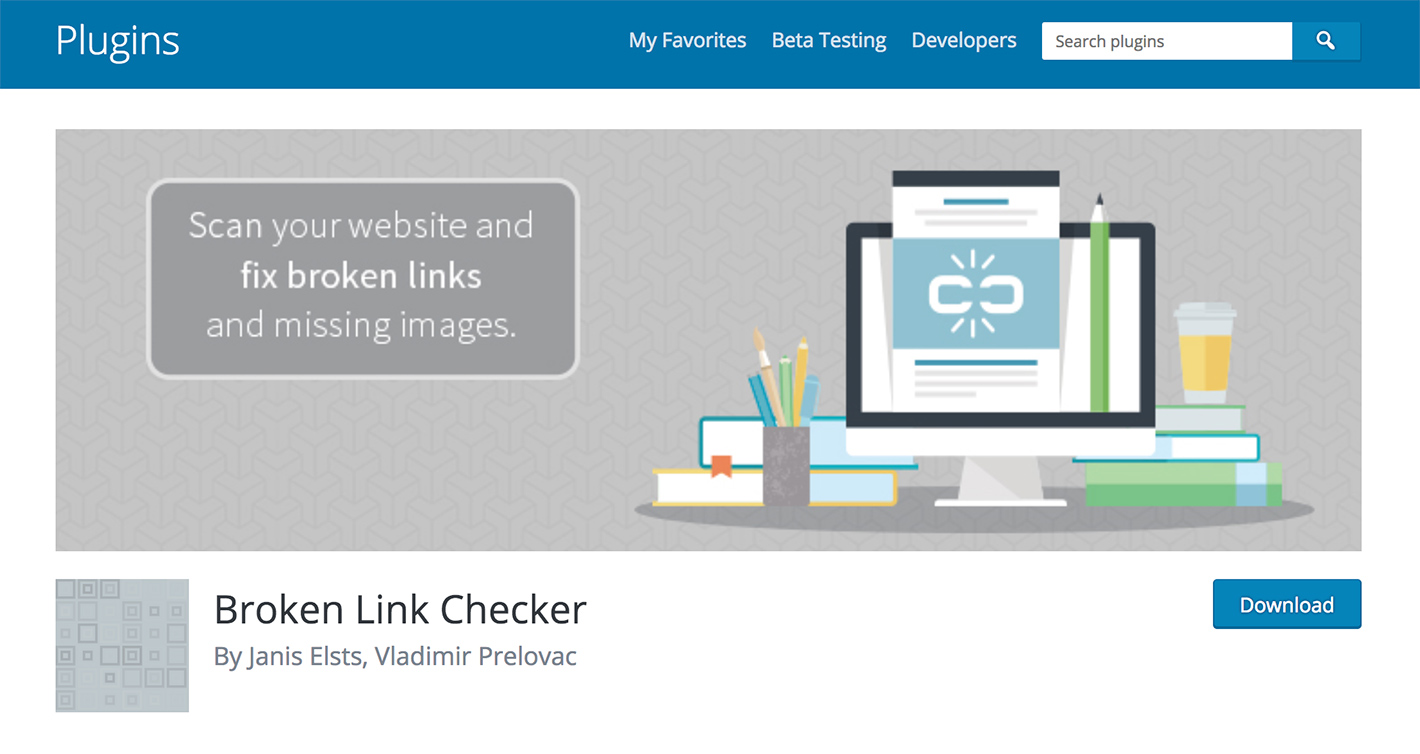 The plugin Broken Link Checker does exactly what its name implies. It scans your entire site for broken links, then attempts to remedy them instantly. It can also pinpoint missing images and fix those as well.
If you have a lot of embedded content from YouTube, check out Broken Link Checker For YouTube. It's designed specifically for sites that frequently publish a lot of video content and keeps you up to date on videos that have been yanked from YouTube, thus preventing user aggravation.
Wrapping Up
Hopefully, you now have a clearer idea of how to automate WordPress maintenance tasks to free up more time for other things on your to-do list. What's something you find you absolutely must automate?