Two months ago we wrote about releasing our upcoming Link Monitor feature to our Early Access program members, and we went over the details of how it will work. Today, I am pleased to announce that we're releasing it live to all of our users.
Now you'll be able to check your websites for broken links and turn on the link monitoring. And with automatic alerts, you'll have a peace of mind knowing that your links are being watched over and that you'll be notified if we detect anything wrong with them.
Let's jump in and see what is included.
Link Monitor
As you are most likely already aware from our previous article, Link Monitor is an advanced broken link checker that will not only check your websites for broken links but keep on monitoring them for any changes.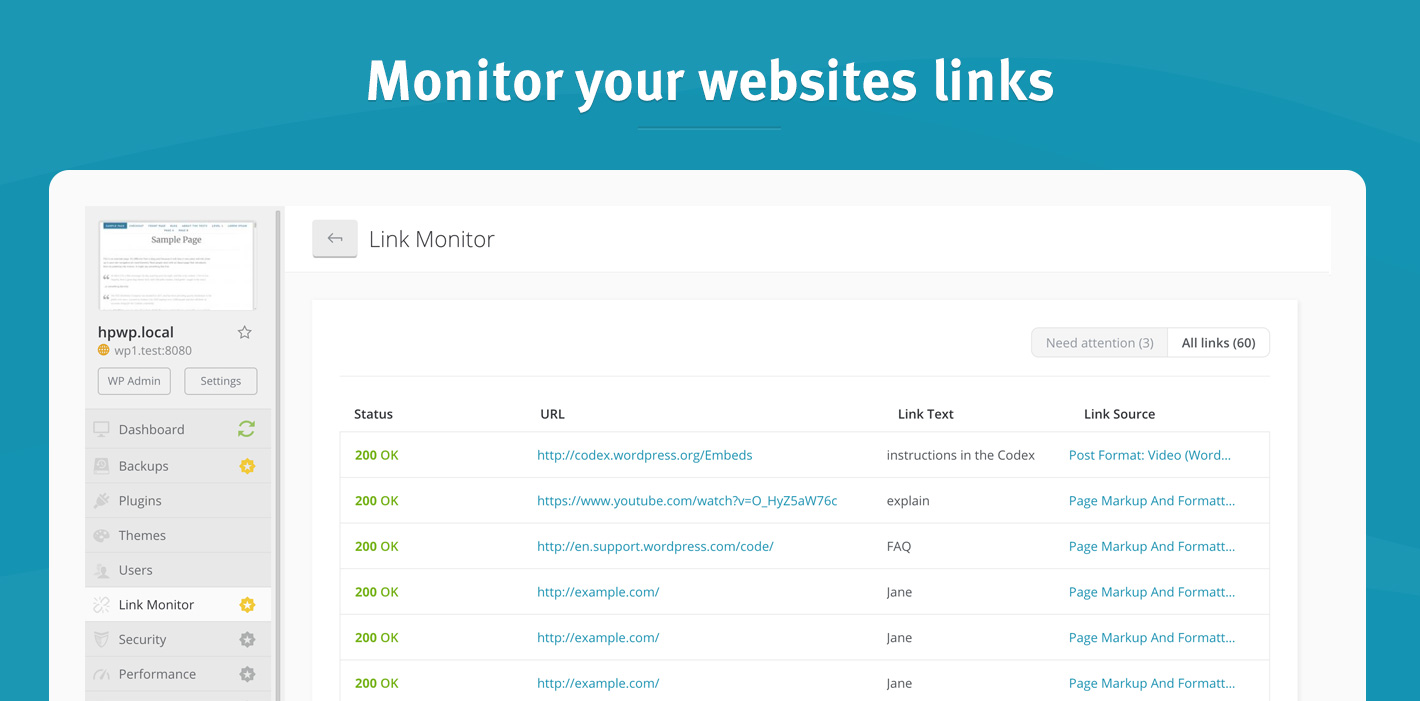 Once Link Monitor is activated, website goes into our checking queue for link indexing. After the website is crawled, and all internal and external links indexed, our system will take on the load* of running through all the links** on your website once a day and alert you if any issues are detected.
*Testing is done completely from our infrastructure, leaving your sites under significantly lesser load compared to running the broken link checker directly from your website.
**Link monitor is limited to 10K links per website.
If any response but 200(OK) is received, the link(s) will be put in a separate tab named "Need attention".

From there you can see all the links and easily change them using one of the 4 default actions: Edit link, Ignore link, add nofollow tag or Unlink it. Take note that all of these actions will change the links directly on the website.
In case you want the option to revert the changes, we recommend using "Edit Post" option that will open the classic post editor in another tab.
Bulk management options
All the links are now distributed between 4 tabs: "Need attention", "Nofollow", "Ignore" and "All links". We've added a couple of bulk management options to make editing links just a bit easier.
Now you can quickly Search and "Filter" for specific links and then easily select them and use one of bulk management options (bulk ignore, nofollow or unlink).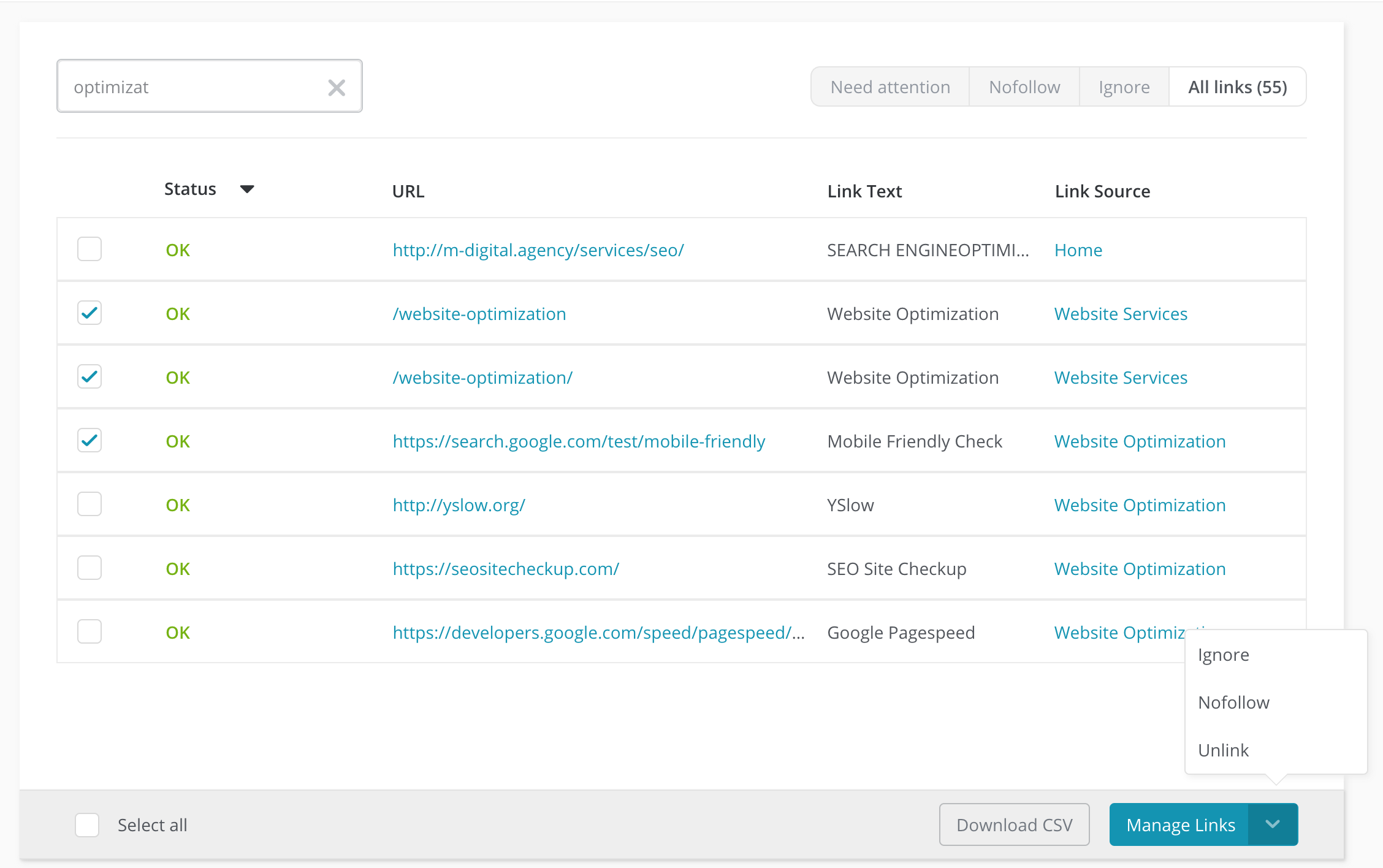 If you change any published post or page, it will automatically be scheduled for re-check in the next 5 minutes. That way, link recheck option is no longer necessary.
Why your feedback makes our product better
We want to take this opportunity to publicly thank everyone that participated and sent us feedback during our Early Access testing of this feature. Since lot of changes were influenced by your requests, comments and feedback, it is my hope that today we're releasing a version of Link Monitor that will be better able to serve your needs.

One of the key improvements that we added is the ability to export the links to a CSV file. That way you can have a list of all the links or just the ones that need your attention. This way you can deal with them at your own leisure or send them to your clients.
Pricing
Link Monitor is available like any of our premium ManageWP add-ons, with simple per-month payment options.
It costs $1/month to activate Link Monitor on one website, with bundle option available as well. This is excellent value for constant link monitoring and automatic notifications in case any issues are detected.
And in case you are already paying for our All-in-one package bundle – Link Monitor will be included in that cost like all of our premium add-ons.
Note: Link indexing is limited to 10K links per website. In case there is more than 10K links on your website, the system will warn you but will not check the links that go beyond this limit.
Final word
Broken links frustrate visitors and mess with your website ranking. Luckily, you no longer have to put up with it. Link Monitor keeps tabs on your links, notifies you if any of them break, and helps you fix them with ease.
Head to your ManageWP dashboard and activate Link Monitor today.
And as we have said this time and again, it's important for us to find out what you like to see in our products and what works for you. Let us know through the 'send feedback' form within the dashboard or in the comments below. We are looking towards your thoughts and suggestions.