Link Monitor will be the first feature launched exclusively to our Early Access program and we're pleased to announce its Beta testing release. Link Monitor will check if all your links are working, and alert you if anything is wrong. This lets you avoid any SEO problems, poor user experiences, or lost revenue from broken links.
We've had a lot of people asking for Broken Link checker, and we're delighted to to announce it's long awaited upgrade.
What is Link Monitor?
Link Monitor is an advanced broken link checker, available right from the ManageWP dashboard. In addition to checking all the links in all the posts and pages on a website, you'll get continuous monitoring of indexed links with regular, daily checks. You'll also be alerted if any unresponsive or broken links are found on the sites that you're watching.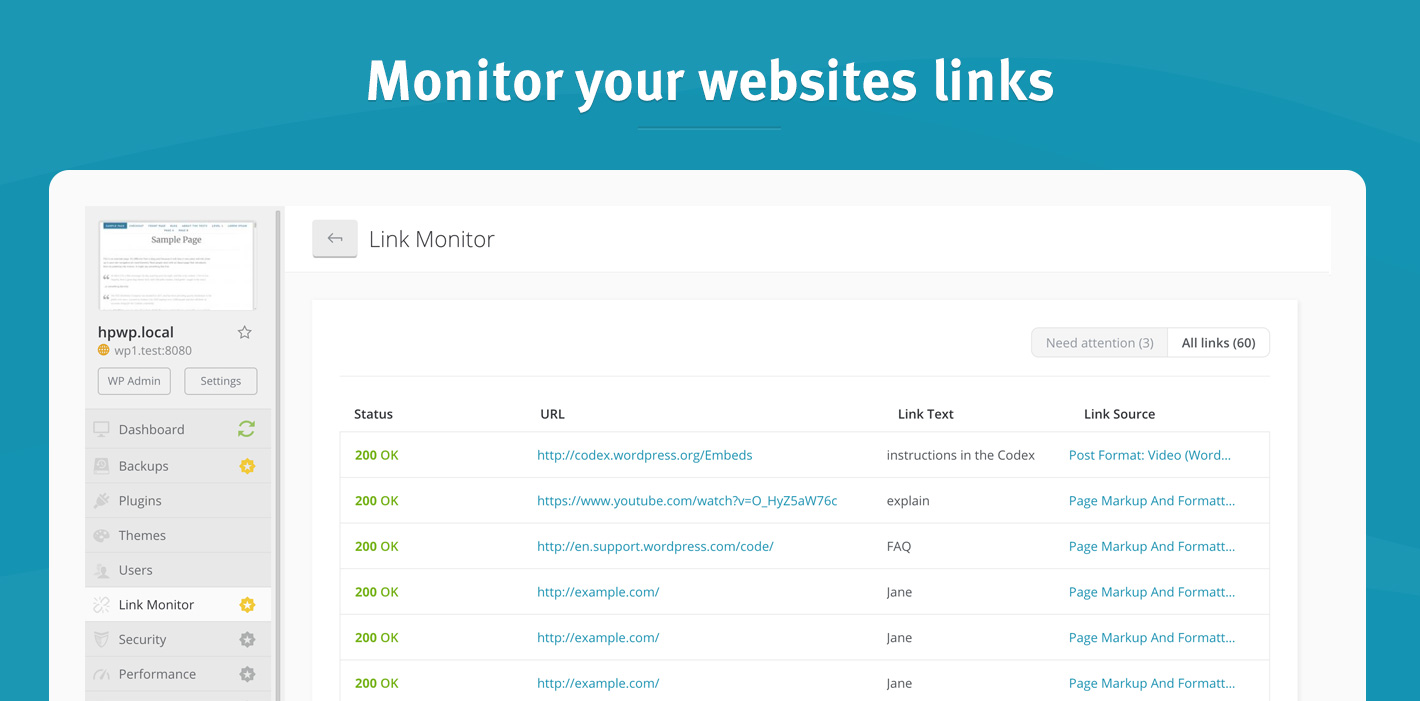 Why is this important?
Broken links can impact negatively your website position in Google search results and it is best to deal with these links before they potentially become a problem. Since website crawlers use links to 'crawl' and index your site, any issue there can lead to parts of your website not being searchable through web engines.
Not to mention that users also expect those links to work. When your website visitor click a link, they expect to be taken to the correct webpage. If the link is unresponsive or broken, that usually leads to a poor user experience.
Luckily, Link Monitor solve these problems for you: you get automatic checks and alerts for any unresponsive or broken links on the sites that you are monitoring. This lets you deal with these broken links in a proactive manner while avoiding any negative impacts on SEO, the user experience or revenue.
And your clients will surely appreciate additional level of vigilance from your side. It is a win-win for everyone.
How does it work?
Once Link Monitor is activated, the website will go into our checking queue. It will go over all the links on a given website (both internal and external), extract them and check their response times and code for you. If the link response code is not 200(OK), the link(s) will be put in a separate tab named "Links with issues."
Link Monitor will run through all the links on your website (limited to 10K links per website) once a day and alert you if any new issues are detected. And the best thing is that it's completely run on our architecture, which means that the strain to your hosting will be minimal*.
*Our system will index all the links from your posts and pages, and then run the testing from our infrastructure, leaving your sites under significantly lesser load compared to running the broken link checker directly from your website.
Update (July 25, 2019)
Link indexing is limited to 10K links per website. In case there is more than 10K links on your website, the system will warn you but will not check the links that go beyond this limit.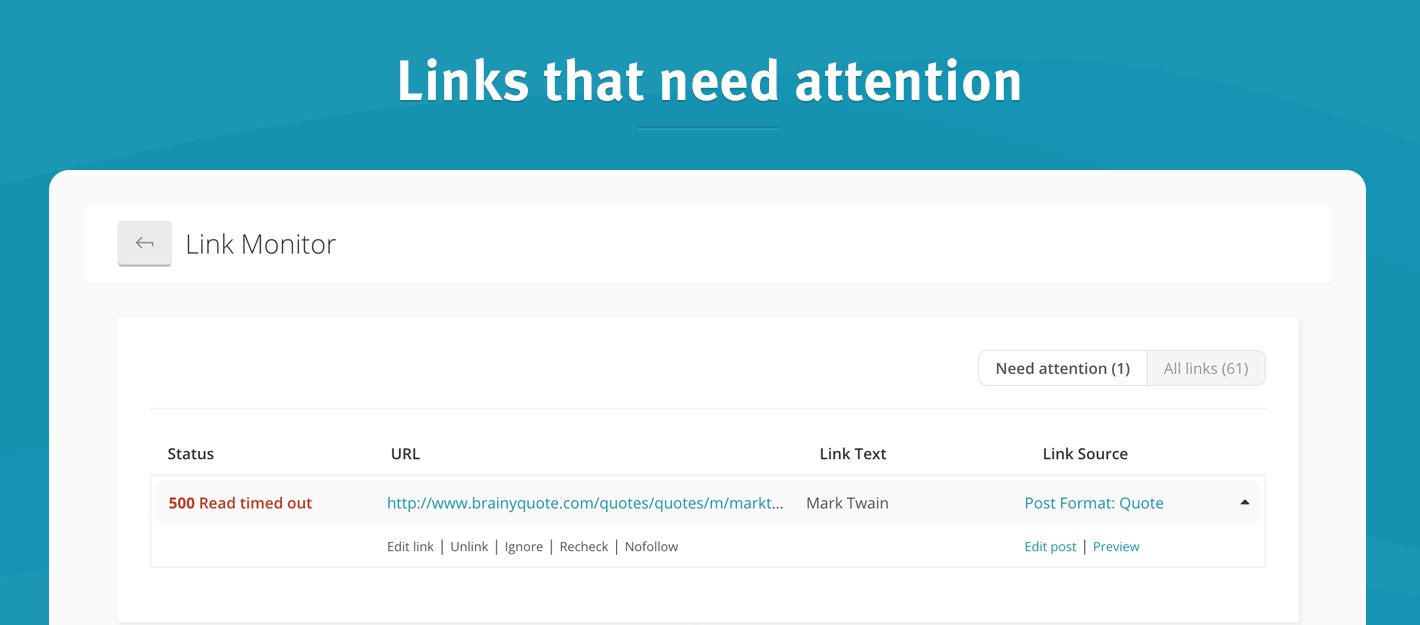 Once you have all this info, it's time to deal with these links, and we've made it easy for you to take action right from the ManageWP dashboard.
Deal with broken links
When a link is flagged as unresponsive or broken, we've given you options in the dropdown to:
edit the link,
unlink it from the text,
add a nofollow tag (this effectively tells search engines to ignore this specific link),
or to ignore it. Ignoring the link will put it back in the "All Links" tab, and the link will be tagged as "Ignored" so you can easily recognize it.
All of the mention options will change the links directly on your website.
In case you want to see link location within the page or edit it 'the old-fashioned way' – we provided 2 additional options (Edit Post & Preview) that will open the page in another tab for your convenience. This way you can edit the link though your regular editor and save the post revision in case you want to revert the changes.
Update!
In case of multisite setup, Link Monitor will check only the main website.
We have not tested it against different multilingual setups so we advise caution if you plan to edit the links directly.
Let us know if you find any issues using it against those two use-cases.
How can I try it out?
During the beta testing period, Link Monitor will be exclusively available to our ManageWP Early Access program members.
Since our EA program is open for any and all users willing to provide feedback, there is no reason why you cannot join and try out this new feature.

It will be available from your left side menu and clearly marked as BETA.
After the initial Beta testing period, Link Monitor will be made available under the same conditions as most of our premium tools (with bundle options available as well).
Please note: since it is still in beta, the initial scan might take up to a day to run, so don't be alarmed if you don't get the result right away.
Wrapping up
We're always improving the ManageWP product and can't wait to hear your thoughts on Link Monitor.
Whether you want to use this right away, or have feedback or improvements to suggest, we can't wait to hear: let us know through the 'send feedback' form or in the comments below. We are looking towards your thoughts and suggestions.