We're transparent here at ManageWP, and love talking to all of our users at any opportunity. Whether we meet through email, live chat, video, or an encounter during WordCamps and local WordPress meetups, we relish the chance to talk to you and hear your thoughts on how are we doing – whether that's praise or criticism.
Without your support and feedback, ManageWP would not be a success. We're massively grateful to all of you who regularly leave us comments and feedback, as it helps us improve, but it also tells us we are doing something right. In short, you are our biggest source of encouragement and inspiration.
Because we value your contributions, we'd love to ask you to become a part of our Early Access Program!
What is the ManageWP Early Access program?
In a nutshell, it's a strictly opt-in program for those who want to test out new ManageWP features, and provide us with feedback. This helps to deliver better results, more quickly.
By joining the ManageWP Early Access program, you'll get exclusive access to all of the features currently under development or being tested for release.
You'll also have the chance to participate in any research, surveys, or prototype testing that we hold. Every answer we receive gives us more feedback on how we can make ManageWP even better going forward.
What do I get out of it?
In short, you get a say in how the future of ManageWP is shaped!
By providing us feedback during the early stages of development, you are helping us understand what is important to you. We'll then focus and prioritize our efforts on those areas.
This ultimately gives you new features or improvements much quicker, and makes sure ManageWP is more aligned with your needs.
How can I join?
The ManageWP Early Access program is accessible from your account drop-down menu, and will take you directly to the Early Access page: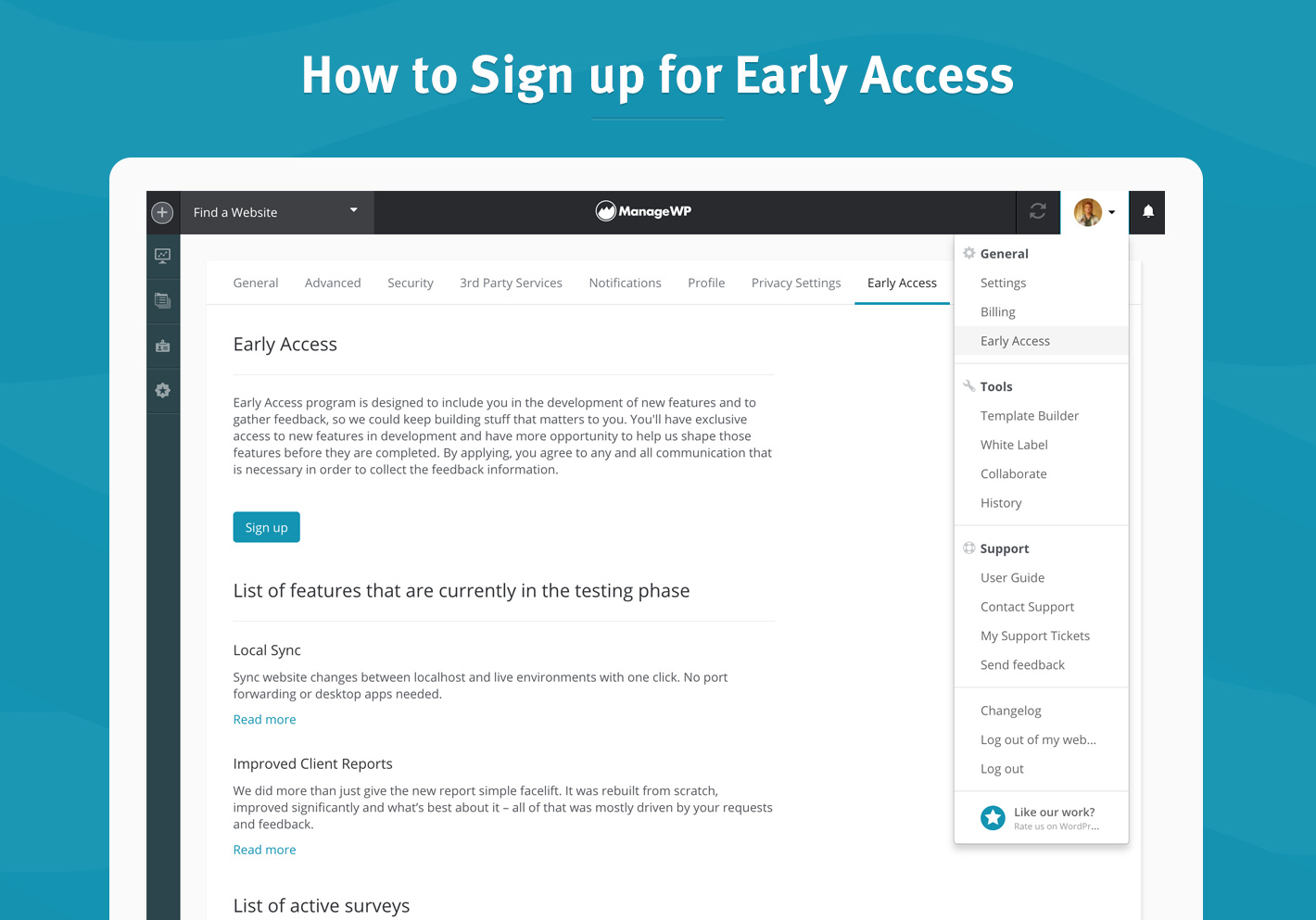 By opting-in, you'll be given immediate access to a list of features currently under beta development. You'll also be added to our Early Access distribution list so we can get in touch and ask for feedback.
Important note: You will not lose any of the functionalities you currently have! New features will simply appear on your left side add-ons list clearly marked as (BETA).

Finally, at the bottom of the page is a list of active surveys at the bottom of the page. You're not obligated to partake in them all – although we'd love you to – so choose those that pique your interest!
Join us to help make ManageWP even better
We want to reiterate our thanks to those who dedicate time, offer feedback, give encouragement, and generally show love to ManageWP.
We'd like to see as many users as possible joining the ManageWP Early Access program. After all, the more feedback we get, the better we're equipped to meet your expectations.
We're excited by all the great things we're going to create together in the future!