Running a successful WordPress website can be a lot of time-consuming work. However, if you don't make an effort to take care of essential maintenance tasks, it can have negative consequences for your site, including leaving it vulnerable to attacks.
By automating important WordPress maintenance tasks, you can ensure that essential work is performed on time, no matter how busy you get. With WordPress on autopilot, you'll also have more time to devote to other aspects of running a successful site, including creating content, answering comments, and performing market research.
In this post, we'll show you how to lighten your workload by automating seven common WordPress maintenance and admin tasks. These techniques will save you time while helping to ensure your website runs smoothly and safely. Let's get started!
Why you may want to automate your WordPress site
Running a website is similar to managing a business. There are lots of behind-the-scenes tasks that need to be completed in order to keep everything ticking over smoothly.
All of this day-to-day maintenance can leave little time for anything else. By automating time-consuming and frustrating tasks, you'll have more time to dedicate to activities that actively grow and improve your business.
Automating your website can also be a smart move for security. According to the 2020 WebARX website security survey, 75 percent of WordPress users are increasingly worried about cyberattacks.
There are many steps you can take to protect your website from hackers. However, it's easy to neglect these routine maintenance tasks until it's too late. By automating your website's security, you can help keep your site and your visitors safe, without adding to your own workload.
Just like a car, your website also requires routine maintenance to keep it running smoothly. If you fall behind, it can have a noticeable impact on your website's performance. This could result in an increased bounce rate, fewer pageviews, and lower search engine rankings.
You can use automation to continuously monitor your site's performance and notify you of any issues, including downtime. In fact, you can even automate tasks that actively improve your site's speed, such as cleaning your database.
7 ways to automate your WordPress website
Now that we've discussed the benefits of automating your WordPress website, it's time to talk about how to do it. Below, we've covered seven techniques that will help you bolster your site's security, performance, and growth without lifting a finger.
1. Schedule posts for publishing
The key to a successful blog is a consistent publishing schedule. By scheduling your posts, you never have to worry about your content going live on time. This strategy can also be useful for targeting readers in specific time zones or during peak traffic hours.
Out-of-the-box, WordPress has everything you need to schedule your posts. When you've finished writing, open the Document tab in the Block Editor and expand the Status & Visibility section. Then click on Publish: Immediately. This opens a calendar popup where you can specify a publication date and time: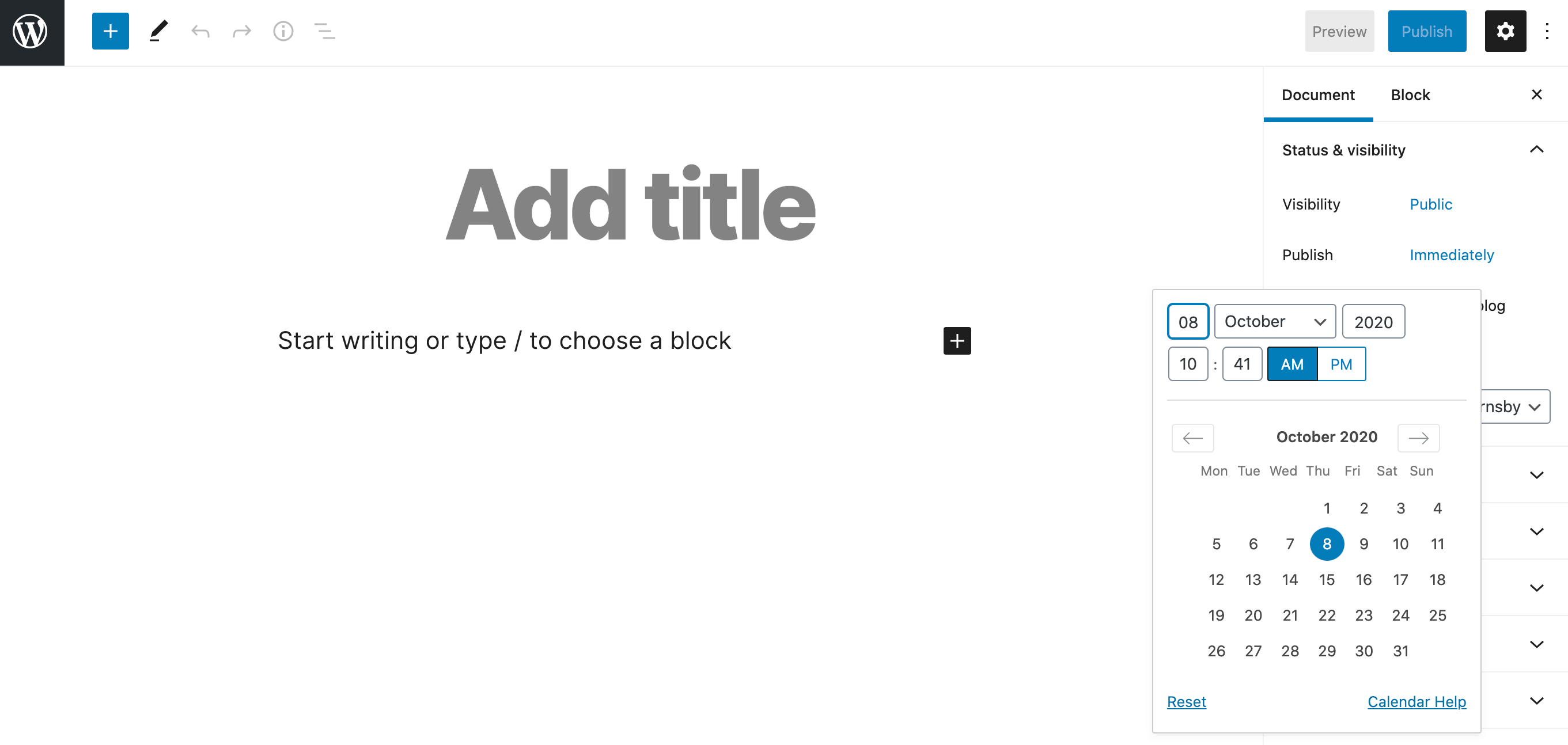 Alternatively, you can create a publishing schedule using a plugin such as Editorial Calendar. Just install and activate it, and then navigate to Posts > Calendar: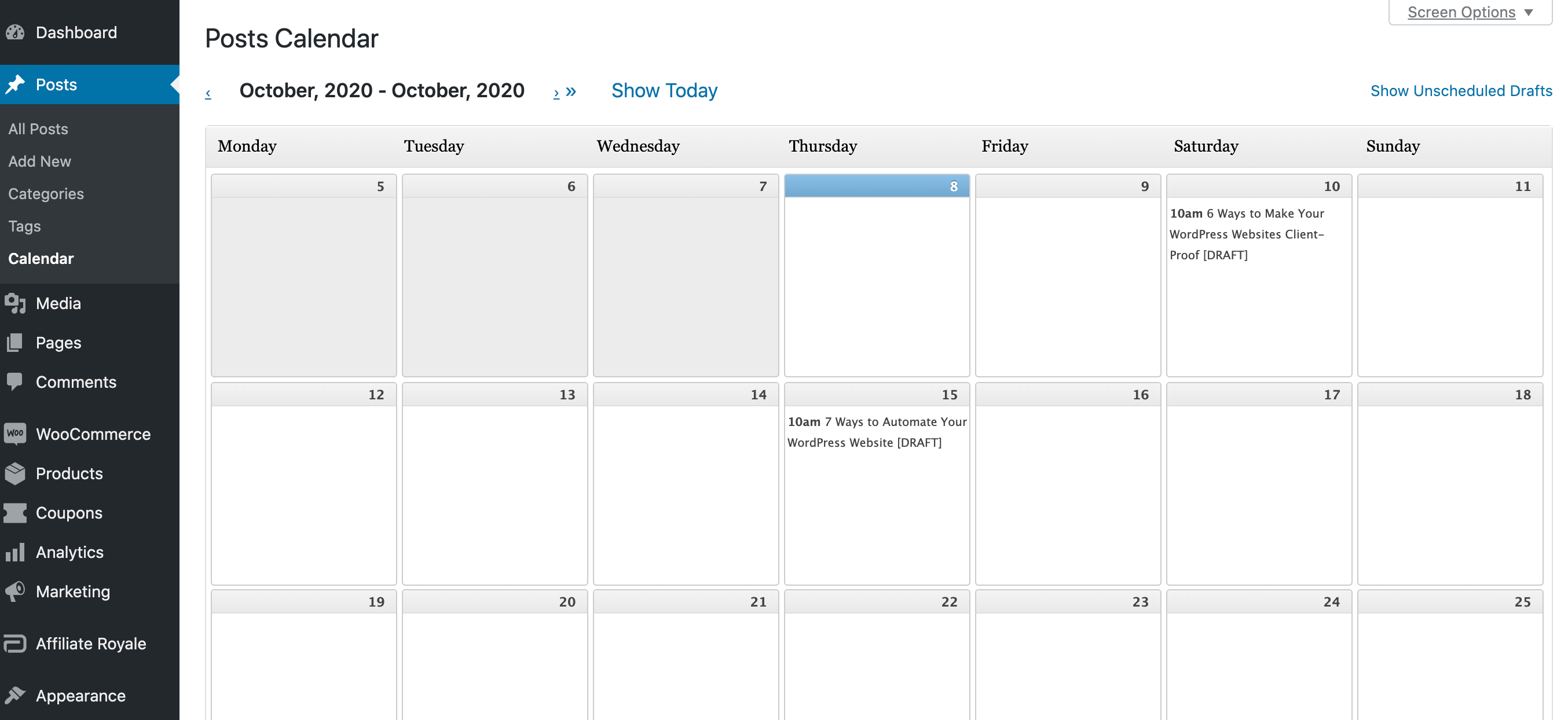 You can then build a publication schedule all from one screen. This calendar view also provides a handy overview of your blog and when each post will be published.
2. Install the latest plugin and theme updates
If you don't keep your plugins up-to-date, then you're leaving your site vulnerable to attacks. Almost all WordPress vulnerabilities are related to plugins, and hackers frequently target known security gaps in outdated code.
Updating your plugins can be a time-consuming process. This is particularly true if you use a large number of plugins, or manage multiple WordPress websites. By opting for a tool such as ManageWP, you can automate the process of identifying and installing updates for all your plugins and themes: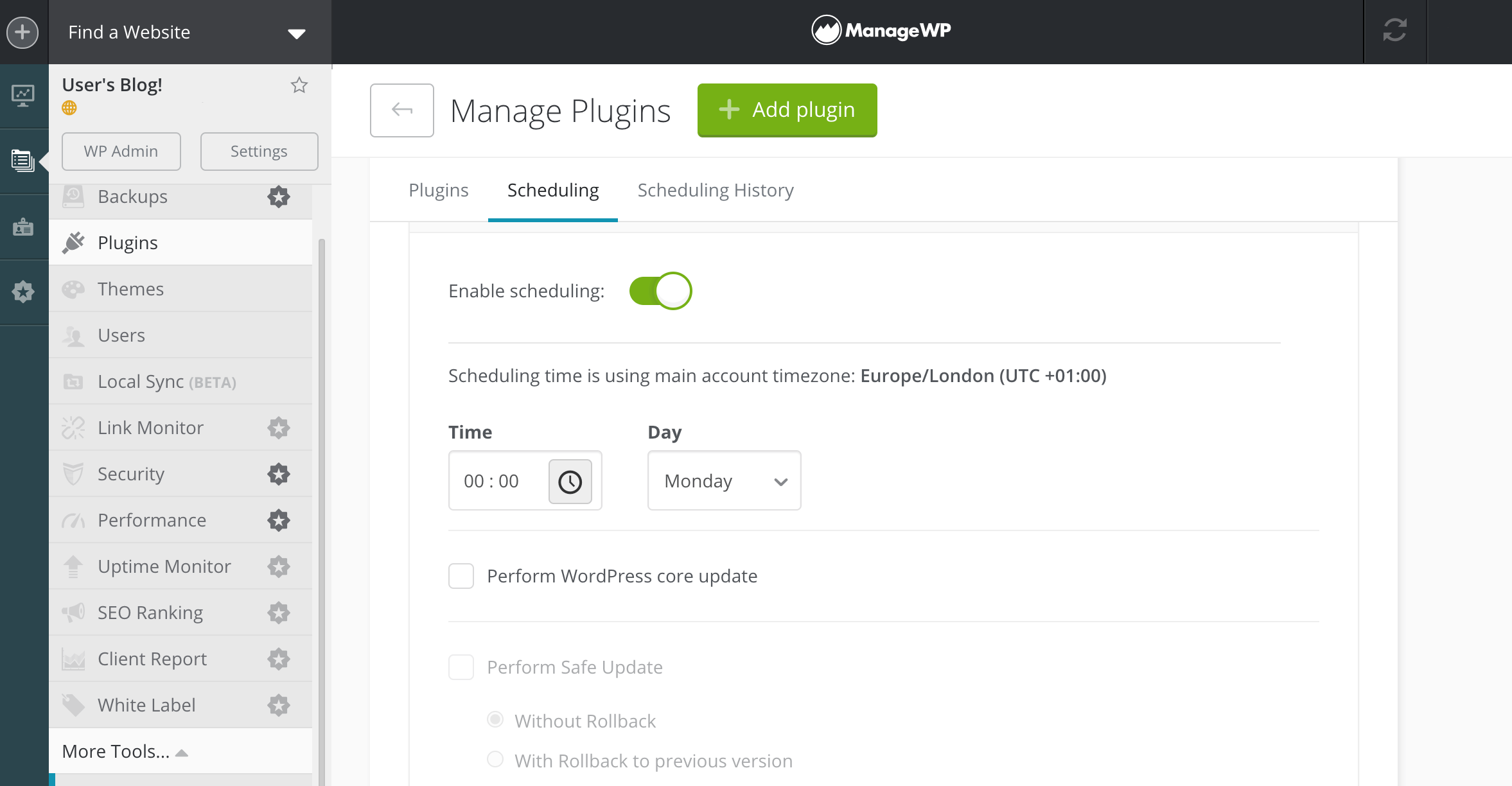 Just set a time and day to check for available updates, and ManageWP will do the rest. You can even minimize disruption to your visitors by selecting a window during which your site typically experiences the least amount of traffic.
3. Create regular backups
Imagine discovering that years of content has been erased from your site. If your website gets hacked, infected by malware, or deleted, then a backup can provide access to a clean copy of your data. You should also create a fresh backup before making any significant changes to your site, so you have something to restore if anything goes wrong.
ManageWP can protect your site by creating reliable, incremental offsite backups. All ManageWP users are entitled to free monthly backups. However, if you upgrade to the premium feature, then you can create your own automated schedule: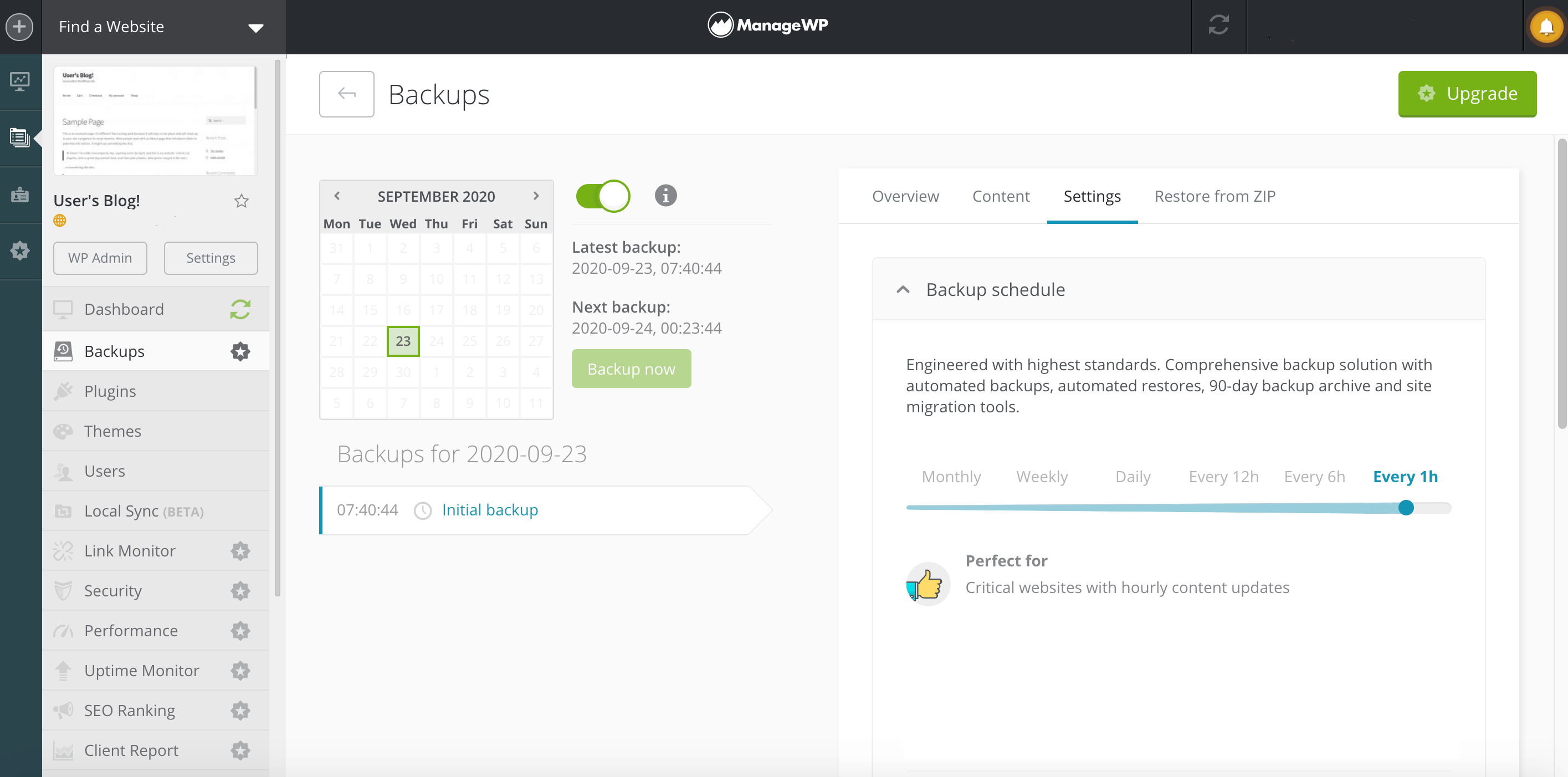 You can set your backups to run as often as once per hour. With an automated system in place, you can stop worrying about losing your existing content and concentrate on creating more of it.
4. Scan for security threats and malware
Malware could be running on your website for months without you noticing. An automated security scan won't resolve any issues with your website. However, it will reveal if and how your site is vulnerable to attack. You can then take specific actions to bolster these weak spots in your website's defenses.
ManageWP's Security Check can perform automated web integrity monitoring and malware scanning by comparing your site's code against our malware knowledge base. It will then create a detailed security report that includes information about any detected vulnerabilities: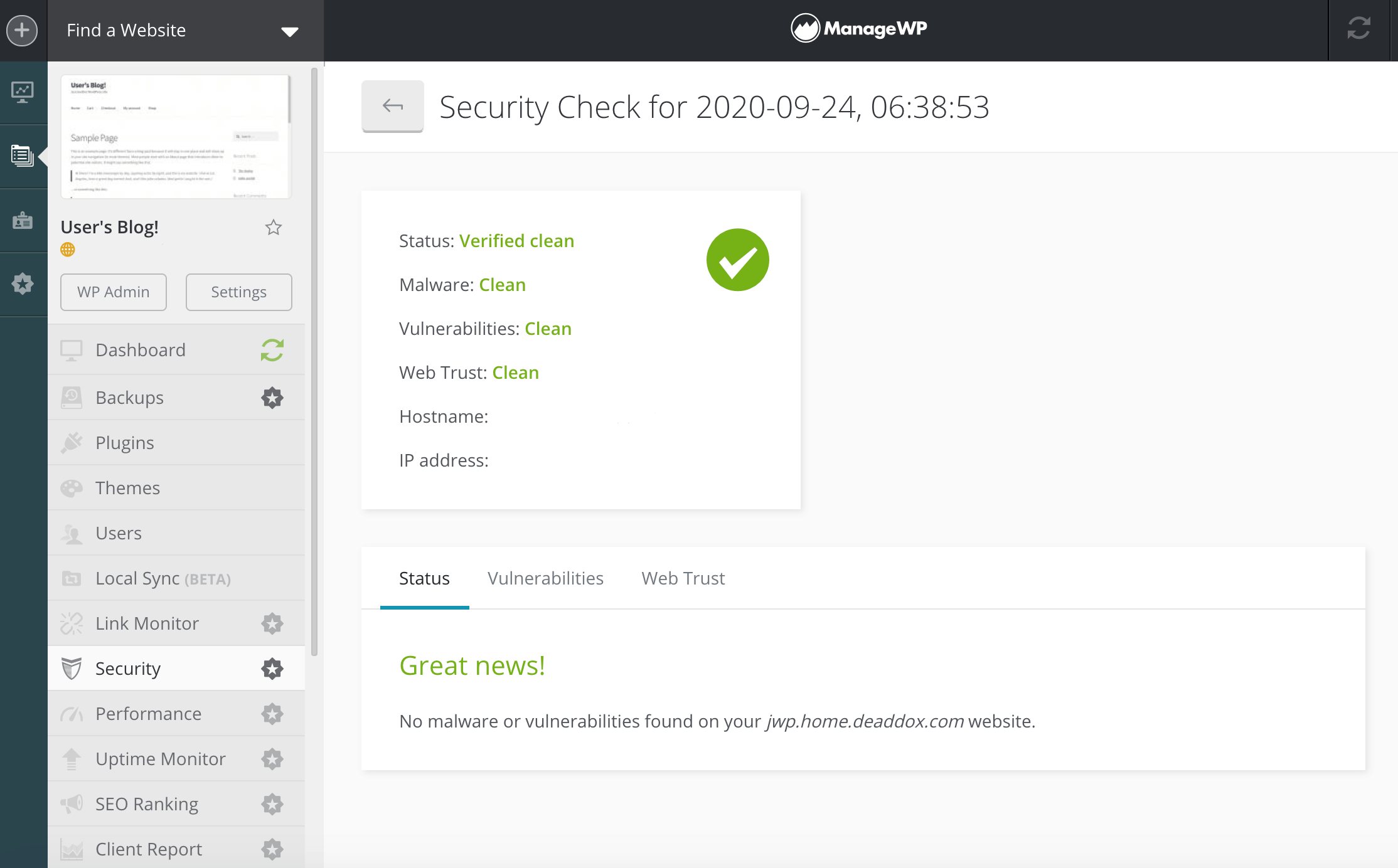 ManageWP can also check whether your site has been blacklisted by popular security-focused services. This includes Google Safe Browsing, Norton Safe Web, and Sucuri Malware Labs: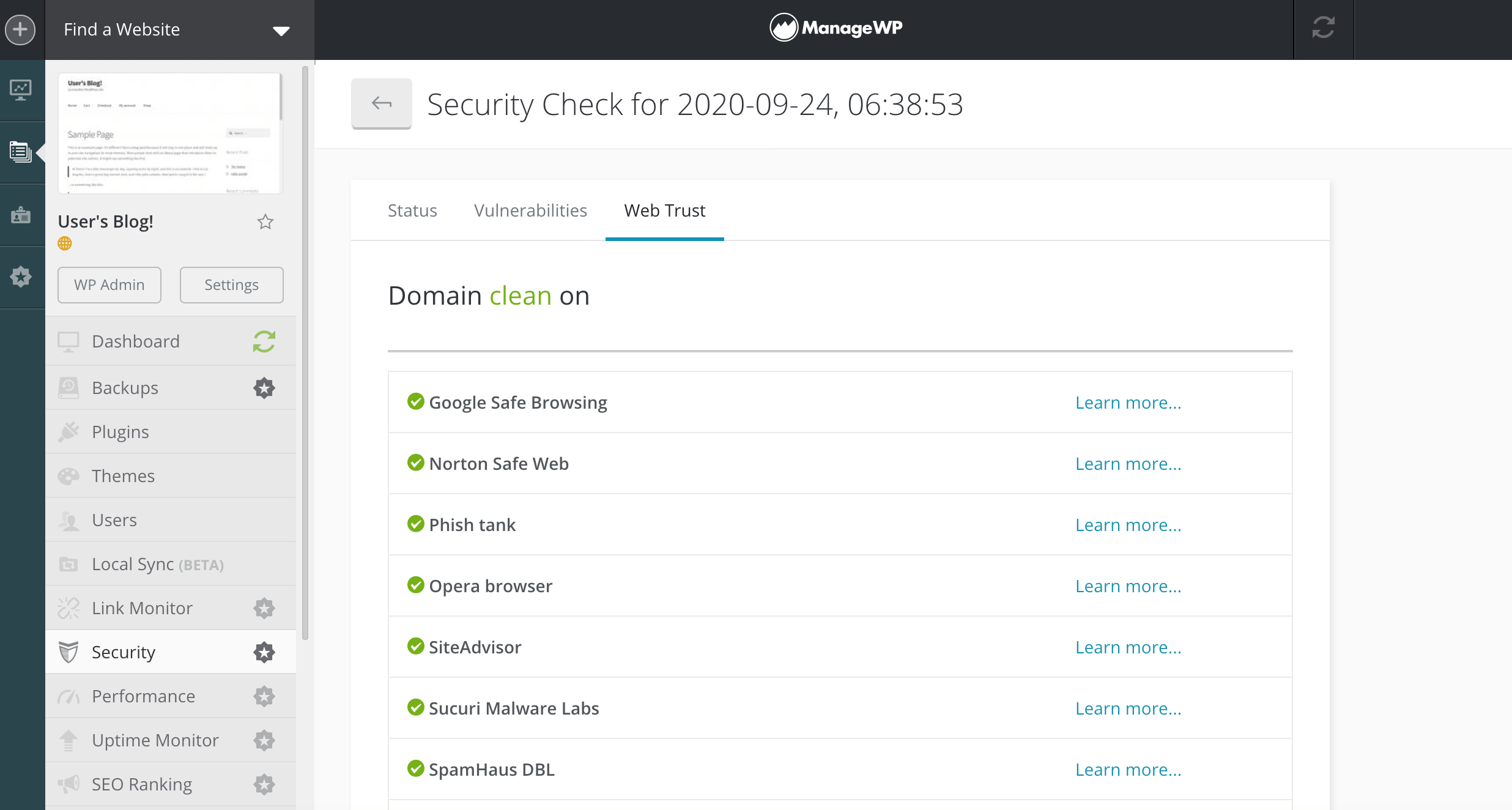 If your site is blacklisted, it's a strong indication that there's a security issue you should address. If ManageWP discovers such as problem during its automated scans, it'll notify you via email or Slack.
5. Assess your website's performance
Performance issues tend to build up over time and aren't always easy to spot. If slow loading times go unnoticed and unaddressed, they can seriously hurt your website.
Your typical internet user isn't going to wait for a slow or laggy website to load. Search engines such as Google also take performance into account when ranking content on results pages.
By regularly benchmarking your site, you can identify performance issues before they wreak havoc on its User Experience (UX) and Search Engine Optimization (SEO). Google PageSpeed Insights and YSlow are two popular platforms for measuring your website's loading times.
ManageWP's Performance Check uses both of these tools to assess your website: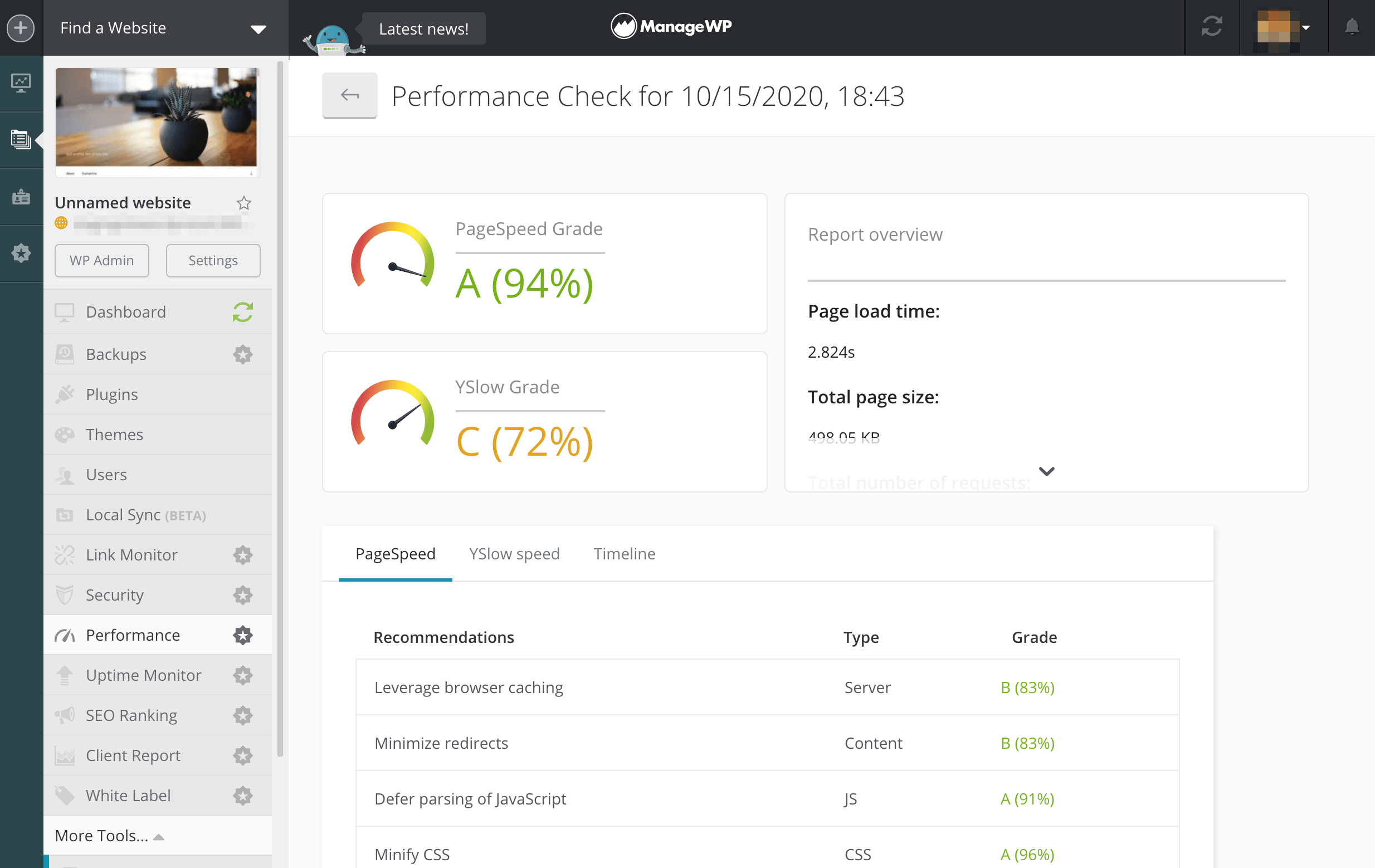 ManageWP also provides specific recommendations on how to improve your website's speed. If it ever discovers your site is severely underperforming, it will notify you via email or Slack. You can then take steps to resolve the identified problems and get your site back on track.
6. Monitor your website for downtime
Unexpected downtime is expensive. Every minute your website is down is another minute where you're potentially alienating loyal readers, losing out on sales, and incurring SEO penalties. According to some estimates, unscheduled downtime can cost your business up to $5,600 per minute.
Fortunately, you don't have to keep checking your site manually. You can monitor your site for unexpected downtime using a platform such as Pingdom.
Alternatively, ManageWP's Uptime Monitor will regularly ping your website. You can configure it to check your site's availability once every 15 minutes, to once every single minute: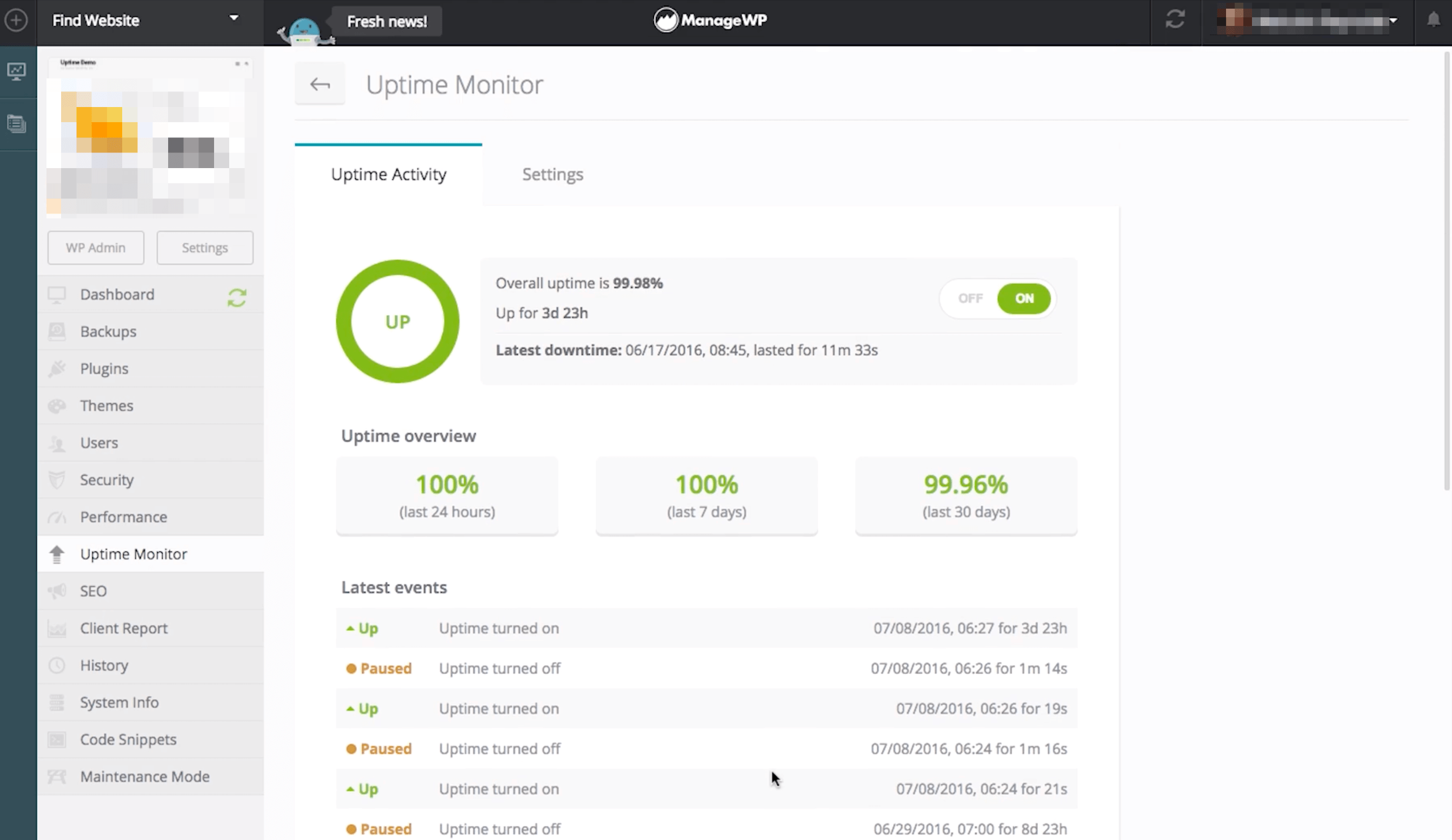 If your website doesn't respond, Uptime Monitor will notify you via email, Slack, or SMS. You can then take the steps necessary to get your website back online.
7. Clean your database
Your database stores all your website's content. This includes pages, posts, comments, and custom post types. As your website grows, your database can begin to bloat.
A heavy database can slow your website as it takes longer for your server to retrieve information from its tables. By clearing out unnecessary content, you can quickly improve your website's performance.
You can auto-clean your database using a plugin such as WP-Optimize:

This free plugin flushes unnecessary data, including unapproved comments and expired transient options. It also compacts your MySQL tables and performs optimizations without requiring you to run any manual queries.
Conclusion
Running and maintaining a successful WordPress site can be a lot of hard work, leaving you little time to focus on growing your brand. By automating common maintenance responsibilities, you can lighten your workload while ensuring important tasks are always performed on schedule.
In this post, we've discussed how to put your WordPress website on autopilot by automatically scanning your site for malware, performance issues, and outdated software. We also showed you how to back up your website, schedule new content for publication, and clean your database with almost zero manual intervention.
Do you have any questions about automating your WordPress website? Let's talk about them in the comments section below!