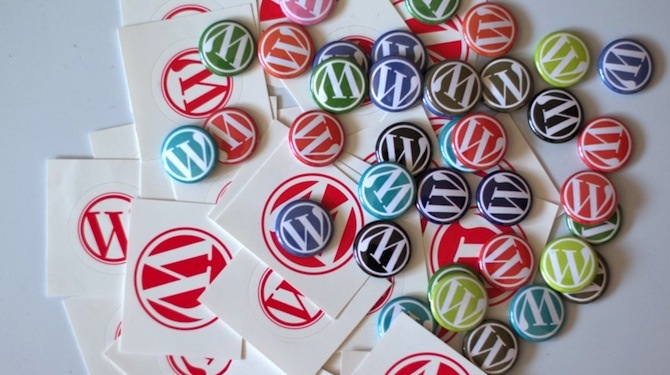 As always for WordPress geeks like me, the release of version 3.5 was a pretty exciting time — not least for the much-anticipated improved media handling functionality. I even went as far to write a post on that topic alone which was pretty glowing in terms of its capabilities. DynamicWP also did a great job of covering what is so good about the new features in their WordPress 3.4/3.5 comparison post.
However, time and experience can often reveal new things to us and while I am still a big fan of many of the media improvements introduced by WordPress 3.5, a number of less-than-desirable issues have revealed themselves to me in the past couple of months. In this post I am going to reveal what I don't like about the new media functionality in WordPress 3.5.
1. Default Settings
Back in WordPress 3.4, you clicked on the little media icon above the rich text editor and you would be presented with an upload screen: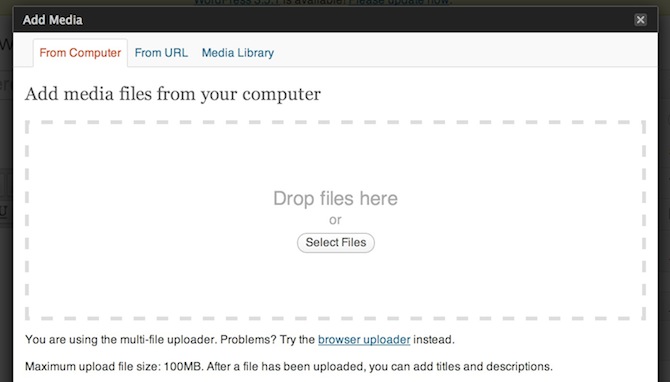 Now, in WordPress 3.5, you are presented with your Media Library: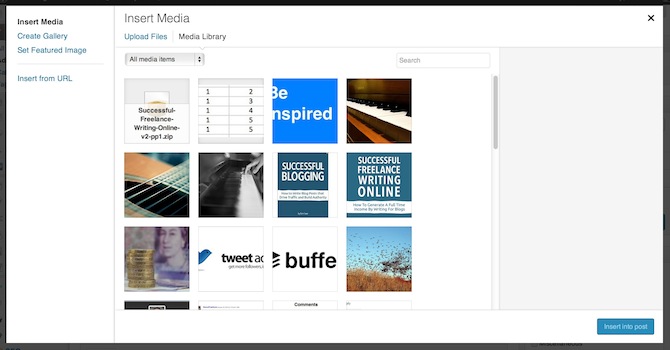 I suppose this must benefit some people, but I am far more likely to want to upload an image than grab one from my Media Library. I hope that I am wrong about this and that the majority of users would actually prefer to access their Media Library over uploading an image but I do not imagine that to be the case. This new feature adds an extra click to my process, which is obviously not a major issue, but is a minor irritant nonetheless.
2. Adding a Featured Image is More Convoluted
Back in WordPress 3.4 you could choose to add a featured image as you were uploading and formatting an image:

Simple, no? Not so much in WordPress 3.5 as this option has disappeared from the image upload screen in an apparent attempt to simplify the interface. If you want to set a featured image you now have to click on the appropriate link in the appropriate meta box on your Post Edit screen…
…then select an image from your Media Library and click to set it as the featured image. Given that I tend to set featured images for the majority of blog posts that I create, this seems like a needless increase in the number of clicks needed for a common task. I feel that this is a case of simplification gone wrong.
3. Inputting Meta Data Has Become More Difficult
I really miss the old 3.4 image editing screen: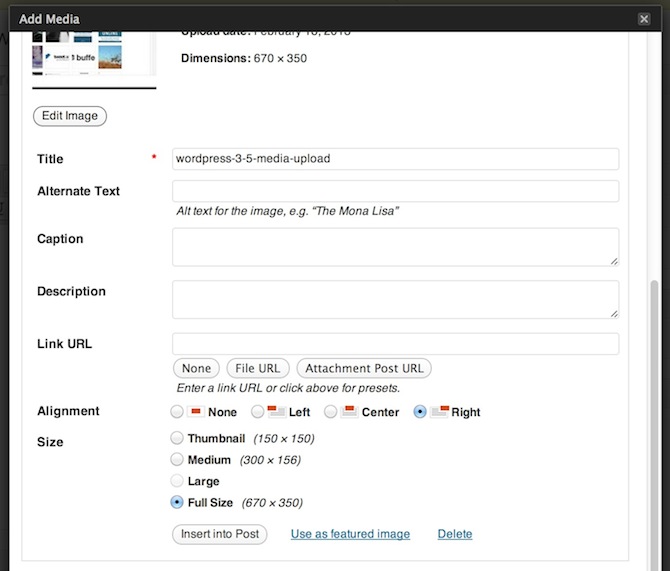 It had everything that I needed within easy reach — I could tab through the fields and add what I wanted as I went. Unfortunately, this ease of use has now been somewhat diminished with WordPress 3.5: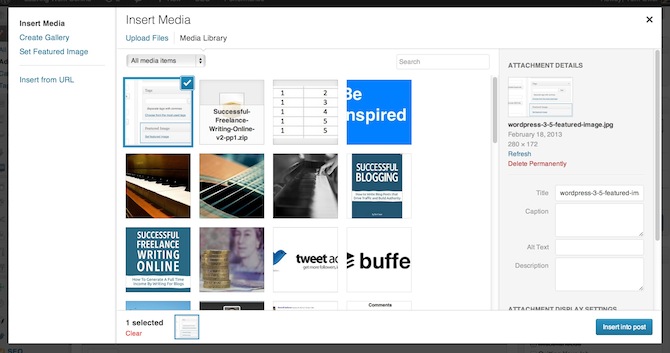 The edit fields have now been relegated to a compressed sidebar section. If you want to edit an image the relevant screen opens up in an entirely new tab, which in my opinion is inferior to 3.4's inbuilt editing functionality. Adding the usual title/alt text and caption is easy enough but linking to images is now a hassle with the new drop down menu: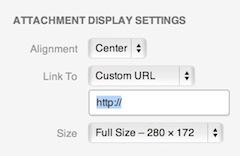 The old version was in my opinion far superior — just type in a URL or hit a button for one of the other options. Now you have to follow the clumsy process of selecting from a small drop down box. Again, I can't help but feel like simplification has been prioritized over usability.
4. It Takes Longer to Insert Images
In my experience there was no noticeable pause between clicking to insert an image and it appearing in the rich text editor in WordPress 3.4. However, there most certainly is a pause in WordPress 3.5. For whatever reason it is more taxing for WordPress 3.5 to insert an image than it was for 3.4, which to me is inexcusable.
If there's one golden rule that any developer should follow when upgrading a piece of software it is this: avoid increasing loading times whenever possible. Or to put it another way, if a new feature is going to increase the loading time then you should be damn sure that the positive impact of the increased functionality outweighs the extra seconds that users will have to wait. I don't feel that WordPres 3.5 delivers as it should on this front.
It's Not All Doom and Gloom
Please don't conclude from this that I hate WordPress 3.5. On the contrary, I think that it introduced a bunch of great new features and overall represents another step in the right direction for the WordPress core. However, I was really disappointed to observe the issues above and consider it a great shame that they have creeped into what was otherwise a great update.
What are your thoughts on the new media functionality? Have you experienced the same issues as me or other issues I have not mentioned? Or are you completely satisfied with the newest version of WordPress and have absolutely no cause for complaint. Let us know in the comments section!
Photo Credit: Nikolay Bachiyski