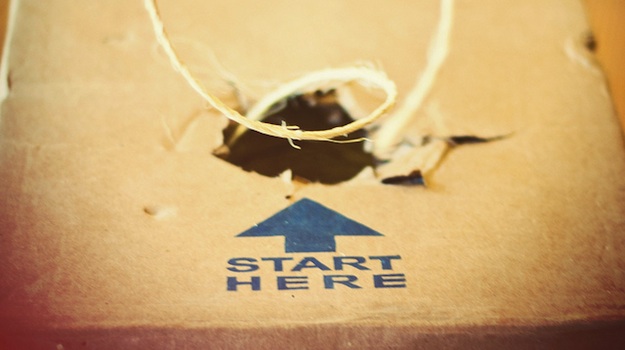 Just about every blogger knows that they should have an about page — it is a mainstay of the blogosphere. Whilst many may not be particularly well-optimized, at least they are there.
The same cannot be said for the massively undervalued 'Start Here' page — whilst I have seen it grow in popularity over the past year or so, it is still not as widespread as I believe it should be.
In this article I intend to demonstrate why a 'Start Here' page can be so beneficial and then go on to show you how to create a great one for your own blog.
Why Almost Every Blog Should Have a 'Start Here' Page
Let's start with something obvious — if you don't have an area on your blog in which you show people how to get started, how do they know whether your site is right for them or not?
To simply assume that visitors will arrive on your blog and instantly 'get it' is likely to result in a lot of people leaving frustrated. Visitors need to have their hand held when they first come across a new blog — they need to be shown in very plain terms how it can benefit them and why they should stick around (and/or subscribe).
Whilst your about page can cater to this task to an extent, it is not a complete solution. On the other hand, your 'Start Here' page is the perfect place to:
Tell people how they can benefit from your blog, and
Spoon-feed your best content to them (and thus fulfill your promise).
And boy are they popular. Your about page is probably already one of the most popular pages on your blog, but a 'Start Here' page wouldn't be too far behind. Here is a list of the most-visited pages on my blog for the month of October: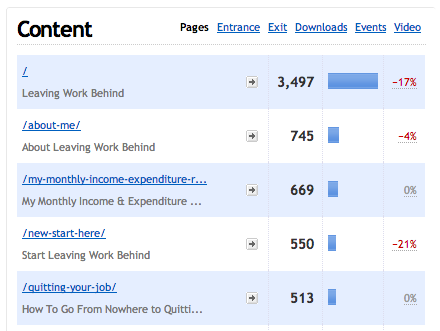 As you can see, my 'Start Here' page is the third most popular destination on the site. But that's not all — check out the comparable metrics between visitors to my 'Start Here' page and all visitors: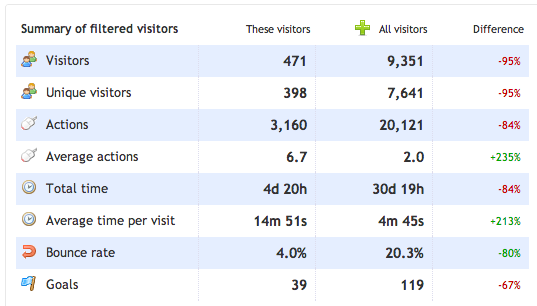 As you can see, visitors to my 'Start Here' page (on average) carry out well over three times as many actions and spend well over three times as long on the site. They almost never bounce off. And perhaps most impressively, around 10% of visitors to the page convert into email subscribers.
So in my opinion, the evidence suggests that a 'Start Here' page can be a very good thing for your blog. And before you ask, we are working on creating one for the ManageWP blog 😉
Alright, so by now you should be a convert to the concept of a 'Start Here' page. The next question is of course, what should you put in one?
Creating an Awesome 'Start Here' Page
The first step to creating a great 'Start Here' page is to clearly and concisely communicate the unique benefits your visitor can gain from browsing your site. When you write the content for your page, you need to keep your target audience in mind. You need to write for that one person who will immediately connect with you on the strength of just a few words.
Here's the introduction to my 'Start Here' page:

As you can see, my blog is targeted at people who want to quit their jobs and build their own online business — I make that very clear in the first sentence. I narrow down my target audience further by specifically mentioning the business models I tend to cover. Finally I clarify the benefits to be gained from reading my blog over any other in my niche (i.e. people can discover what I have tried as well as the causes of my successes and failures).
So in just three sentences I have covered:
Who the blog is for (generally)
Who the blog is for (specifically)
Why my blog is worth reading (its unique selling proposition)
By doing this you split your readers into two groups — those who are now fully engaged with your site, and those who are not. You don't need to worry yourself about the second group, as they were never going to hang around for long anyway. Your 'Start Here' page has done its job by engaging with the exact type of person you want to keep on your blog.
Immediately below this introductory blurb I recommend that you include a direct call to action — on a blog, this would typically be an invitation to sign up to your newsletter. Here's mine:

You will find that this performs very well in terms of converting visitors into subscribers. If someone has got this far and is still reading, they are going to be more inclined to make a commitment like giving away their email address.
The second and final section of your 'Start Here' page should reveal a selection of your best content. How you present this content is entirely up to you — my page includes a list of around 40 posts sorted by category. That's a lot of posts and you may wish to make your list a little shorter (I'm on the fence as to which approach is better).
This list should feature only your very best content — at such an early stage you want to make sure that you put your best foot forward.
That's It!
As you will now know, putting together an effective 'Start Here' page does not need to be a particularly grueling process. What might only take you fifteen minutes could make a world of difference to how people engage with your blog.
What are your thoughts on 'Start Here' pages? Do you have one, or are you now planning on creating one? Do you have any tips of your own? Let us know in the comments section!
Creative Commons image courtesy of CarbonNYC