Get to Know Your ManageWP Dashboard
The ManageWP Dashboard has been created to maximize functionality, save you time and make the user experience enjoyable.
In this article
Get to Know Your ManageWP Dashboard Layout
When you login to your ManageWP Dashboard on the right hand corner of the top bar you will see your Login Details and if you click on them, underneath you will get a set of options.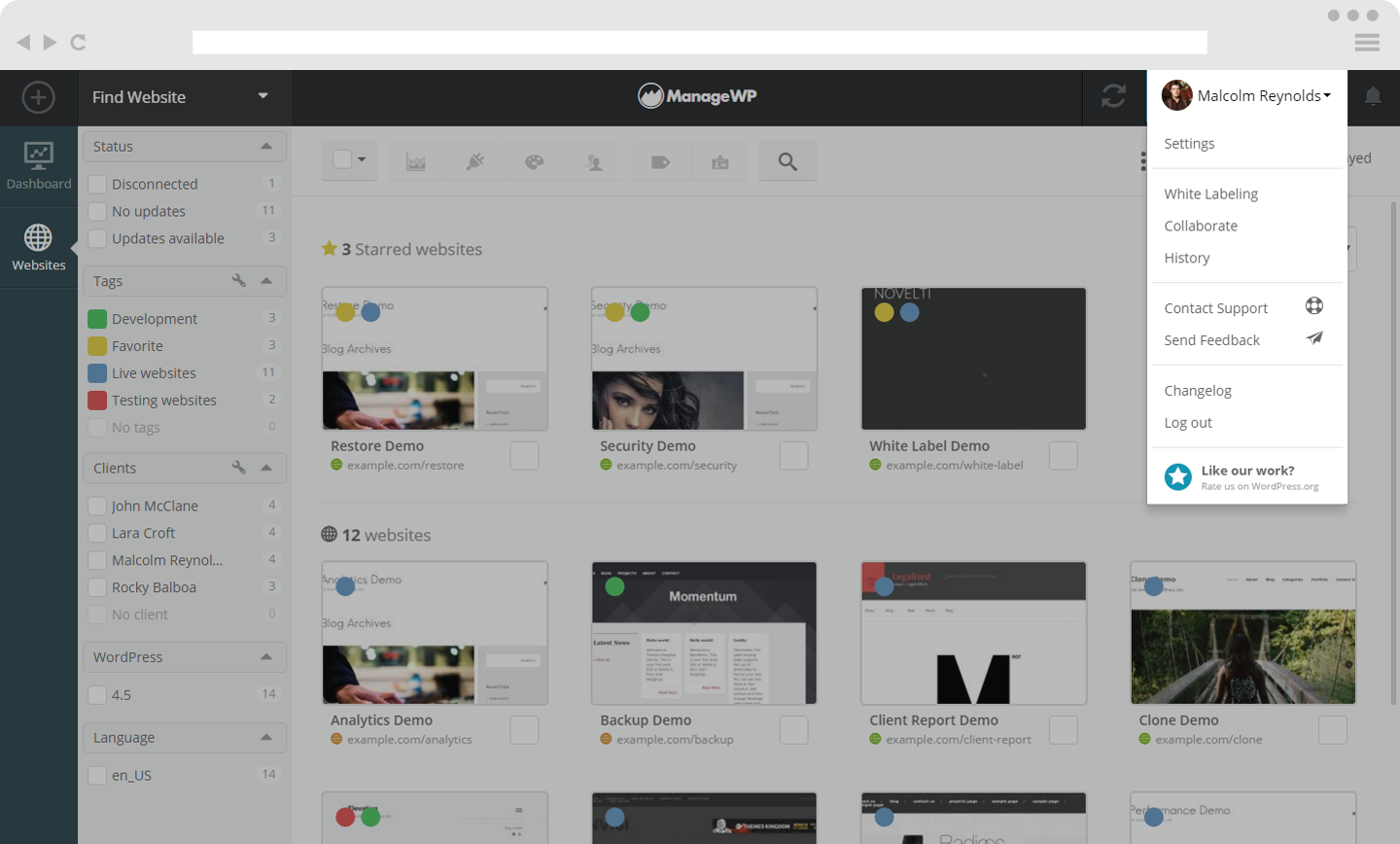 Next to the login options, on the left hand side you will see a double arrow icon, this is your Syncing Icon, telling you when the last time your websites were synched. When you first login to your Dashboard, you will see a progress bar next to this icon. At any time you wish to sync, simply click this icon.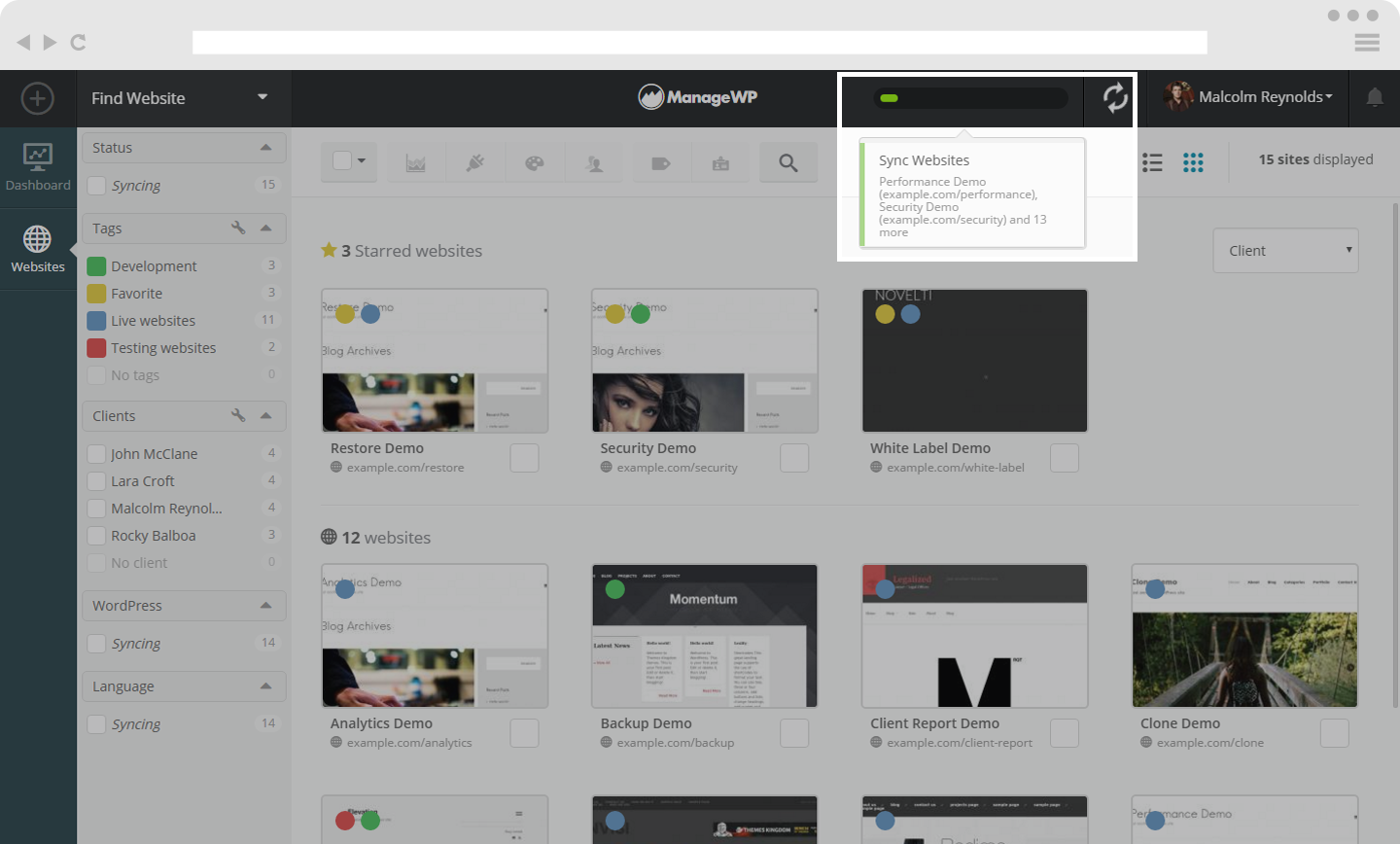 On the right side of the Login Details, you will see a Bell icon. This is your Notification Icon. If you have pending notifications, the Bell will be orange.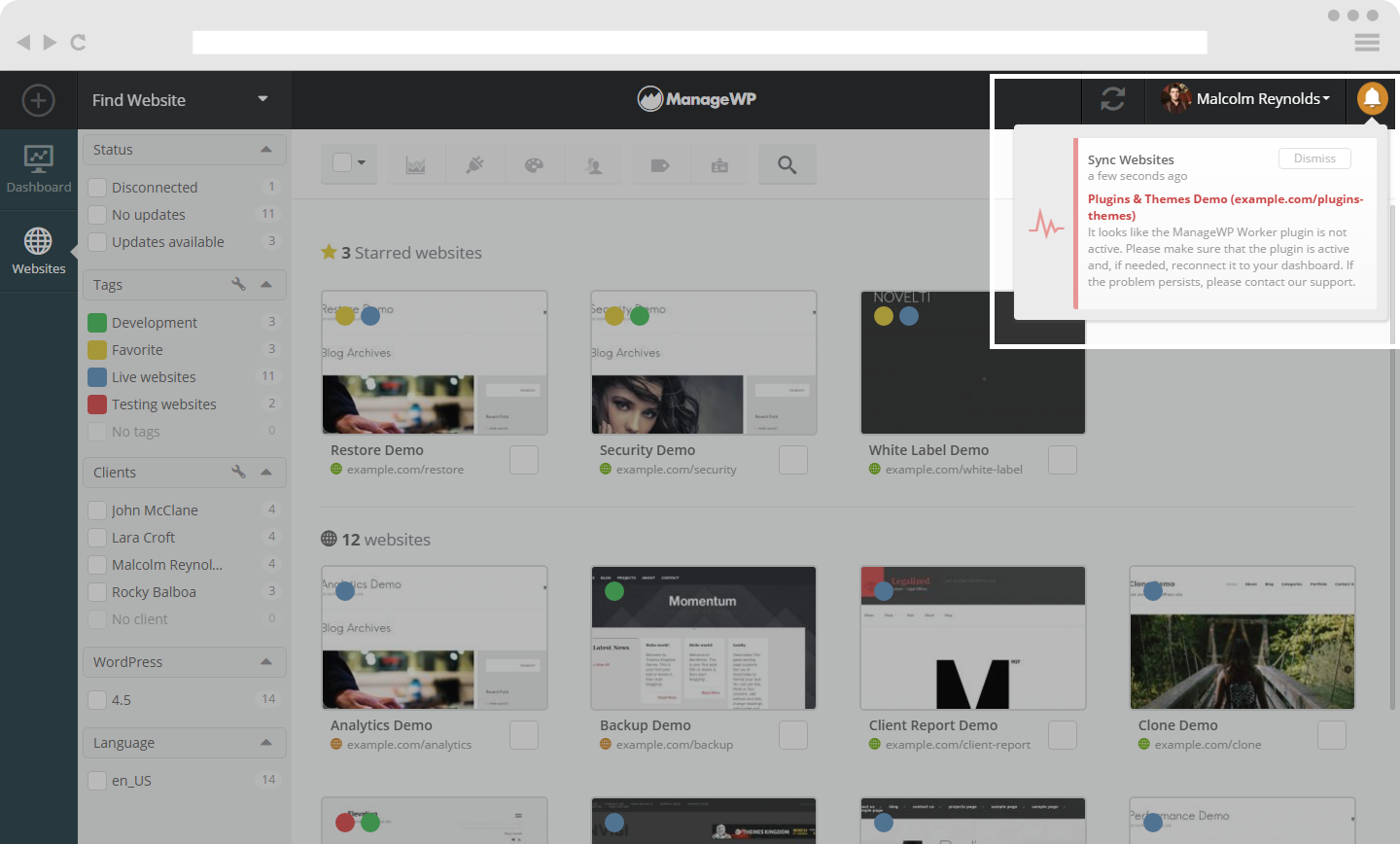 On the left hand side of the top bar, you will notice a Plus sign, this icon is your Add Website Icon, that allows you to add websites to the ManageWP Dashboard.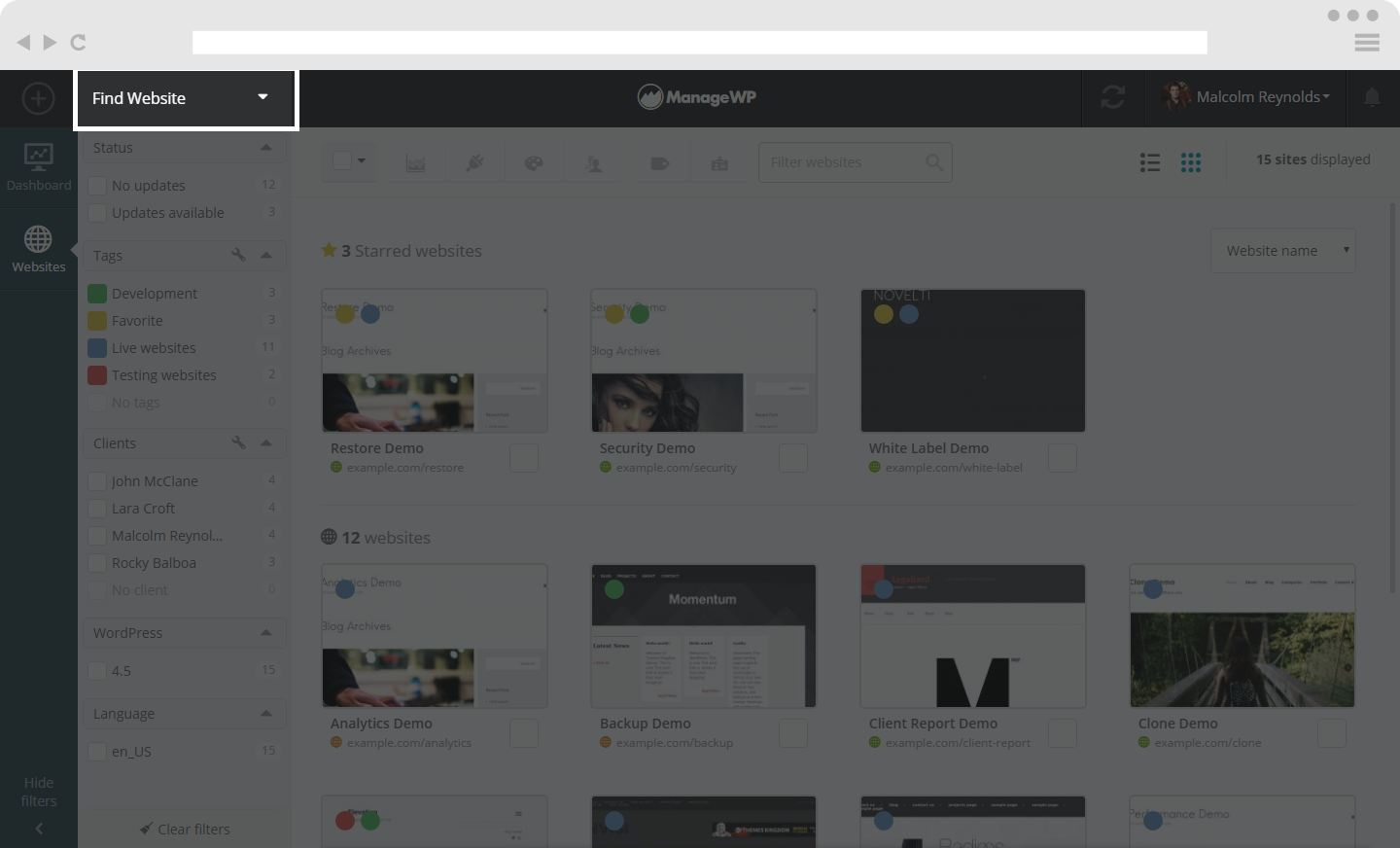 Next to the Add Website Icon, there is a Find Website Box, this will give you a drop down menu with a list of your website. Here you can also search for a particular website.
Underneath the Add Website Icon, you will see two view options, Dashboard View and Website View. Here you can click to view your website in two different modes.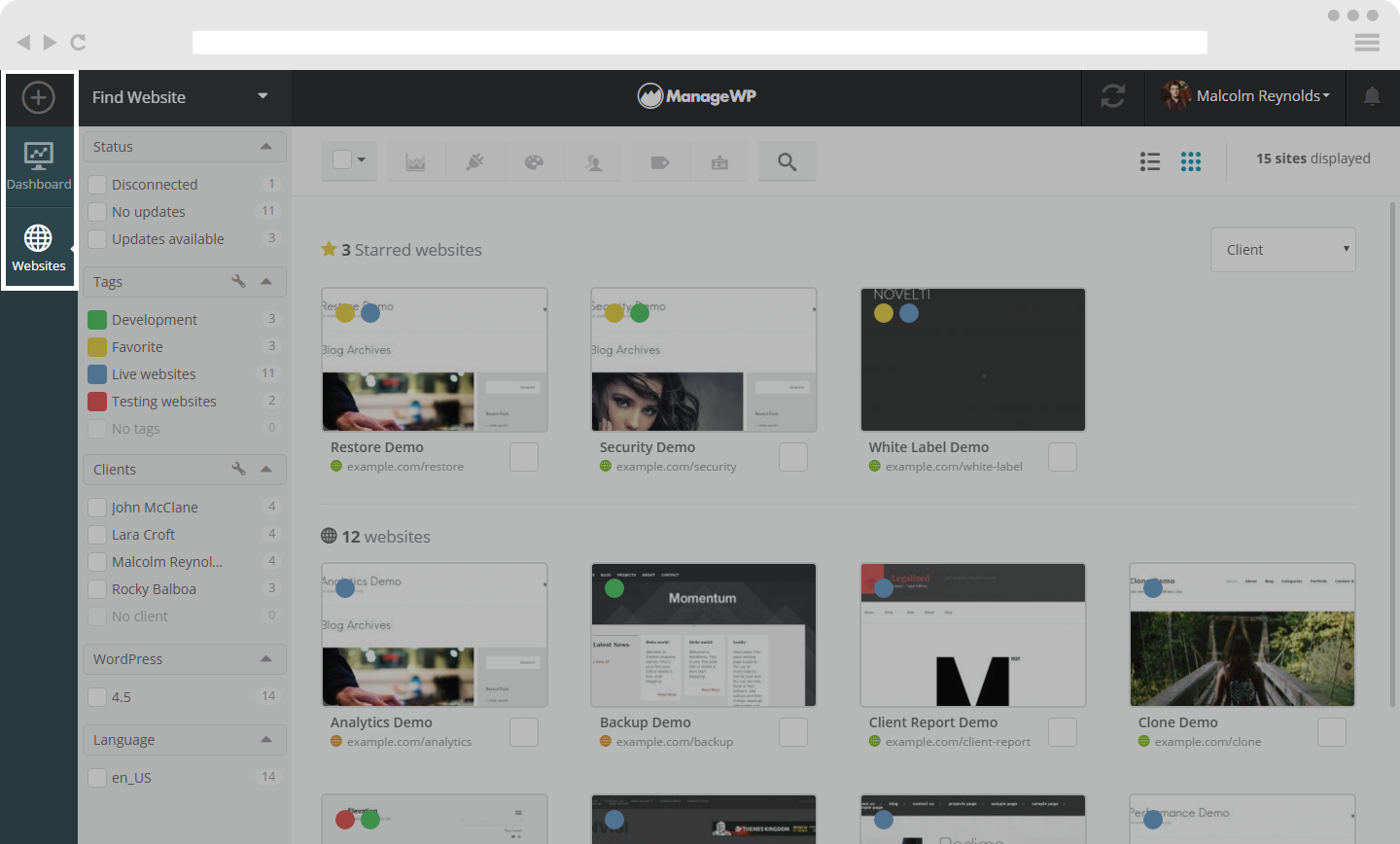 What Are Starred Websites on Your Dashboard
ManageWP now gives you the option to "star" certain websites. These websites will the displayed at the top of your screen, collected separately. Underneath you will see the remaining Websites you are managing.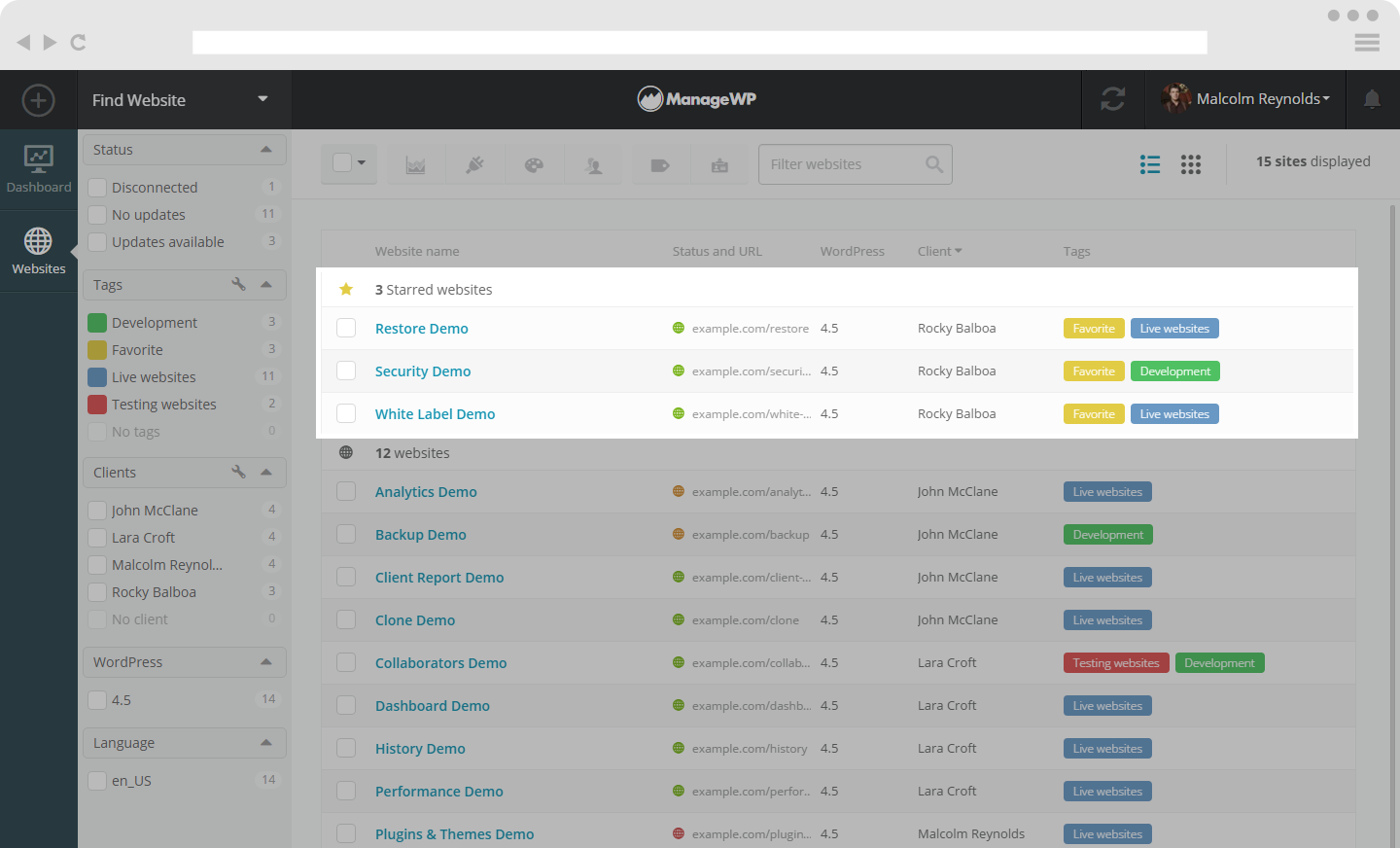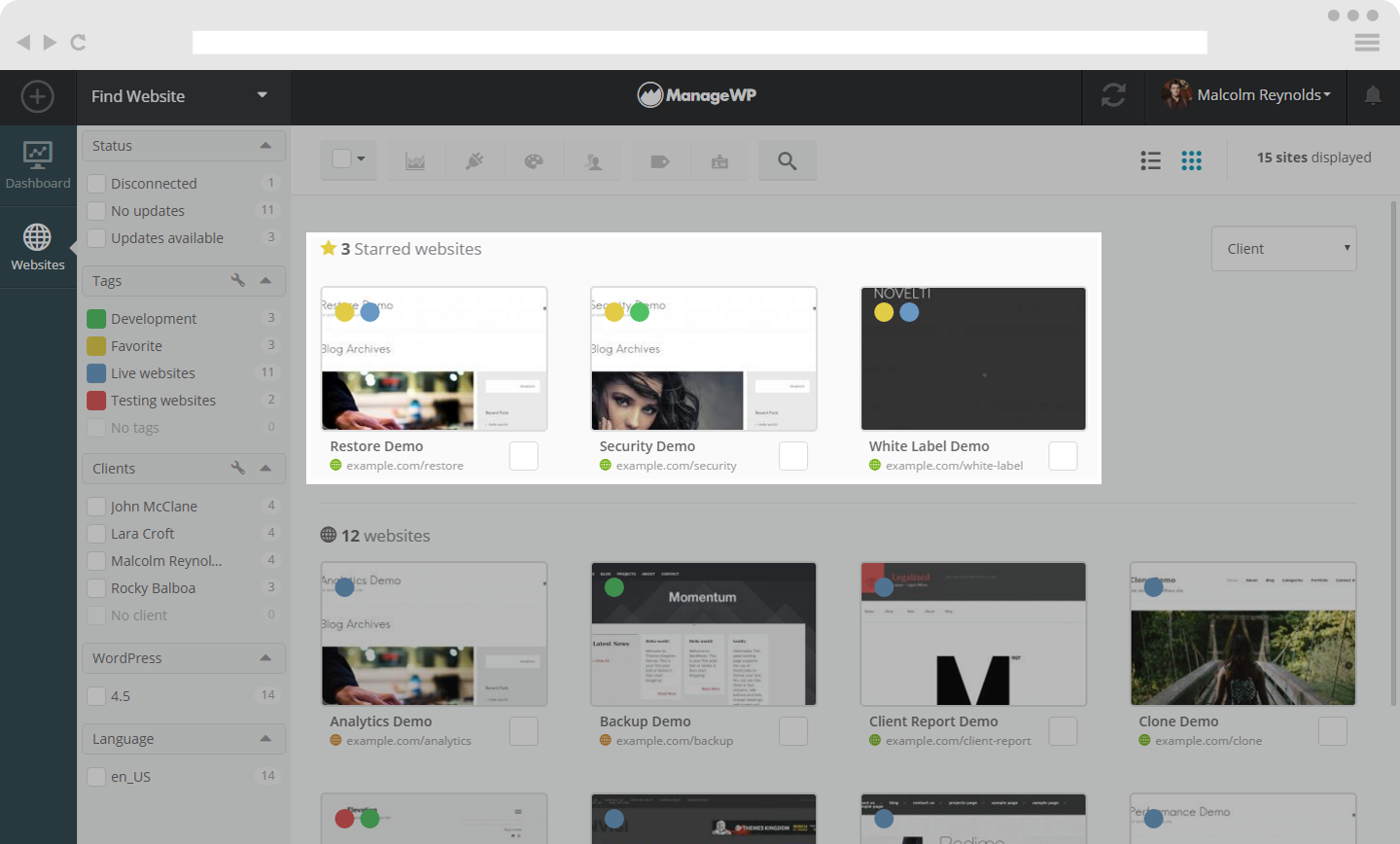 How to Get Your ManageWP Dashboard Organized
A great ManageWP feature is the Sidebar that helps you organize your websites. It is located underneath the Find Website Box.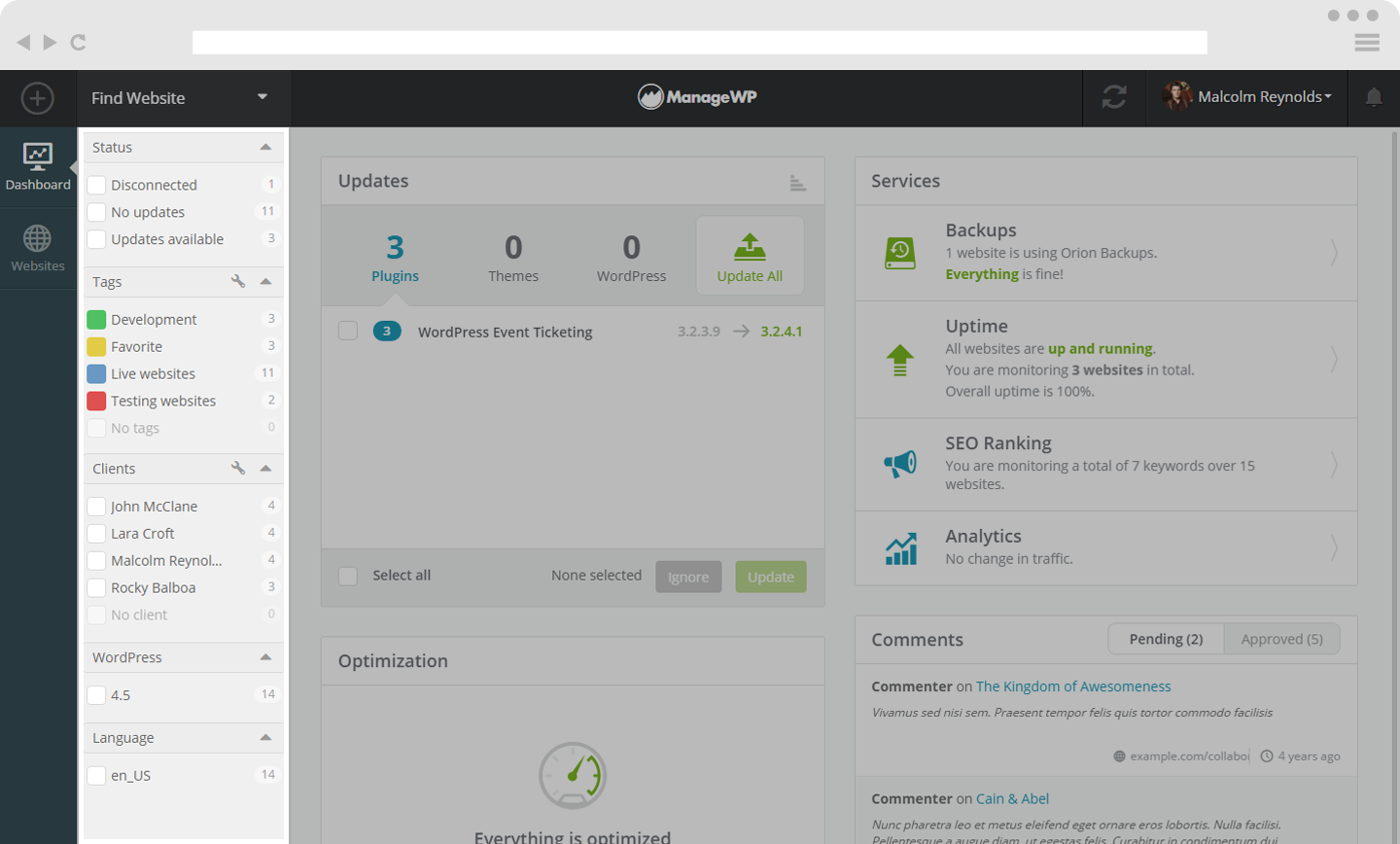 The first feature is viewing your Website Status. Here you will be able to see which websites don't have updates, which are paused and which have updates available. Here you can also see Websites that are disconnected.
The Sidebar also lets you organize your Tags. You can create tags by clicking on the key wrench. Here you also edit already existing tags.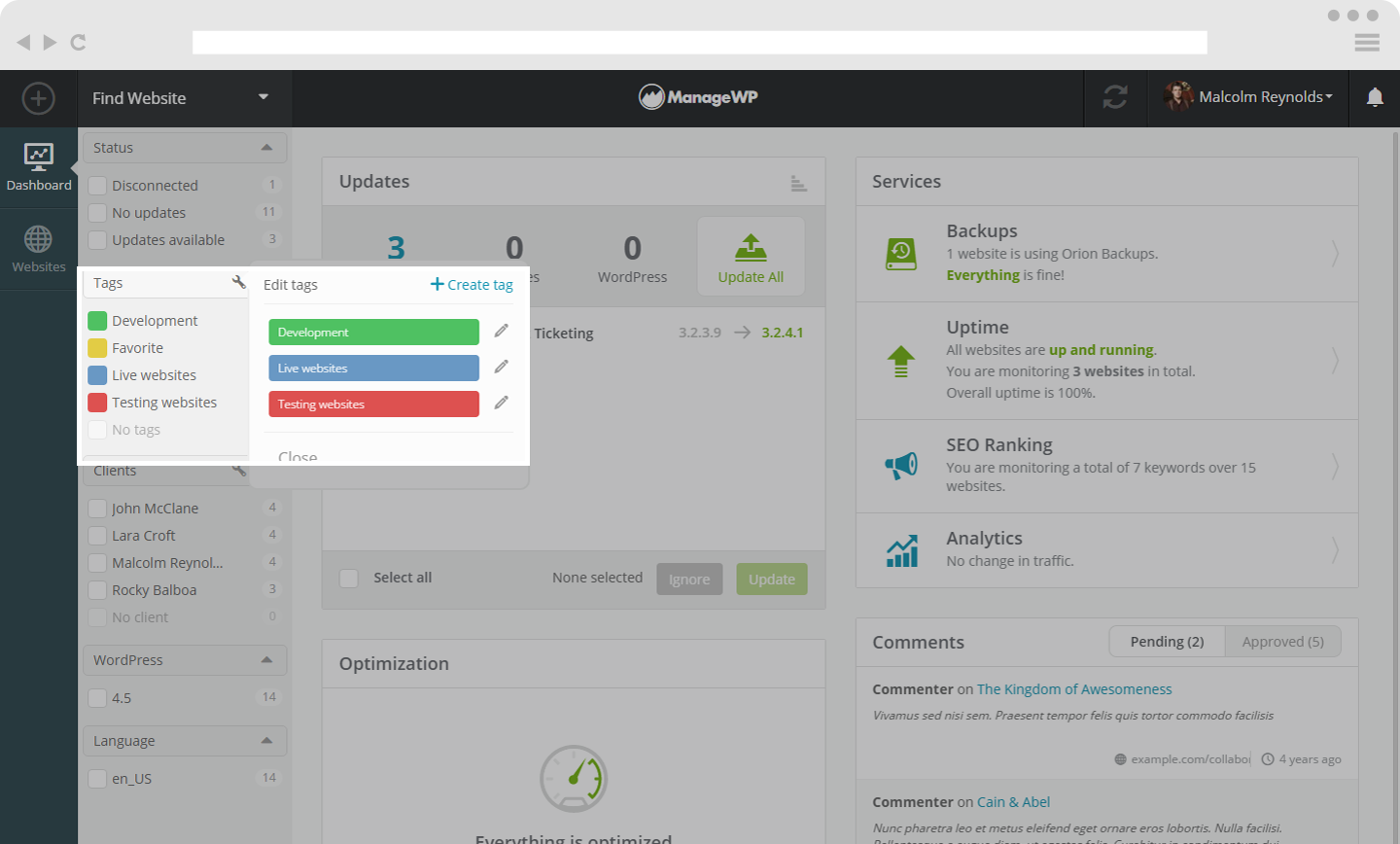 Adding Clients is also easy with the Sidebar. Here you can input information about your Clients – name, email, telephone and write a note about your Client.
The Sidebar allows you to also view WordPress Versions, as well as Language options.
Understanding Your Website View
There are two ways you can setup your Website view. You can view it in Thumbnail format or in List format. You can switch between by clicking on the top right corner on the menu bar, under your Login Details.
This is your Website View in Thumbnail format.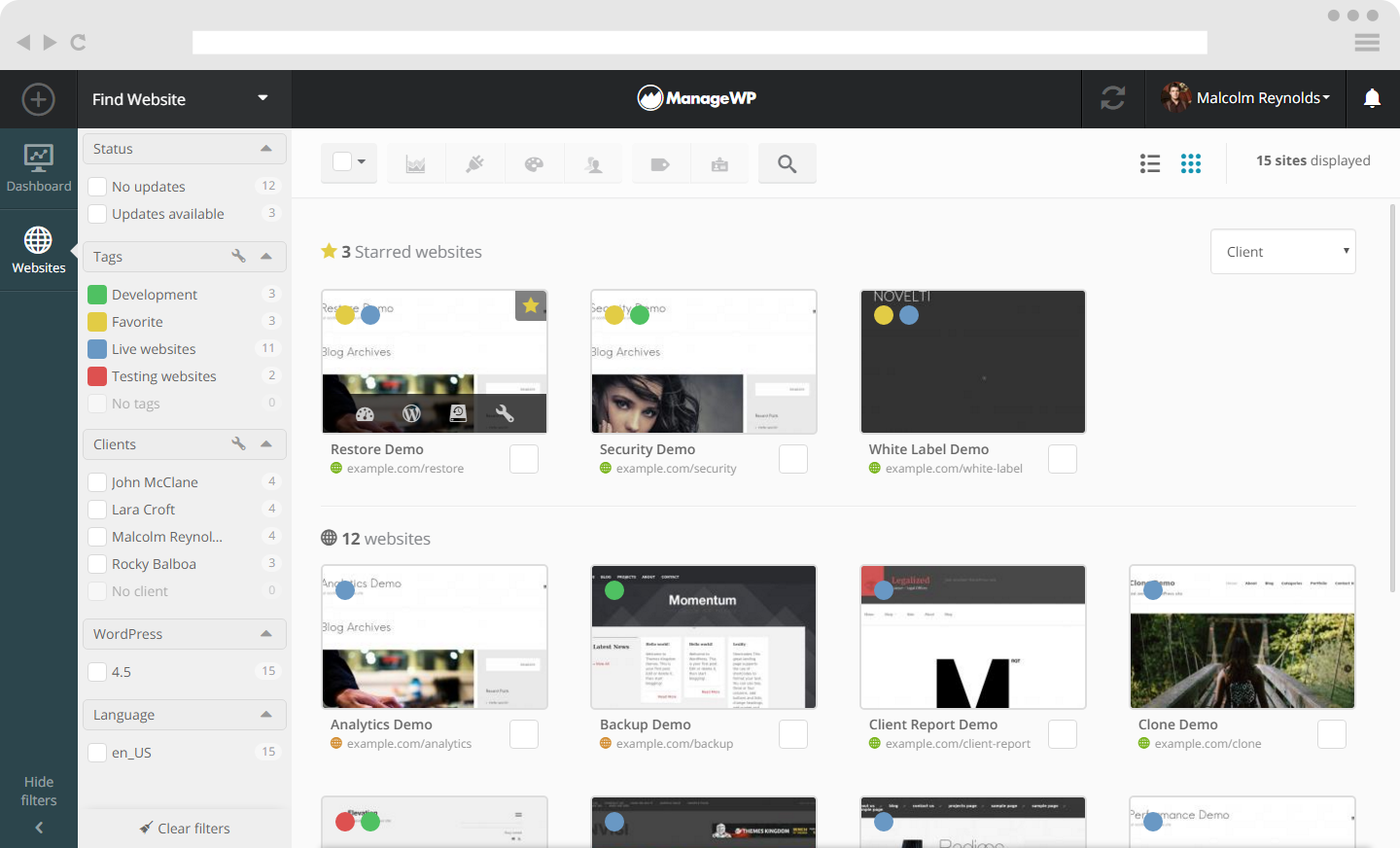 This is your Website View in List format.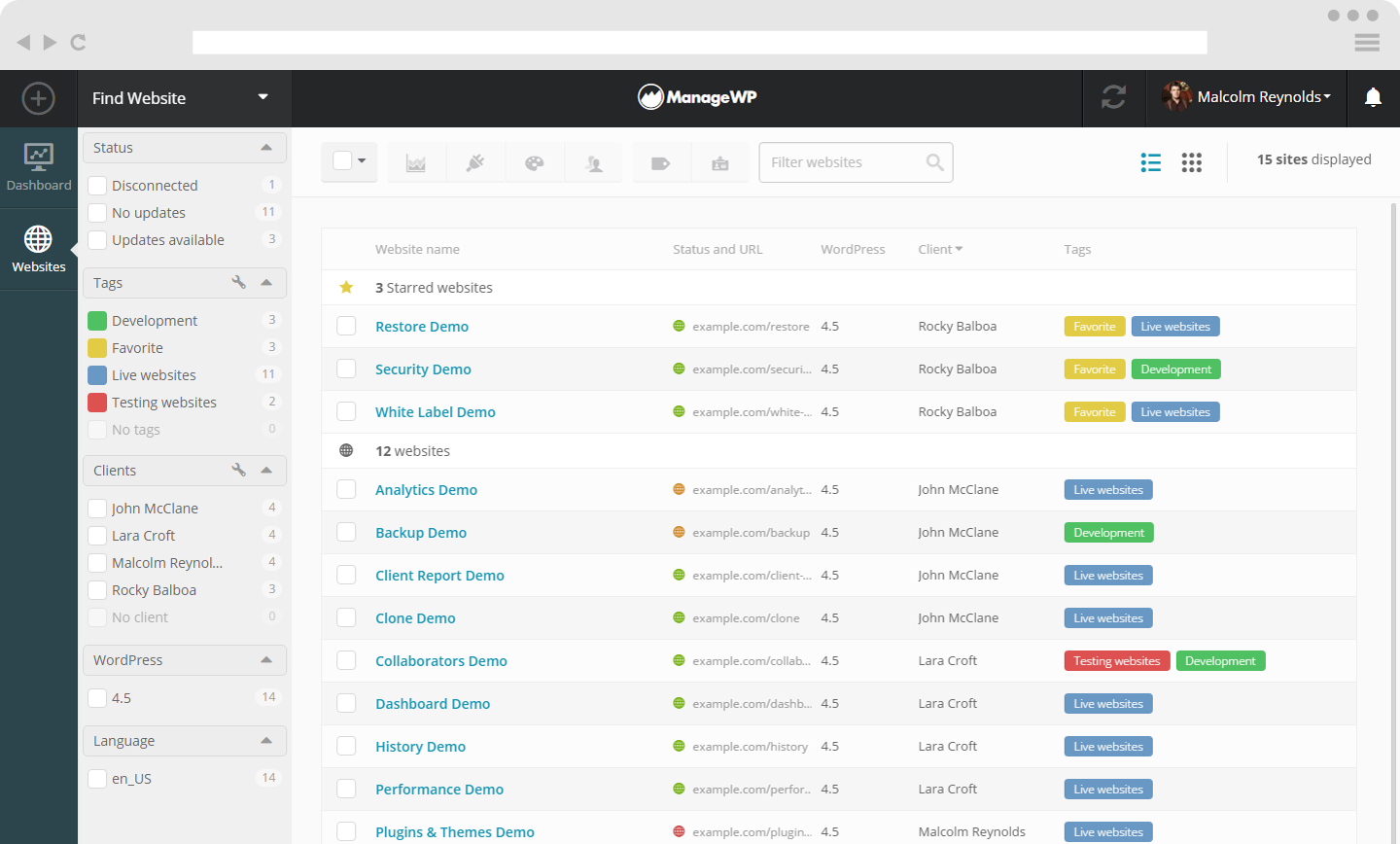 A great feature that comes with the Website View in List format are the filter options for the websites. You can filter websites by Name, Status and URL, Clients and Tags.
Hovering Over an Individual Website in Thumbnail and List format
When you hover over an individual website on your dashboard, you will see a set of options appear.
This is what it looks like in Thumbnail format.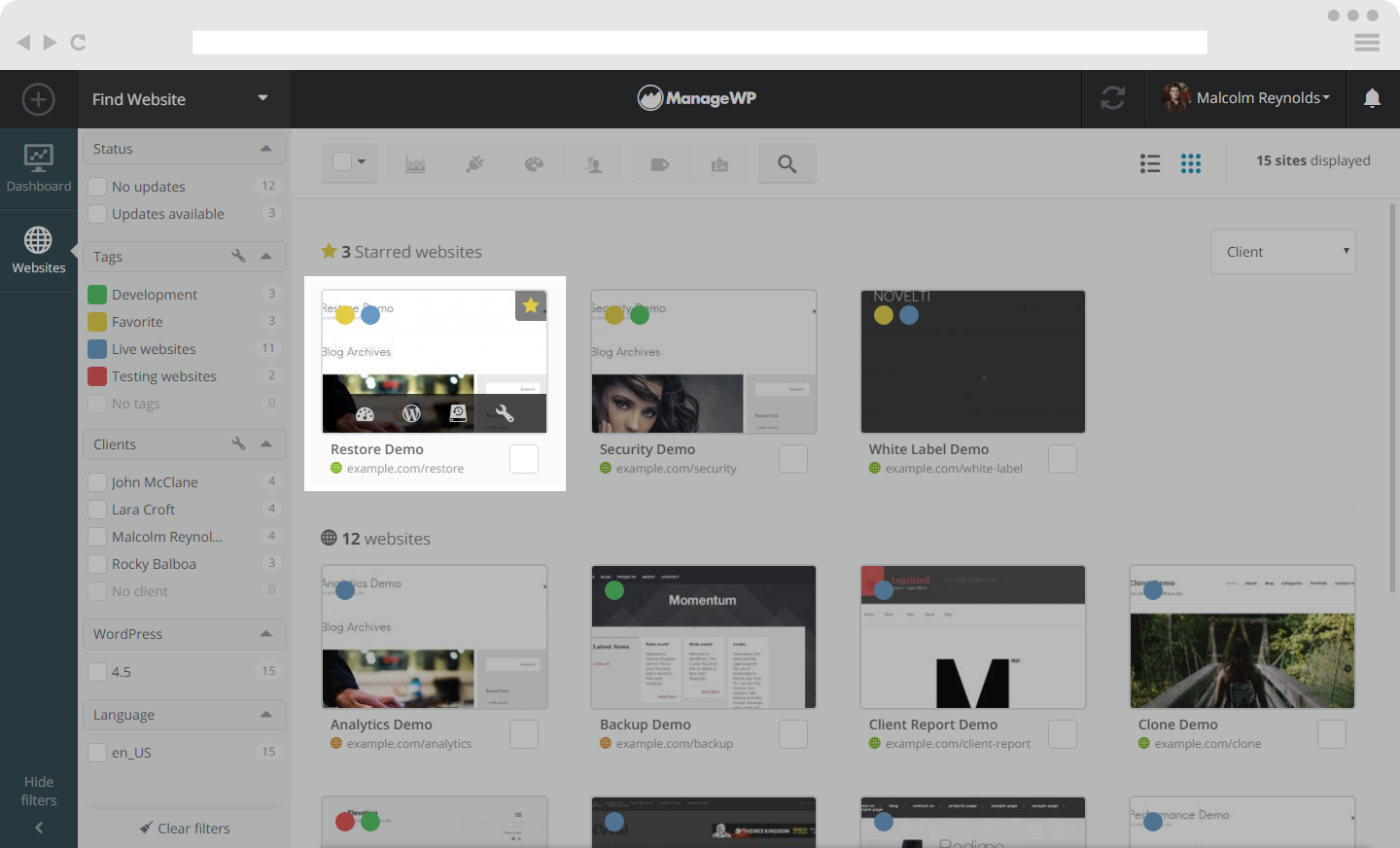 This is what it looks like in List format.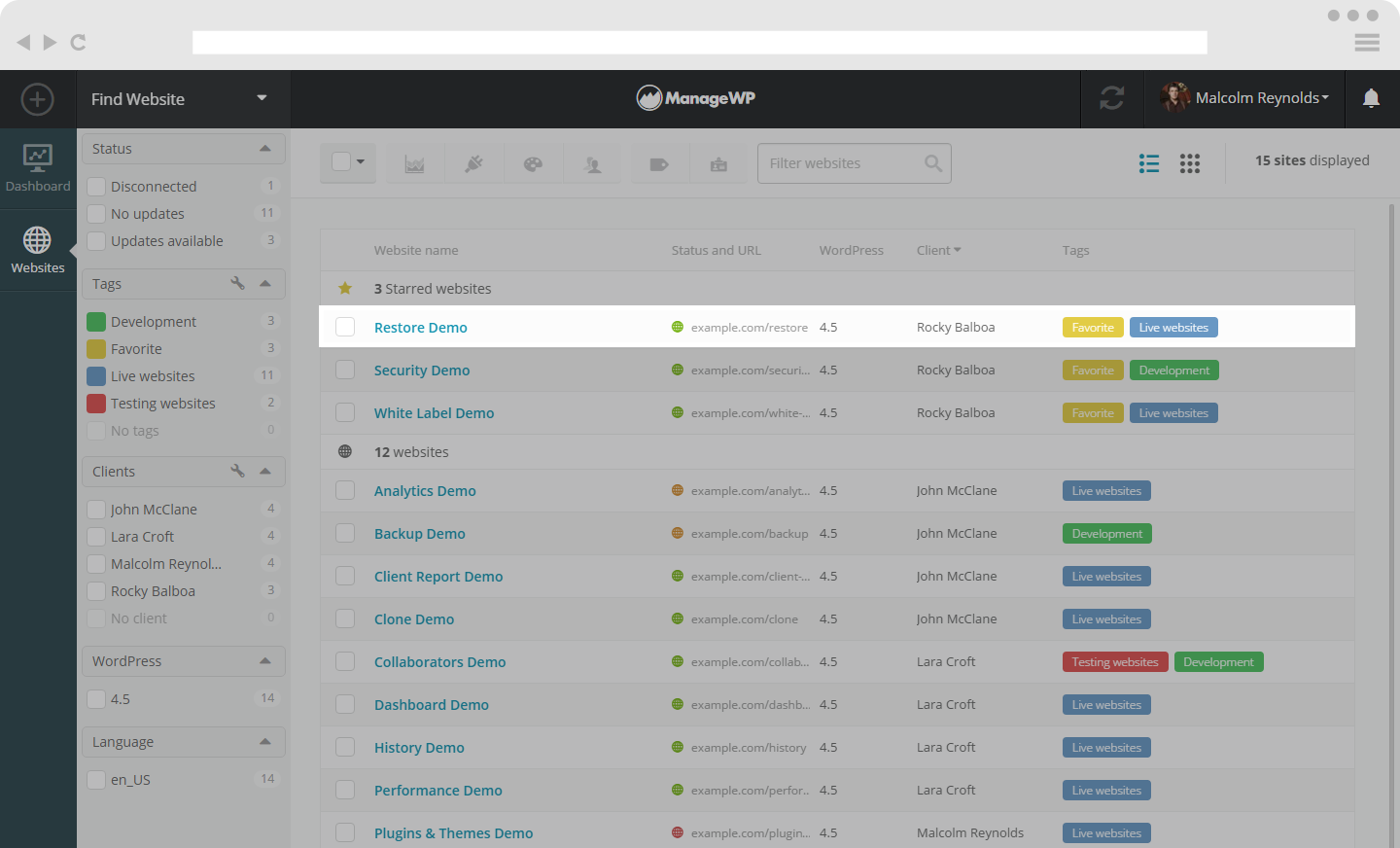 The icons you see are the following:
Open Website Dashboard
Open WP Dashboard
View Backups
Site Options
Beside each website, there is a Status Icon indicating the status of your website. The Status Icon can appear either as a world symbol (all HTTP sites) or padlock (all HTTPS sites):
Green – No updates available
Orange – Updates available
Red – Disconnected website
Grey- Paused/Not synched website
Status Icon in Website view – List format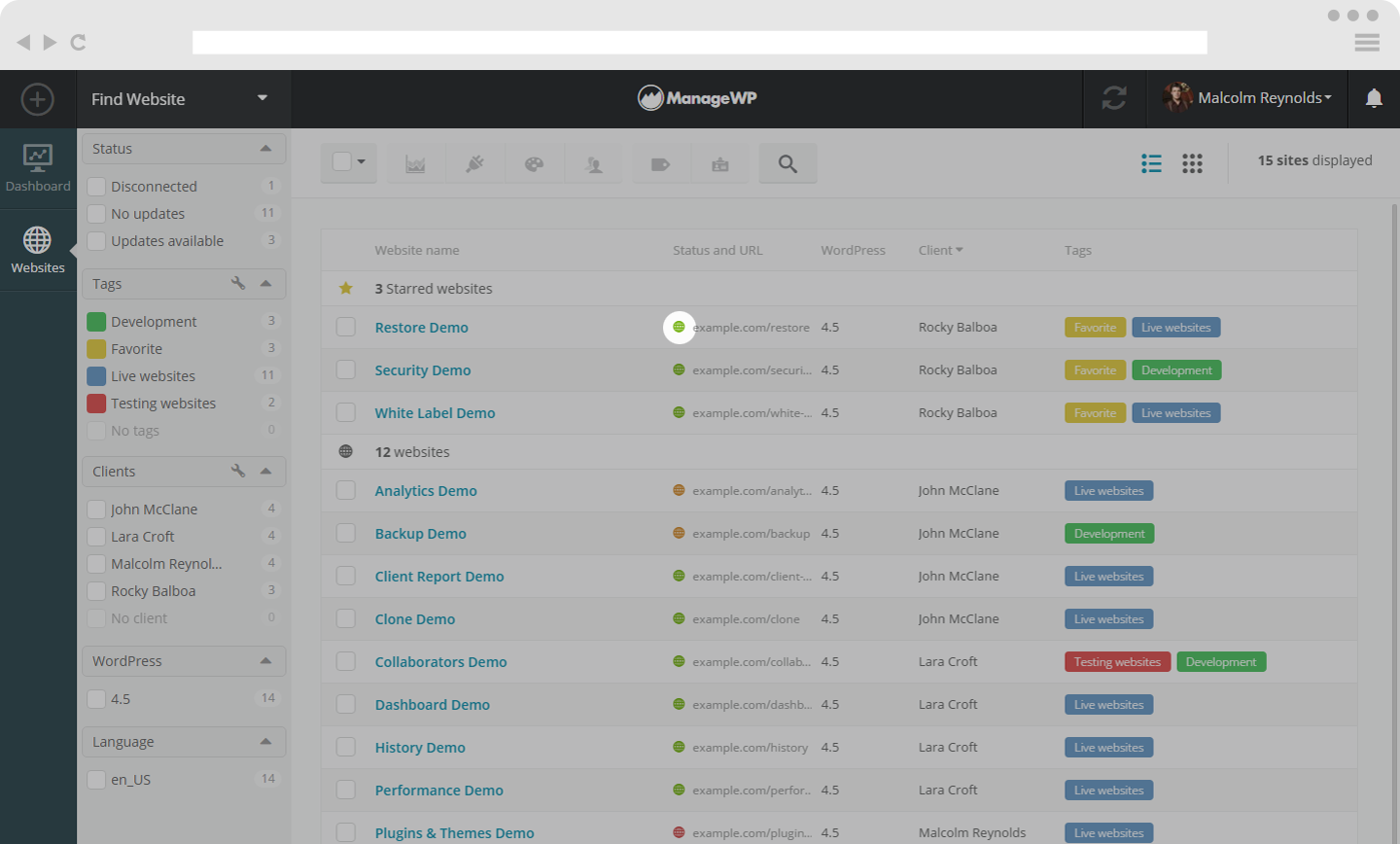 Status Icon in Website view – Thumbnail format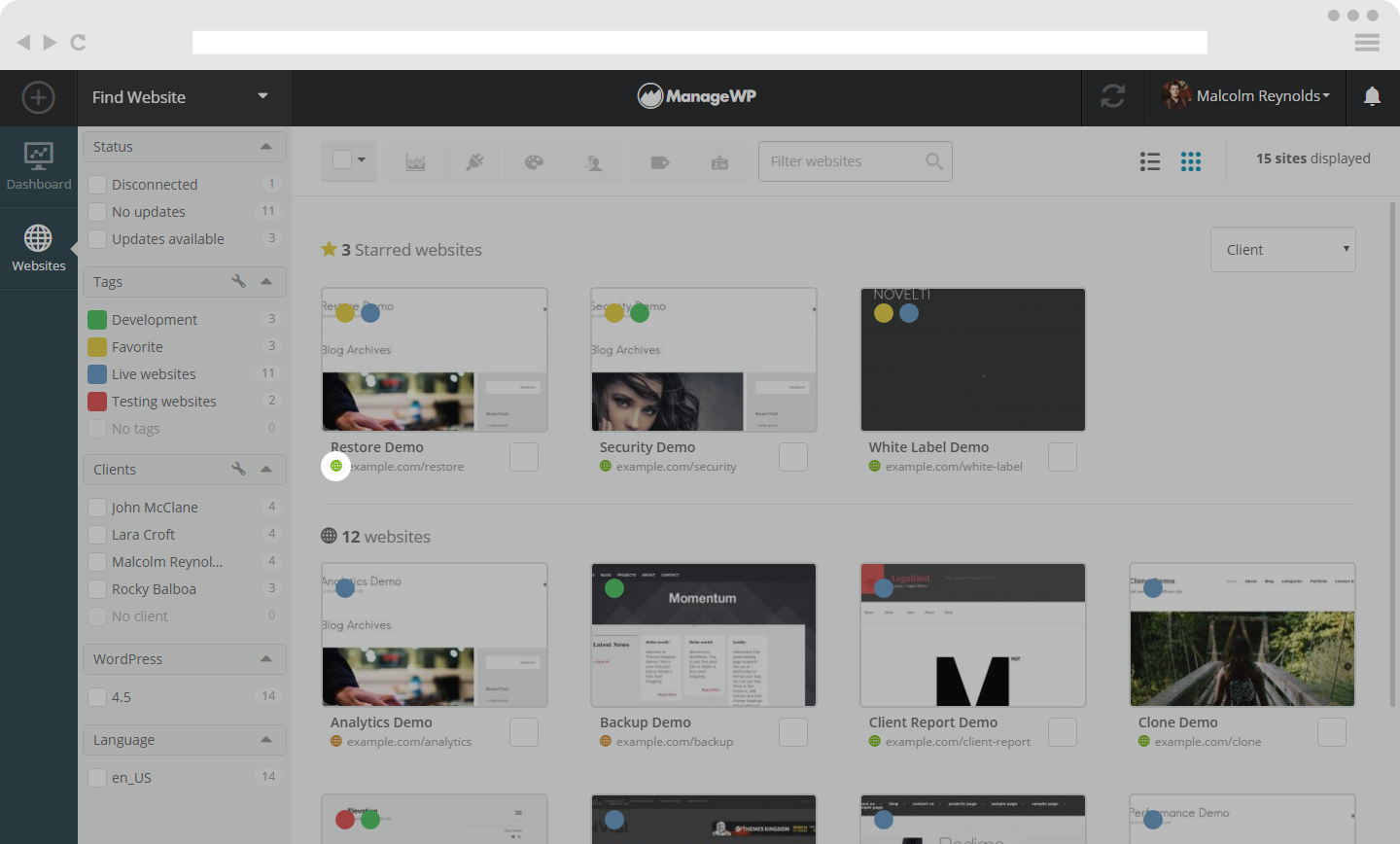 Selecting More Than One Website in Website View in List and Thumbnail Format
When you select one or more website a set of options appears on the top menu bar. This allows you to perform actions on more than one website simultaneously. Here you can:
Create Client Report
Manage Plugins
Manage Themes
Manage Users
Assign Tags or Clients
Search Websites
Selecting more than one website in Website View – List Format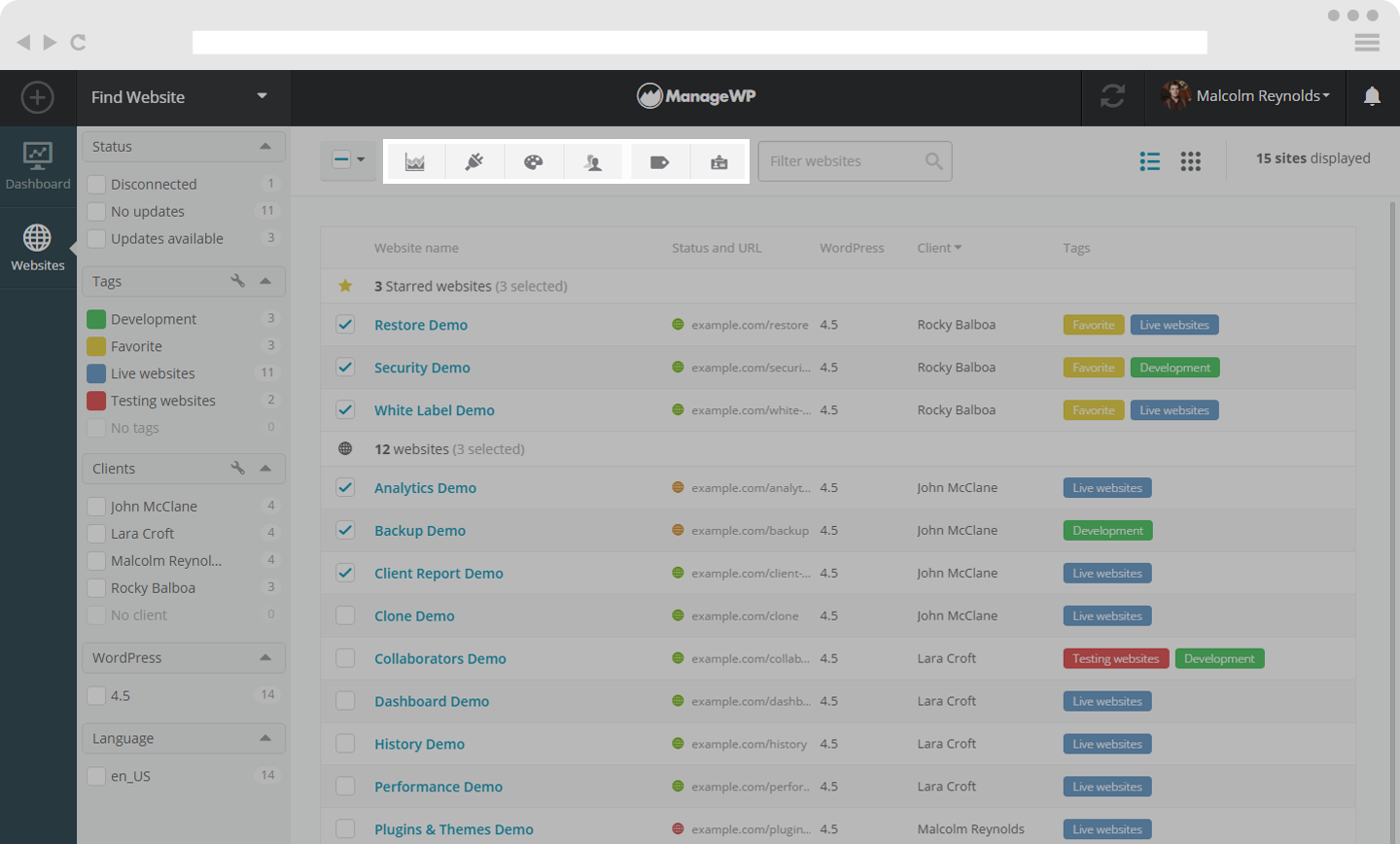 Selecting more than one website in Website View – Thumbnail Format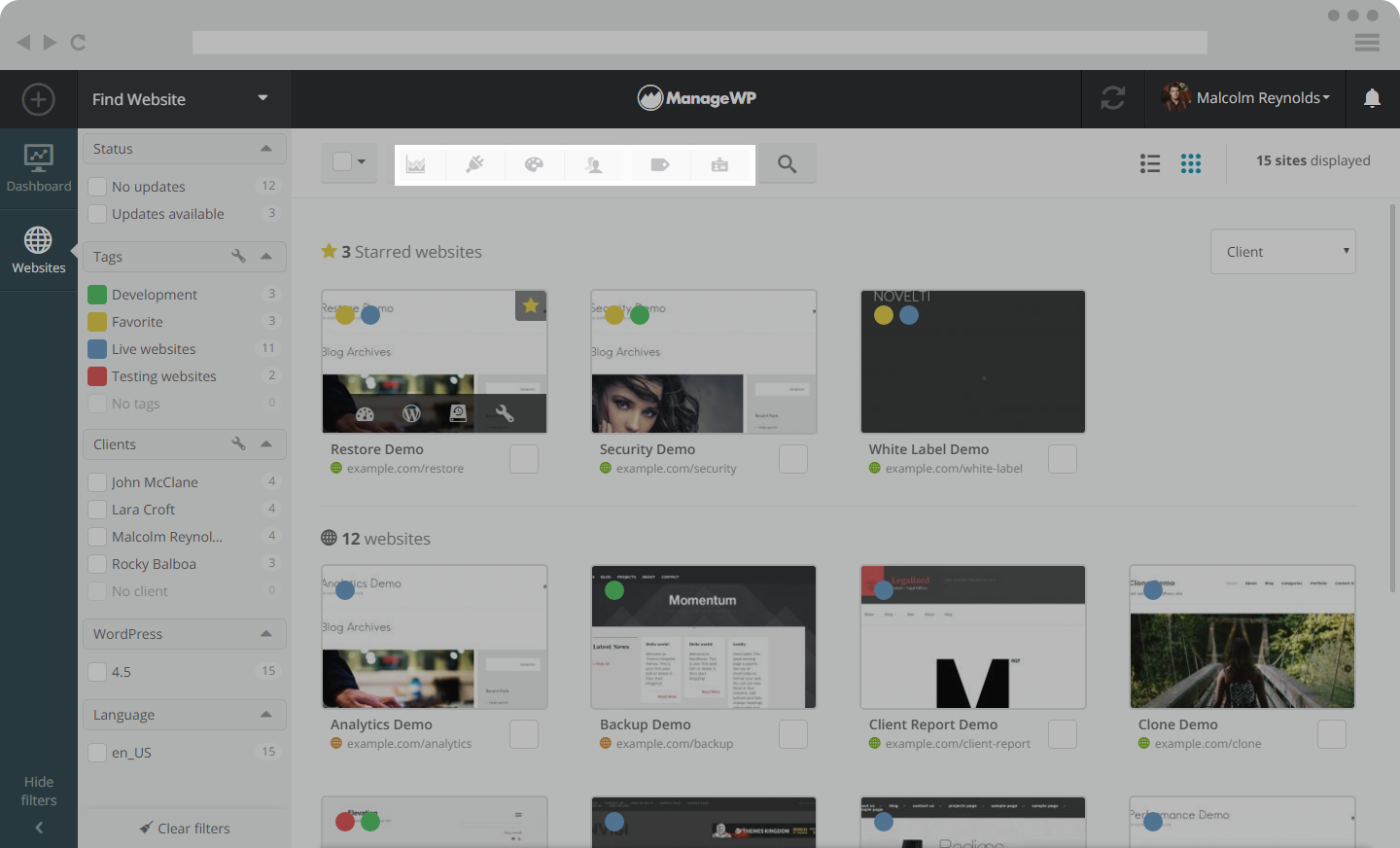 Understanding Your Dashboard View
This view allows you to monitor and manage your websites with our widgets.
This is what your Dashboard view looks like.
Update Widget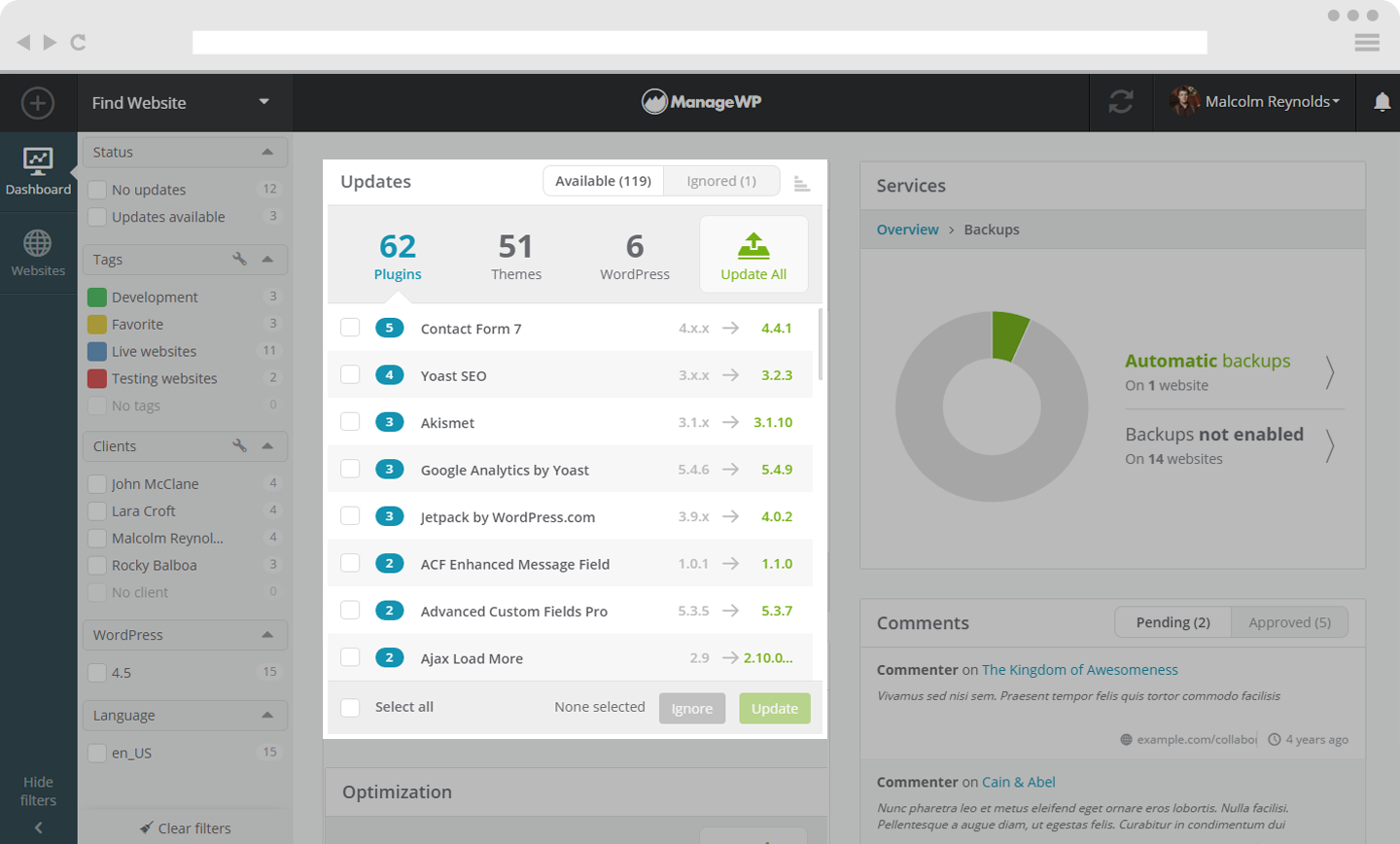 You can have an overview of all of the available updates on your websites. Here you can see available updates for Plugins, Themes and WordPress. There is also the option to Update All.
The default option is grouping your updates by Plugin/Theme, however you can adjust this and group the updates by website. You do this by clicking on icon in the top right hand corner of the updates widget.
You can also select individual Websites/Plugins/Themes and either update or ignore them.
Optimization Widget
You can use the Optimization Widget to tidy up your website post revisions and spam comments, as well as Overhead. Having too much spam, overhead, and/or post revisions, can increase the weight on your database which will slow down your website over time.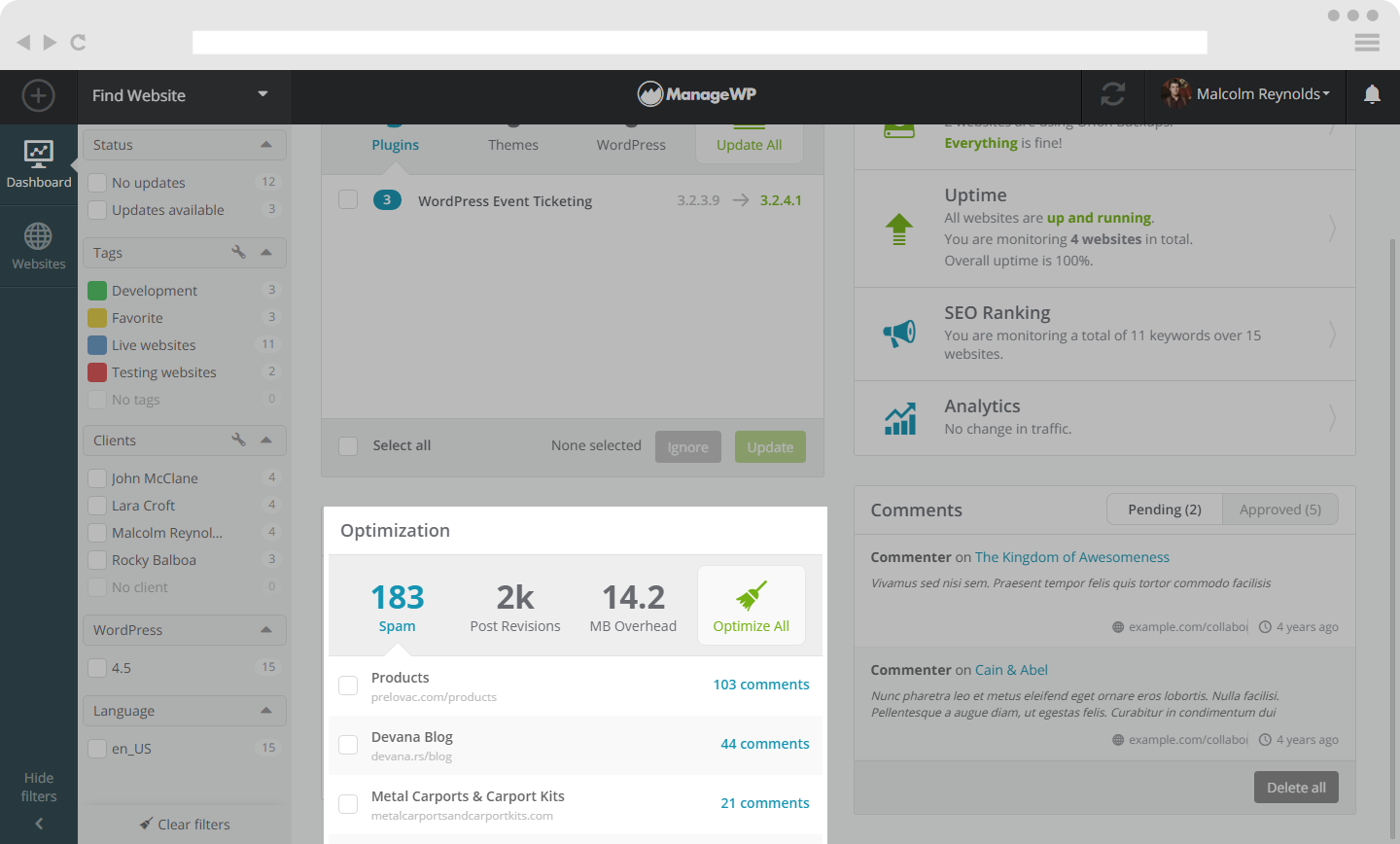 Here you can select exactly what you wish to optimize and what websites to perform this action on. You also have the option of selecting Optimize All.
If you want to change the number of post revisions to keep, you can set this in Advanced Settings.
Recent Comments Widget
The Recent Comments Widget allows you to see all of the recent comments on your websites. You can directly edit, trash, mark as spam and either approve or disapprove them.
You can also delete all pending comments.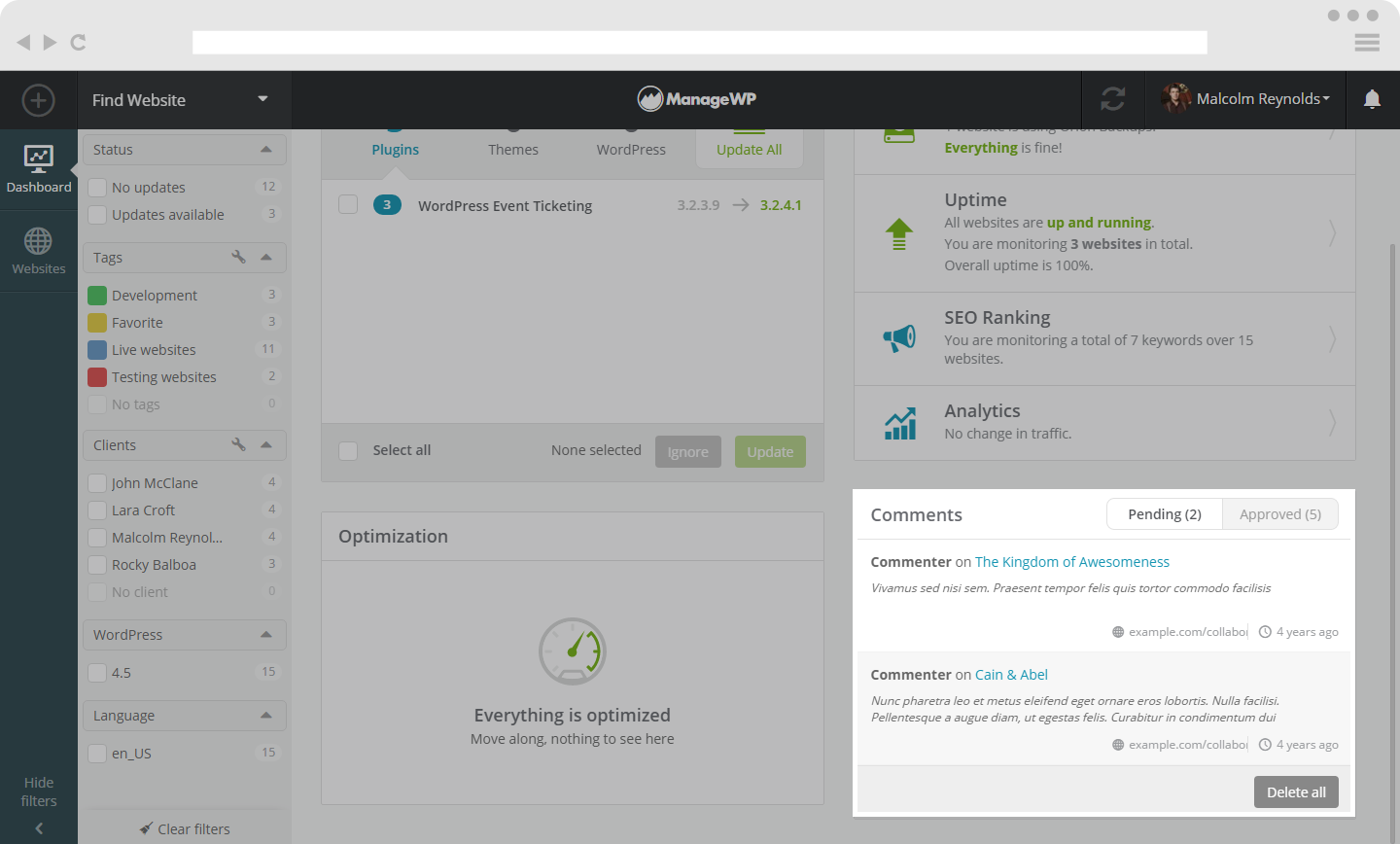 Services Widget
This widget allows you to have an overview of your Backups, Uptime, SEO and Analytics for your websites. At a glance you will see all the important information concerning your websites.
You can click on each feature to see more details.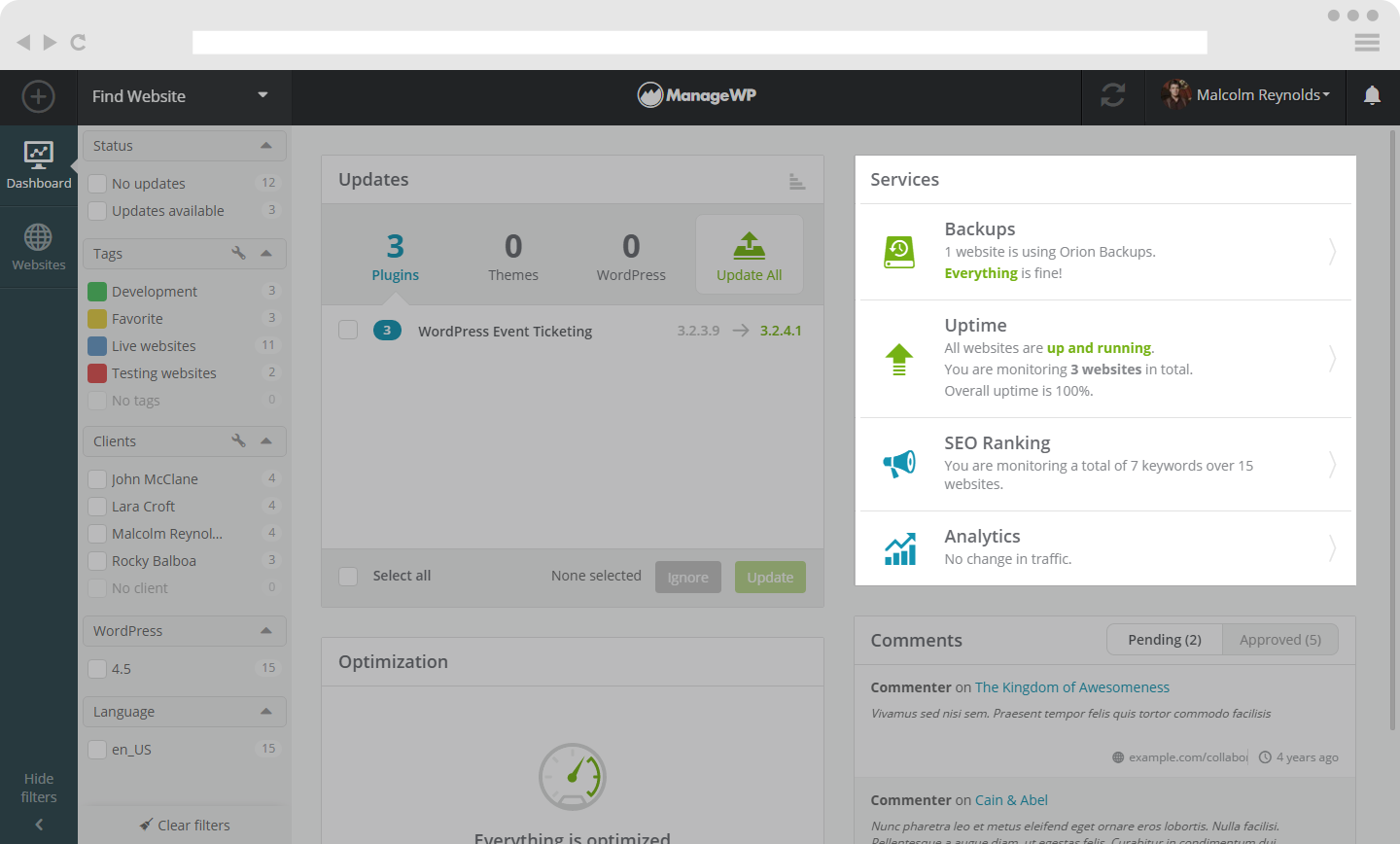 Backups
In the example below we have clicked the Backup feature, the next display window is the overview. This shows you an overview of all your websites and their Backup status.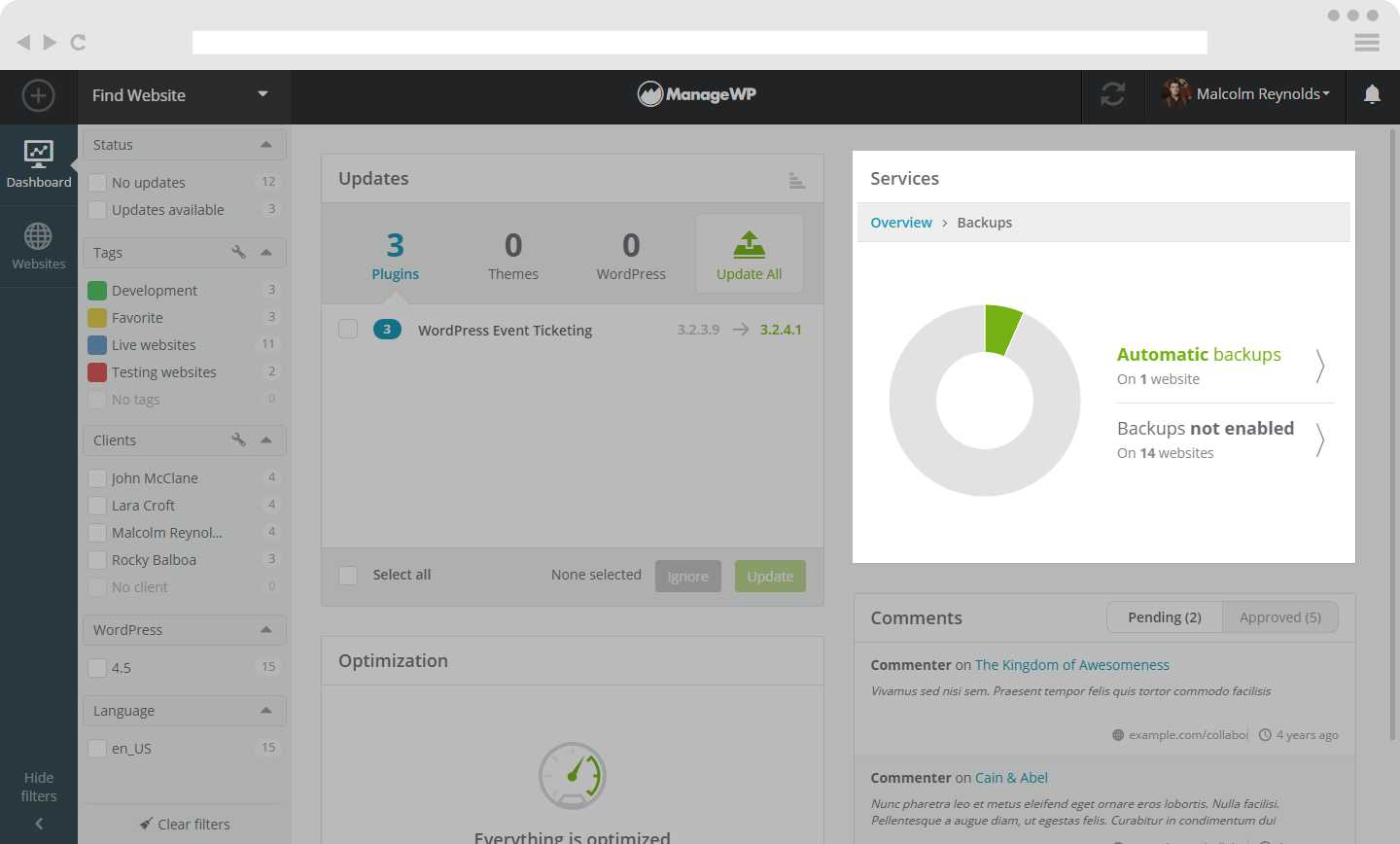 On the overview you can select what Backups you would like to look into. By clicking on Automatic Backups  you will get  precise details of each Backup. If you have not enabled your backups you will see Backups not enabled, and if there is a problem with your backup, Problems detected. You can click on each of these, to get full details.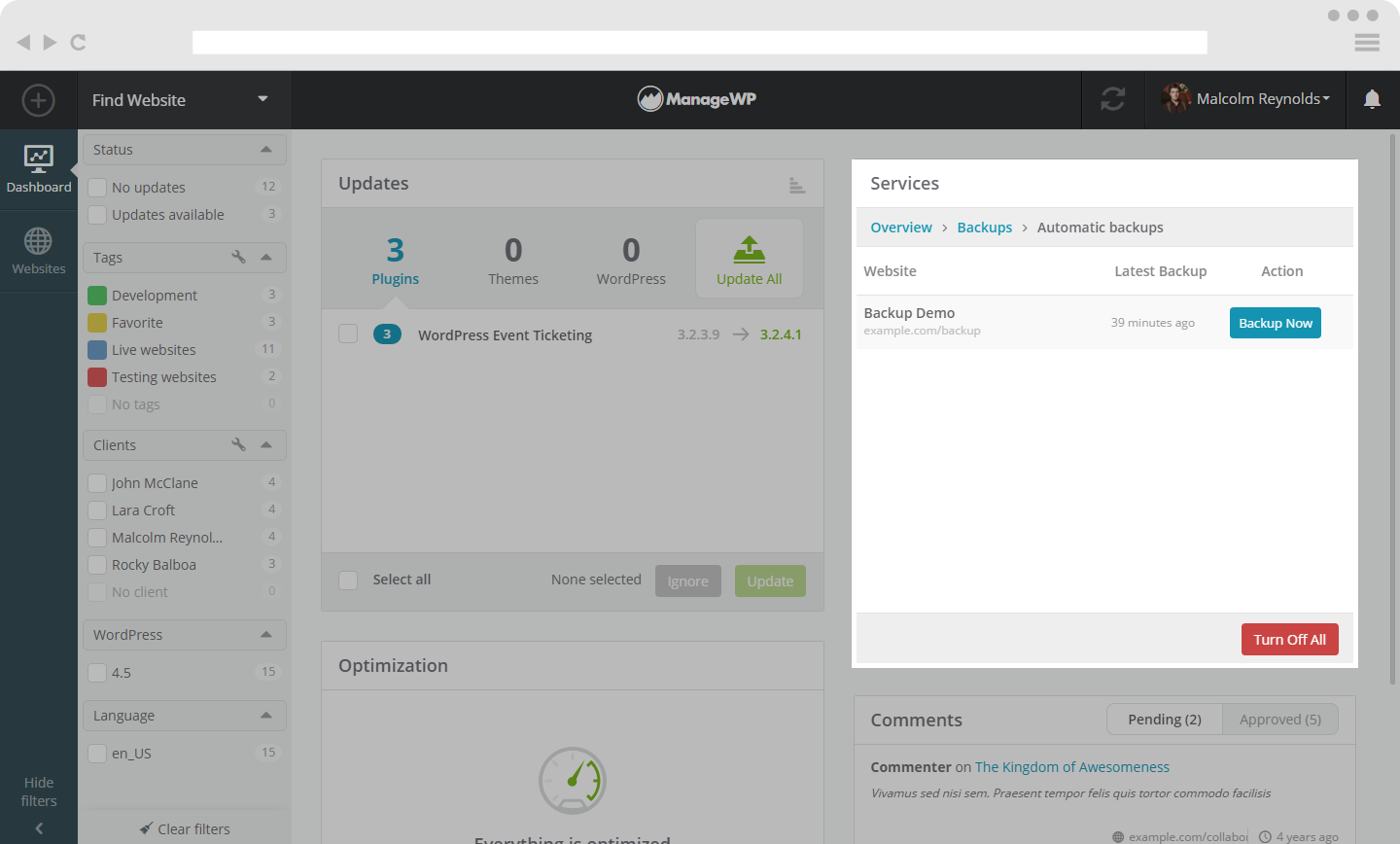 Uptime Feature
Here is what the display windows look like for the Uptime Feature. Like with the Backups, you will see an overview, then you have the option of clicking on either Up and running, Paused monitors or Currently down to view your website status in more detail.
First window.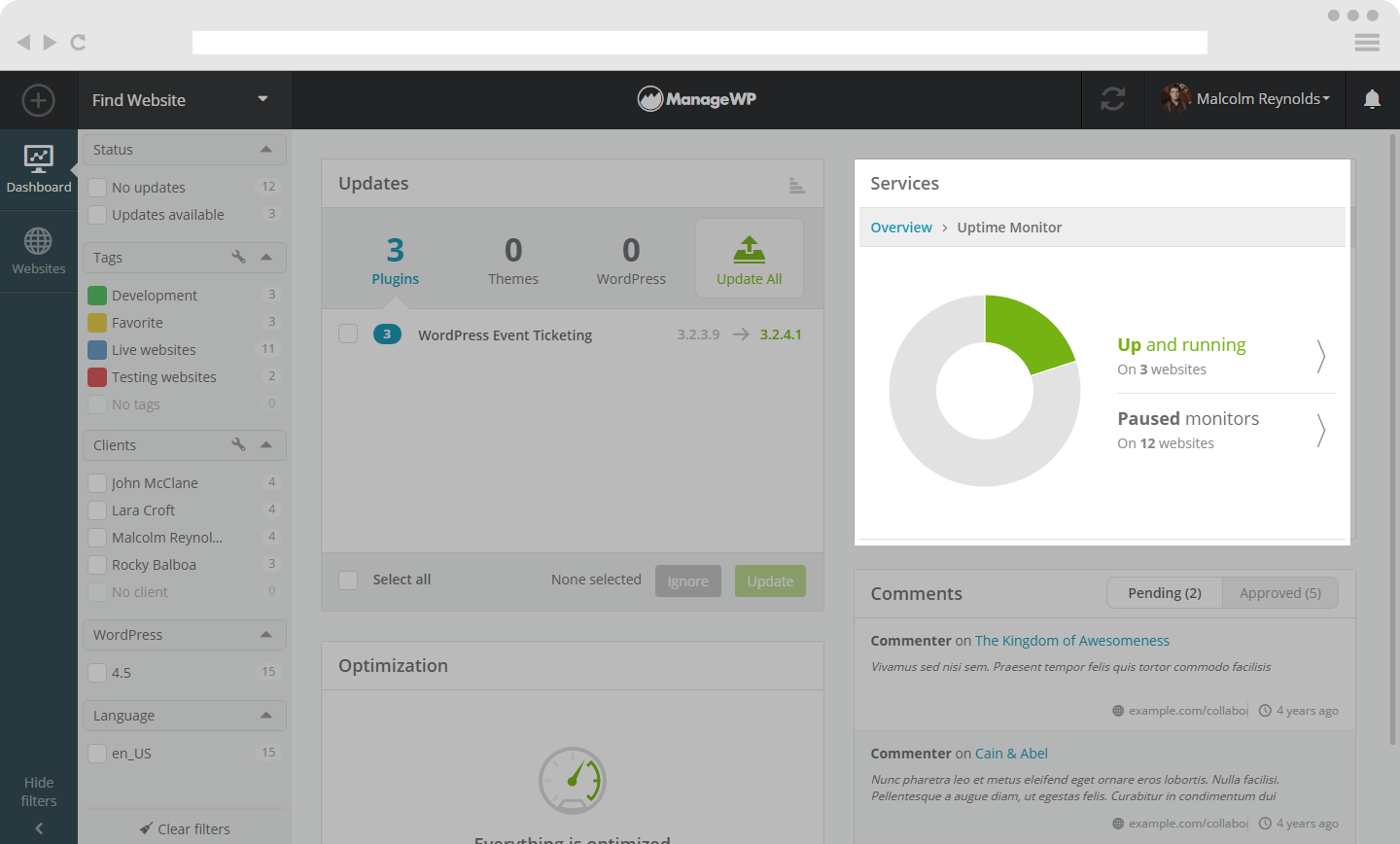 Second window.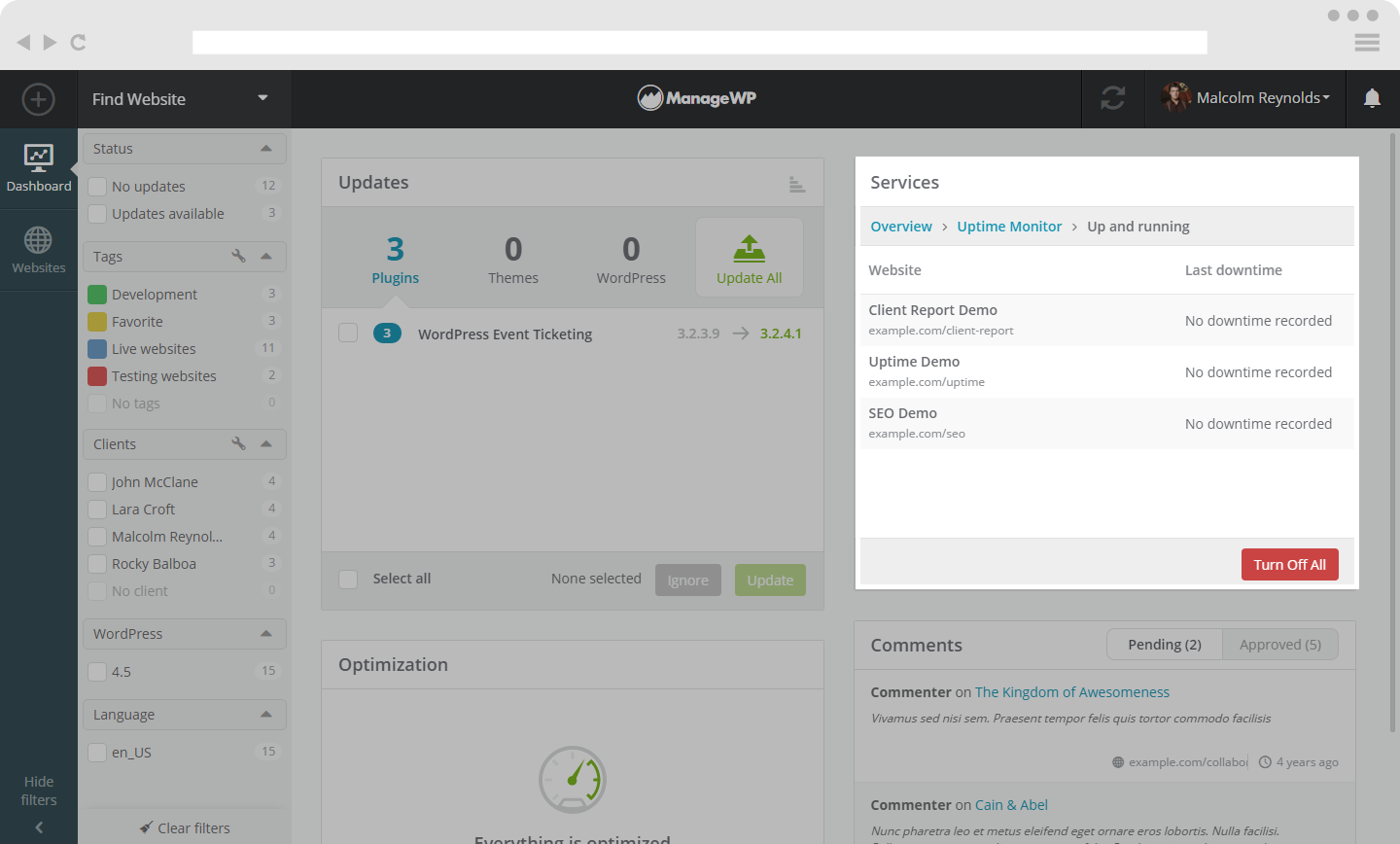 SEO Ranking
Here is what the display windows looks like for SEO Ranking.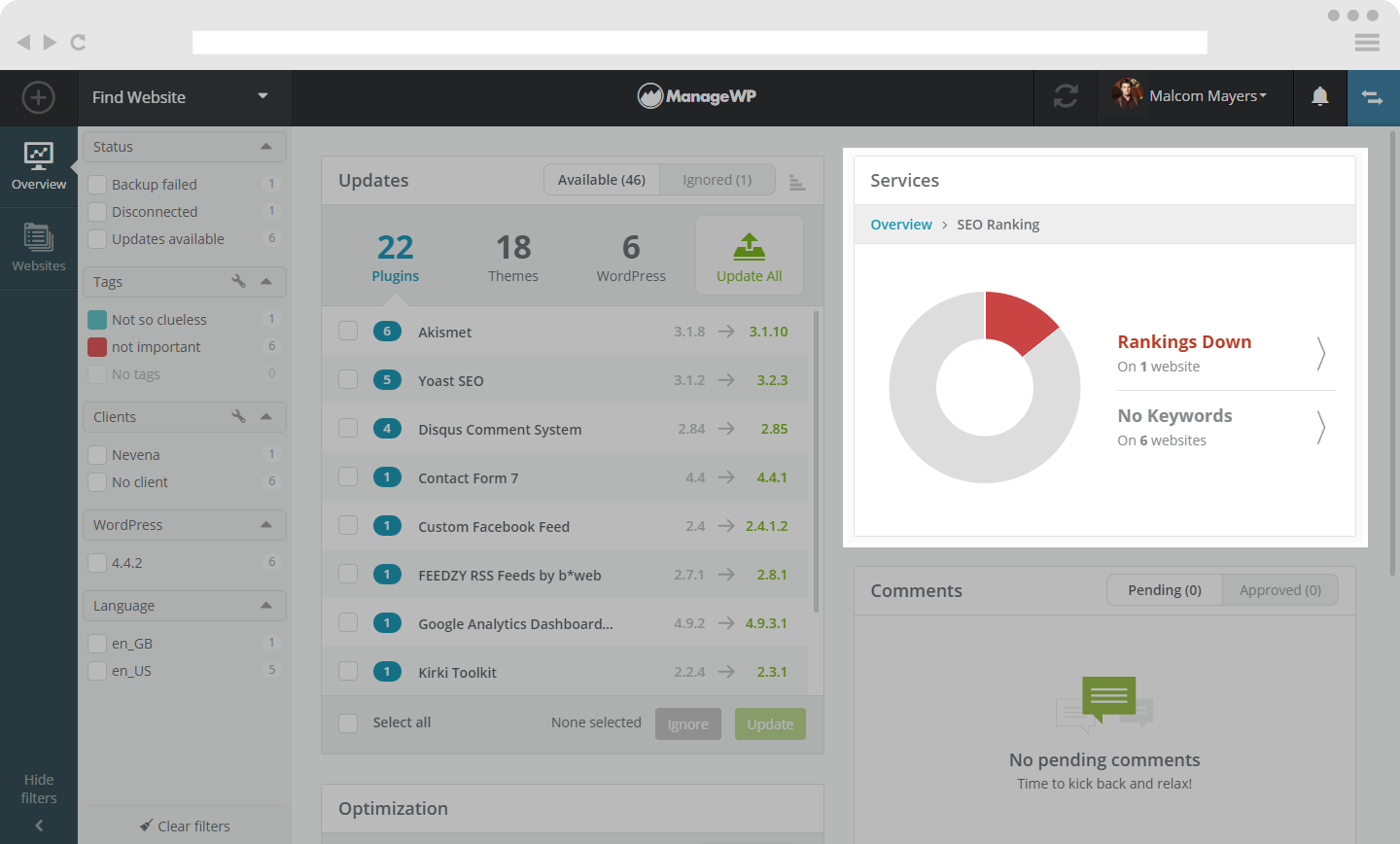 Here you can click on your ranking status, either Rankings up, Rankings down, or No keywords in order to view full details of your rankings.
Analytics Feature
Here is what the display windows look like for the Analytics Feature. You can view your website statistics and choose from the weekly or monthly view.