Just over a week ago we wrapped up AMA for season 3, and what a season it has been. This season we have had a collection of weird and wonderful people who have shared all kinds of knowledge with our readers. This season is also particularly special to me, because it was my first season organizing the AMA. I already can't wait for season 4, but before that a little bit about the AMA and season 3 highlights.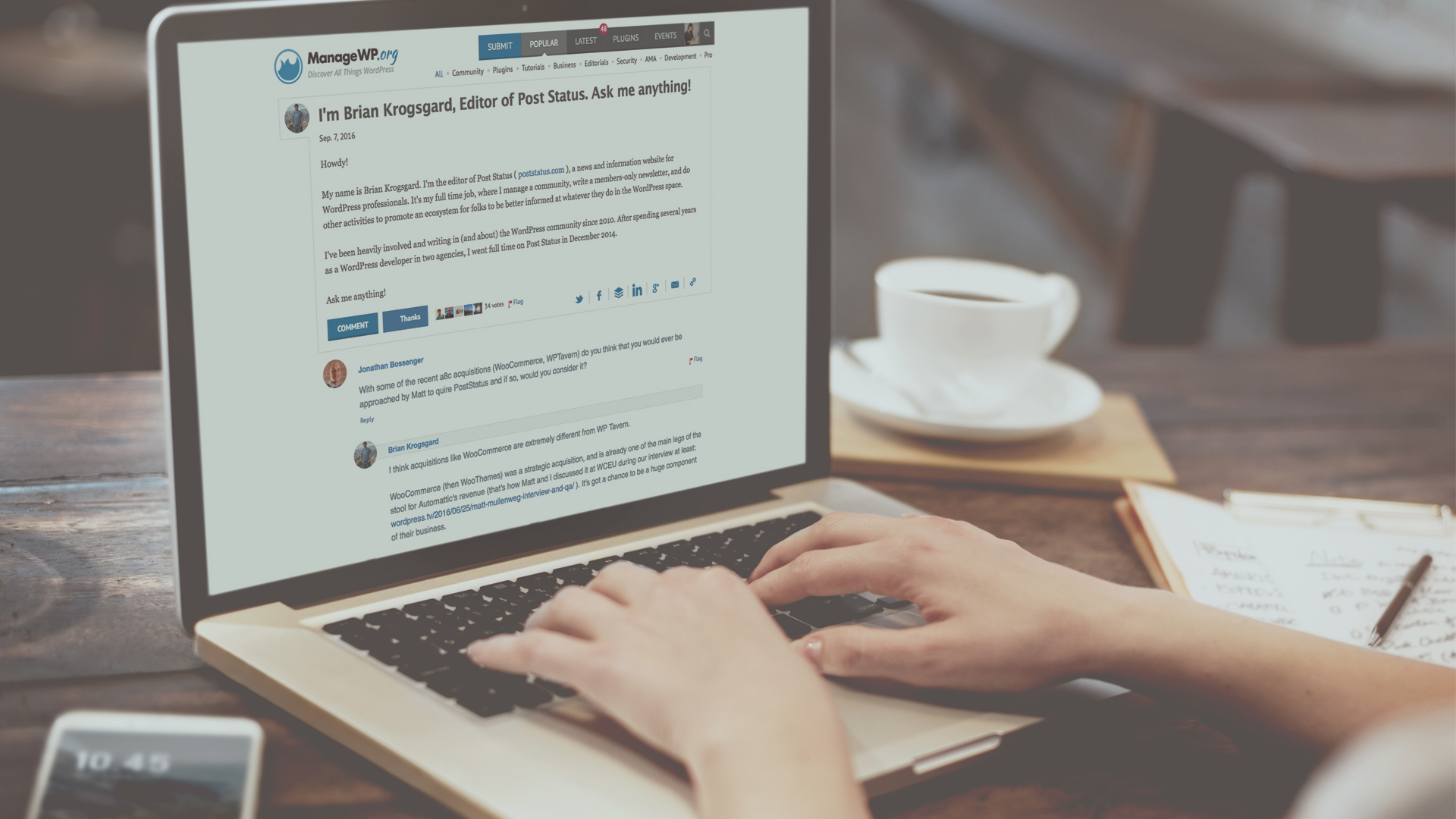 Why AMA?
AMA (ask me anything) was started back in 2015, and the first person that dared to reveal all was our very own, Vladimir Prelovac. The idea behind the AMA is to encourage people to share their experiences, and above all to give back to the WordPress community. The beauty of being involved in an open source community is the availability of information and communication. AMA aims to raise the bar on openness by inviting WordPress professionals to contribute 8 hours of their day so that our readers can ask them literally anything. From the start it has been an extremely popular activity on managewp.org, and I am happy to reveal that overall we have had 998 upvotes and 1,385 comments! This certainly promises a very busy season 4. Thank you to all who have already taken part, you have been great.
Here are some statistics from season 3. I had a look at the most upvotes throughout the season, Brian and Jake got the most with 34 and 33. They also had the most traffic during their ManageWP.org AMA.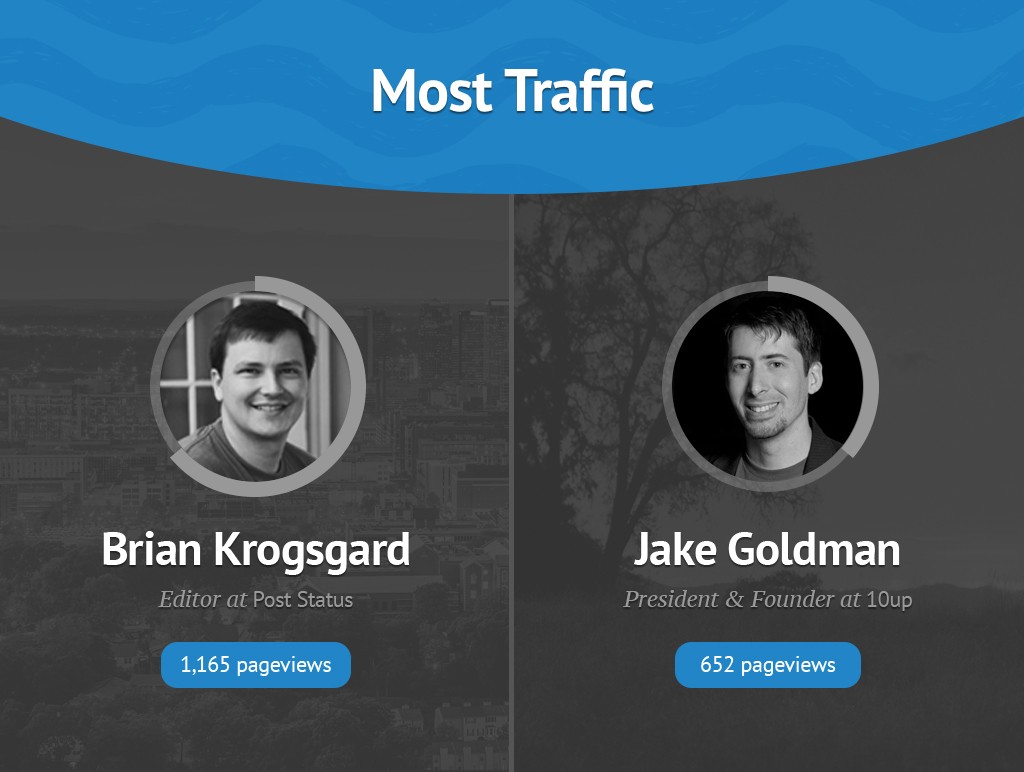 Brian holds his top spot for the most comments, but Matt Cromwell tied with the same number of comments.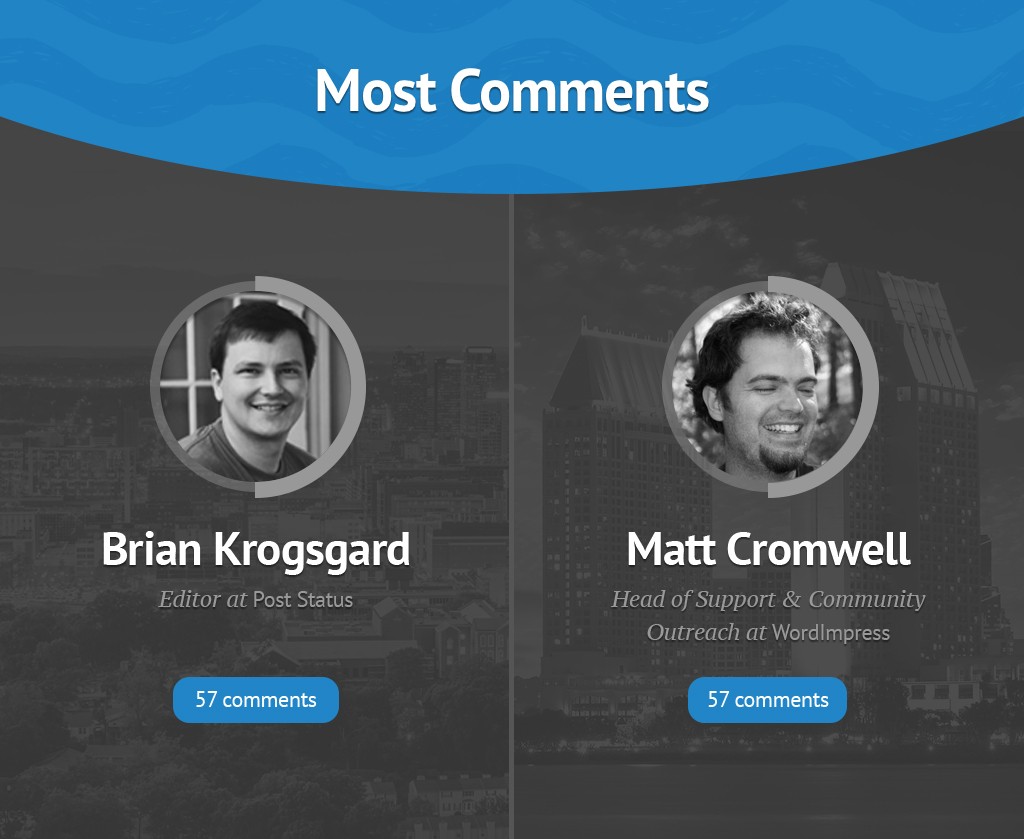 A lot of engaging conversation, aha moments and lessons shared in season 3, so it's difficult to choose the "best" takeaways. I have picked and categorized a few of my favorites, just to give you an idea of what went down. These are only a few out of the 13 fantastic AMAers we had.
WordPress Questions On AMA
Throughout the season, a few of our guests got some rather interesting questions about the future of WordPress, what are the daily struggles of WordPress professionals, and how to get the WordPress community thriving where you live.
Q: My first question would be on the current state of WordPress and where do you see WordPress in, let's say two to five years?
A: Personally I don't see any drastic changes with WordPress in terms of innovations or massive enhancements coming soon. Other than the REST API which has been pending for. – Mario Peshev
A: It's growing up, especially from a business perspective. It used to be a lot more hobbyists and people that released stuff for fun. I'm glad for that in terms of sustainability but it also makes me sad sometimes because it's less of a purely giving ecosystem.That ubiquity wasn't the same five years ago. We need to figure out how to better address it and get more people involved and excited about WordPress beyond being just a tool for their agency. – Brian Krogsgard
Q: In your opinion, what is the biggest danger to WordPress in the future?
A: Walled gardens are a threat for WordPress and for the web as we know it. We need to work for an open web where ideas can flow freely across platforms and not be confined to the shiny new app, website, or service. – Luca Sartoni
A: The biggest threat is that we may not recognize when the plateau begins and therefore that our decline is imminent. We (as a community) have to stay hungry to be at our best, making the best software, and strongest ecosystem to support it. That is really hard, and even harder when it's to stay on top (Versus being the David versus a Goliath, you are the Goliath). – Brian Krogsgard
A: The biggest danger from my perspective is WordPress being too complicated for beginner users with Wix, Squarespace and Weebly while not focusing on enterprise verticals (large enterprises, governments and others) the way that Drupal, for example, does, together with Rails and other industry frameworks. – Mario Peshev
A: WordPress benefitted from such strong product market fit and, subsequently, such high growth that there weren't the typical feedback mechanisms forcing us to make certain parts of the product better. That combined with a fuzzy vision/focus have diffused the investments made. We also need to figure out how to get more companies investing in WordPress. – Gabe Mays
Q: Being a part of a small agency, I hear a lot from devs in the industry saying just how overrated WordPress is and the many reasons not to use it. What are your reasons for developing primarily on WordPress?
A: Our move to WordPress was primarily dictated by the ease with which our customers created content. We would get calls for Joomla / Drupal / CMSMS … project asking for retraining because the person who could figure out how to use it moved to another department and could we help train their replacement. That didn't happen on WordPress. Happier customers lead to more projects. – Shane Pearlman
Q: What do you think WordPress can do in the future to make the process of blogging faster?
A: To make blogging faster, WordPress needs to take some cues from Medium. The front-end editing is really slick and giving the typical, non-technical users greater parity between what they see in the administration area to what they see on the front-end should improve. – Tom McFarlin
Q: What advice can you offer to a new WordPress meet-up organizer in terms of growing awareness and appealing to the wide spectrum of WordPress users and developers?
A: I can't overstate this enough. The Facebook group was a HUGE factor in the success of our Meetup. So much so that it now is it's own BEAST of a global organization. But whenever I chat with other Meetup organizers, they all echo how beneficial a Facebook group is for gathering people and organizing talks and whatnot. – Matt Cromwell
Great Advice On AMA
AMA is also a great spot for getting advice from people who have experience in all sort of areas of expertise. Here are a few gems for this season.
Q: I hear frequently that the culture at Modern Tribe is pretty remarkable. How do you maintain that culture when working with contractors spread all over the globe? 
A: We start every leadership retreat going through the 6 Fs (Fitness, Friends, Family, Finance, Faith, Fun) and checking that the business is aligned with where they want to be in their lives. After all, if the purpose of the company is to be a vehicle for the people it serves, we need to make sure we stay aligned. If you can be fundamentally selfish, do exactly what you want to do, and it aligns with our company needs, then I can trust you to operate independently. Note that while talent matters, I think we can have people at all levels of experience who are a fantastic fit the team. – Shane Pearlman
Q: How does a web agency land Techcrunch and Trulia as clients in its first year?
A: While 10up was around for less than a year, it's esteemed founder 😉 had been around the web development block for over a decade. That is to say, the connection and introduction was really to me (personally), through contacts and relationships I'd nurtured and developed for years. That, and when I land a compelling lead, I chase it aggressively! – Jake Goldman
Q: So I am planning on changing my business from design to website maintenance and support any suggestions?
A: Maintenance and support is a great business model because it's based on recurring revenue. The most important feature of a business like that IMHO is how they interact with you through your website. You have to spend some real development time to get the interface right, to make sure they can signup easily, that they have a good overview of their status with whatever service they are getting from you. – Matt Cromwell 
Q: Whom will you hire and why?  
(a) Person w/ talents, but may be less experienced.
(b) Experienced Person, but may be w/ moderate talents
A: I'd take talent over experience if forced into such an arbitrary dichotomy. In practice, I want both talent and experience and a clear eagerness to further both. – Tom Willmot 
Q: What are some tough lessons (or lessons you've learned the hard way) in your rise to global domination?
A: Probably that sometimes, no matter how hard you try, some things will fail. – Tom Willmot
Q: What do you look for in an acquisition and what's the basic process like? 
A: There are different factors in considering an acquisition. The core question comes down to whether to build, buy or partner and it's a blend of art and science. Above all, the key question for me is: does 1 + 1 = 3? Can we do things together that neither of us can do alone and couldn't be achieved through a partnership? Synergy is key. – Gabe Mays
Getting To Know AMAers Personally
Apart from the opportunity to discuss the business aspect, AMA offers readers also the chance to get to know our AMAers, and trust me they are more than happy to share!
Matt shared a particularly fun video – thanks for that 🙂
Q: Would you rather fight 100 duck-sized horses or one horse-sized duck?
A: I'd have to say that I'd rather fight a horse-sized duck. First, 100 duck-sized horses would get exhausted. You're talking about having to engage 100 animals with four hooves in combat. They can run, they can stand, they can kick. That's not something I'd prefer to deal with. So #nope. – Tom McFarlin
A: Definitely 100 duck-sized horses. A horse-sized duck sound terrifying. – Jake Goldman
A: Easy! 100 duck-sized horses. I'd build a tiny chariot. – Tom Willmot 
A: 100 duck-sized horses any day. I don't think a horse that small could generate enough force with a kick to cause much damage and their mouths would be too small to bite. I'll test this hypothesis in a dream tonight and report back. – Gabe Mays
Q:Would you say that Rainn Wilson stole your look or is it the other way around?
A: I have no idea what you're referring to. I am an Island. An uncopiable figure. Though if he wanted great fame, looks, and humor I wouldn't blame him if he did emulate me a bit. [/end sarcasm] – Matt Cromwell
Q: Tomaž, when did you find the time to have so many kids? 
A: In the evenings, like everyone else 🙂 – Tomaž Zaman
Q: In addition to your WordPress expertise, I've been impressed with your ability to consume large amounts of pizza and cheeseburgers and massive quantities of Coca-Cola – is this something you picked up in the Marines as well?
A: As a Marine, when you see threat you neutralize it. There's no greater threat than a pizza or cheeseburger in the open, so I'm just doing my part in making this world a better place. – Gabe Mays
N.B. all answers have been condensed, check out the relevant AMA thread for a full answer. 
Wrapping Up
Every single AMAer is special, and brings something unique to the table. In order to keep this project flowing we need more people willing to share and put themselves out there. It's important to note, it's not just about the "big" names in WordPress, you don't have to have a prominent social presence to be an influential member of the WordPress community. When we asked Brian who he would like to see on season 4 he told us, "There are loads of people doing amazing things and most don't know their names, much less their work. I'd love to see some of those folks." Having said that we invite you to either nominate yourself or someone for season 4. Drop us a comment, and let's get season 4 started!
One last thing…