This month was dedicated to feature improvements. And you'll be pleased to hear, many of these changes were actually based on your feedback! In May, the emphasis will be on completely new features. But more on that in a bit. First, let's dive into the changes we made.
How we improved the dashboard
Here's a quick breakdown of what we improved on the dashboard in April:
Active/Inactive addon button
Until now, you had the option to filter websites only by some active features.
We added a new option to this filter, so now you can see all websites with inactive features, too. This can be really useful when you want to activate or upgrade add-ons on some websites.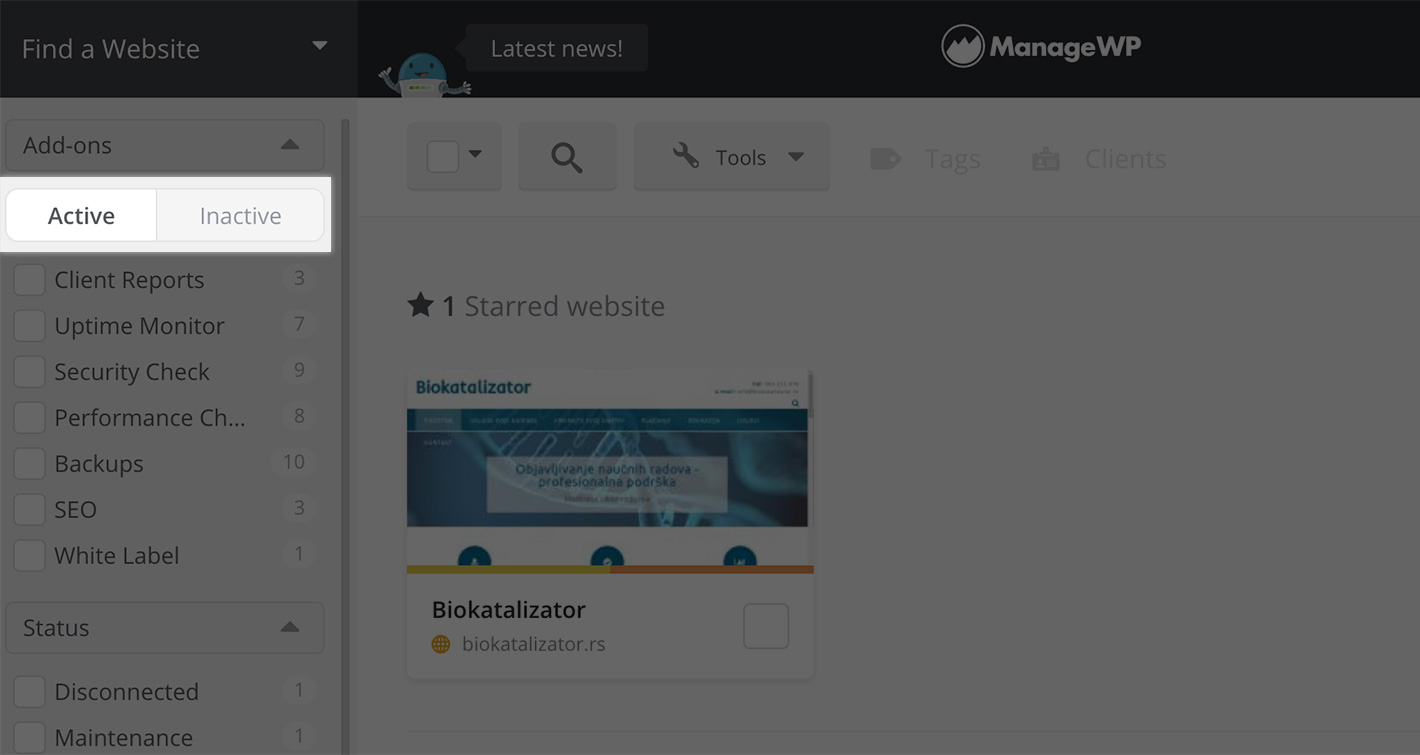 More information in our History section
The History section can help you keep track of your previous actions on the dashboard. In April, we added the following actions to the History section:
Clone
Performance
Security
Maintenance
Addon activation/deactivation
Maintenance mode notification
As many of you already know, we are not able to run a Security and Performance scan when the website is behind our Maintenance page. The reason for that is quite logical: when the website is hidden behind the Maintenance page, we are not able to measure how fast it actually is or to extract the list of links, javascript files, and iframes from the homepage.
So, if the website is using our Maintenance mode, this notification will pop-up when you run the scan: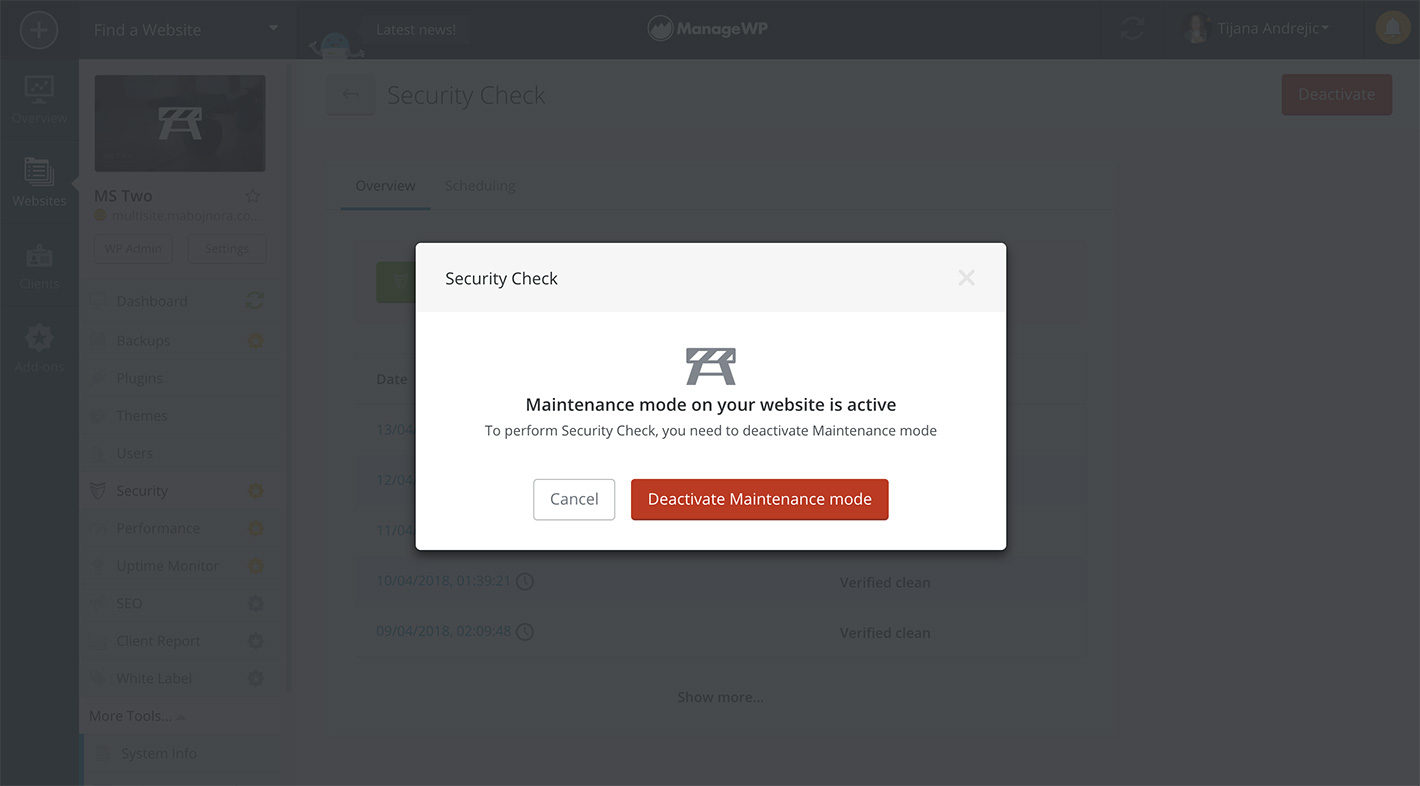 From there, you can deactivate the Maintenance mode with just one click and as soon as you do that, the scan will start.
Nonstandard tables can be included in backups
We added an option to include "nonstandard WordPress tables" when backing up websites. These tables have a different prefix than what is specified in the wp-config.php file.
So, when the backup is performed, if we detect nonstandard database tables the notification will pop-up and you will have the option to review and/or include these tables to the backup.
If you like, you can read more about this feature in our article all about improving ManageWP backups.
Client report improvements
Sometimes, Client reports are not sent successfully. It can happen for various reasons and we wanted to cover this situation for you. Previously, you got the notification regarding this and had to resend the reports manually. In order to minimize the amount of time you have to spend on the dashboard we improved this feature so in case that the reports are not sent, our tool will try a few more times automatically. After an hour, you will get the notification to let you know if we succeeded.
Also, Client report templates are now sortable by name and date, so you can find them more easily.
Plugin changelog improvement
We added more information to the plugin changelog. You can now see the date when the plugin was last updated on the WordPress repository.
Here's what you can expect from us soon
Just a teaser of what you can expect from ManageWP in the near future:
Link monitor
If you are into SEO — or you just want to make sure that your website won't lead your visitors to 404 pages — look no further. The Link Monitor feature is about to be released, and soon you will be able to check for broken links straight from your ManageWP dashboard.
GDPR compliance
We have been working on this for several months now (we even formed a special team dedicated to this goal). And since the deadline is very close, the final changes will be implemented during the coming days. For those who don't know yet, GDPR becomes enforceable starting May 25, 2018.
For more information about what we're doing to be compliant and what changes you can expect, read our blog post all about ManageWP and GDPR.
That all for April. We're looking forward to our next release notes post, which will cover all that we work on May! Until then!
SaveSave
SaveSave