We are happy to announce that the latest upgrade to ManageWP brings support to automatic backups to external FTP, Amazon S3 and Dropbox.
New backup system
We have revamped the whole backup system to make it easier to use with multiple websites.
New system works with backup "tasks" and you can have as many of them as you'd like.
For each task you can specify the task name, options and what sites you would like to add to it.
Options include backup schedule, number of backups to keep, folders to exclude, do you want the backup to be sent to your email and finally whether to delete the backup file from the server (useful if you have external backup destination like Dropbox).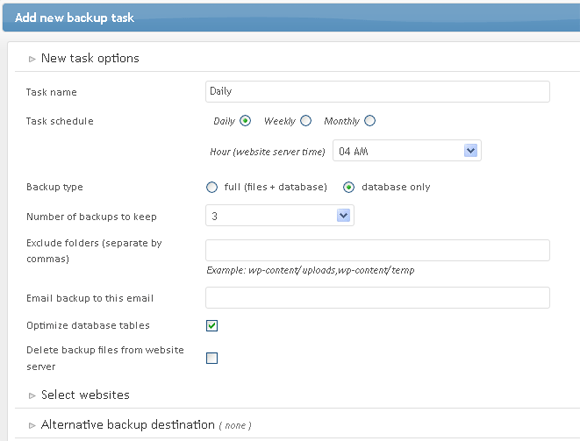 By default backups are created on your server, but if you want to store them on an external destination you can specify the details for an external FTP, Amazon S3 or Dropbox.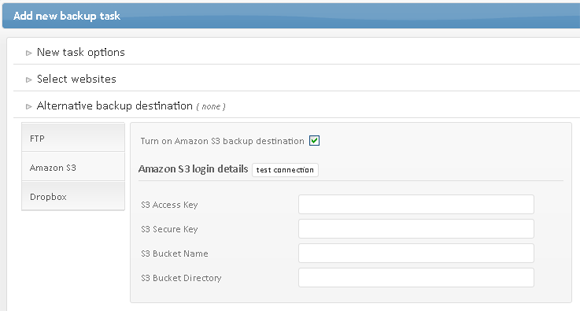 A special "Backup Now" tasks is available by default and it allows you to perform an immediate backup of any.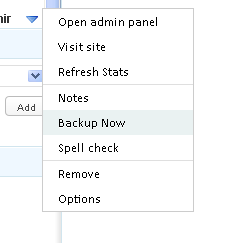 You can check the current backups in the new Backup tab in available through site options. This allows you to Restore, Download or Delete specific backup files.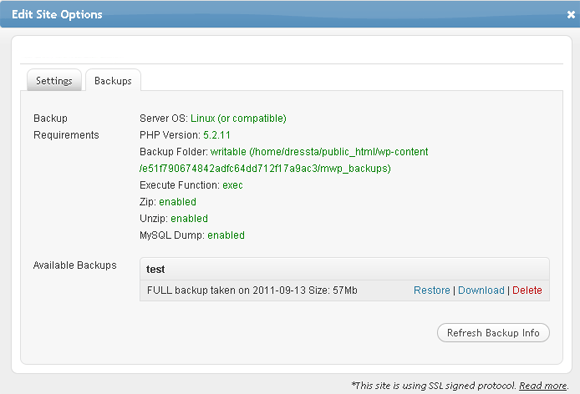 New clone System
The clone site system has been improved as well.
Now you can select to clone from any URL, using a previously created ManageWP backup file.
You can also change the admin username and password during the clone process, as well as automatically add the website to ManageWP after cloning.
Finally you can select to clone over an existing site (that you already manage in ManageWP). In this case you will not need any FTP or DB details, as everything is handled automatically

.
Other changes
Next to each spam comment there is a "View" link to read it
Quickly spell check your website with a new "Spell check" option in the site popup menu
Fixed bug with importing groups from CSV files
Clear table overhead works correctly now with InnoDB tables
Create a video for ManageWP!
We appreciate all the feedback you have been sending us. And we'd like to ask you for a small favor.
If you have a web camera, please create a short video feedback, saying what you think about ManageWP, upload it to any video service (Youtube, Vimeo or send us the file) and email us about it together with your name and city at support@managewp.com
We will feature the best videos on our site and use it for promoting ManageWP.