Update: There have been some changes from the time the Orion idea has originated. I would highly suggest reading our newest edition of Developer Diary #8! 🙂

As discussed in the previous articles, we've decided to rebuild ManageWP from the ground up. And now we refer to this journey of ours as ManageWP Orion. We knew from the beginning it was going to take a lot of time and effort; it did, and it is still something we are working hard on.
Why Not Upgrade the Existing ManageWP?
This way we got to build our product the best way we could imagine and that is very important, especially technology wise. We are no longer chained to the technologies we used up until now. The logical question is, what did we do and what are the results? I'll talk a little about this from the perspective of a frontend developer.
Near-Instant Loading Time
We got to the point of complete separation of the frontend from the backend of the application. By doing this, we escaped the hell of building frontend in backend code and risking that some visual change is going to cause unexpected trouble. Most importantly, our users will be thrilled, since this gave us the opportunity to boost the performance of ManageWP by a ton. Serving static frontend files means that the controls are there as soon as you land onto our page!
AngularJS Supporting Stability
Being able to build the application using AngularJS is something of great value. Because of the framework's nature, code written the right way is much more stable compared to using alternatives. This is due to the amazing fact that the framework has great tools which minimize room for error.
Say Goodbye to Waiting
Driven to create something that works as instantly as possible, we've decided to use a concept called "Streaming JSON". It is a system we use to continuously communicate data from our backend while a request is still in progress. Now you're able to watch the progress of every single action that you make in real-time. Also, you can have many requests running at the same time!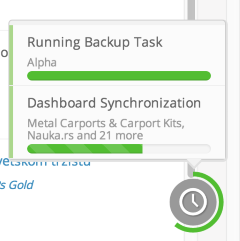 Some Features Surprised Even Us
Given this new environment we've tried and implemented many interesting features. Most of them are ideas we had for quite some time (the majority of which came from you, our users, and we thank you for that!), but there are some of the features we've never even dreamed of having. One idea that came out of the blue is voice recognition. Many ideas are there, but lets start by imagining finding a website you would like to manage just by saying its blog name or URL… Well, we got that!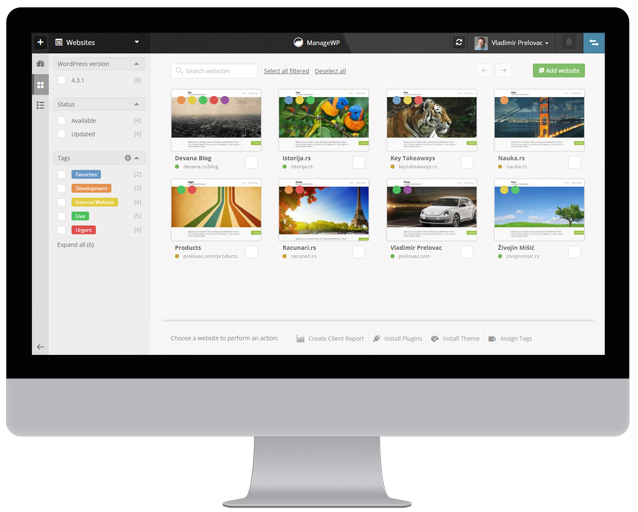 Development and the Future
I have to say I'm very excited with what ManageWP Orion has developed into and even more excited about what it's yet to become. From what I can see, this journey will bring us an application that makes managing a single WordPress instance (or many, many websites at the same time) something we enjoy and are happy to do even more because it's fun.
A Final Thought
As this experience has shown me that the less time you spend battling routine tasks, the more time you have to create something original, new and refreshing. Let ManageWP Orion take care of your business for you, while you show the world what you are capable of!
This is the 3rd article in the Orion series. See the previous article: Design Decisions Behind ManageWP Orion
UPDATE: The 4th article in the Orion series is out! Developing Backend for ManageWP Orion