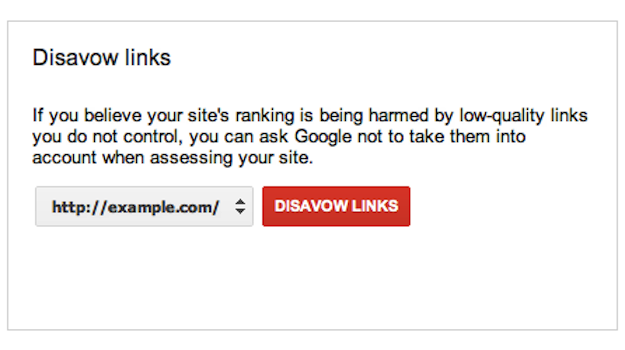 For years webmasters have reeled at the sight of Google's infamous "notice of detected unnatural links" message.
For many it has spelled disaster. It is notoriously difficult to engineer a successful reconsideration request — typically because it is extremely difficult to clean up your backlink profile and get rid of links that Google deem spammy.
But now, Google has extended what many will consider an olive branch to SEOs in the form of their new Disavow Links tool. There is little doubt in my mind that it will have a huge impact on the SEO world. Let's take a closer look!
A Brief History of Black Hat SEO
People have been building links for a very long time. Paid links, blog spam, comment spam, forum spam, syndicated low quality articles, blog networks, low-quality directories…the list goes on.
Many people have received the dreaded "notice of detected unnatural links" message as a result of such practices: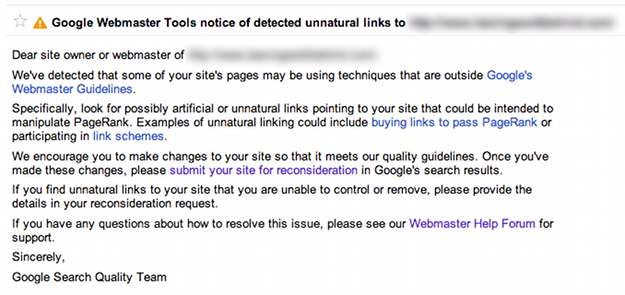 Upon receiving such a message, webmasters have to carry out the arduous task of removing all of the low-quality links that have been built to their site. Doing so is difficult at best, and often impossible.
If they couldn't remove such links to Google's satisfaction, they were stuck. But that no longer has to be the case with the introduction of Google's Disavow Links tool.
What is the Disavow Links Tool?
In a nutshell, the new tool enables you to tell Google which links pointing to your site that you'd like it to ignore. So in principle, you can 'flag' every low-quality link pointing to your site, and in time, they will be completely disregarded — as if they weren't pointing to your site at all.
Although Google takes the reported links as a "strong suggestion" to disavow (just like rel="canonical") as opposed to a direct instruction, you can typically rely on Google following your instructions to the letter.
Here's a ten minute video of Google's Matt Cutts explaining the tool in detail:
In theory, you can create a 100% 'clean' backlink portfolio by using the Disavow Links tool. And although Google goes to great lengths to say that the vast majority of webmasters will not need to use this tool, in reality, almost any SEO will find it of use. And anyone who has ever built links in any capacity certainly will.
How to Use It
Google recommend that you first go to great lengths to remove links before using the Disavow Links tool. Their reasoning behind this is twofold:
Low-quality links pointing to your site are not good for branding
Those links will still be deemed valid by other search engines
The first argument is weak, but the second carries some weight. My personal recommendation would be to make an effort to remove any link, but not put a huge amount of effort into it. Google is never going to outwardly recommend that you use this tool with wild abandon, but in reality, it is an extremely powerful addition to your SEO arsenal.
Once you have made the decision that you need to disavow links, you need to find the links. Your Webmaster Tools account is a good place to start — just click on Traffic > Links to Your Site in the sidebar, then select "More" under "Who links the most":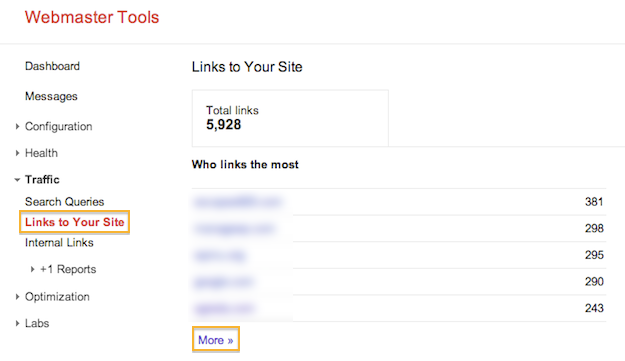 This will reveal a list of all links revealed by Google. Please note that this does not represent all links that point to your site — Google only reveals a proportion — but it is a good starting point.
Beyond Webmaster Tools, you can use a number of SEO tools to build up a comprehensive picture of your backlinks portfolio. Here are a few recommendations:
I recommend that you take some time to build up a considered and selective list of links that you wish to disavow. Reversing disavows is not impossible, but is not prioritized by Google and could take a prolonged period of time.
Once you have the list you just need to upload it via the Disavow Links page. The format of the list is very simple — it must be a text file, and each domain or page must be separated by a line break. Comments must be preceded by the hash tag (#).
Here's an example file that Google published on their blog:
# Contacted owner of spamdomain1.com on 7/1/2012 to

# ask for link removal but got no response
 domain:spamdomain1.com
 # Owner of spamdomain2.com removed most links, but missed these
http://www.spamdomain2.com/contentA.html
http://www.spamdomain2.com/contentB.html
http://www.spamdomain2.com/contentC.html
As you can see, it is possible to remove specific pages and entire domains. If you include a subdomain (such as "website.wordpress.com"), only the subdomain is likely to be disavowed (as opposed to the entire parent domain).
Once you have submitted the file, you can expect the changes to take a effect within a few weeks.
A New Age for SEO?
This tool has the potential to abolish the implied "one strike and you're out" rule that many feel Google has exercised in the past. I for one am surprised that Google have taken such a huge step. In a way, creating this tool is akin to saying:
It's okay for you to try spammy link building — if it doesn't work, we'll give you a way back in.
On the other hand, the Disavow Links tool can help out a lot of people who you could argue shouldn't be punished onerously for their actions (or inaction), such as:
Victims of negative SEO
Those who employed overzealous SEOs
Those repentant for naive link building practices
I think this is a good move by Google. It will be interesting to see how effective the tool can be in producing successful reconsideration requests, and what kind of long term effect it has on the world of SEO.
What do you think? Let us know in the comments section!