It's sort of a taboo topic. Asking someone how much money they make could be considered rude.
I suppose it depends on how you ask but for our purposes, I thought digging a bit to find out how much WordPress developers can realistically make is actually really important. It's about compiling data to get a sense of broader trends in the WordPress community.
And for potential developers, it's also about making an informed decision before pursuing a career path. I mean, you wouldn't want to get involved in an industry if there was no potential for profit, right? It's perfectly reasonable to think about the bottom line and that's what I hope to shine a light on here for those budding WordPress developers out there.
One-Time Purchase vs. Subscription Model
Before I discuss the "how much" part of this article, I wanted to spend some time talking about the two primary ways WordPress developers rake in cash. Those who create themes and plugins for a living typically have a choice of selling their wares for a one-time fee or through a subscription model.
The one-time fee approach allows consumers to buy the plugin or theme then walk away. The purchase is usually equipped with free updates for a specified period of time, but other than that, the person opening up their wallet doesn't have to think about it much more than that. It's the standard, "Do I need this? Do I like this?" scenario. If the consumer answers "yes," he's going to lay down some money for it.
Under the subscription model, developers offer plugins or themes for a set yearly fee. And if you want to keep getting updates, you have to continue paying this fee.
I can see the benefits to both models, to be honest. But I recently spoke with Alan N. Canton, Managing Partner at NewMedia Website Design, and he raises some excellent points.
"If you have a plugin that is fairly priced and which is seriously better than any of the free plugins that do close to the same thing, you can make some serious money," Canton says. The one-time fee model poses little risk to site developers. "There is little problem in buying and trying," he says. But the subscription model is viewed as a much greater investment and "makes developers much more selective as to what plugins they want to commit to."
This is not to discourage new developers out there from using the subscription model. Several are currently doing it with much success. For instance, the subscription model seems to be working just fine for Semper Plugins with their All in One SEO Pack Pro plugin. But it is something you should think through.
Now that we have the categorization details out of the way, let's talk about what you really want to know – the money!
Income Expectations
Plugin and theme development has really kicked into high gear over the past 4-5 years, says Vivek Nanda, creator of PaySketch, an analytics application that helps PayPal merchants keep tabs on sales, payment, and product analysis.
The past few years showed a "paradigm" shift around building websites using WordPress, with big companies moving over to the CMS due to the allure of "support, plugin and theme availability," Nanda says. Add in the free price tag and frequent updates and economical businesses of every size were sold.
Because of this shift, more developers have been able to make a real living by selling plugins and themes. This isn't just a fly-by-night idea, either. We're talking full-fledged companies here built around the premise of creating software that extends the WordPress platform in some way or another.
According to Nanda, there have been numerous development teams making money selling WordPress themes that "make close to $500K/year with around $200-$250K" in HR and technology costs. See what I mean about it being a legitimate business?
But I don't have to tell those already involved in the WordPress development space that. Though just because you can make a ton of money at this, doesn't mean you necessarily will.
"There are many who don't earn a dime," Nanda says and suggests going to ThemeForest and picking a category at random. "Now sort and reverse sort by the number of sales each theme has made," Nanda says, then, "you'll get an idea as to how much/less one can make out of this business."
Actually, I did exactly as Nanda suggested. I picked the Real Estate theme category and sorted it by number of sales. The top three selling themes in this category are priced at an average of $50 and have an average of over 3,450 sales. That's earnings of around $172,500 on just a single theme.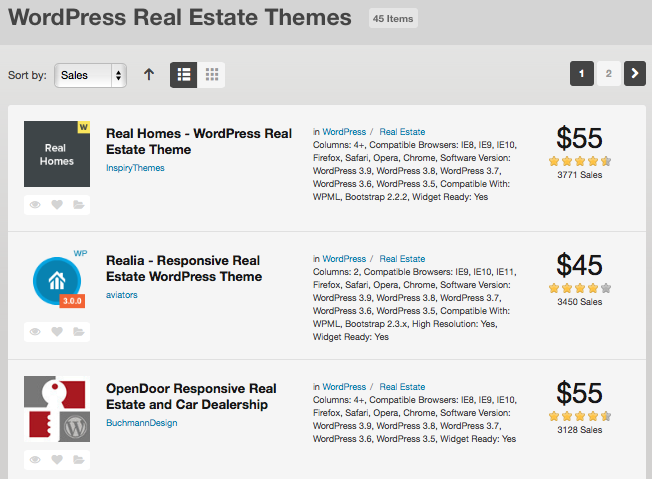 Of course, if you reverse sort this category, you're presented with numerous themes that have sold fewer than 100 times. And though I don't know these developers' expenses, I think it's safe to assume that's not the best profit margin.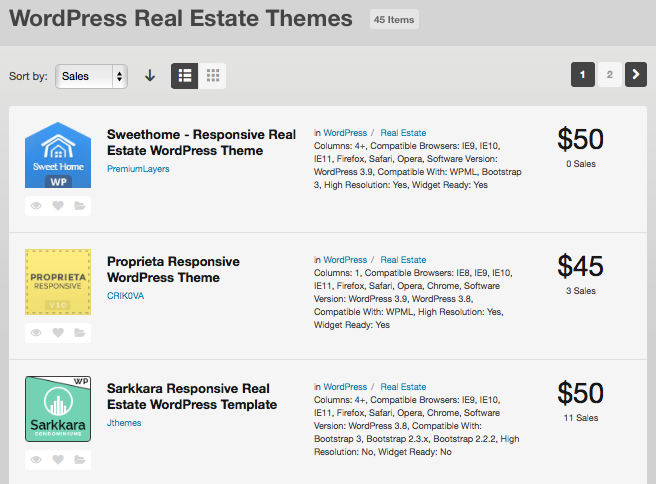 Nanda didn't offer this tip as discouragement to new developers, however. Rather, it's just a word of warning to be cautious. Delusions of grandeur can be damaging, after all, and it's a much better idea to approach it with realistic expectations.
How to Make a Living as a Plugin or Theme Developer
The amount of money you can bring in as a WordPress developer will vary depending on what your offering, your competition, and how effective you are at getting the word out about your products. That being said, there are a few things you absolutely must have if you want to make a go of this as a career:
A good product. Be it plugin or theme, it needs to offer a feature no one else has (or at the very least, perform that function better than your competition) or provide a unique look with true functionality. It also needs to be well-tested and perform exactly as you want it to before you launch.
A good price point. Your plugin or theme won't stand a chance if it's not set at the right price. Nanda suggests setting themes at "somewhere around $25-30 to start with." This will make it more likely for customers to take a chance on a developer they've never heard of.
A good marketing plan. You can't just create a product and expect people to come and find it. You need to do the legwork for them and make your plugin or theme as accessible as possible. To do this, you can create an engaging website, maintain a regular blog, offer your plugin or theme up for review, and establish yourself on social media.
A good support plan. If you take a gander at the reviews for popular WordPress products, you'll notice they share one thing in common: people really love products that offer excellent support and updates. And since the best of the best are already doing this, you need to do it too if you want to be competitive.
Conclusion
How much a WordPress developer can earn from making plugins or themes will depend on a lot of factors from startup budget to skill level to the level of innovation the product provides. Still, it is possible to make a good living doing this. You just have to get your ducks in a row first.
Now over to you. Do you earn money by selling themes or plugins? What's your income look like (if you don't mind me asking)? I'd love to hear all about your experiences in the comments!