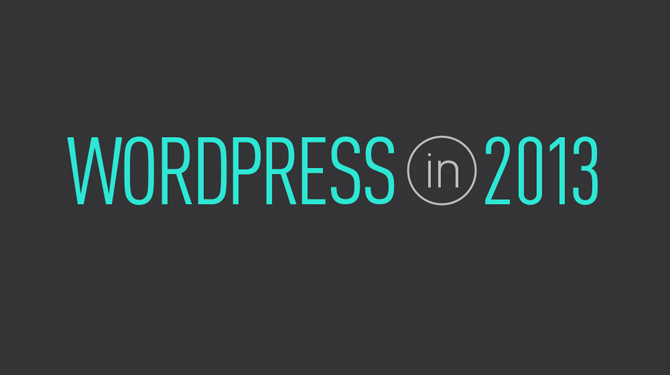 Welcome to the final Links Mashup of 2013!
The WordPress community has created an amazing selection of content again this month. There were an abundant number of excellent articles and tutorials to choose from.
I couldn't find any infographics that jumped out at me though. To make up for that fact I've included a few extra article links for you instead.
As always, I'd love to hear your thoughts on this month's selection in the comments. I'd also love to hear from you if you've created a new infographic or if you've found one that we might be interested in showcasing. Enjoy!
The Articles
WordPress snippets to interact with social networks – social media sites are a great way to publicize your blog. Jean-Baptiste from Cats who Code has created a selection of extremely useful snippets to interact with your website.
How to deploy a WordPress site to a cloud PaaS system – If you've thought about creating your site on a cloud-based system then this tutorial for deploying a WordPress installation to Cloud Foundry may be exactly what you're looking for.
A selection of CSS3 icons – Paul Underwood has created a selection of stylish CSS3 icons for you to use.
WordPress 3.8 Release Candidate 2 is now available – the WordPress team has released 3.8 RC2 for you to download and test.
WPBeginner creates a WordPress glossary – If you are new to WordPress and your unsure of all the terms that are used, this glossary from the WPBeginner team may be exactly what you need.
WordPress through the ages – an interesting timeline of WordPress designs from version 1.0.0 until present day 3.8
WPWeekly Podcast featuring Matt Mullenweg – episode 130 of the WPWeekly podcast catches up with Matt Mullenweg and talks all thing WordPress.
Five easy ways to transform our blog for the holidays – WordPress have released a few of their traditional holiday features as well as suggest a few tweaks to get your site into the festive mood.
Learning to love your WordPress sidebar – advice and examples on how to improve your site's sidebar.
How to deal with trackback and pings – a detailed explanation of trackbacks, pings and how to make the most of them.
Github for WordPress users – a beginners guide to Github for WordPress users from the WPLift team.
Improve the way you work with images – a useful guide to working effectively with images in WordPress.
Twenty Fourteen: A flawed beauty – The WPMU Dev team take a detailed look at the latest default theme from WordPress.
Plugins for using Creative Commons images in WordPress – finding images to use in your blog posts can be tricky. This guide walks through selection of plugins to make the process much easier.
Free plugins to add Christmas cheer to your website – a selection of plugins to add some festive fun to your website.
Add custom text to the WordPress login page – this code snippet will let you add custom text to your login page.
Introducing the WP Photos app – the photo sharing app, WP Photos, has been released for Firefox OS.
Best practice for using tags in WordPress – I talk about using tags effectively over on the WooThemes blog.
Writing secure WordPress code – Brad Williams talks about writing secure code for WordPress.
Transform your Admin UI – a selection of plugins to completely transform the default WordPress admin area.
Improve your typography with Google Fonts – I talk about using Google fonts to improve you typography options on the WPExplorer blog.