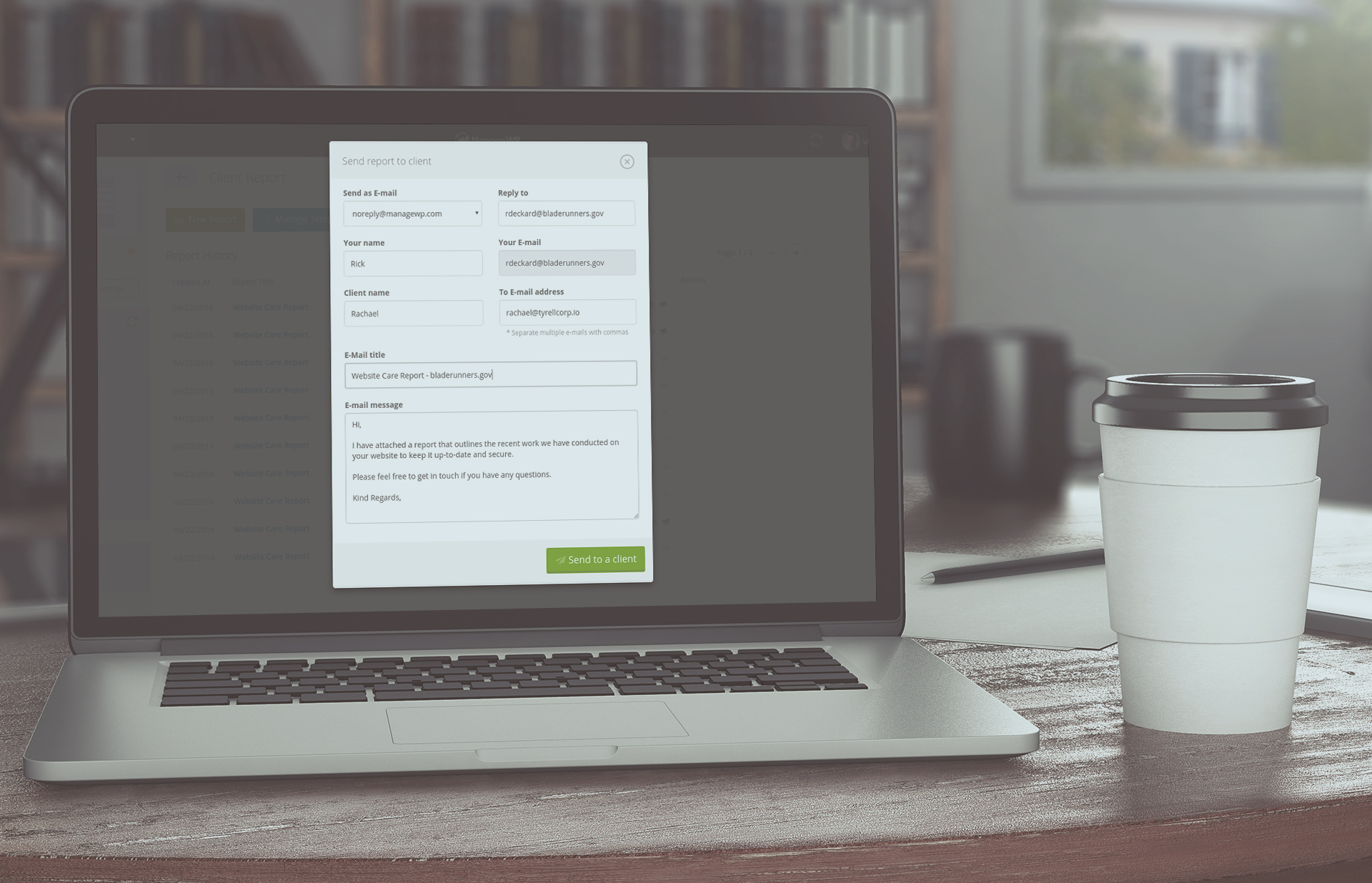 You probably heard about the uproar caused by the MailChimp announcement that Mandrill accounts will require paid MailChimp accounts, starting on April 27. Most of the rage was directed toward the fact that websites with very little transactional emails will experience a huge price hike. Luckily, there are alternatives, but that's not what this article is about.
The less attention grabbing change is that, starting on April 27, Mandrill users will need to prove ownership of accounts from which they're sending emails, including public domains like live.com and gmail.com. And since ManageWP Orion is using Mandrill, this change will prevent you from sending white labeled Client Reports to your clients.
The Tip of the Iceberg
Our initial reaction to this announcement was to start looking for a Mandrill alternative. But as we dug deeper, we realized that it's not just about Mandrill. The Internet has long been oversaturated by spam emails, and the email service providers are pushing back. By adding the domain ownership requirement, they are able to separate legitimate businesses from spam fiestas, which is a significant first step.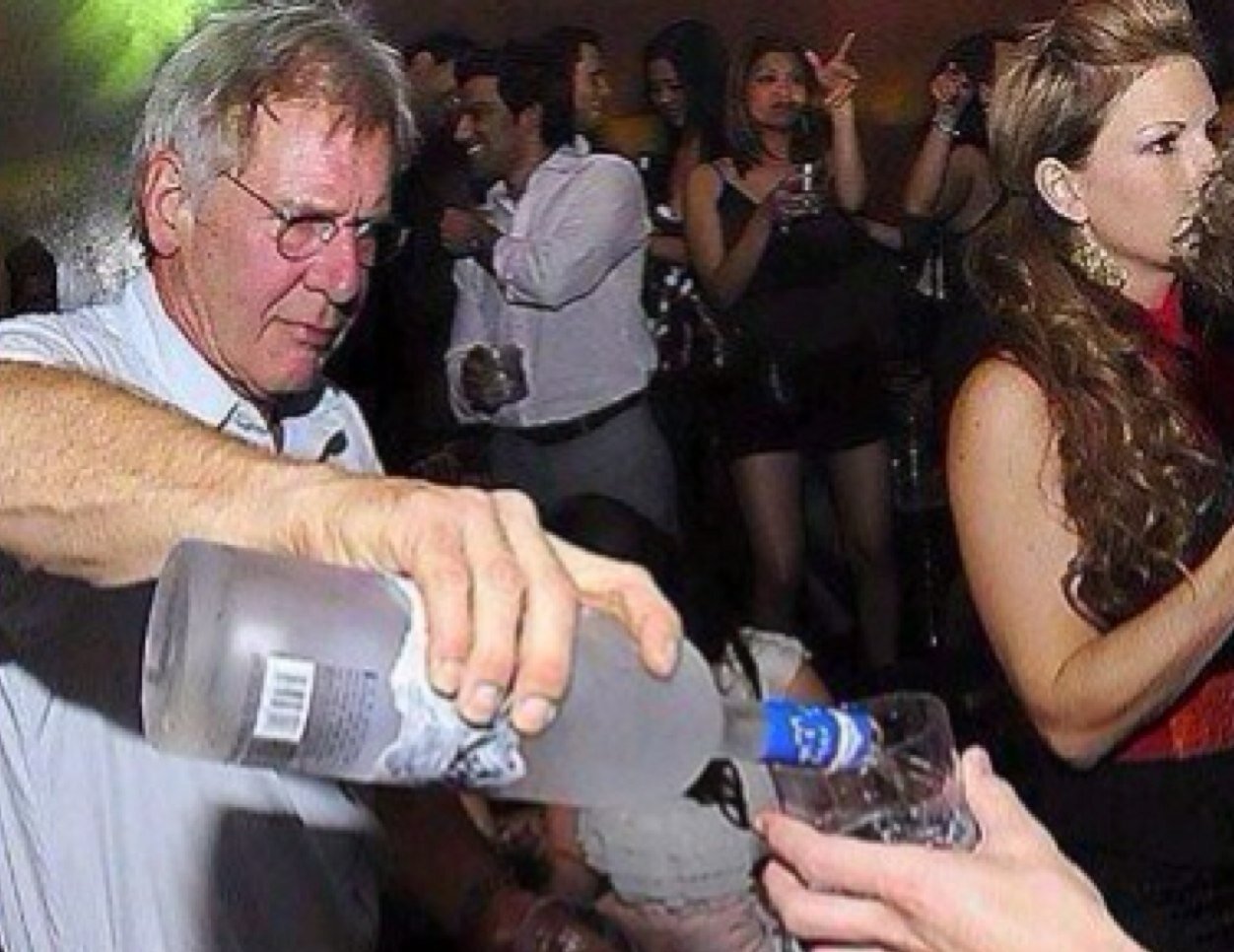 I said "spam fiesta", not "Ford fiesta"
Over time, the massive spam operations will be pushed out to services like Amazon SES, with only the high quality emails being sent from services like Mandrill. At least in theory.
Even if we switched to another transactional email service, we'd either be forced to move again in the near future, or get massacred by spam filters. So we decided to redesign the client report email flow.
Verifying Your Email Domain Ownership
First off, I need to point out that Classic ManageWP users will not be affected. We use a different mail server for Classic, and we will not make any changes since it will be phased out in the next few months. This will only affect the Orion users.
So, what you need are two options:
A white labeled email if you want to hide ManageWP from your clients, or simply don't want to confuse them by sending emails from an address they don't recognize
A default ManageWP email when you don't send the client reports directly to your clients, or simply don't mind exposing ManageWP to your clients
The only way to get the desired result from the first point is to verify the ownership of the email you're sending from, by providing your email credentials. For those that opt for the second point, a simple noreply@managewp.com email is available.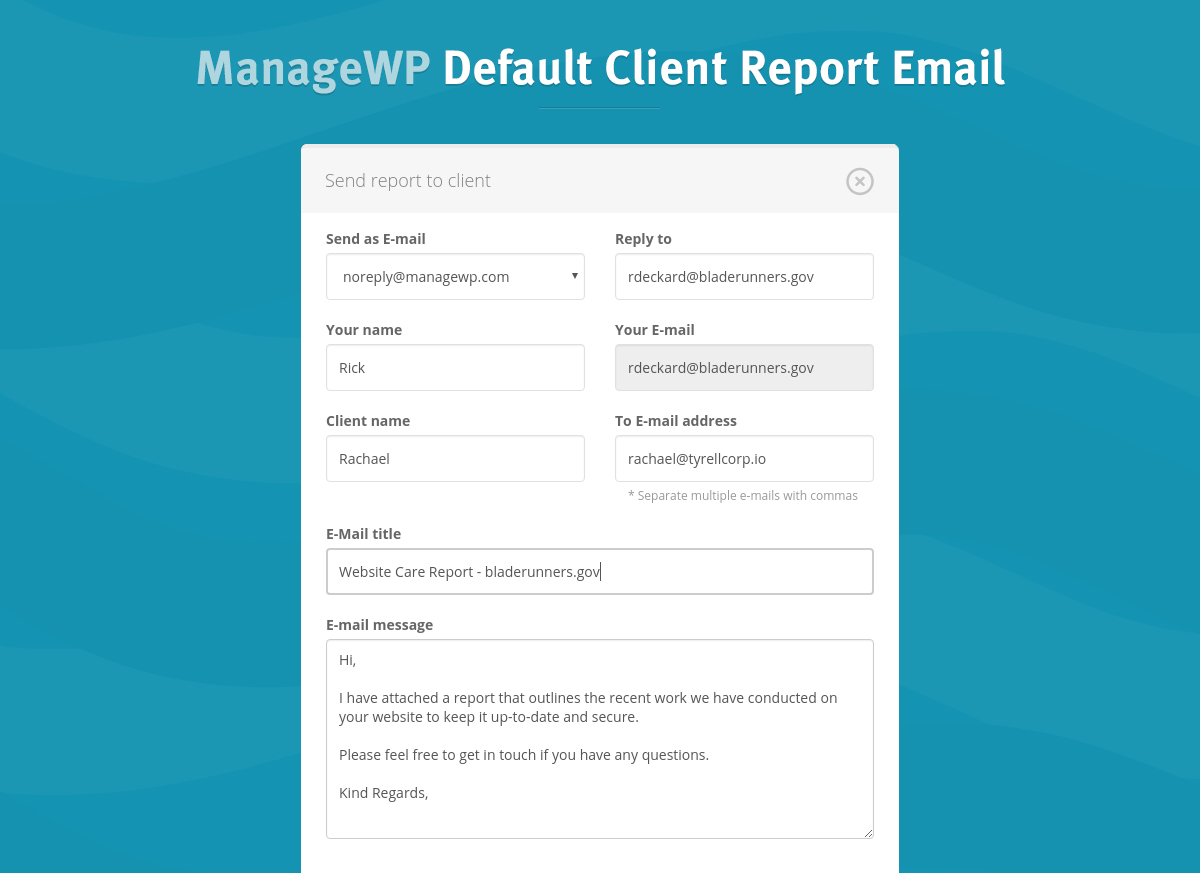 As you see from the screenshot, your clients will still be able to reply to your email, but if anyone takes a better look, they'll notice ManageWP as the sender. If you want to completely hide ManageWP, verify the email account ownership.
Verifying the Email Account Ownership
When you set up a client report or a template, you have a sender and a recipient form to fill out. If you've sent a client report before, you'll notice that the sender email has reverted to noreply@managewp.com.
You can choose to add your own email from the dropdown menu. You will be prompted to add all the relevant email domain data. The cool thing is that we auto-fill all the major email domains, like Gmail and Yahoo.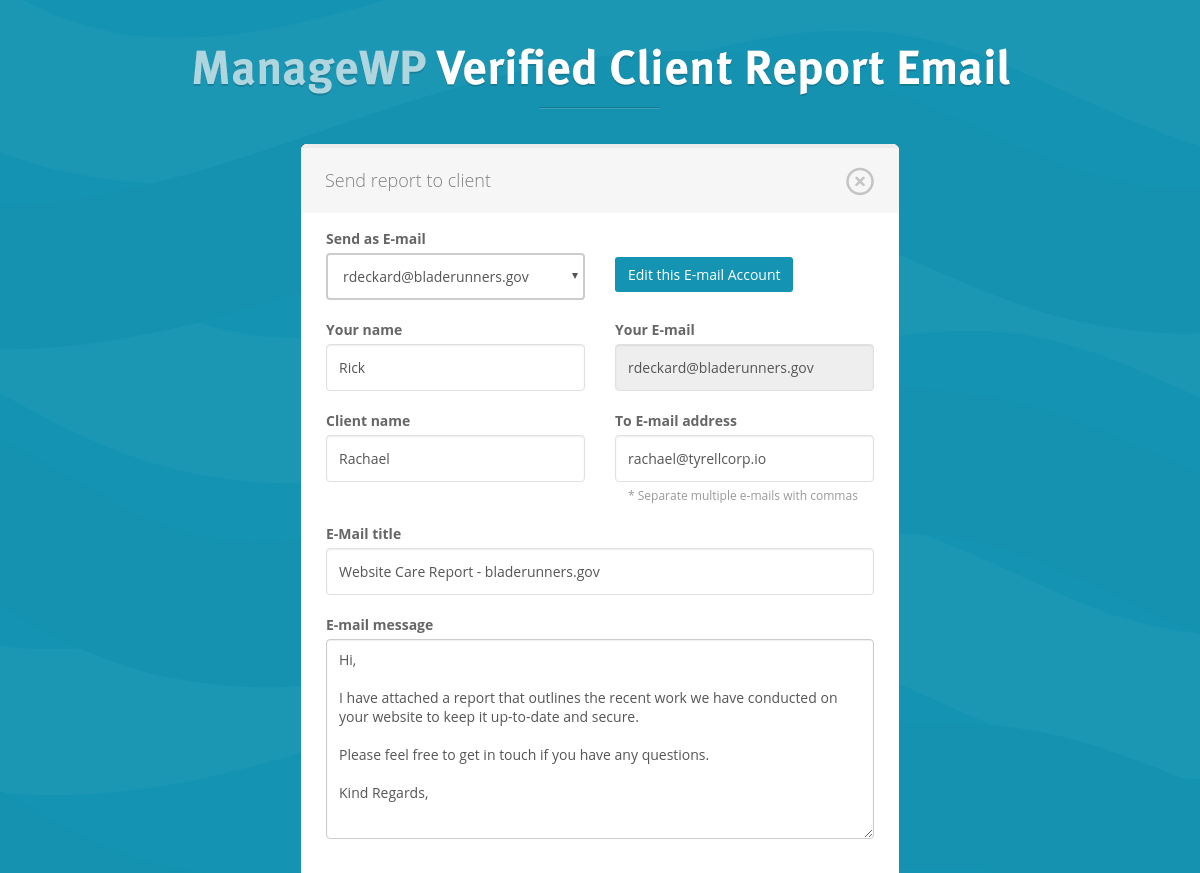 We also added a cool little time-saving detail: if you're using one of the major email domains like Yahoo, we will prepopulate the remaining fields, so you won't have to google the settings.
Gmail has a specific set of security rules, so we set up a separate Connect Gmail account button for now.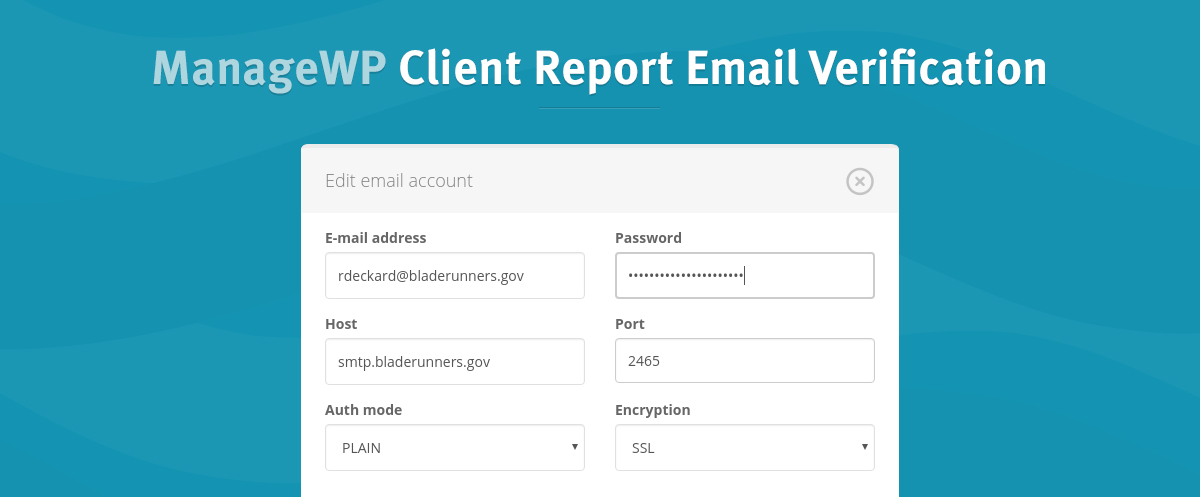 It's important to note that when an address is verified, our servers in Houston, Texas (USA) use them to send the client reports. If you're monitoring access, it will come up as a login from Houston. Please authorize the access so the Client Report could send white labeled emails. Here's an example of login activity for Hotmail accounts: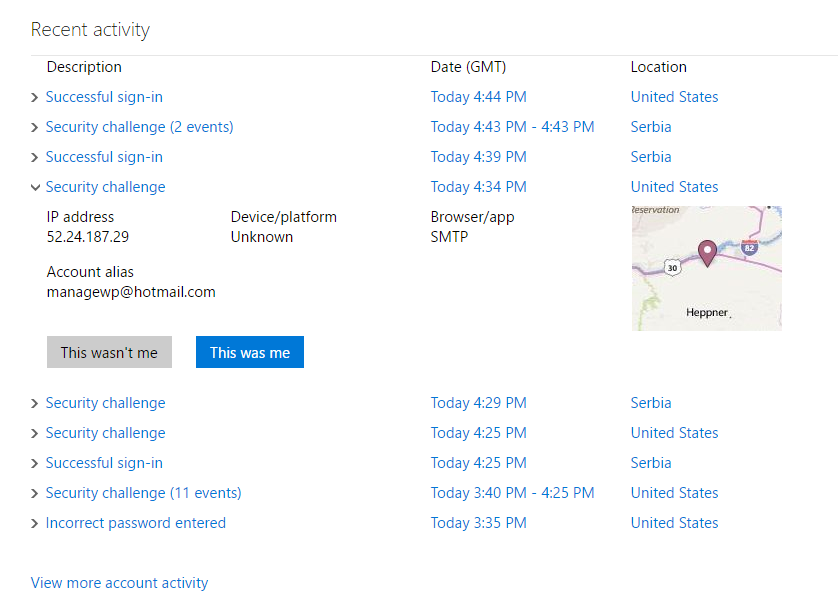 That's pretty much it! From now on you'll be able to send client reports using your verified email domain, and greatly reduce the odds of getting flagged by the client's spam filter.