ManageWP's story is one of hard work, sleepless nights, experimentation, and problem solving. It's about intense focus, dedicated development, user-focused design, and many little successes that ultimately culminates into an intense passion. It's that passion that has culminated into what ManageWP has become today, and today we are proud to reveal ManageWP to the world!
ManageWP is a first-of-its-kind solution that helps WordPress users save serious amounts of time, effort, and money. It effectively revolutionizes the entire concept of WordPress management, thus making every interaction you make with WordPress all the easier.
The goal here is simple: make managing your WordPress sites as effortless, efficient, and affordable as possible. Interested? Sign up now for free!
Multiple Blogs, Single Solution, Incredible Value
If you are managing ten blogs, a hundred blogs, or even a thousand blogs, you know what we mean when we say that managing WordPress can be somewhat of a chore, and that's putting it politely. This is a problem with most content management systems — they are oriented towards solving a single problem, and they do it with a single website.
But what happens when you need more? Well, you create more WordPress sites! But at the same time you also create more time consuming maintenance tasks — publishing content, responding to comments, managing spam, maintaining backups, upgrading plugins … the list goes on and on. It gets overwhelming, fast, and it costs you significant amounts of time, money, and resources.
That's why we created ManageWP!
For any person or company that manages multiple WordPress sites, ManageWP is the quintessential tool that revolutionizes every aspect of WordPress site management. It makes WordPress management easy, efficient, and affordable. So give us a try, and let us know what you think.
Or read on to learn about how we do this.
Manage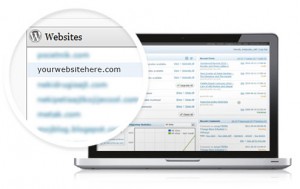 It is time to revolutionize the way you manage WordPress websites. With ManageWP, you can accomplish management tasks, both simple and complex, in a fraction of the time it currently takes you, by using our powerful and intuitive tools.
Centralized access to your vast portfolio of WordPress sites
Take advantage of our one-click login and access to your WordPress sites
Never again remember dozens, hundreds, or thousands of WordPress site passwords
Superior plugin management, with easy upgrades, installs, and activations
Easy theme management, with one-click theme upgrades
Fast spam management, all from your ManageWP dashboard
Database optimization
Remote maintenance
Effortless WordPress upgrades
Monitor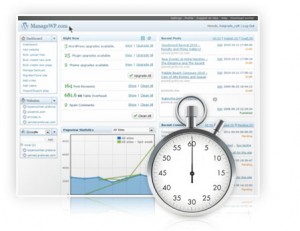 Any self-respecting WordPress user needs to monitor and track every single one of their websites. ManageWP makes this process infinitely easier.
Ensure your your site's running smoothly with incredible up-time monitoring system
Always stay on top of things with our built-in alerts that keep you informed
Monitor keyword rankings to ensure your websites maintain visibility in search engines
Optimize your SEO with Alexa statistics, PageRank information, backlinks, and page speed tools
Keep track of what websites have updates, upgrades, and other important information
Email and SMS alerts you of any server-side issues, along with the ability to easily access error logs
Backup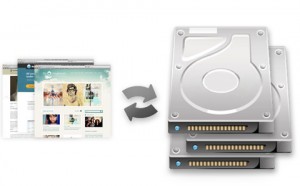 Ensuring that your websites are protected, should the worst happen, is a huge priority. But peace of mind doesn't have to come at the cost of a high price and workload.
Effortless automated backup scheduling ensures your sites are backed up and protected against catastrophe
Full control of how when and how often your backups take place (daily, weekly, and/or monthly backups)
Determine where your backups are stored for even more reliability: Amazon S3, Dropbox, FTP, and/or email
Easy restoration to previous backups
Deploy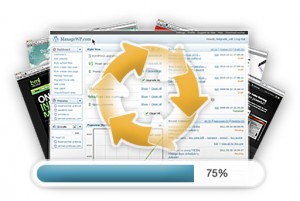 Ensuring that your sites are easily deployed and migrated is also one of the fantastic tools that ManageWP provides, which is useful for people who need to move sites often, and also for Web hosts and developers who need to rapidly deploy fully-functioning and ready-to-use WordPress sites to clients.
Easily and quickly deploy websites with our professional Clone tool
Create any number of WordPress "template" sites, with plugins, themes, and more already pre-installed, and easily deploy these ready-to-go WordPress sites to users or clients
Website migrations are no longer difficult, as our Migration tool makes things simple
Publish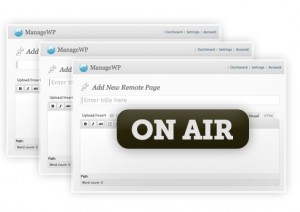 With ManageWP, users have the freedom to easily and effortlessly publish content to any number of WordPress sites.
Easily perform bulk posting operations
Effortlessly schedule and publish content across multiple sites, without having to copy and paste, with our Bulk posting features
Easily manage blogroll links across all your WordPress sites
Quickly maintain your community by easily responding to comments across multiple blogs
Secure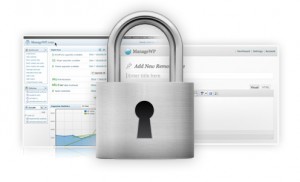 Compromise is not an option when it comes to security, and ManageWP has been built from the ground up with that in mind.
Security is held as one of our highest priorities here at ManageWP
OpenSSL encryption ensures that communication between WordPress and ManageWP is fully secure
Two-factor login authentication via email and/or SMS
IP restriction options to specify where your accounts can be accessed from
Further security additions to ensure peace of mind with your WordPress sites
Join the Celebration!
Our team is growing, our user base is thriving, and the number of WordPress sites we manage is climbing. And it's all thanks to you, all of our incredible users.
So if you are serious about WordPress site creation and management, you need to get serious about ManageWP. With pricing plans available to accomodate every type of user imaginable, there is no reason for you not to get started right now. So what are you waiting for?