We recently launched a webhook integration with Slack allowing you to send important website events directly to a Slack channel. Today we're taking Slack integration to the next level with the ManageWP Slack app.
The app serves a dual purpose:
Easy website management through this popular communication tool
To showcase the ManageWP Orion integration abilities, and to demonstrate the API potential, since we'll make it publicly available
Enjoying ManageWP in Slack
First you need to connect the Slack app to your ManageWP account. Here's how:
Log into your ManageWP dashboard
Hover over your account name at the top right
Go to Settings > 3rd Party Services
Click the Slack icon on the far right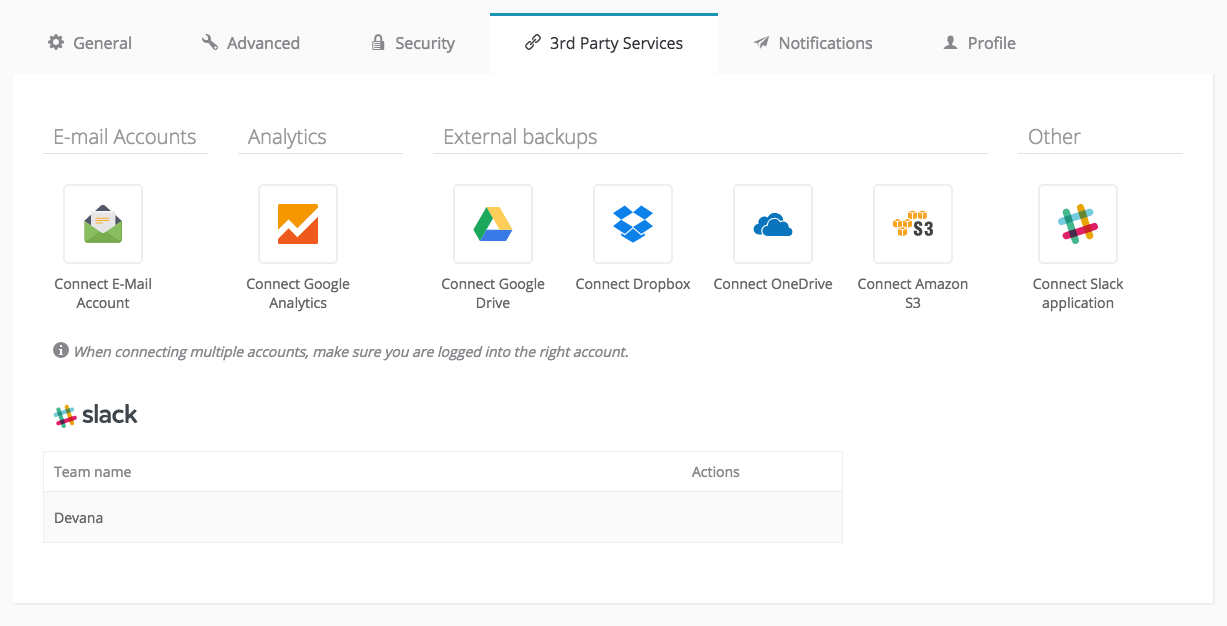 Once you've connect the Slack application, you will have access to the /mwp command.
As a proof of concept we have built support for three most commonly used ManageWP actions:
Add website
List websites
Quickly log into a website's wp-admin dashboard
Let's take a look at each of them.
Add website
Format:
/mwp add site.com [username] [password]
With this command you'll quickly add a website to your ManageWP account. If the ManageWP Worker plugin is not already installed, you can provide the optional username and password.

List websites
Format:
/mwp list [substr]
This will list websites in your ManageWP account. The output is limited to 50 websites, so use the optional parameter to filter the websites by URL; e.g. simply add shoes to show only the websites that have shoes anywhere in their URL.
The list command will also output a login link that will take you directly to the website's wp-admin dashboard!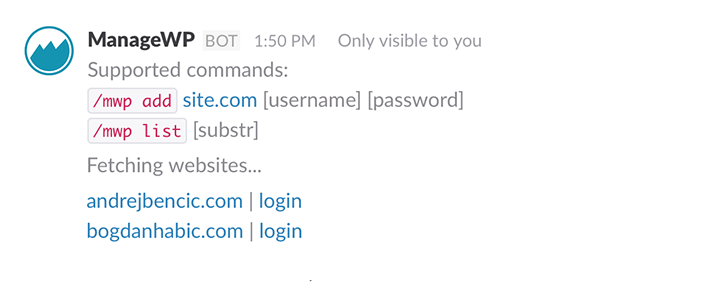 More to come
This is just a start. We need your feedback: what actions do you need to be more productive? We will initially integrate the most popular ones into our Slack app, and once the API is ready to be released into the wild, you will be able to create your own.
Which brings us to the…
ManageWP API Goal
A lot of people in the WordPress ecosystem are interested in our API. As many of you have already figured out, ManageWP Orion is a fully decoupled web application already built on top of an API.
Our API is already 300 actions strong and our plan is to release it to public one step at a time. You are seeing this already through this very Slack app integration – it fully relies on our API.
So far we have exposed the add website, list website and wp-admin login API calls and our goal is to expose more in the coming weeks.
Who is the API for
Anyone who loves to build cool integrations on top of existing apps. Whether you are an agency and love to build custom dashboards, a WordPress host that wants to stand out in the crowd, or a freelancer who wants to get things done faster, the ManageWP API will help you get the results you want.
Our plan is to expose every single action, meaning every single ManageWP feature, through the public API.
API Roadmap
UPDATE (April 17, 2018): API development has been deprioritized. We do not have an ETA at this moment.
You can expect the first batch of new actions within weeks. We already built the support for OAuth2 authentication, and we need to work on the API documentation for the first batch.
We will gradually roll out other actions, with the most important ones coming out by the end of 2016.
Prepare for a truly unique WordPress management experience!