"I was travelling the US last year and wanted to see which WordPress events I could attend along the route and there was no elegant solution to this problem. WordCamp Central lists only WordCamps without a map showing their location. There are also numerous meetups as well as non-WordCamp conferences like LoopConf, CaboPress, ThemeConf that are not listed anywhere. So I decided to build it."

– Vladimir Prelovac, Founder and CEO of ManageWP
We kicked off the ManageWP.org project back in 2013 as a way of giving back to the WordPress community. Iinitially we had a single goal – to help discover best blogs and WordPress bloggers out there – but once we released the Plugin Discovery Tool we decided to focus on giving the community more awesome tools that would bring the community closer together and help people make smart choices. Today I am honored to announce the launch of the WordPress Events Hub!
Getting Started With Events Hub
When you visit our new Events Hub, you will see by default which WordPress events await you on your continent in the next 12 months.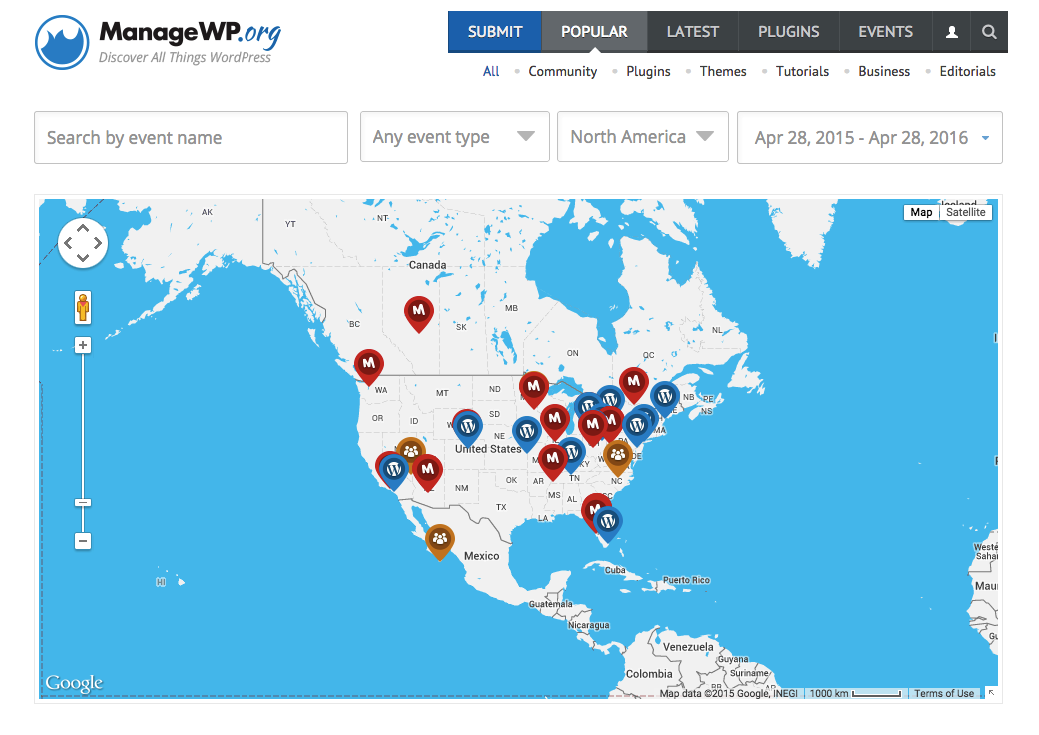 You can search for a specific date range and territory, find an event by its name or filter events by following types:
WordCamps – colored blue on your map;
Meetups – colored red on your map, these badges give you information directly from the meetup.com website, if a specific meetup is about WordPress and has at least 6 RSVP;
Non-WordCamp Conferences – colored orange on your map;
Capitalizing on Events Hub
After we've created the WordPress Events Hub, I was very excited to look at the map and see the result of our hard work.
It gave me a totally new perspective on:
Planning my next trip;
Realizing where the WordPress community is being active;
Looking at the new market and potential markets;
Thinking about investing our resources in empowering new communities;
Future Development
We plan to include the option to Tweet about particular event directly from Events Hub page. We're considering adding speakers' Twitter accounts as well, so you can easily find and follow them, as well get directly in touch with them.
The entire project is envisioned to involve the WordPress community, so you if you are already a member of ManageWP.org and you have posting privileges, you can easily create a new event.
If you are an organizer of an event which is already displayed, you can send us an email to hi@managewp.org with your information and ManageWP.org username so we can assign the event to you.
We'd love to hear your feedback and impressions, please share your thoughts with us in the comment section 🙂