Update: As Orion development evolves, some of the information below became outdated. Check out the Dev Diary #8 for more up-to-date info!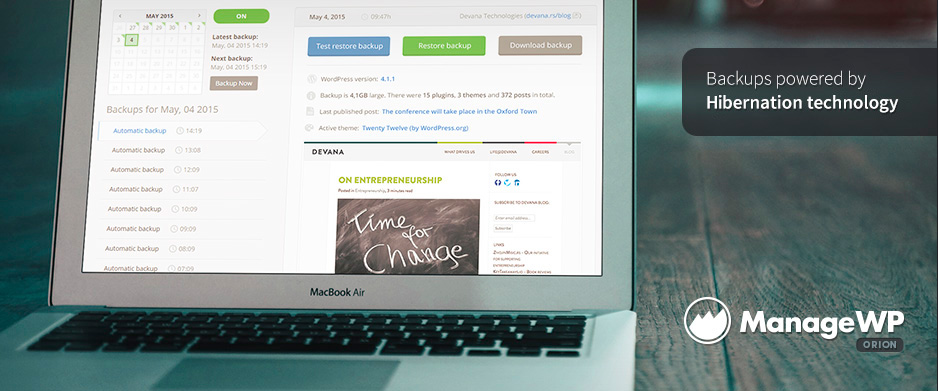 A lot of you have patiently waited for us to deliver on our promise and provide you with a bulletproof backup solution that your websites direly need. It's time to reward your patience – the new backup app is being released tomorrow, on May 5, into the ManageWP Orion closed beta and it's jam-packed with new features.
No More High Server Load
The first thing you'll notice is how easily your website server is running backups. The new Orion backup runs just a small fraction of the process on your website server; the vast majority of the work is done by our own server infrastructure, built specifically for this purpose. With the help of our Hibernation technology, your website is queried for content, which is then uploaded to our Hibernation Pod (our cloud storage infrastructure) where a backup archive is assembled. And the best part? The load on your site server is little more than a regular website visit.

Real-time Protection
Scheduled backups are obsolete now that we've switched to real-time protection. The new Hibernation tech allows you to run incremental backups every hour, 24 hours a day, 7 days a week. That's 720 restore points each month!
Compatible With Huge Websites
With the resource issues resolved, there is no upper limit to the size of the website you can back up, both in terms of the physical size and the number of files. The backup is incremental, meaning that after the initial backup, only the changes you make are tracked and uploaded. Instead of creating a 10GB backup each and every time, you just run a backup for those 2MB for your latest post.

Secure Off-Site Storage With Hibernation Pod
Storing backups on the website server is a bad choice for a number of reasons – hackers could access your FTP and hijack the whole website; with larger websites you could easily burn through your physical space; but most importantly, if something happens to your server, your only chance of getting things back on track has crashed with the server. That's why we've decided to assemble and store your backups on Hibernation Pod – our cloud storage solution that makes it ridiculously easy to store and restore your website backups.
We Play Nice With Everyone
Some managed hosting companies, such as WP Engine and Pagely, restrict PHP backups because they interfere with server performance. This is no longer the case. The traffic and server load are only a little higher than a regular site visit, so there's no need for the hosting companies to throttle or terminate the ManageWP Orion backup script. This is very important because you ask us all the time if ManageWP plays nice with hosting company X – from now on we play nice with everyone.
Why We Chose to Build the New Backup
You know how the old ManageWP backup works. It's a PHP script relying almost exclusively on your website server resources, similar to other major backup plugins such as BackupBuddy or Updraft Plus. It's quick, it's dirty and it's resource intensive. The problem is, if you run a serious business, anything less than a 99% backup success rate is unacceptable. Our research showed that ManageWP and similar major solutions deliver ~80% success rate with default settings, and in some cases require a lot of compromises to run reliably. You probably know all this all too well.
We explored all possible options and concluded that further optimization would hit the ceiling at ~85%. That's why we came up with the Hibernation technology. It allows us to achieve that magical 99% success rate by running low-intensity processes off-site and utilizing incremental backups, Hibernation Pod storage and a number of other optimizations.
Getting Started With ManageWP Orion Backups
First off, say goodbye to complicated scheduled backup forms, credentials and account linking. We've made the user experience as straightforward as possible. When you log into your ManageWP dashboard, you will immediately see a rundown of your websites in the backups widget:

If you're a ManageWP user, the first thing you'll notice is that the scheduled backup tasks are gone – with real-time backups there just wasn't any need for the hassle of juggling multiple backup tasks; now all of your websites are sorted into categories, according to the status of the backups:
Automatic backups: The backup for these websites works like clockwork, yay! You have the option of running a manual backup or going to a detailed backup report for that website
Backups not enabled: For those rare occasions when you don't need a backup for a particular website. You can always check this category to enable the backup
Clicking on the detailed backup report gives you an in-depth backup report for that website: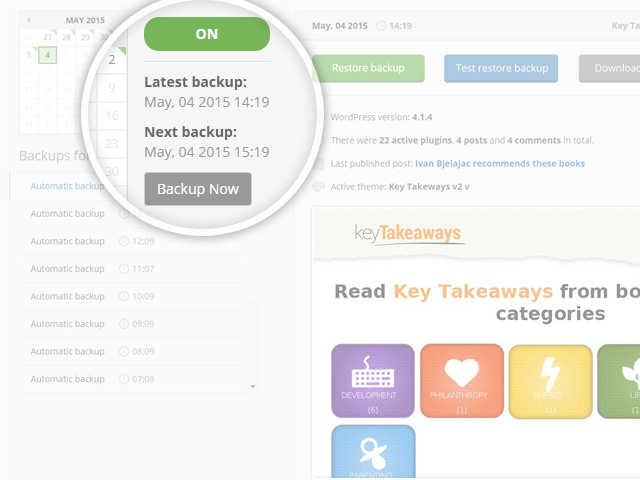 In the upper left corner of the screen you'll see the backup calendar with information about your backups. There are two buttons: Backup Now if you want to create a backup right away, and ON/OFF, which is the only button you need to click to turn your real-time backup on and off.
The lower left corner lists the available backups for a chosen date. Clicking on one of them brings up a detailed report on the right of the screen: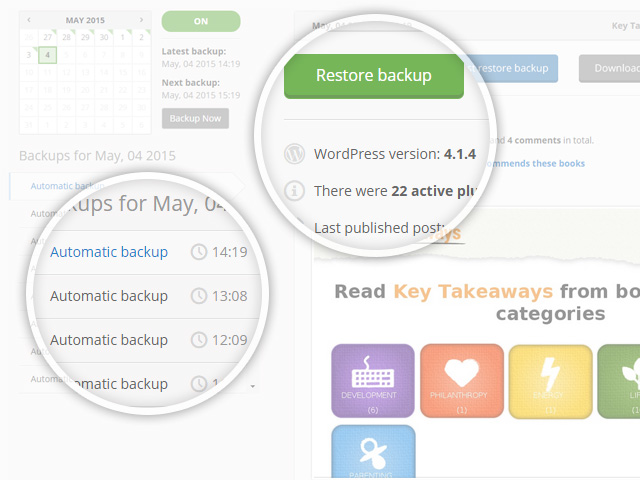 The lower right part of the screen is a screenshot of your website at the moment the backup was created – this is great if your theme broke down or the website has been defaced and you're looking for the latest functional backup to restore. Above the screenshot, you'll find more information about the backup: WordPress version, the number of plugins, posts, comments, the latest published post and the active theme.
And last but not least, the upper right corner is where the magic happens. The Download backup button allows you to store the backup archive on your local computer. Test restore backup is great for critical websites – your backup is restored on our test server. You can see what it looks like and once you're certain that everything is in order, click on Restore backup. This button restores your website using the backup from our Life Pod storage – a simple single click to start the restore. Enjoy it as the progress bar races to 100% 🙂

Please note that at the time of writing we've disabled the Test restore backup and Download backup buttons – once the internal tests are successful you will be able to play with them to your heart's content.
That's it for this blog post. We have a lot more going on, so expect the next Dev Diary next week, with more information about Orion apps. If you have any comments, suggestions or feedback, please let us know. We're very excited with the road ahead and the tools we're building to help you run your business efficiently and reliably.
Team ManageWP salutes you!
Want to know more about ManageWP Orion? Check out our Developer Diary #2
UPDATE: ManageWP Orion Developer Diary #4 is out! Read about the client report, additional backup features and more!