Update: As Orion development evolves, some of the information below has become outdated. Check out the Dev Diary #8 for more up-to-date info!
With the Orion launch less than two months away and the development going at full speed, we have a number of improvements. Most of them are back end developments, like dashboard and backup optimization, so I'll focus on the ones that you can actually see.
Install Plugins & Themes
If you have a set of themes and plugins that you frequently use, ManageWP's ability to install them easily from the WordPress repo is a great new tool. Even more so if we're talking about premium themes and plugins, because you can store them on your Dropbox storage and install them directly from there.

The Install Plugins & Themes feature allows you to do just that – pick the plugin you want to install, choose the sites you want to install it on and let Orion do everything else for you. At the moment you only have the WordPress repository as the source, but we plan on introducing more before Orion goes live.
My Websites View Options

The thumbnail view on the My Websites screen is geared toward users who like to keep sites organized into smaller groups and have all the important information at a glance.
If you don't count yourself with the former, then the list view is the one for you: it is currently a work in progress, but when it's done it will give you the essential information for each website – backup health, overview of plugins, uptime and more.

Pause Site
If you're OCD like us and have a website reporting an error, but for some reason you can't (or don't want to) get rid of it for now, we have a solution for you.
Say hello to the Pause Site button! A click on this button will suspend all communication and error reporting for this particular website, until you resolve the underlying issue and decide to put the website back to rotation.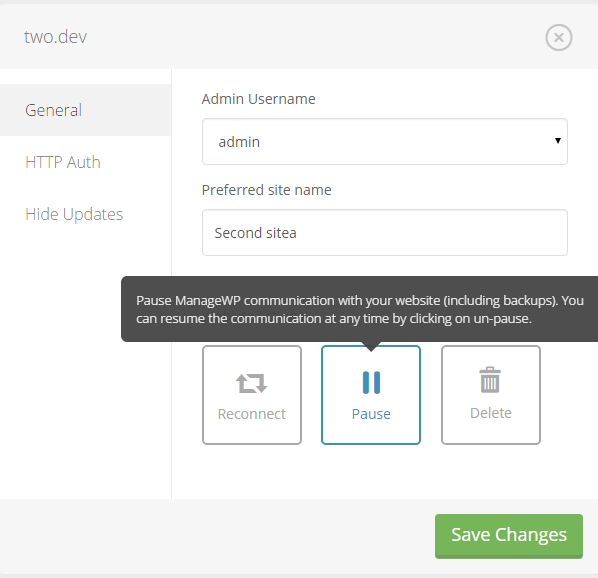 Quick Notifications
There is not always enough time to delve into details, and now you don't have to. We have added a subtle notification area in the bottom left corner of your screen. There, you can toggle the view of disconnected websites for that website group. You also have the sum of all available plugin, theme and WordPress updates, allowing you to quickly go to the Dashboard, where you can update them all with a single click.

Rate Us!
Some of you have already noticed the Rate Us button that you seewhen you hover over your account name at the top right of your Orion dashboard. If you like what you see and want to help us spread the word, please click the button and rate us on the WordPress repository. We appreciate it 🙂
As always, if you're interested in the Orion closed beta, leave a comment below!
To see the previous Developer Diary installment, click here.
UPDATE: The Developer Diary #8 is out, talking about the deadline.