Update: There have been some changes from the time the Orion idea has originated. Check out the Developer Diary #8 for up-to-date information.
Today we are launching something new. We call it ManageWP Orion.
It is ManageWP, redone from the ground up; designed to focus on what really matters in your WordPress workflow. Built with the completely new backend and frontend, we expect it to raise the bar on speed, reliability and security and revolutionize WordPress management, like the original did five years ago.
Getting Started with ManageWP Orion
Starting today, we're sending out the first round of invitations to give ManageWP Orion a try, and each invited user will be able to invite their friends. If you still did not receive Orion and you can't wait for it to reach you, let us know in the comments below.
When you start using ManageWP Orion, you'll quickly discover that it doesn't feel the same as ManageWP that you are used to – and that's exactly the point. The new workflow is more natural and faster, saving you more time.
Word of caution: many features are still missing in Orion so do not feel disappointed; it is a proof of concept that we want to validate with you first. So please make sure you utilize that "Feedback" button like there is no tomorrow.
Go to ManageWP Orion.
The Future
Before I talk about future, I'd like to first reflect on the past.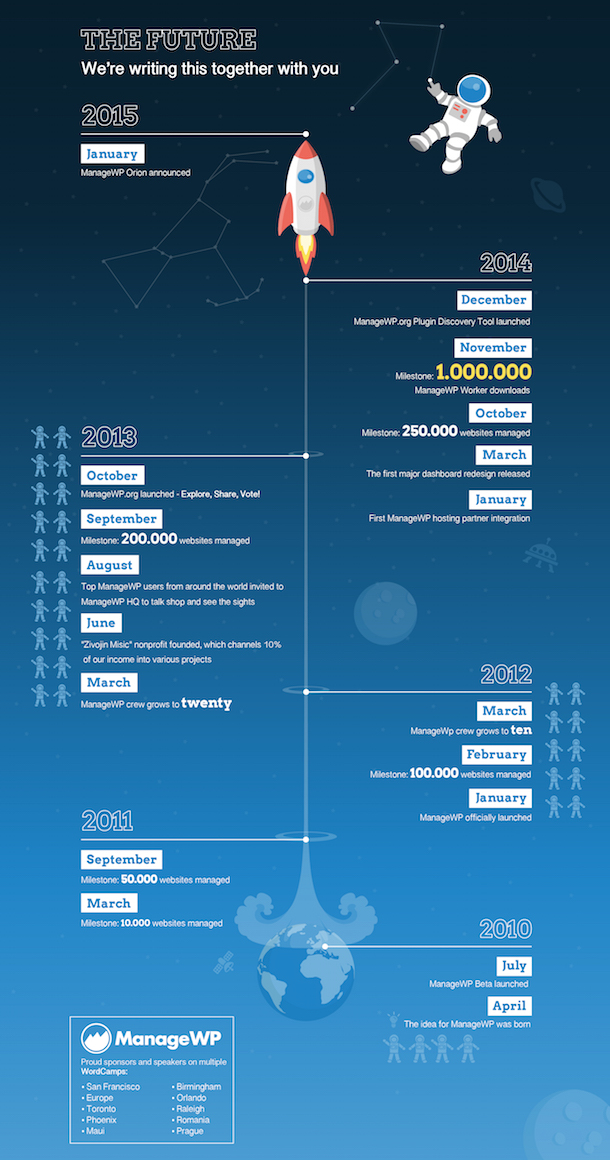 It's been a five year ride for us at ManageWP and we would like to say a big hearty THANK YOU to all our clients, especially those of you who've been with us from the beginning, those who are with us now; those of you who expressed patience when you've been frustrated with our software or service; those of you who recommended us to your friends.
Thanks to your support and loyalty we are now determined to produce a WordPress productivity tool that isn't rivaled by anything on the market – whether this is reliability, security, user experience, design, engineering – you name it.
You are going to see novelties left and right – aimed at easing your WordPress workflow whether this is website development, management or client tools. We also noticed an interesting trend recently – many of you with just one website are signing up for ManageWP. We take this as an indication that ManageWP brings the ease of use and interface that beats stock WordPress  – and this is certainly one of the areas that we will expand on more in the future.