I love product roadmaps. A good roadmap will show you where a product is going, and whether it's going your way. And since we're doing our best to create a management service you can rely on, it's important to show you all the goodies we have in store for you.
We compiled a ton of great feedback you're constantly sending, ran it by our product team, and came up with a first quarterly ManageWP roadmap.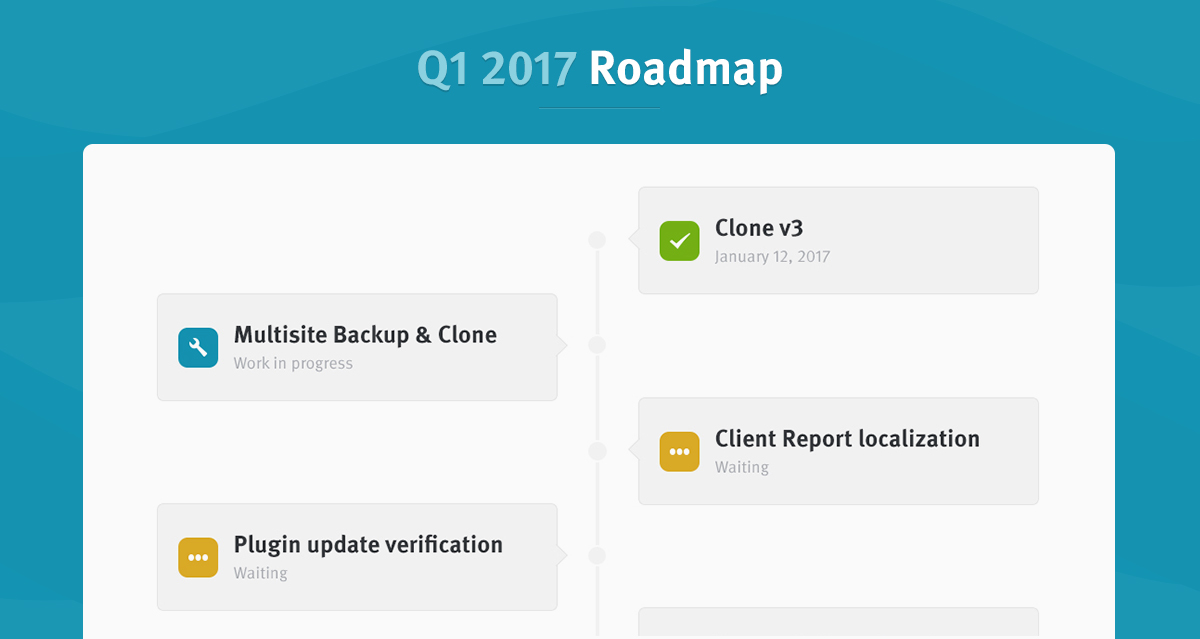 As you can see, the Q1 2017 roadmap is in full swing, with Clone v3 launched in January. This was a huge undertaking; we basically rewrote the Clone add-on so we could apply everything we learned in the meantime. In the month since its launch we worked out the kinks that come with every new major chunk of code, and it surpassed Clone v2 by a large margin.
Multisite Backup & Clone is almost done, and we're expecting to launch it in March. If you ever tried to back up a multisite using a plugin, you know that it's a huge pain. We aim to take that pain away by offering a reliable backup solution that's also able to restore individual sub-sites, as well as the whole network. And the best part? The price tag for such a valuable feature will put a smile on your face.
Client Report localization is also something you've been requesting for a long time. You speak great English, but your clients might not. By providing them with a localized Client Report you'll make an even better impression. The technical part is nearly done, but we need to figure out if we'll provide the translation internally, or open it up for the WordPress community.
Update verification is a pretty cool surprise, so I'm not gonna spoil it. All I can say is that it's a step closer to the Holy Grail of WordPress: 100% reliable updates, where you update 50 websites with a click and no worry.
That's it for now. We'll check items off this quarter and update the roadmap as new improvements and features are approved by the product team. It's gonna be an exciting year!