In 2011, I launched an experimental plugin discovery concept which proved to be a great resource for plugin authors and bloggers (wanting to for example write top xx plugin of the months posts) ever since. Then couple of months ago I got an email from an investor in one of the popular WordPress plugins (didn't even realize we have investors in WordPress plugins). He wanted basically hire me to improve my software and build a custom version allowing them to track the detailed statistics of the plugin performance in the repository (especially compared to competitors). They basically wanted to have a more detailed and convenient way of getting the numbers than using information available from the WordPress.org repository.
I immediately realized the importance of this. It was also a great challenge and I knew I did not want to make this a private project but instead create something valuable for the entire WordPress community. I had ideas how to improve the current tool and also knew how to make it available to everyone, using the free platform we've already build – ManageWP.org. It was a perfect match.
(As a reminder, ManageWP.org is our WordPress community project and our way of giving back to WordPress. So far it had one mission – to help discover best blogs and WordPress bloggers out there – and we uncovered over 1,500 of them so far – but today it gained another, equally important.)
So today, I am very happy to announce the official launch of the Plugin Discovery Tool on ManageWP.org ! (see also the announcement on the site).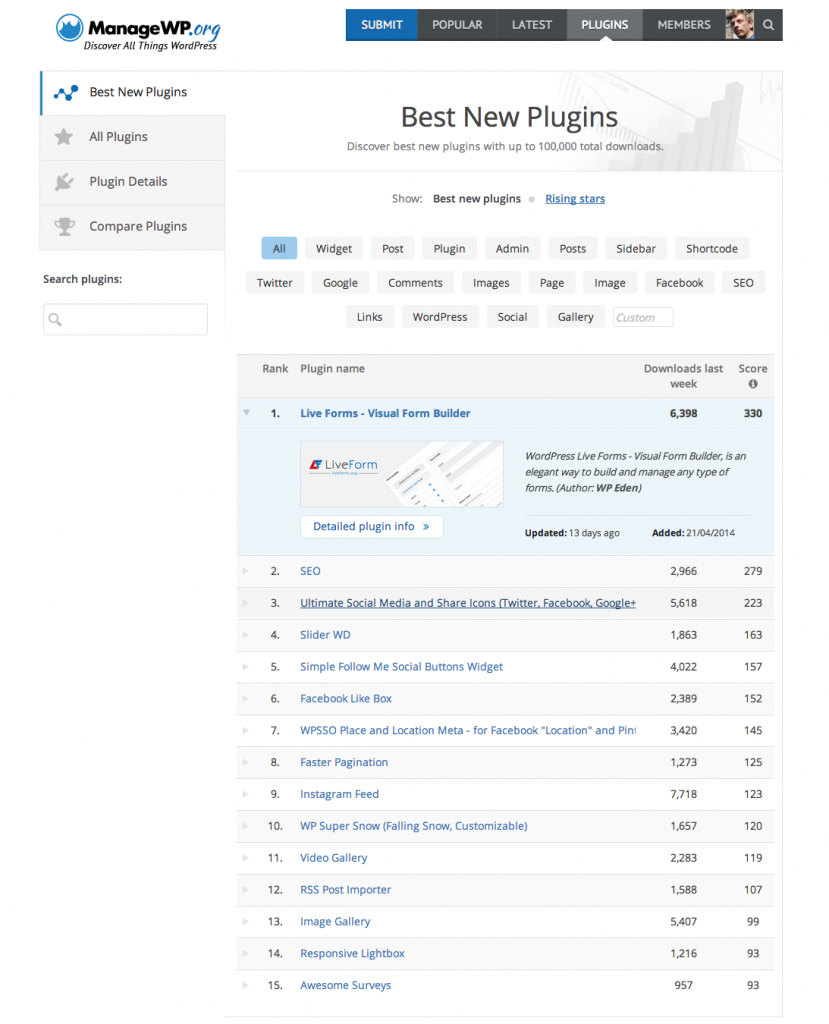 The main idea behind the tool besides plugin statistics is to help discover new plugins and plugin authors. We already did that on ManageWP.org for WordPress news and bloggers and this seemed to be the logical next step in the same direction – putting the best creations of the WordPress community under the spotlight. For plugin authors this seems to be especially important, given how hard it is nowadays to build a name for yourself in the WordPress development world.
The main category "Best New Plugins" shows best plugins under 100,000 downloads. We crafted an algorithm that takes into account plugin quality and acceleration (growth) of ratings and downloads to create a list that will most definitely surprise you.
There is a wide array of filtering options available (for example by popular or custom tags). My favorite is just looking at the "Rising stars" category, which features best plugins that have just 'hatched' and have up to 5,000 downloads total. There always seem to be some really curious gems there.
Plugin details
We have also fully rebuilt the plugin details page, mimicking some of the information found on WordPress.org, but also including important new information.
For example you can see the 'awards' your plugin has 'won'. You are for the first time able to see that your plugin was in Top 15 most downloaded plugins last week in the Tumblr category. Or that it among the highest rated plugins in the Social category.
Similar plugins and plugin comparison
Another cool feature is the "Similar plugins" section. We will find matching plugins (currently based on tags, will expand this in the future) so you can quickly discover new related plugins or compare your plugins to competition.
You will even get a chart comparing the downloads between the two.
Plugin Quality
So far, the plugin repository at WordPress.org allowed plugin discovery mostly based on downloads and ratings. We went a step ahead, inspired by this excellent post by Jordi Cabot to include total of 7 metrics, forming what I called the Plugin Quality score.
Now we are able to look into data like how frequently is the plugin updated, WordPress compatibility, how are the support threads handled, scores of other plugins from the same author and so on, to bring a metric that is much more sophisticated and incorporates everything important to make that final decision to install the plugin.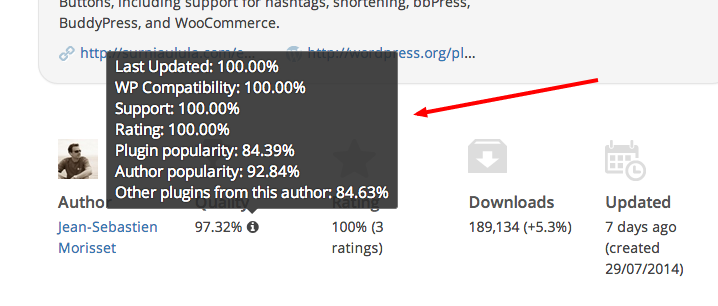 Future development
ManageWP.org is a project I hold dear to my heart and I am always excited to work on it. I already have a couple of ideas I'd like to see executed in the future, from the top of my head:
Simpler plugin comparison, allow multiple plugins compared at once. 

Include WP Vulnerability Database security data to plugin details page and Plugin Quality score.
Allow plugin authors to 'claim' their pages. This will allow all sorts of activity like adding the links to their premium support, answering Q&A
Open everything via an API so everyone can use the engine and its data
I hope you like what we've build. Please share your thoughts in comments 🙂