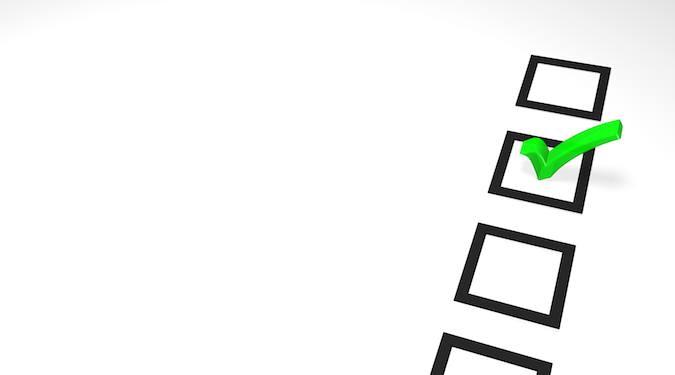 It's been exciting to see ManageWP grow over the past few years. Each update brings new functionality and efficiency, which really goes to show why so many people have come to love our tool.
This new update is no exception. I think that you'll find a lot to like in the changes we have made. In fact, we've done so much that I don't quite know where to begin. Nonetheless, I'll try to do justice to it all — read on to see what's changed!
1. Domains Instead of Sites

Starting from today, for all plans, ManageWP switches from counting websites to counting domains. In a nutshell, a 25 website plan now becomes a 25 domain plan, without any need for action on your part.
You can add as many websites (whether in a folder or subdomain) as you would like — it all still counts as just one domain towards your plan maximum. It really is that simple. We realized that many of our users need staging and utility websites that are based on the same domain, so we're making this change as a leap of faith, hoping that it won't have adverse effects.
2. Faster Worker Plugin
Efficiency is important to everybody — we all want to get more done in less time, and we recognize that ManageWP needs to continue striving to help you achieve that goal. That's why we tinkered with the ManageWP Worker plugin.
The Worker plugin is now 36% faster than it was previously and allocates 83% less memory (test performed on PHP 5.5.9).
3. Better Backup

We overhauled the backup functionality in major ways to make it more robust. One big change to note is that we completely revamped the way backups are initiated. Instead of relying on the WordPress cron, we are now able to ping the website to perform the backup at the right time. To facilitate this even more, we added the timezone setting.
We also greatly reduced the memory usage so that it's more likely to work with a larger number of shared hosting accounts. Various optimizations to the backup code show a performance increase of 10% for speed — another tweak made to save you some time.
The end result is a backup that is faster and more reliable than even before.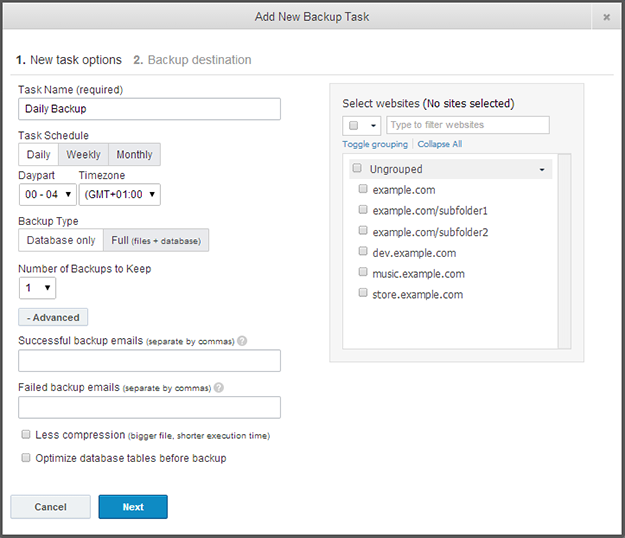 4. Improved Cloning

We re-did the clone tool to make it more robust and reliable, too.
When you open up cloning, you will see the completely new wizard. If you are cloning to a new site, then you'll receive superior interface options, progress reports, and error handling.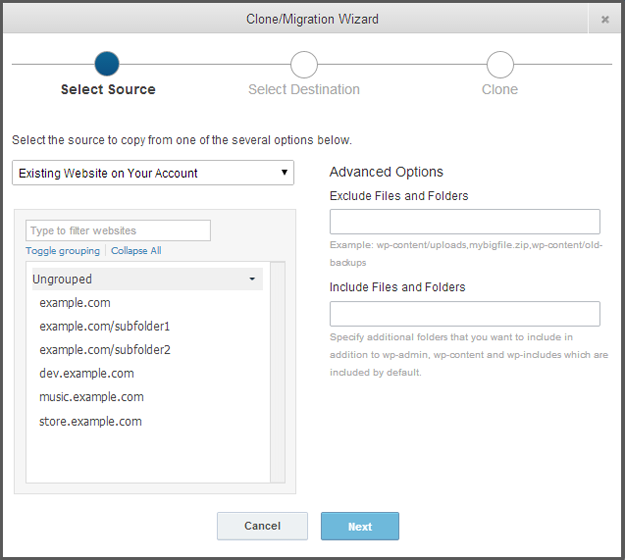 5. Strengthened Security

It goes without saying that security is a core concern for most of us. It also goes without saying that ManageWP will do its best to make you more secure — in fact, we are continuing to innovate in the field of server-client communication, which is now secure beyond industry standards.
We completely eliminated the annoying 'invalid message signature' message some of you were seeing with the new protocol that is also backward compatible. All the communication now complies with server standards, so we expect not to see any mod_security problems in the future.
Finally, the backup destination credentials have been upgraded to AES encryption.
6. Easier-To-Use Frontend
Boosting speed is one way to increase efficiency and ease of use, but we didn't stop there. Our goal with this release was to enhance users' experiences with the interface. We know it has been clunky at places in the past and we are determined to keep improving it until every single user believes that it is 100% intuitive.
First, we made a visual update of the dashboard to make it more refined and sophisticated. It's much more pixel perfect and consistent now.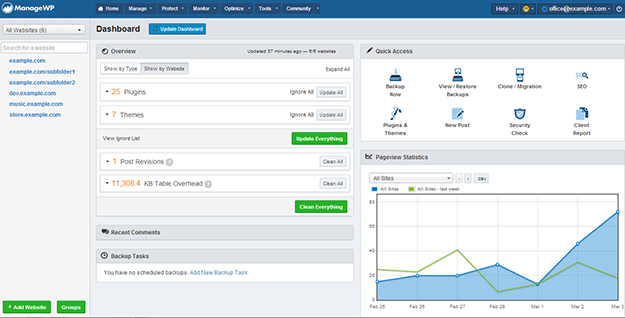 We changed the single site management, so now when you click the website in the sidebar, ManageWP will show its specialized dashboard and a number of related features.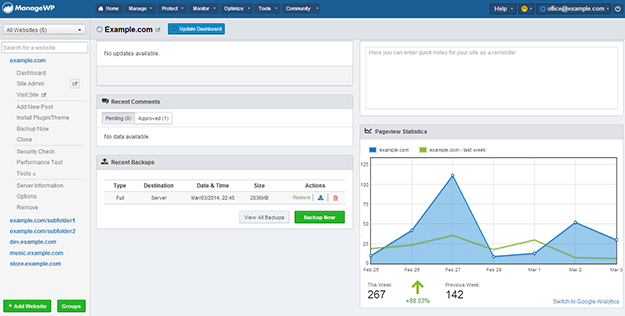 We also added two new widgets:
Notes, which allow you to quickly access notes for each site, and
Recent backups, for quick overview of performed backups.
7. Optional SSL
A lot of our users noticed the recent browser updates which prevented a site admin from being opened inside our dashboard. The reason was that our admin was using https and most sites are http. Modern browsers no longer support this kind of mixed content without a manual setting change.
In order to address this pain point for many users, we decided to change the dashboard to non-SSL (the login is still secured with SSL). Advanced users can enable an option in the setting to change the dashboard to SSL.
 Conclusion
There's a lot to like in the new version of ManageWP. It's a major update and one that I think will greatly improve the user experience. From better backup to boosted speed to optional SSL, it gives you the sort of functionality and choice that we've always hoped we could offer.
What is your favorite part of the updated ManageWP? Which update do you like the best. Tell us in the comments below!