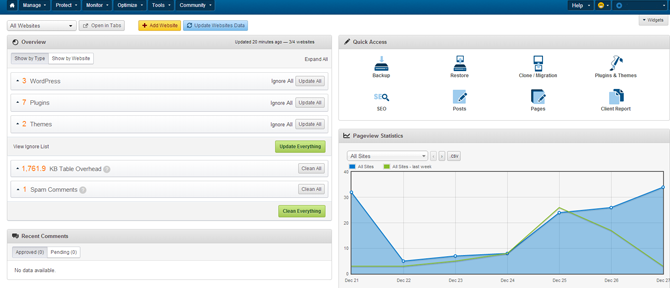 We are always looking to upgrade and bring additional functionality to the ManageWP dashboard. These upgrades can be new functions, changes to the existing options or in the case of our latest update, a way to easily manage some of the most important ManageWP features.
We have recently released a new update to the dashboard that allows for quick access to several of the ManageWP tools. These tools can now be accessed from our new Quick Access widget.
The Quick Access Widget


The Quick Access widget for the dashboard allows easier access to the most used tools we offer. This widget contains icons that link directly to the screen of each tool.
This new widget has 8 icons that link to various tools within the ManageWP dashboard. These include SEO access, links into posts and pages. There is also a link to clone and migrate your website, manage your plugins, access client reports as well as direct access into the site backup and restore tools.
Backup and Site Restore
The biggest improvement that this widget brings to the dashboard is the Backup and Restore icons. These two icons give easy access to the Backup Now and Site Restore options within the dashboard.
Previously to access these tools you had to hover over one of your websites and then choose the Backup Now or View Backup options. While you can still access the tools using this method, the Quick Access widget means you have a single easy way to access them.
This is achieved by clicking on the Backup icon. You can then select the site you wish to backup and then click Next to be taken to the appropriate window. It is a far more streamlined process than it used to be and should make accessing these important tools far simpler.
Web Analytics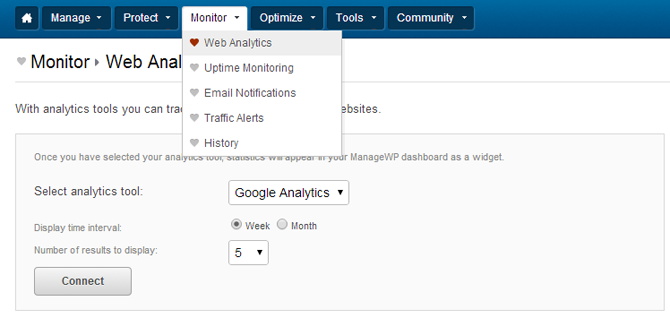 Another change we've made to the dashboard is the addition of access to the Web Analytics tool under the Monitor menu. With this new addition users can easily configure their ManageWP or Google analytics.
As with the other settings this function was previously available to you from the settings area of the dashboard. However, the new location of the tool makes accessing the analytics far more intuitive and much more useful.
Future Updates
We continually look at making changes to improve the user experience with our software.
There are plans being worked on to introduce a few new widgets to the dashboard. These widgets include one for Security tools and another for Performance tools. We have no definitive date for their implementation yet but they should be available soon.
We'd love to hear what you think of these new features and updates. Is the Quick Access widget something you find useful? Is there something you would like us to introduce? Let us know your thoughts in the comments below.