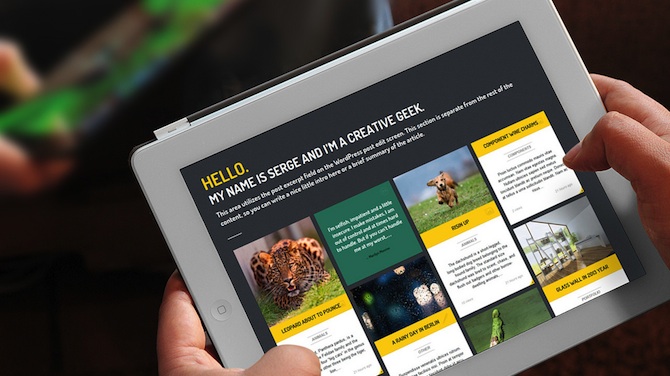 We are no strangers to the topic of responsive design here on the ManageWP blog.
In fact, by far our most viewed post of all time is a little piece I published back in March 2012 entitled 5 Reasons Why Responsive Design Is Not Worth It. I can't understate how surprised I was by the level of attention that article received (and still receives).
Recently we followed that up with a look at the issue of responsive design from the designer's viewpoint, with Joyce's article on How to Convince Your Web Development Clients to Go With a Responsive Site When They Just Don't 'Get It'. Her methods of attempting to convince clients of the benefits of responsive design are reflective of her passion for the "mobile first" approach.
However, the web design community is enormous, and for every person who is passionately loyal to responsive design, there is someone else who is willing to take a practical viewpoint on the matter with a thought towards resources and priorities. I recently came across one such designer, and in this article I want to share his thoughts with you.
Introducing Chase Reeves
While my thoughts on responsive design are pretty controversial (to say the least) amongst a large proportion of the design community, I recently found a kindred spirit from within that community in the form of Chase Reeves.
He is a highly talented designer. In fact, his work has been showcased here on the blog before. He has been responsible for the re-designs of blogs such as Think Traffic, Paid to Exist and Nerd Fitness (the latter of which gets around one million visits per month). He's also working on the re-design of Smart Passive Income. In short, he's the design guy to work with in the blogosphere right now.
However, he is not perhaps what you would consider a "typical" web designer. He has an approach to design that focuses far more on the message than the aesthetics. He recognises that good designers create pretty designs, but great designers create engaging experiences.
That brings us neatly onto Chase's views on responsive design, framed in the context of his approach to web design.
Mobile Musings

Chase's position on responsive design was outlined in a video entitled Mobile Musings, contained within the Essentials of Web Design for Business Builders course in the Fizzle membership site. Incidentally, if you are an online business owner then I heartily recommend Fizzle.
Chase has built a lot of responsive sites in his time — in fact, almost all of the sites he has designed have been responsive. You could consider him part of the new wave of web designers — those who nurtured their skills at a time when responsive design was quickly becoming prevalent. And while he always takes a "mobile first" approach to web design, he does not consider responsive design a necessity.
It is important to think about the mobile implications for anybody who is doing business online… [and] if you've got the resources to do it, do it…But if you don't; if [responsive design] isn't in your budget…be realistic about it and don't worry about it.
For many designers that alone is a pretty controversial statement (I say that from experience — one of my key arguments against responsive design in certain cases is that it does not necessarily provide a return on investment).
Chase goes onto clarify the his position regarding responsive design as a "necessity" (or otherwise):
A responsive site is not necessary for a great mobile experience. Mobile users are very used to pinching and zooming around a site…People are used to pinching and zooming and some prefer it.
Chase continues that this is especially the case on the majority of smart phones out there — while some outdated phones still don't do a great job at displaying non-responsive sites, most in circulation do.
It is important to note that his comments should be framed in the context of someone who likes and utilizes responsive design. Chase is not a responsive design "hater" — quite the opposite. But he understands that in a practical world, responsive design may not necessarily be the right choice for some people. In concluding his thoughts he leaves us with perhaps the most salient issue that one should consider when designing a website:
Founders feel like they have to [have a responsive site], but they don't have to. Just make sure that the experience isn't broken.
That is the key. If a site is not responsive but still works, responsive design is not a necessity.
Concluding Thoughts
The takeaway here should be clear: If it aint broke, you don't have to fix it.
Chase clearly loves to take the "mobile first" approach and would rather design a responsive site than not. But he also appreciates that it's a numbers game. If you have a non-responsive site that still "works" on smaller screens (i.e. allows people to navigate it with relative ease), it's not the end of the world.
Far from it in fact — as he admits, some people (me included) prefer to get exactly the same experience on their mobile device that they do on their desktop.
Responsive design isn't going away any time soon, but I am sure that Chase would be the first to say that it needs to be used responsibly. In the same way that design aesthetics should not get in the way of a website's message, a responsive design should not confuse or distract the reader. Furthermore, it is not truly necessary. It is an option — a compelling one for many perhaps, but an option rather than a necessity.
What are your thoughts on a practical approach to responsive design, bearing in mind potential cost implications and your business' priorities? Let us know in the comments section below!
Photo Credit: Serge