Have you ever created a 15th instance of the same old type of site, wishing all the while you were doing something more exciting, like entering the Watching Paint Dry Championship?
If that's the case, we have a cool new toy for you.
Template Builder will make your life easier by a ton. Well, not by a ton, as you can't actually measure it, but you get the picture.
What's a template builder?
It's a very simple concept. Create a template, with all the plugins and themes needed on it to build a website. Use the template to build a new website, instead of starting from scratch every time.
What use do I have from it?
I am no Bob Ross, but let me paint you a picture. Most of you are in the website development business for a long time, and you know the boring repetitiveness of building the same type of website over and over again. Especially if it is an e-commerce website, since it needs a ton of plugins to run as you imagined it (editor note: knock it off with the metric jokes).
With the Template Builder you only have to build the template once, and build the website from there, according to your client's needs.
The client wants to have the same website as the one in your portfolio, but with a different theme? No problem, template that website and clone it to their server. Afterwards, just change the theme to the one your client wishes. Countless of hours worth of work saved. Just like that.
What are the options that I could play with?
For starters, you can choose between a clean WordPress installation (for all you squares) and an existing backup of one your websites (if customizing core is your thing).
You no longer need to imagine a world without Akismet and Hello Dolly. When building the template, you will have an option to add or remove plugins and themes. You can also choose which plugins and themes will be activated. 

You might wonder, what happens if the plugin/theme gets an update in the meantime. In this case, you have an option to keep the plugin/theme up to date automatically. After you deploy a website from a template, the update for the selected plugins/themes triggers.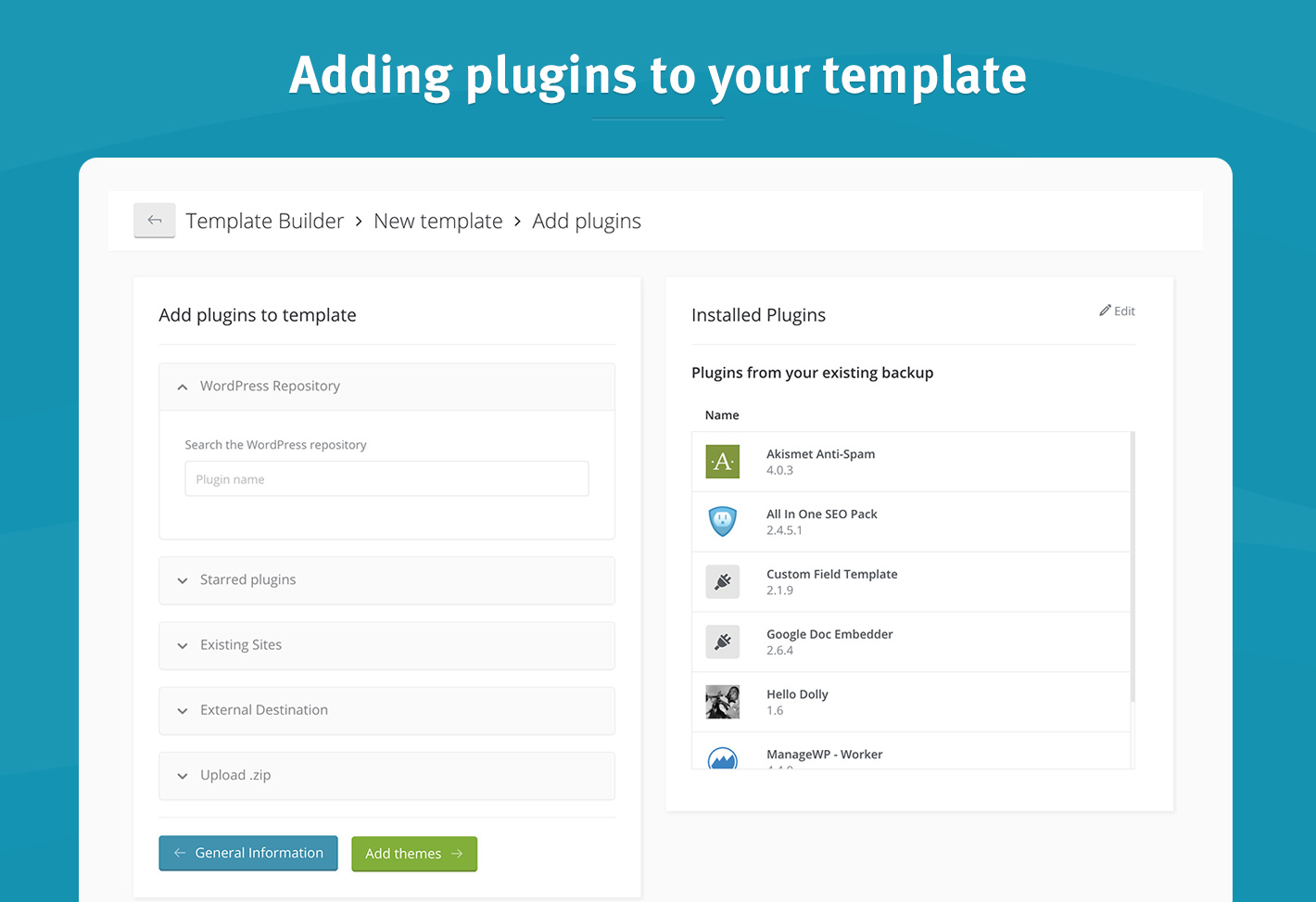 I just covered the basics here. You can check out our Guide for more in-depth information on how the tool works.
Is Template Builder free?
Like a bird. If you're using the clean WordPress installation to create and deploy templates, it's completely free. However, if you want to create a template using your existing website, you need the premium Backup addon on that site.
You have answers to all questions, don't you?
Well, yes I do. Besides the one if I am Batman, that one is classified. 🙂 (editor note: Please go back to metric jokes)
I have a feature I would like to see in the future
We are always open for your feedback, and it means a lot. It is always listened to, and carefully evaluated. Put on your thinking caps, and send those feedbacks, let our inbox be full of them.