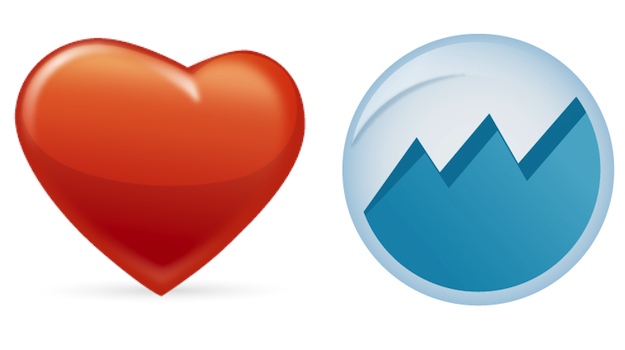 I first heard of ManageWP in mid-2011.
At the time I had a couple of blogs so I was interested to see what the service had to offer. However, I found myself distracted by various projects and didn't actually come back to ManageWP until I applied to write for this very blog.
It was then that I fell in love with the ManageWP app. Doing so was a blessing, as I am not comfortable with promoting products that I do not believe in 100%. To be the editor of this blog I need to love ManageWP — it's that simple. And because I do, I am honored to be part of the ManageWP project.
With the above in mind and with the year drawing to a close, I wanted to take this opportunity to remind existing ManageWP users as to why it's such a great service by running through the key features, and perhaps simultaneously make a few new people aware of what ManageWP can do.
One Click Management
Accessing your WordPress sites can be a real hassle — it certainly used to be for me. You hit the login screen, enter your password, and you're in. Then you can go about your business. But of course if you want to work on another one of your sites, you have to repeat the process.
This no longer need be the case with ManageWP. You can access every single one of your WordPress dashboards directly from one central location with no passwords: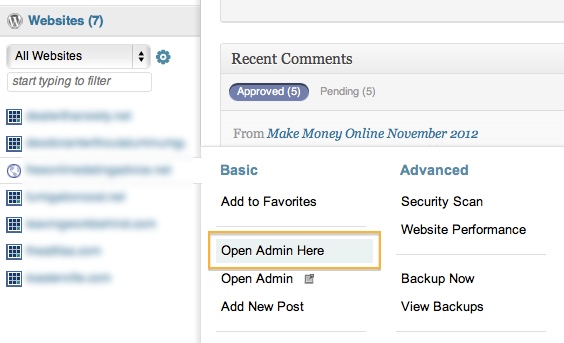 But we're just getting warmed up. One of our most popular features is our one-click theme and plugin upgrades. That's right — you can upgrade literally every single theme and plugin across all of your sites in just one click.
The same goes for the WordPress core. Isn't it a pain every time a new version comes out? You have to go through each of your sites and update them one by one. Or you could just fire up your ManageWP account and complete the process in one click.
And we're still not done. How about one click post revision deletion, table overhead purging, and spam comment removal? It's all easily done via your ManageWP dashboard: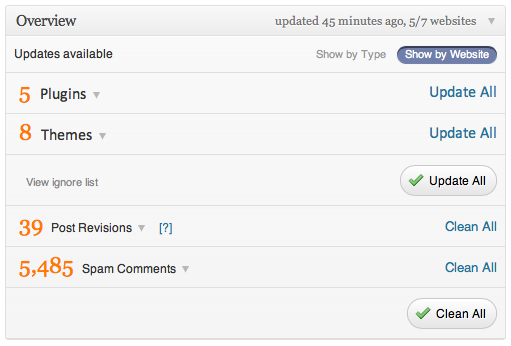 Backup and Monitoring
Reliable WordPress backup tools can set you back a pretty penny and be a nightmare to manage if you have multiple sites. ManageWP offers a premium-quality backup service for every single one of your sites from one location.
The power is placed well and truly in your hands — you can customize everything from the backup schedule, to the backup type (full or database only), to the backup destination (Amazon S3, Google Drive, FTP, email, and more). ManageWP also places a full report of completed backups on your dashboard for complete peace of mind:

We also have uptime monitoring so that you can be informed if your site ever goes down, and traffic alerts if you suddenly go viral (no more checking your analytics every 30 minutes — we'll tell you if something exciting is going on).
SEO Analysis
Search Engine Optimization tools tend to be pretty damned pricey, but fortunately we have bundled a whole host of SEO features into ManageWP.
First of all we have consolidated at a glance Google Analytics data into the ManageWP dashboard: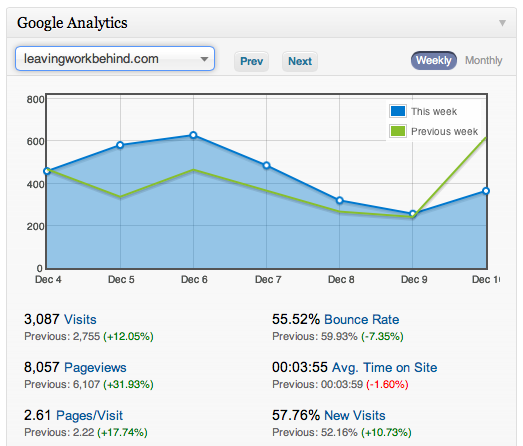 So rather than logging into your Google Analytics account and clumsily navigating between different website profiles, you can gain access to and navigate between all of the most important information from one central location.
Furthermore, rank tracking is an inclusive feature with ManageWP. Track keywords across all of your sites and refer to logs and graphs showing ranking movements over time:
And still we're not done. If you're a data hoarder and like to keep track of your sites' vital statistics you can set ManageWP to collate and present a huge amount and variety of data — PageRank, Alexa rank, backlinks, social backlinks, domain info, and much more.
WordPress Management on Your Phone and Tablet
We recently went mobile with our awesome iOS app, from which all our most popular features are available for ManageWP users. But it gets better — we've utilized push notifications so that you can be immediately informed of site downtime and other important alerts: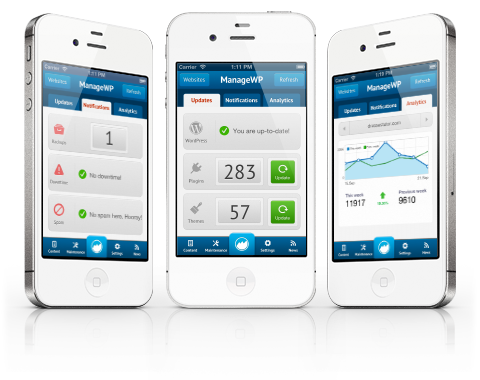 Even WordPress users with just one site can use the ManageWP iOS app to better manage their site. And don't worry, we haven't forgotten about Android users — we hope to have an app ready for you soon!
Security
All of the above features are great, but they would mean nothing without top notch security. We value security above everything else and have worked hard to produce a product that is extremely well protected.
With features such as IP login restriction, two-factor login authentication, and OpenSSL encrypted communication, we are on the cutting edge of security.
In short, your ManageWP account is more secure than your standalone WordPress sites.
Give it a Go!
For those of you who are existing ManageWP users, I hope this has served as a reminder of why you use our app. But for those of you who have not yet given ManageWP a spin, what are you waiting for ? In trying the app you have nothing to lose.
You get a free 30 day trial of all our features right now, and beyond that we offer a basic management package for up to five sites at absolutely no cost. You can't say fairer than that can you?
At the very least you will find the free package a huge help, so why not give it a go? Click here to start now!