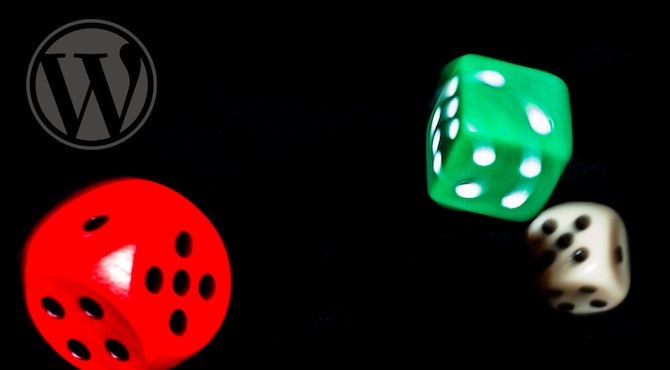 The WordPress community is awesome.
It is made up of intelligent and passionate people who are dedicated to improving the world's great Content Management System. I'm talking about you!
There's something else about many of us WordPress users  though — we're a little obsessed. We are more protective of and loyal to WordPress than some other people are of their most prized possessions. I was reminded of this when I recently stumbled across a years-old post by Michael Torbert: You know you're a WordPress addict if…

I found myself nodding my head in recognition at far too many of them, but more worryingly, I finished the list knowing that there were plenty more. Which is why I have created this post — an homage and extension to Michael's original. Read the list below to find out if you're a WordPress addict and add your own in the comments section at the bottom of the post!
You Know You're a WordPress Addict When…
Your RSS feed has more WordPress blogs in it than any other.
You have Chrome Sniffer installed just to see if websites you visit are running on WordPress.
The last thing you check before you go to bed is your WordPress dashboard (complete with comments and analytics).
The first thing you check in the morning is your WordPress dashboard (complete with comments and analytics).
You're subscribed to http://make.wordpress.org/.
You stop looking for plugins to solve your problems and start developing them instead.
You can't code plugins to solve your problems so you pay someone to code them for you.
You refuse to travel to locations without wi-fi.
You find yourself contacting other webmasters just to find out what plugin they're using for a particular function on their site.
You pre-ordered a WordPress 10th Anniversary t-shirt.
You have to contact us to get custom pricing for your WordPress website management needs.
You've written diatribes about the WordPress WYSIWYG editor.
You've reacted in horror when someone has told you that they use the WordPress theme editor.
You know who Matt Mullenweg, Mark Jaquith, Vladimir Prelovac and Joost de Valk are.
You cringe when someone spells WordPress with a lowercase "p".
You have had to get up in the middle of the night to write a blog post that was running through your head.
You feel a rush of irritation when someone refers to a blog post as a "blog".
You've developed a ridiculously basic plugin despite your non-existent coding skills.
You check out our Themes of the Month posts every single month even though you're not looking for a new theme.
You check out our Links Mashups posts even though you are subscribed to just about every WordPress blog on the planet.
You spend hours choosing between two plugins when the difference between them will barely make a difference to the user experience.
You chastise people for using fake WordPress logos.
You've heard of ManageWP, WordPress SEO by Yoast, Akismet, Digg Digg, Edit Flow and VaultPress.
You consider the discovery of What the File one of the highlights of your year.
You love a plugin that's only been downloaded a handful of times and make it your job to promote it to the world.
The word "jetpack" makes you think of a plugin rather than flight.
You delete a plugin on principle because it creates an unnecessary top level link on your WordPress sidebar.
You spend more time talking about WordPress than you do working with WordPress.
You dream about meeting Matt Mullenweg.
You act like an excitable schoolgirl when a popular plugin developer responds to your email.
You travel to another country just to go to a WordCamp.
You've never even considered using another Content Management System.
You can create a child theme in fifteen seconds flat.
You create a new blog just so you can work with a theme you like the look of.
Over to You
Now it's your turn — what signs of WordPress addiction can you think of? Let us know in the comments section below!
Photo Credit: Tekke