I am very excited to announce that this year, we have 3 months packed full of great WordPressers who are going live on ManageWP.org for 8 hours, so you can ASK THEM ANYTHING. Want more advice on how to start a WordPress business, need some tips for your website design, interested in how to start a photography blog, always wanted to be an editor, want to know how to get there? Now you have the opportunity to ask these questions and get answers from those who have been there and done that.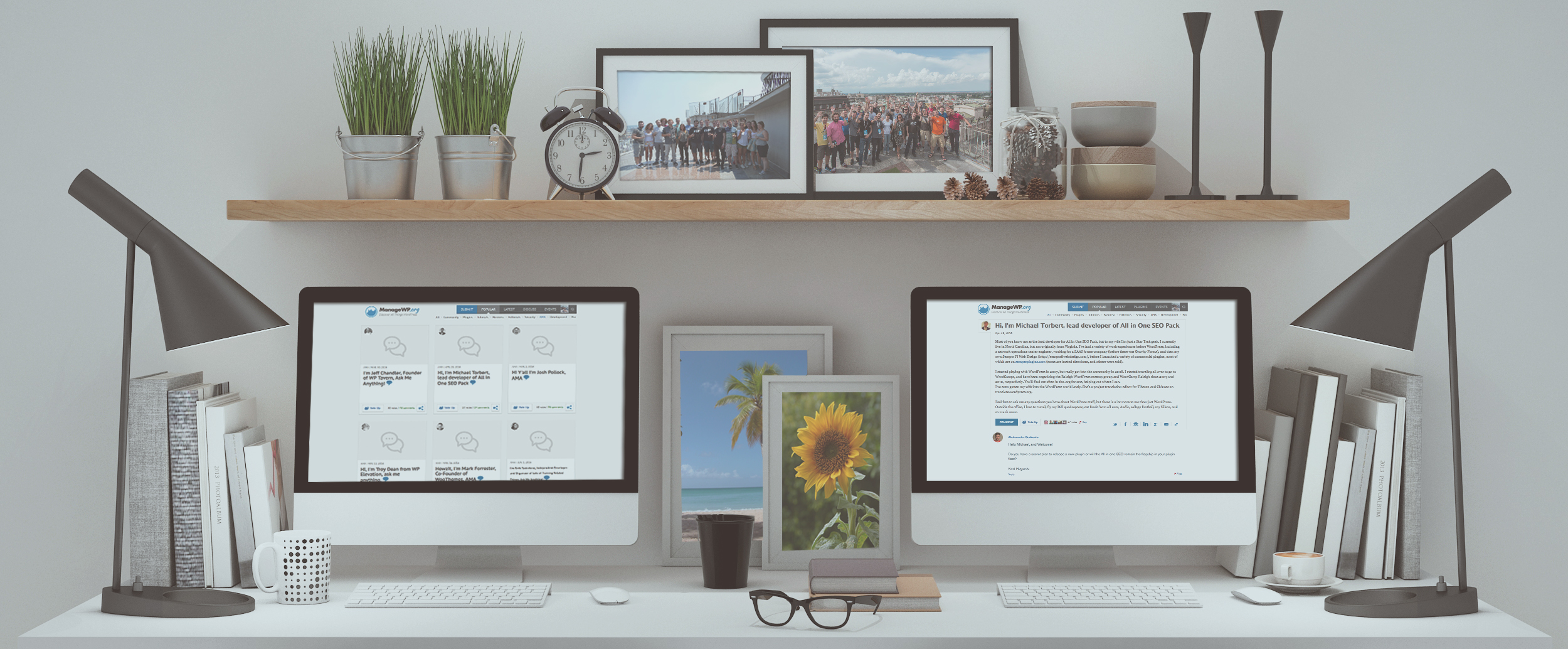 AMA The Beginning
In the past we have already had 26 WordPress influencers come online and chat to our readers, and the engagement has been overwhelming. Looking back at these times, we realized we wanted to take our AMA to the next level. This year we have tried to put together a list of people with different experience, so that you have the opportunity to ask questions in all areas of expertise.
AMA was started in August 2015, with our very own Vladimir Prelovac, as the first AMAer. Since then we have had the pleasure of featuring Bob Dunn, Mason James and Michael Torbert – this is just to name a few. There have been so many useful questions, that I can't wait to see what will happen in season 3. Here is one of my personal favorites, just to get you inspired and thinking about what you could ask.
Chris Lema's answer is so detailed, that I will let you go and check it out yourself.
Having looked at some of the past, let me introduce to you who you will see live on AMA this season.
September 2016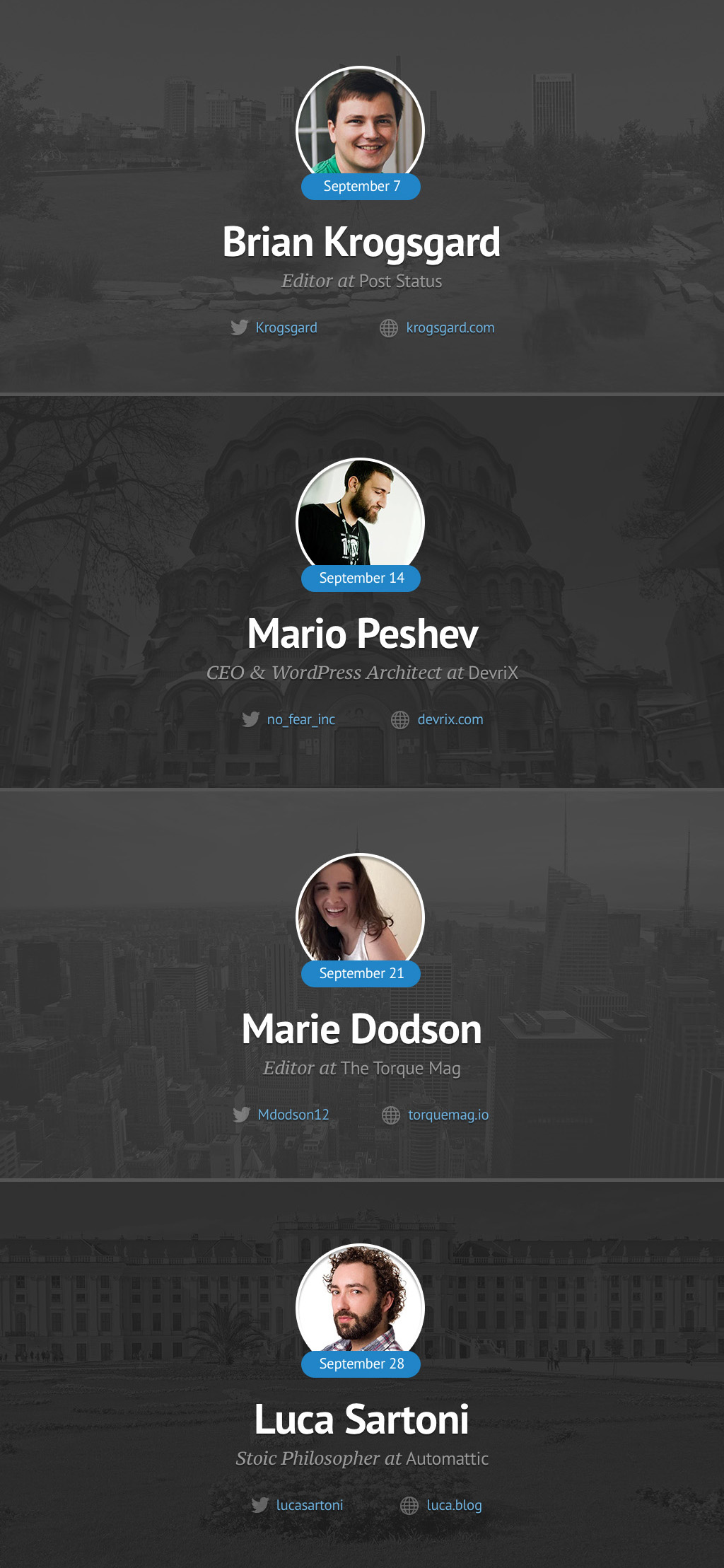 September kicks off with some great names, our first AMAer is Brian Krogsgard, editor at Post Status. Brian is your go to guy for news in WordPress, if your income is WordPress based Brian can help you in a number of ways. He says he also likes oversharing on twitter, so we expect him to be chatty, and for all dog lovers you can ask him about his great dane Lucy May.
Following Brian, is Mario Peshev, whose name you probably heard often when talking about WordPress development. I had the pleasure of hearing his talk at WordCamp Europe this year on Managing a Remote WordPress Team, and Mario has lots of great advice. Want to get started out as a freelancer or consultant, Mario has the answers to your questions.
If you are like me and are interested in being an editor, learning about how to get your writing skills up or about helping others through your writing, Marie Dodson can answer all of these questions, and so much more. Torque have won the Silver Stevie International Business Award, and apart from that we think Marie won't mind chatting about good wine, books or traveling.
Our final September guest is Luca Sartoni, who if you haven't met yet, you will recognize his name either because of his workshops and talks at WordCamps, or perhaps you are a photography fan and you noticed his work. He has over a decade of technical and marketing experience, and can pretty much scale up any business you throw at him.
October 2016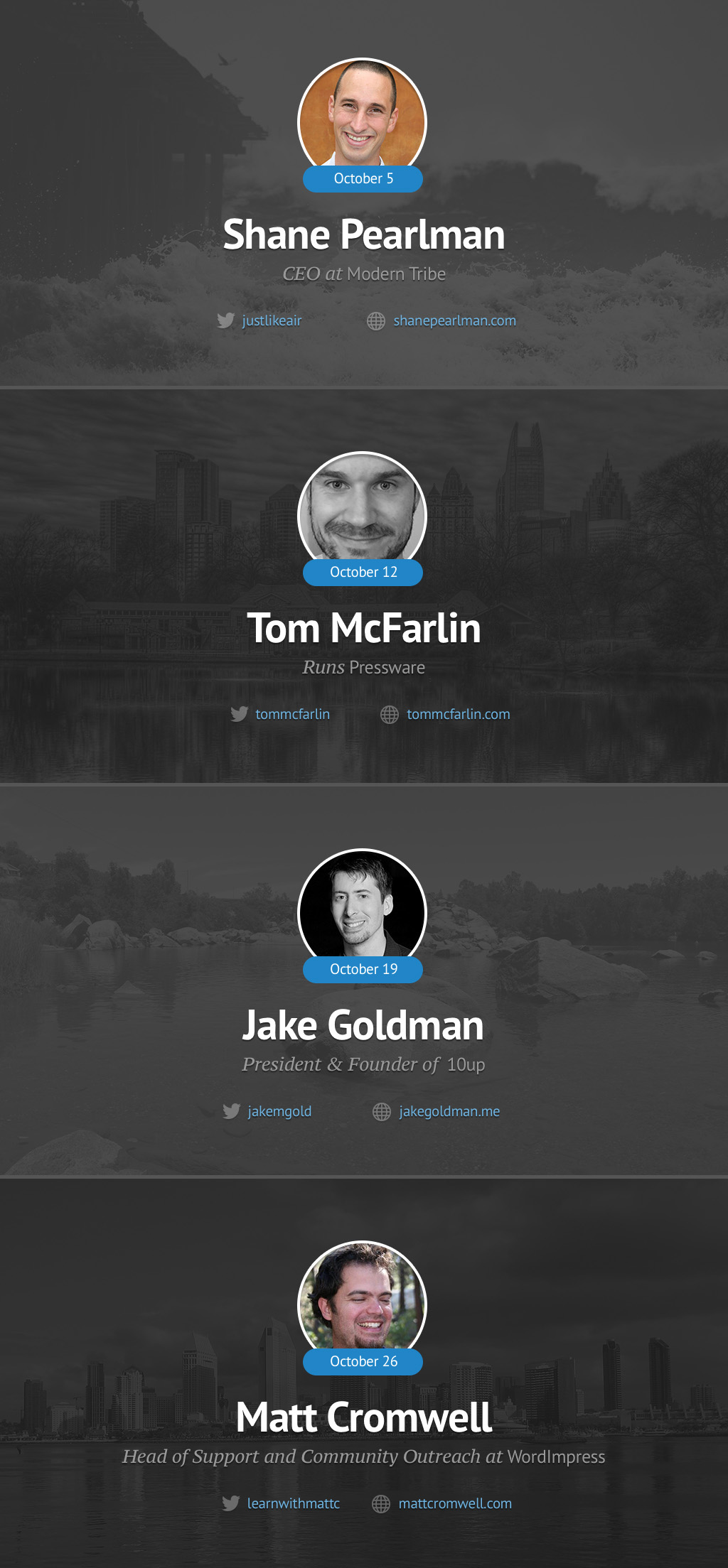 October is an equally exciting month, and it all begins with Shane Pearlman, a wearer of many hats. Not only does he run Modern Tribe, a contracting agency, he leads UI and UX teams, and calls himself a freelance evangelist. A talk to remember is Freelancers Are Slutty, But So Are You, and if that's not enough he helps local governments run efficiently and transparently with financial responsibility.
Next up is Tom McFarlin, who I think has one of the most useful blogs when it comes to WordPress development. He builds solutions for others using WordPress, as well as creating gifs that capture the daily lives of programmers. You can talk to him about the art of being self employed, as well as development, blogging and music.
Jake Goldman, has a deep well of experience going back all the way to the mid 90's. He has built solutions for Fortune 500 companies, founded 10up to help manage websites, been a writer and expert reviewer on Smashing Magazine, and taught WordPress plug-in development at Boston University. Meet him on AMA and ask him literally anything.
"Let me get stuff done for you" is Matt Cromwell's way. Now, when he says stuff, he means you name it and I dabble in it. He is the Head of Support and Community Outreach at WordImpress, and plugin and theme developer. Knows about U.S history, religion, politics and music. He also likes to share his fatherhood experience, so you can chat to him about that too.
November 2016

A digital nomad, Noel Tock, will join us starting in November. He calls himself "a jack of all trades, master of none", but he sure has shown his expertise in UI and front-end development, as well as product management. He has spoken at an impressive 34 WordCamps, been part of the organization at 5 WordCamps and founded a WordPress meetup group in Zurich.
When we asked the Codeable.io crew to take part in our AMA, both Per and Tomaž volunteered, so we thought why not get them both on here. As a pair they can answer any WordPress freelance, development questions, as well as any business how to's. Codeable has become such a large part of our WordPress community, and Per and Tomaž are two friendly guys happy to share their experiences. If you haven't already check out their interview, it might help you think of questions.
The following week, we are lucky to have Paolo Belcastro join us, he is a wearer of many hats. You might have come across him at any number of WordCamps, and you will certainly see him at WCEU 2017 as he is the lead organizer. He is also a division lead at Automattic, and in charge of .blog launch. Learn more about him on his blog.
10up has been on our mind this season, and we invited John Eckman, their Chief Executive Officer to share some of his knowledge on business, development and management. With extensive speaking, writing, and academic achievements, I urge you to have a look at his blog and get some ideas for questions. Also, chat to him about politics, veganism and travel.
Our season closer is Tom Wilmot, co-founder of Human Made, and as he likes to call it other things. If you ever wanted to talk to someone about starting a business, you really shouldn't miss this date. He also writes about all sorts of interesting ideas, thought about introducing Slack to your family life? He is passionate for building remote teams and helping the open web/source grow.
Wrapping Up
AMA is a great way to give back to the WordPress Community, having experienced WordPressers share their knowledge, challenges they faced and achievements. It reinforces the importance of giving back and helping others on their journey. This article has covered the basic information of everyone who has so kindly agreed to be featured, but trust me there is so much more to find out and learn from all of our guests. I would like to thank those of you who have agreed to "donate" 8 hours of your time, and I urge once again our readers to come prepared with as many questions as they can. I sure am!
Let, AMA season 3 begin!