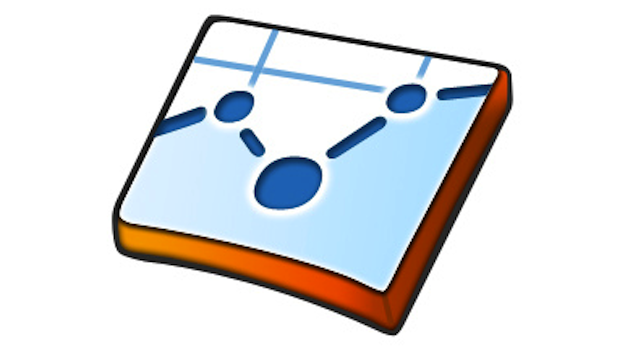 Do you find that web analytics are a time suck?
It seems that we're all getting busier and busier, which means that the less time spent doing unproductive things, the better. Analytics analysis can most certainly be one of those unproductive things.
As with most things in life, there is a right way and a wrong way to go about working with analytics. In the past we have discussed 5 Reasons Why You May Have Your Approach To Analytics All Wrong, and also featured 5 Ways You Can Effectively Use Web Analytics To Your Advantage.
Today, I want to talk to you about how ManageWP can help you become even more productive in your analytics analysis.
The Rise of Walmart (and What it Means for Website Management)
Some people bemoan the rise of supermarkets such as Walmart (and by contrast, the fall of mom and pop stores). But there is a reason as to why such businesses have thrived in the past few decades – convenience.
People would rather go to one store to buy all of the things they need, than visit several. It's quicker and cheaper – one might call it a productive way of doing things.
We try to adhere to the same principle at ManageWP. Why go one place for backup scheduling, another place for updates, and another place for analytics? It just seems so unproductive. Which is why we have invested a lot of time and energy in integrating Google Analytics with our dashboard, and adding automated traffic alerts.
Analytics, at Your Fingertips
For many of you, the ManageWP dashboard is your home. It is your first port of call in morning, as most of what you need in terms of website management can be found there. Updates, spam management, comments, backups…and analytics.
Once you have connected your Google Analytics account with ManageWP, you will have a whole wealth of information right at your fingertips, presented in a manner that lends itself to productive analytics analysis.
Selecting a site is easily done with the drop down menu. The first thing you will see is a graph of recent visits: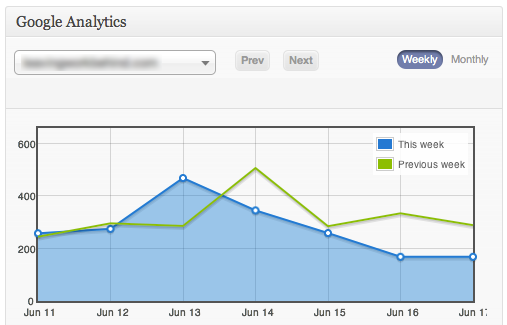 As you can see from the screenshot, you can choose to show visits by week, or by month, and compare the results with the previous comparable timeframe.
We have said on more than one occasion that daily analytics checks are not worth your time – it is what you can observe over weeks and months that allow you to make informed decisions. ManageWP facilitates this.
Below this graph, you will see a breakdown of the most popular metrics:
Just like with the graph, you can quickly and easily compare your website's current performance compared with the past. For instance, if you are particularly interested in gaining more subscribers, you will want to make sure that New Visits remain at least constant. The ManageWP analytics widget shows you the relevant information.
Next up we have a selection of useful data relating to searches, referrals, demographics, and most popular pages:
From the above we can see that Google is the top referrer, and that the website is most frequented by Americans.
Finally, we get onto perhaps the most important selection of data. If you read our article on 5 Ways You Can Effectively Use Web Analytics To Your Advantage, you should recognize that setting goals is one of the most valuable things you can do to adjudge the effectiveness of your website in achieving its targets.
With that in mind, we've built a goals graph right into the ManageWP dashboard for you: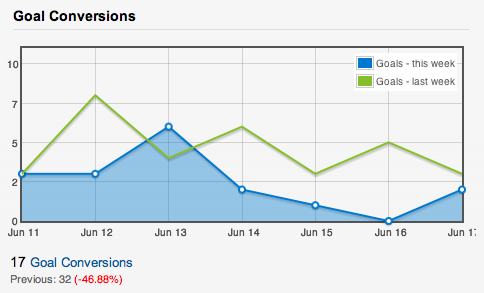 But What if…
You may find it difficult to curb your analytics addiction, and seemingly the most common cause of this is the "what if" argument. The most common example of this would be, "What if I got a huge boost of traffic on one particular day, and I didn't know, and therefore missed a chance to take advantage of it?"
It's a fair question, and thankfully one we have addressed. Just click on "Alerts" in your sidebar. From here you can add a new alert, to be sent out to you if traffic changes by a pre-determined amount: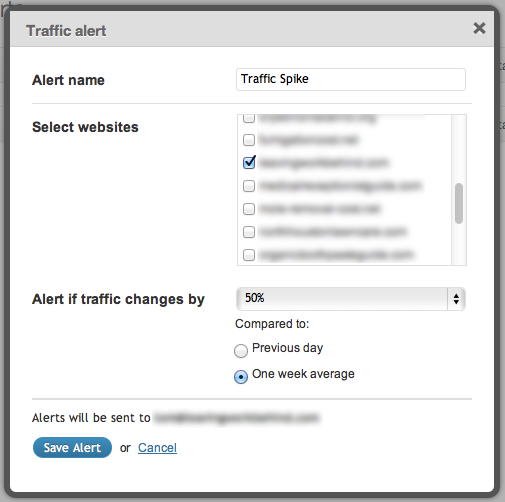 With this feature activated, you don't have to worry about potential traffic spikes passing you by – ManageWP will keep an eye on things and let you know if anything unexpected occurs.
Shop With Us
So there you have it folks – a glut of analytics features, available right at your fingertips in the ManageWP dashboard.
Unless you are planning on carrying out some particularly detailed analytics analysis, there is no need for you to go anywhere else. Which means you'll be more productive and save valuable time. And at ManageWP, that is exactly what we want for you.
Creative Commons image courtesy of Search Engine People Blog