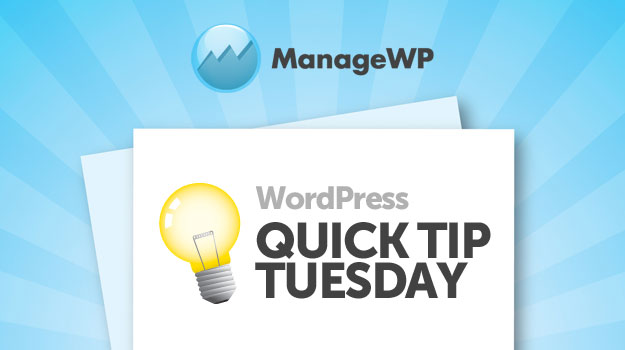 Say you've just hit a blog for the first time.
It is laid out in the typical style, with the most recent blog posts listed in reverse chronological order on the homepage. One of the posts takes your fancy, so you click on it and start reading.
If your blog receives more than a handful of visitors, this scenario plays out many times, every single day. It is what your new reader does next that defines the success of your blog.
Today I want to discuss how many blogs have their approach to conversion wrong, offer one key tip as to how you can improve your conversion rates, and give you the best plugin options to choose from.
Play a Patient Game
Many bloggers believe that they have to go for the "hard sell" when it comes to converting a new reader into a subscriber.
They believe that as soon as that person is on their site, they need to go for the jugular and get a hold of that email address at all costs. But your readers are savvy to that. If you try to push them into making a decision, they may well leave.
If on the other hand you play your hand more subtly, and allow the reader to easily get more involved with your content, you should be able to convert them in a far more natural way (which ultimately leads to higher open and click rates on your email list, which are far more relevant than the number of subscribers that you have).
There are many ways in which you can do this, but the principle remains the same – present your best content to the reader in an easily digestible manner.
Give the Reader What They Want
Most blogs are guilty of having a cluttered sidebar, but in my opinion, all blogs should have a popular posts widget.
This can be the first port of call for any new reader. At a glance, a list of your most popular posts gives them an immediate idea of what your blog is about – perhaps more effectively than anything else (even your about page).
Furthermore, your most popular posts are likely to be of more interest to your target audience than any others, so it makes sense to display them prominently.
You may already have a popular posts widget – you may already be sold on the concept. But even if you are, you should continue reading, as I am going to reveal how many popular posts widgets are flawed, and what the best alternative solutions are.
What NOT to Use
First of all, let's focus on what you definitely should not be using (but what many bloggers do in fact use), which is a popular posts widget based upon the number of comments.
I couldn't think of anything less useful. There are plenty of reasons as to why judging popular posts by the number of comments is a bad idea. Here are the two main ones I can think of:
Your blog will naturally receive more and more visits (and therefore more comments) as times passes. Therefore, more recent posts are likely to receive more comments, regardless of whether or not they deserve them.
The number of comments that a post has does not necessarily reflect its popularity. It could simply be controversial (but perhaps not reflective of your blog's core message), or it could be an "Ask the Reader" post.
If you are using a popular posts widget based upon the number of comments, now is the time to change.
The Alternatives
I am going to give you three options, in my personal order of preference. No two blogs are alike, so one may suit yours more than the others. All you must remember when making your decision is this – the key is in presenting the content that is most likely to result in an engaged reader.
3. Most Visited
Probably the most accurate definition of the most popular post on your site is one with the most page views. So it may well make sense (at least on the surface) to list your most popular posts by this metric.
If you want to do so, nrelate Most Popular is probably the best plugin available for the job. Once installed, it will monitor your site and return a list of the most popular posts by page views.

Not only can it display these posts in a widgetized list, but it can also display them anywhere else on your site, such as at the bottom of posts (as shown above). And because all of the work is done on nrelate's servers (rather than yours), there is no additional load on your site.
There are however two reasons why I do not favor the "most popular by page views" method:
As with comments, older posts are penalized as they will have naturally attracted fewer views.
The list can be skewed heavily by posts that happen to rank well in Google (but don't necessarily represent your best content).
Let's move onto a better method.
2. Top Rated
What better way to determine your most popular posts than by letting your readers decide? This is what the Post Ratings plugin can do for you. It embeds a little widget at the top of each of your posts, which allows readers to rate them: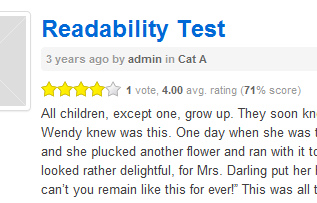 Once you have a good number of ratings for your posts, you can then display a list of the top rated posts in any widgetized area:
As an added bonus, the plugin displays the ratings in Google's search results, which is proven to increase click through rates (trusting of course that you receive good ratings!):

This plugin offers arguably the purest way in which you can present your most popular posts. It is blogging democracy in action. However, as with the page views method, it has its flaws:
You will need a large audience to generate a large enough sample pool of ratings.
Newer posts are far more likely to be rated than older posts.
Those flaws lead me to what I consider to be the best option for presenting popular posts on your blog.
1. As Chosen by You
As is often the case in life, if you want to do something right, you have to do it yourself.
If you are a blogger of experience, you will know (a) what primary message you are trying to convey, and (b) who your target audience is. If you know those two things, choosing the best posts to be displayed in your sidebar is perhaps a job best left to you.
Arguably this method does not strictly offer up a list of "most popular", but ultimately our aim is to engage with the reader as best as possible – how we do that is largely irrelevant, as long as we do it.
Posts By Tag is the best plugin available for the job. The process is simple – just uniquely tag the posts you want to appear (with say "top posts"), and set the plugin's widget to display posts with that tag only: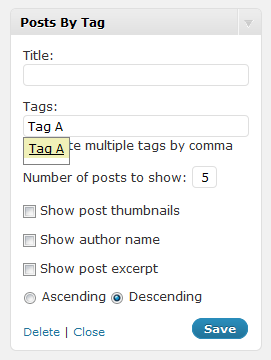 It's that simple! The only real downside to this is that you will have to keep the list manually updated, as opposed to the other solutions, which are set and forget affairs. However, the potential upside (in being able to present the posts that are most likely to resonate with your target audience) is great.
Which Will YOU Use?
Now that we have gone through the best three methods for presenting your most popular posts, which one will you be using? Or do you have an alternative opinion on the matter? Let us know in the comments section!