After gaining organic traffic to your website, you might struggle to translate your visitors into conversions. If your site isn't engaging for your readers, they could leave without subscribing to your email list, making business inquiries, or leaving feedback.
With form plugins, you can create many different avenues for online visitors to interact with your content. The right plugin can enable you to design contact forms, polls, surveys, and more. Ultimately, using form plugins is an effective way to improve the user experience on your website.
This post will discuss what form plugins are and why you might consider installing one. Then, we'll show you our list of the best options for your WordPress website. Let's get started!
An introduction to form plugins (and why you might need one)
Although the WordPress Block Editor ships with many functional building blocks for your content, it doesn't include a form builder. When you need to create forms with custom fields, a form plugin can come in handy.
For example, you can use a form plugin to build a contact form. Although you could simply list your business email and phone number on a Contact page, visitors may not want to follow extra steps to reach you. With a contact form, users can send a quick message while staying on your website: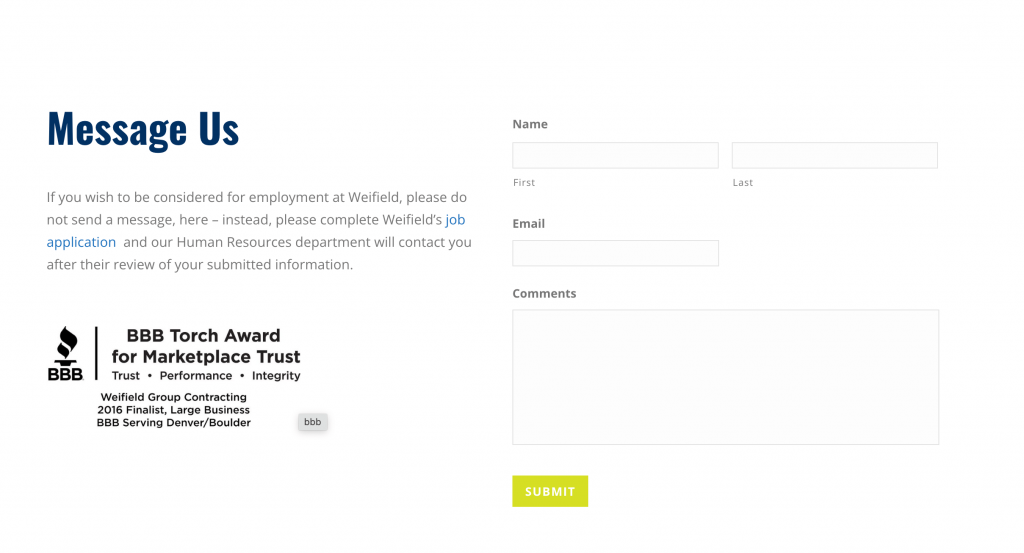 Plus, you can build many more types of forms. Most form plugins come with pre-designed templates that include fields for event registration, customer feedback, and newsletter signup. Whether you want to land new clients or gain positive reviews, you can create a form that benefits your website.
You can also decrease your site's bounce rates with a form plugin. With interactive forms, visitors will likely stay on your website longer to complete fun surveys and polls.
What to look for in a form plugin
Form plugins can provide interactive features that improve the user experience on your website. However, there are many different tools, so it can be difficult to make the right choice.
Here are some things to keep in mind when evaluating a form plugin:
Features: Most form plugins can build simple contact forms, but you might need more advanced features such as payment fields or file uploads.
Pre-designed templates: To speed up your form creation process, evaluate whether a form plugin has a variety of useful templates.
Third-party integrations: Some of the best form plugins connect with third-party tools like Mailchimp. These integrations can make it easier to automate your workflow.
Lastly, it's important to consider a plugin's price. Some form plugins will be free, but they might limit you to basic form templates and fields. If your website needs more advanced features, you might want to choose a premium tool.
4 best form plugins for your WordPress site
Now that you know the benefits of form plugins and some basic features to look for, it's time to find the right option for your website. To help you, we've compiled a list of our top picks!

If you're looking for a beginner-friendly form plugin, WPForms is one of the best options. This tool has a drag-and-drop interface that you can use to build a form in minutes. Additionally, you can customize pre-built templates instead of starting from scratch.
Even though WPForms has many different form fields, the developers have optimized queries on both the front and back end. This feature makes sure that your website continues to be responsive as you add contact forms, surveys, polls, and payment options.
Features:
Drag-and-drop form builder
Pre-designed form templates
Responsive and mobile-friendly
Price: Contact Form by WPForms is free to download. If you want more form templates, fields, and spam protection, WPForms Pro starts at $39.50 per year.

Formidable Forms is one of the most flexible plugins. It can help you create forms for lead generation, surveys, subscriptions, and payments. By simply dragging and dropping fields, you can customize your form to meet your specific needs.
Unlike other form builders, Formidable Forms has a built-in styler that can customize a form's appearance. Rather than inserting a basic form template, you can edit its colors, font, and margins to match your web design.
Features:
Drag-and-drop form builder
175+ form templates
In-built form styler
Integrations with PayPal, Mailchimp, WooCommerce, and more
Price: The core plugin is free. The premium version starts at $39.50 per year and includes unlimited forms, 50+ templates, and multi-page options.
Even if you aren't a developer or designer, you can use Ninja Forms to create custom forms without any coding. This plugin even offers dedicated support, so you can easily troubleshoot any issues.
While other free form plugins have limited features, Ninja Forms Lite includes many pre-designed templates for creating anything from a simple contact form to a quote request form. Plus, these templates are responsive, regardless of your WordPress theme.
Features:
Drag-and-drop form builder
Pre-built templates and 27+ field types
SEO and mobile-friendly
Integrates with ActiveCampaign, MailPoet, Stripe, and more
Price: Ninja Forms has a free WordPress plugin. If you want to build multi-step forms or include file uploads, you'll need to purchase a subscription. Ninja Forms memberships start at $49.50, or you can simply select the features you need from $29 per year.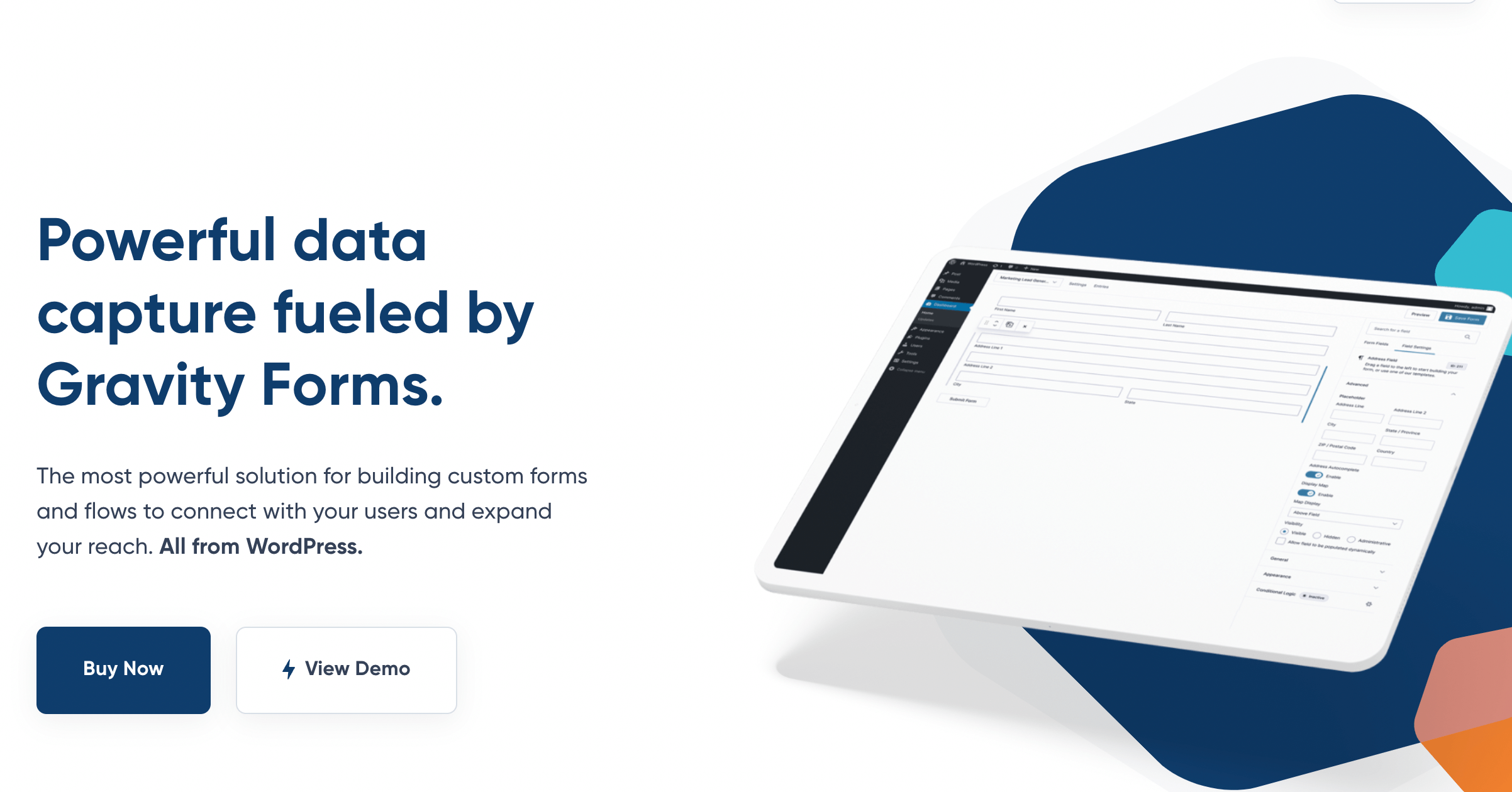 Although there are many free form plugins to choose from, you might feel frustrated by their limited functionality and features. In this case, you may prefer to use a premium form builder such as Gravity Forms.
With Gravity Forms, you can enable users to save their form entries and continue at any time. Even if visitors abandon a form, you can capture this data and use it to improve your conversion rates. Furthermore, you can make it easier for people to complete your forms by using dynamic field values.
Features:
Drag-and-drop form builder
Template Library and 30+ form fields
Saved form data and dynamic fields
Many add-ons, including HubSpot, Mailchimp, and ActiveCampaign
Price: Gravity Forms licenses start at $59 per year. This subscription supports one website and includes many add-ons.
Conclusion
When you don't include interactive features on your site, visitors can get bored with static content. After installing a form plugin, you can create forms for surveys, polls, or registration. These features can encourage users to stay on your website and even contact you with feedback.
To review, here are our picks for the best WordPress form plugins:
Do you have any questions about finding the right form plugin for your website? Ask us in the comments section below!
Image credit: Pexels