The people visiting your website need to read ten reviews before they trust your business. What's more, 85 percent of leads say they value positive customer reviews as much as personalized recommendations from friends and family. No matter how much effort you pour into your site, your efforts will be undermined without endorsements from happy customers.
By filling your website with positive customer reviews, you can win new clients, secure more sales, and even get a Search Engine Optimization (SEO) boost. Search engines value unique user-generated content, so even ten reviews could increase your website's traffic by up to 20 percent.
If you want to rake in five-star ratings, you'll need to optimize the process and encourage customers to participate. In this post, we've shared seven strategies that you can use to increase the number of responses you receive. Let's dive right in!
1. Make sure your website supports customer reviews
If you're going to build a portfolio of positive reviews, then customers need a way to submit them. Ideally, they should be able to easily do so right from your website.
If you're selling products via WooCommerce, then you can use its built-in support for customer reviews. To start accepting testimonials, log in to your WordPress dashboard and navigate to WooCommerce > Settings > Products. Then select Enable product reviews: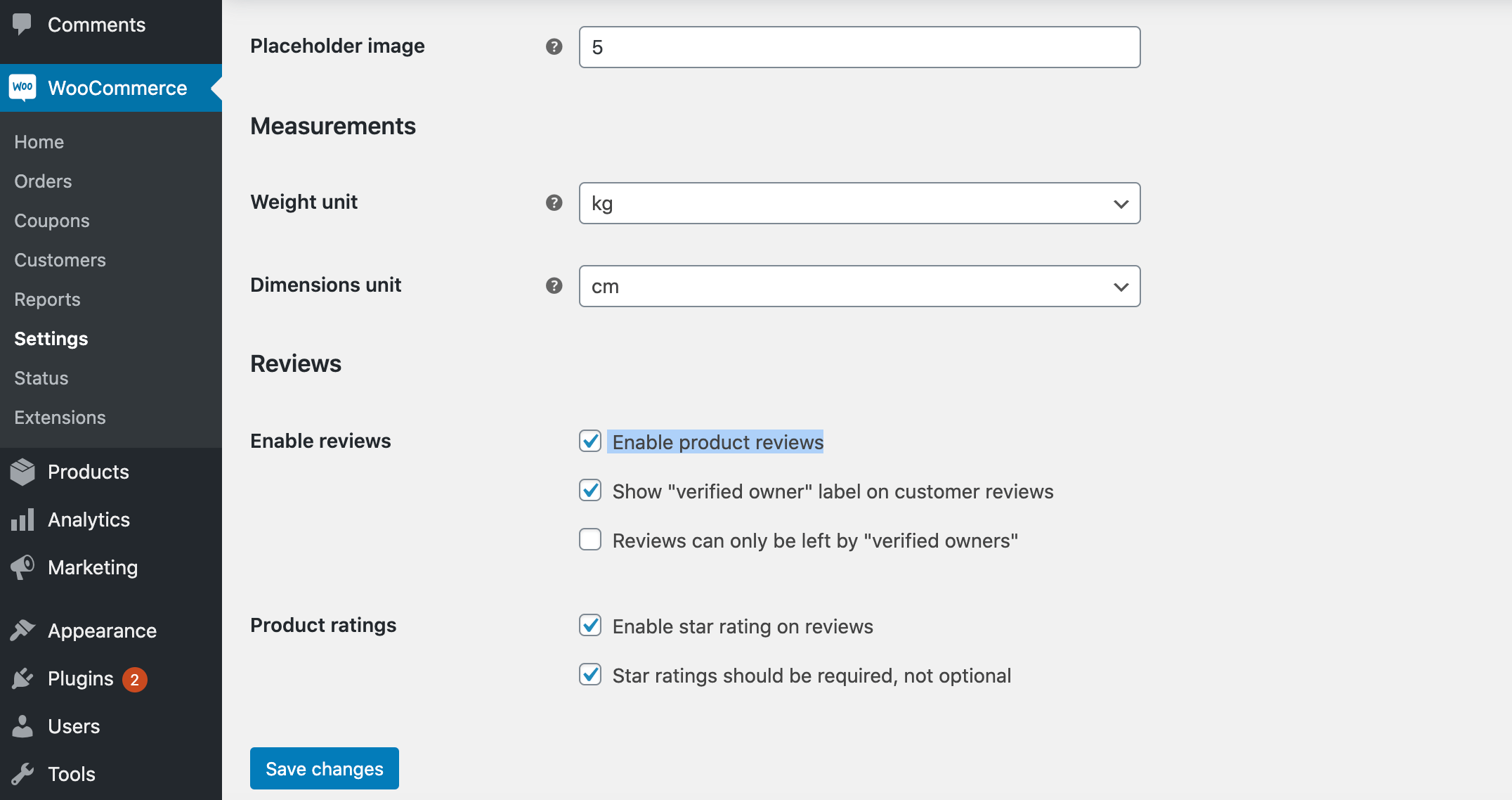 While you're here, you may also want to consider restricting reviews to verified customers so that people have to log in before they can leave their input. You can also add a star rating.
Another option is to use the Elementor Pro page builder. It includes multiple review widgets that you can add to any page:
You can also add review functionality using plugins such as WPForms and its Post Submissions add-on, or Easy Testimonials.
Another option is to create a dedicated Reviews or Testimonials page where you feature top responses from customers. If you go this route, don't forget to add the page to your WordPress navigation menu.
2. Don't be afraid to ask for reviews
According to Bright Local, 76 percent of consumers will leave a review if you ask them to. You can do this by adding a Thank You page at the end of your checkout process where customers can tell others what they think of your products.
Another common practice is sending automated follow-up emails to ask for testimonials. You can also watch for customer behavior that indicates they're happy with your products or services, such as leaving positive comments, repurchasing a product, or praising your company on social media.
If you're using web analytics software such as HubSpot CRM or Google Analytics, you can easily gauge whether a customer is considering purchasing more products. Unhappy buyers rarely become repeat shoppers.
For businesses with consumer-facing roles such as support specialists, you can request reviews immediately after helping customers make major breakthroughs. This will involve implementing some training for your team so they know when and how to ask for feedback.
If you're unsure whether a customer is primed to leave a five-star review, just ask. Something as simple as "How are you enjoying our product?" should be enough to get the information you need. If they're unhappy, then make sure you resolve all their issues before asking them to rate your company.
3. Create a friction-free testimonial experience
If leaving a review feels like a chore, then customers aren't going to bother doing so. If you reach out for feedback, always provide a direct link to the page where they can leave their response: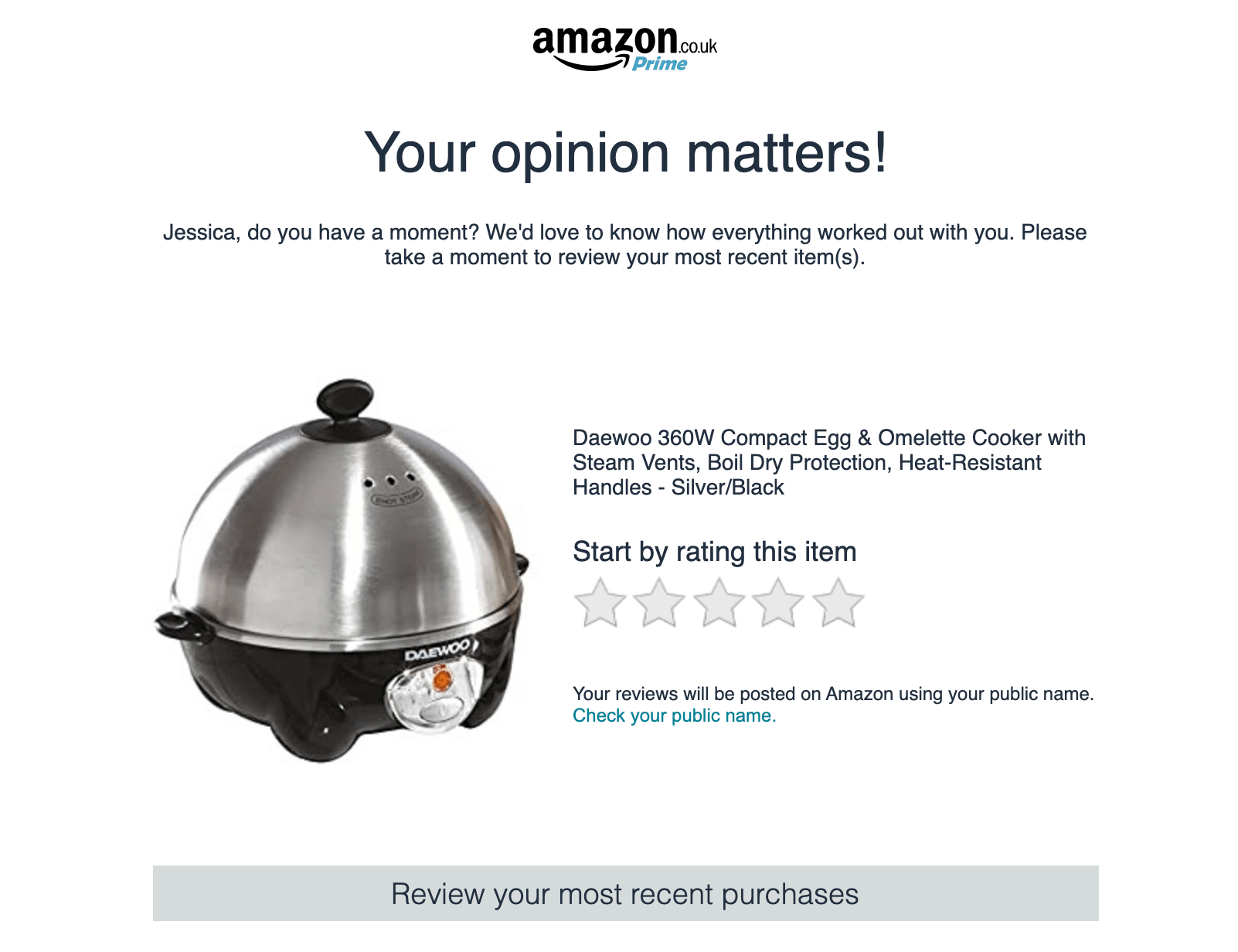 You should also emphasize how quick and easy it is to leave a positive review. For example, phrases such as "Do you have two minutes to review your recent purchase?" or "We'd love to hear your thoughts — it'll only take a minute!" can work well in follow-up emails or on your Thank You page.
Even if a customer visits your website with the intention of writing a review, they may come down with writer's block. You can help them by displaying prompts such as "Did your recent purchase meet your expectations?"
4. Provide incentives for reviewers
As you may have experienced yourself, offering an incentive such as a discount in exchange for a review can be highly effective: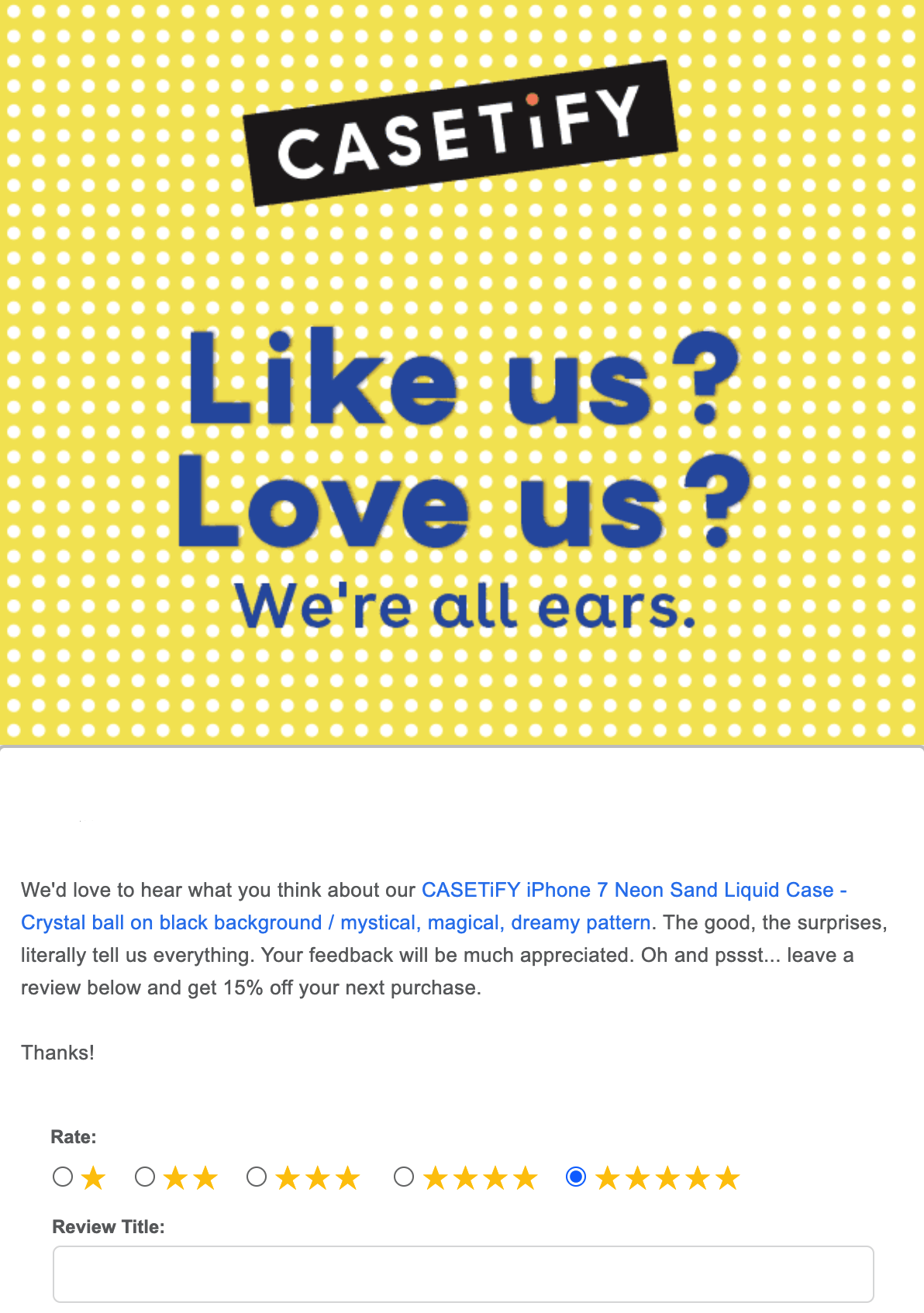 Your customers' time is valuable to them. When you ask for a review, their first thought may often be, "What's in it for me?" By offering an incentive, you can provide a clear answer to that question, and secure testimonials from even the busiest shoppers.
5. Create a consistent stream of new reviews
Every review counts. However, if you want your brand to appear like a trustworthy, established business, then you should aim for volume. Studies suggest that 55 percent of consumers are more likely to purchase a product with a large number of reviews and an average rating, than one with a small number of reviews and an excellent rating.
To set up a steady stream of reviews, all of your customer-facing staff should understand the importance of securing new submissions. Your team should be prepared to ask customers for their feedback and direct them to the page where they can write their responses.
Automating your review request process can also help. You can use an email marketing solution such as Mailchimp to automatically request reviews one week, two weeks, or a month after customers make their purchases.
You might also incorporate review requests into your company newsletter. There may even be an opportunity to place review requests inside your product, such as displaying prompts in your mobile gaming app.
Once you're bringing in responses en masse, it's almost inevitable that you'll receive some less-than-glowing reviews. You can't please everyone all of the time.
Don't worry about these responses too much. While you should always strive for customer satisfaction, the occasional negative review can actually make potential customers view your business more favorably, as they make your brand seem transparent and authentic.
6. Promote your reviews on social media
If you receive a five-star review from a happy customer, then you'll want to make sure everyone knows about it. Sharing it with your social media following is one way to go about that.
Your typical social media user thrives on attention. Even the act of seeing someone else receiving comments and likes for their review may be enough to convince more customers to share their thoughts regarding your business.
You can even use social media to run campaigns encouraging customers to provide you with their feedback. For example, furniture and homeware brand MADE has an ongoing Instagram campaign where customers can share photos of their favorite products. The best submissions earn spots on the company's official website: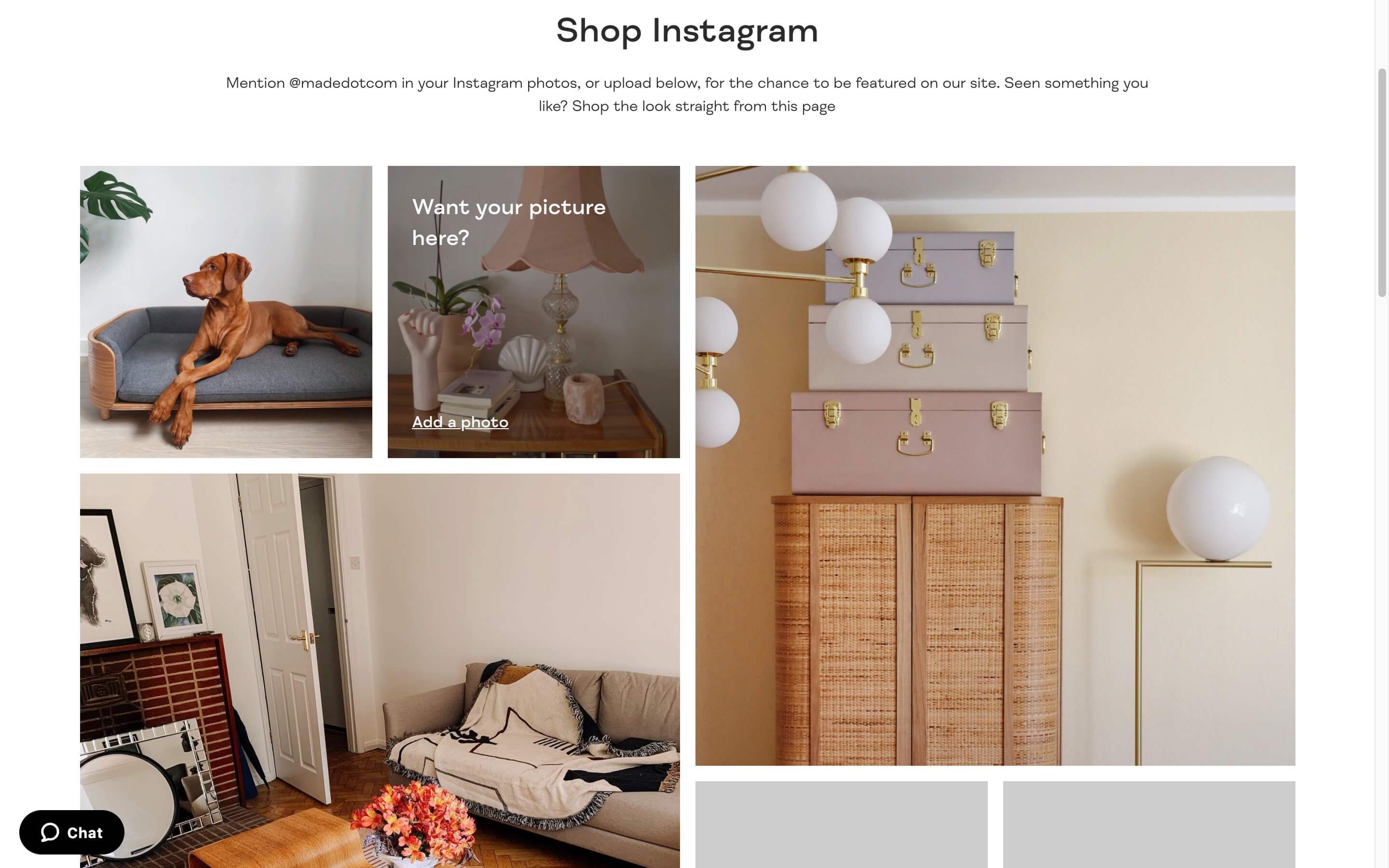 Comments and interactions you receive on social media may not be reviews in the traditional sense. However, you can reformat them for other mediums. For example, you might use a positive tweet as the basis for a graphic that you post to your company blog, feature on your case studies page, or include as a quote in your company newsletter.
7. Register with all the major consumer review sites
When asked which sources they trust to provide honest and independent information, consumer review sites ranked second for customers in both the US and UK after close friends and family. To encourage positive customer reviews on these third-party sites, make sure to register your business with all the major platforms, including:
Once you're registered, monitor your presence on these platforms carefully. Many third-party consumer review sites highlight businesses that regularly respond to submissions. By replying to all comments in a timely manner, you can encourage more customers to engage with your brand: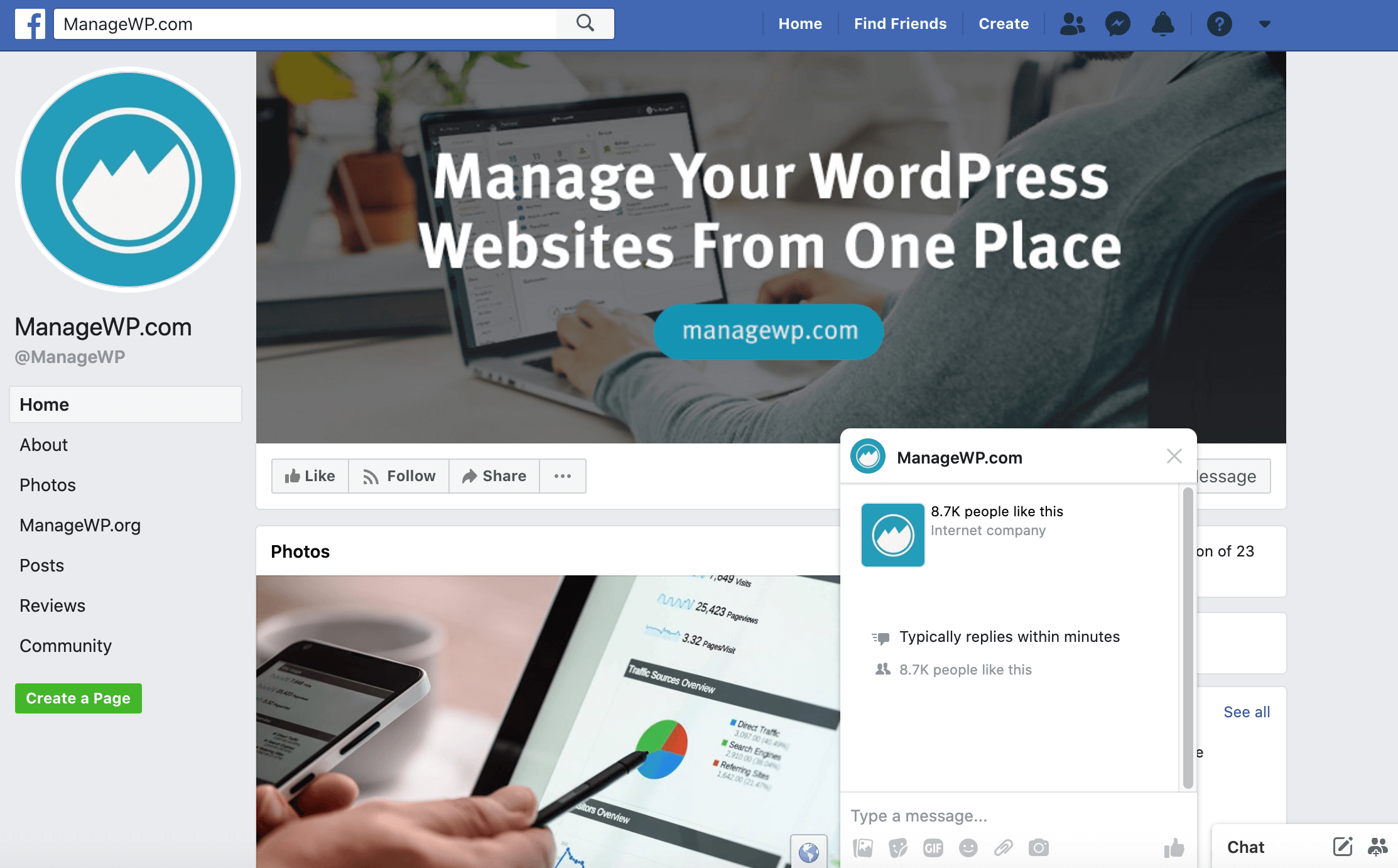 When interactions happen on your company website, some consumers may be suspicious that you're manipulating which reviews are displayed. By engaging publicly with your customers on a platform that you can't control, they're more likely to view your brand as authentic.
Additionally, if you respond to all comments and reviews in a polite, helpful way, potential customers are more likely to view your business favorably. This includes thanking those who leave positive feedback and trying to resolve the problems of those who've had a negative experience with your brand.
Since consumer review websites carry so much authority, consider highlighting all the platforms that feature your company. You can do so by adding relevant badges to your footer.
Conclusion
The word of a satisfied customer is far more persuasive than any corporate advertising or marketing campaign. However, you'll need to optimize the review process if you want customers to leave feedback on your site.
In this article, we covered seven strategies to promote positive customer reviews for your WordPress website. We discussed how to offer incentives, register with the most popular consumer platforms, ask customers directly for their feedback, and more.
Do you have any questions about encouraging customers to leave positive reviews? Let us know in the comments section below!