On September 22, we released our first in a line of three automated tools. The Automated Security Check is live for you to use and schedule checks. I am happy to announce the upcoming release of the Automated Performance Check on October 10. Now you can keep on top of your website performance, and make sure all of your websites are optimized.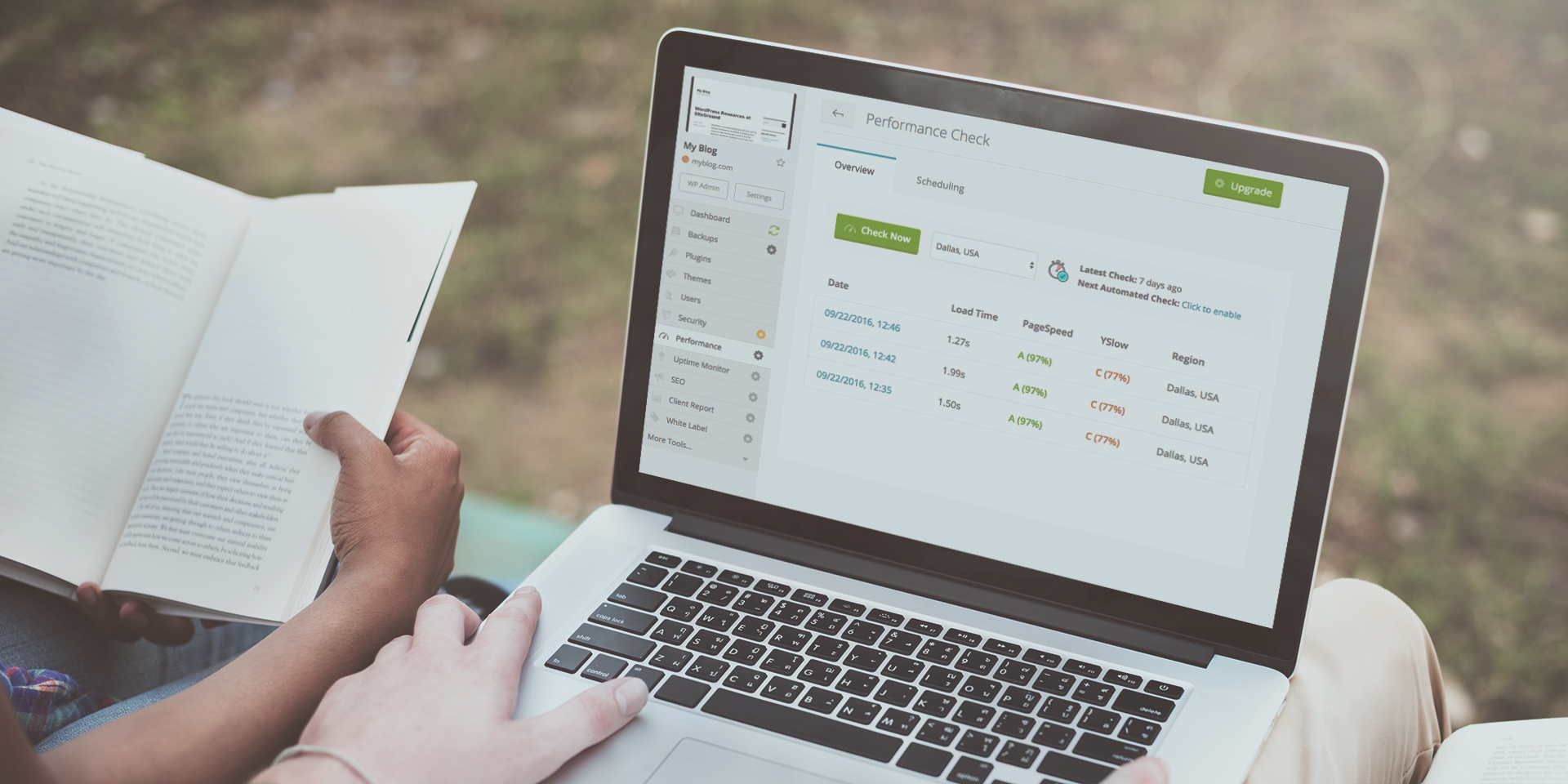 Part of successfully running a website is making sure that it is optimized, in other words your load time needs to be acceptable and on a par with your competitors. WordPress performance optimization is no longer an option, but it has become vital to your website's success. We hope that with the Automated Performance Check your website performance optimization becomes a breeze. We are one step closer to fully automating your workflow.
How much will the Automated Performance Check cost?
Just like with the Automated Security Check, a version of the Performance Check will still remain free. You will be able to continue to use the Performance Check as it is for free. The automation will become part of the premium tool, and the price will match our other premium add-ons. That means that it will cost you either $1 per website, or if you decide to to get a bundle it will be a fixed monthly fee of $25 for a 100 websites.
How to set up your Automated Performance Check?
Setting up your Automated Performance check is pretty straightforward, and quite similar to how you would set up your Automated Security Check. To set it up, select the website you wish to enable the premium add-on. When you select the Performance Check add-on you will see we changed it around a little bit. In the top right corner you will come across an Upgrade button, which will lead you to setting up scheduling.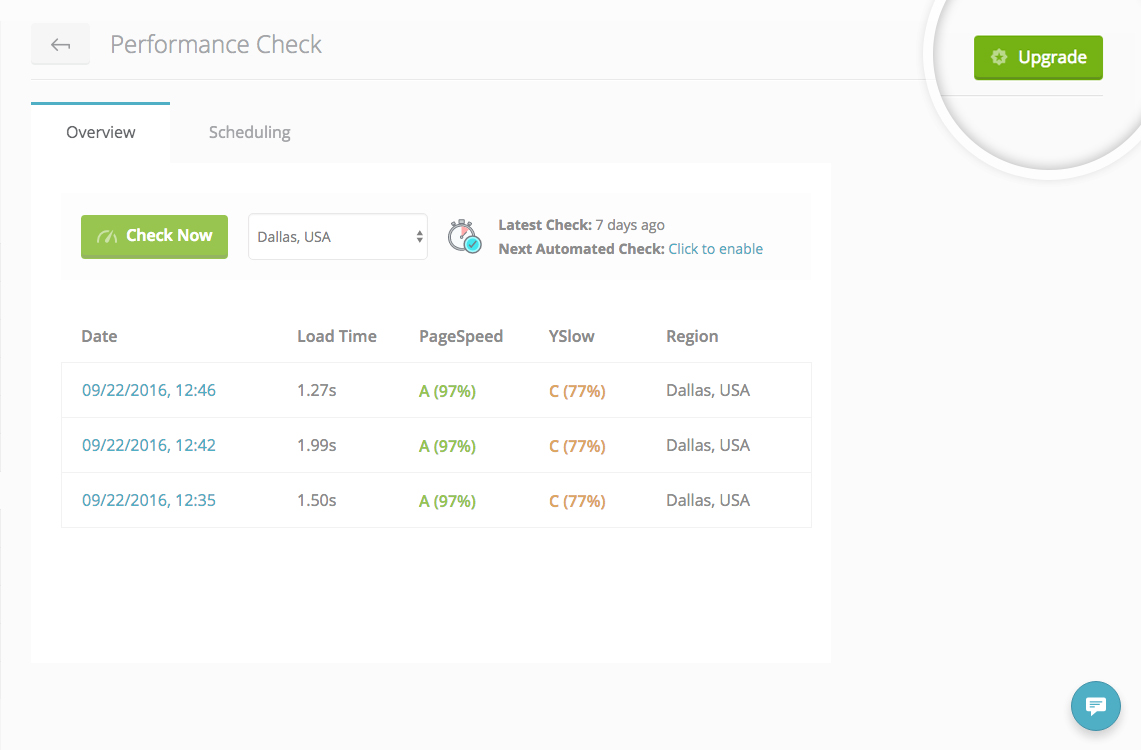 You will see a pop up window that will ask you to confirm that you are happy with upgrading to the premium add-on. From here you will be able to get started with scheduling, to do that click on the Scheduling tab. You will see the option of scheduling your performance check to be either daily or weekly.
Here is what it looks like if you choose to set it up daily.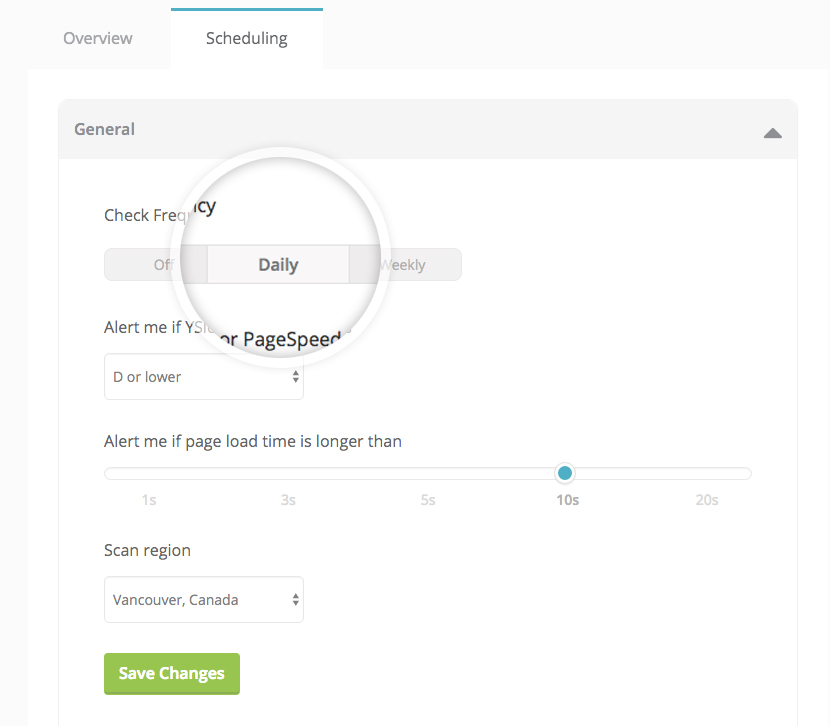 As you can see you can choose when you want to be alerted. For example, set up your alerts according to the YSlow and Page Speed. You can choose a standard and if the website falls below it, you will be alerted. The same applied to the page load time. In the example above it is set up for 10s, but you can go as low as 1s. It all depends on how crucial the page load time for your website is.
Setting up the scheduling on a weekly basis is very similar.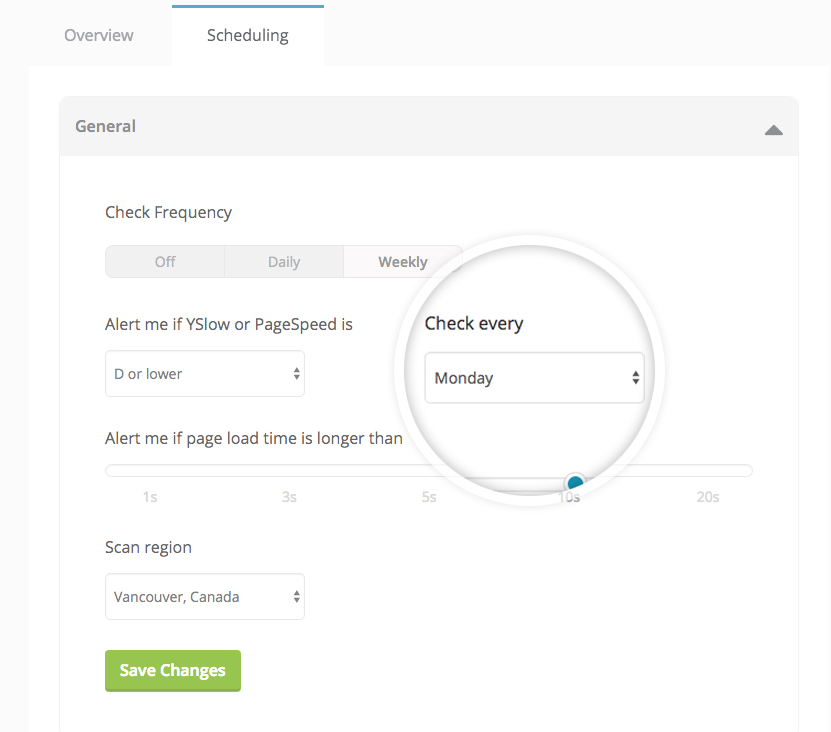 The settings are all the same, only difference is that you can decide on what day you want the Performance Check to take place. Select your preferred day in the week, and you are ready to go.
An important thing to remember is that we included the scan region. That means you can select what region the Performance Check should scan. Say if your website visitors are mostly from Vancouver, Canada, you might want to run the Performance Check in this region.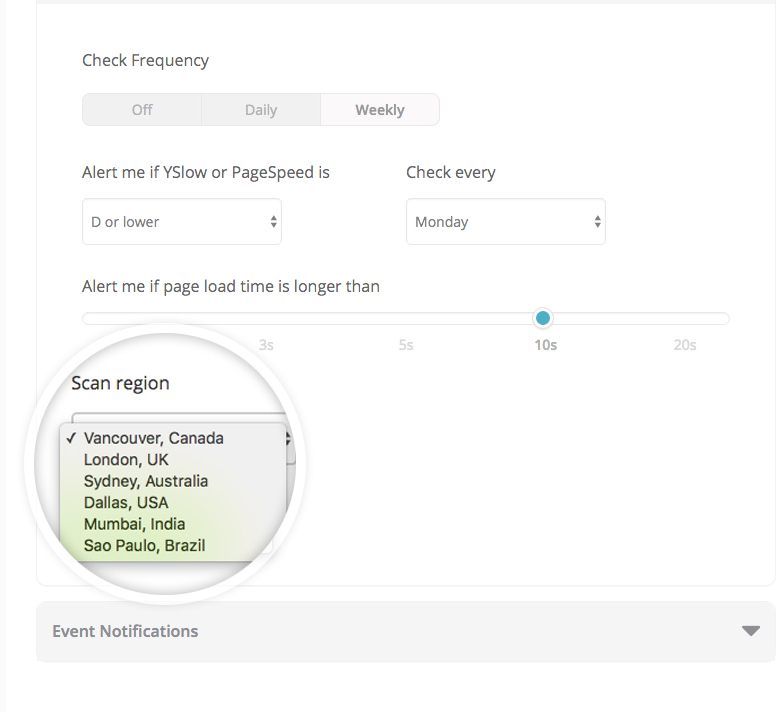 When you have made all of the selections, remember to save your changes.
Automated Performance Check Notifications
Like with the Automated Security Check, the Automated Performance Check doesn't just show up in your Orion dashboard, you can set up your notifications so that each time a Performance Check is performed and your website doesn't perform to your standards you will be notified either by Email or on your Slack channel. You can also set up email notifications for your clients, so that they directly get notified about the performance of their website. This way your websites will be performing at the top level, all of the time, and never again will you miss a performance dip.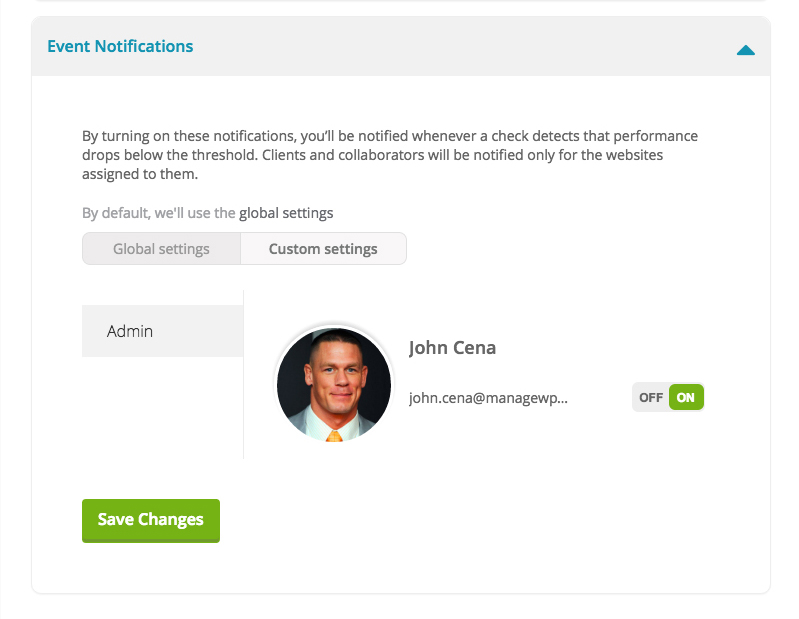 Under Custom Settings you can set up the event notifications for that particular website. In Mr Cena's case, he only set up email notifications for himself. There is also the Global Settings option. This is the default setting, and you can adjust these by going to your profile. You do this by clicking on your name in the top right corner, then settings, and under notifications you will see the below options.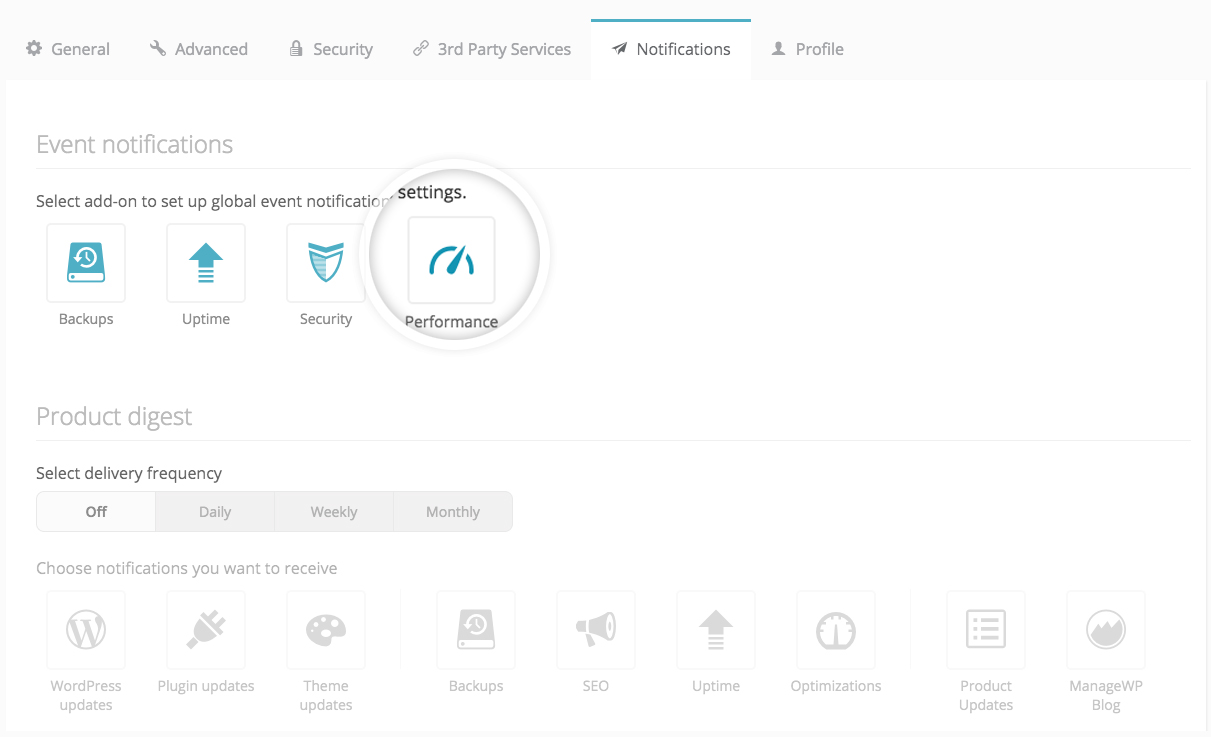 Here you have all of the add-ons you can add to your event notifications in one place.
Wrapping Up
You can expect this to be live in just a week, which brings us closer to ticking more boxes on our automation map. We look forward to hearing your thoughts about our new Automated Performance Check, and like always any questions you have ask either on our blog, or contact our support team.
Let's get automated! 🙂