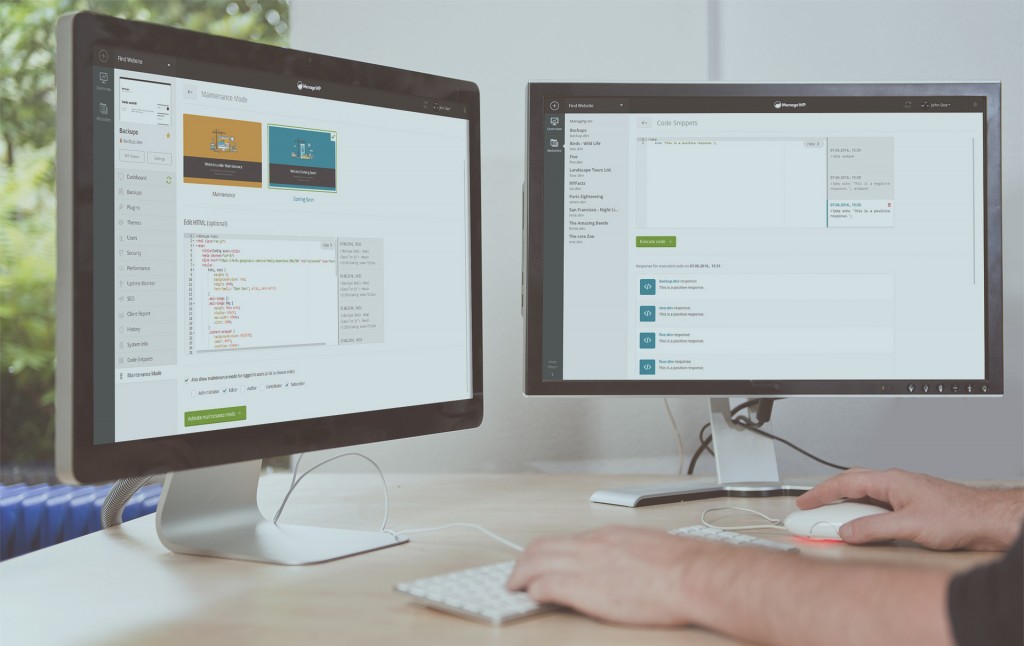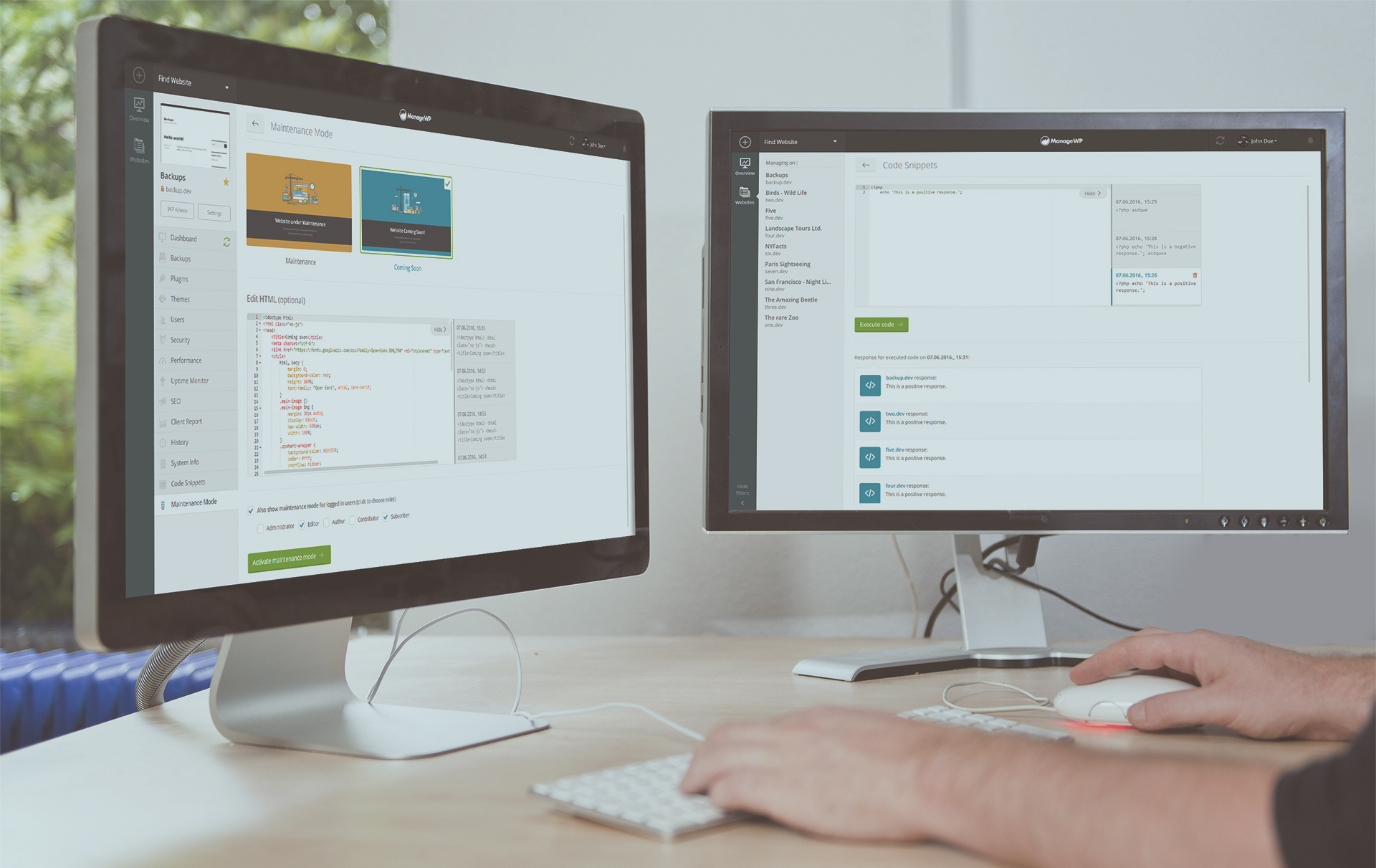 Out with the old and in with the old and improved! Code Snippets and Maintenance Mode both played an important role in our Classic dashboard, so we wanted to make sure you could enjoy the same tools in Orion. Of course, like always with a few changes. This time round our design team pulled it out the bag and we generally tried to focus on making the tools more user friendly and accessible.
Code Snippets Are Like A Good Bottle Of Wine
We look at Code Snippets like a good bottle of wine, better with time and never out of fashion. Code Snippets have always been a handy feature on ManageWP. A powerful development tool that lets you change plugin settings, clear cache or remove dashboard items on multiple websites at once. It can do a lot, lot more: your PHP skills are the limit! Why we say they are getting better with time, well the usability and backbone have stayed the same. Code Snippets are as lightweight, controllable and transparent as ever, but now on ManageWP they are easily accessible and simple to manage.
Here is our new view.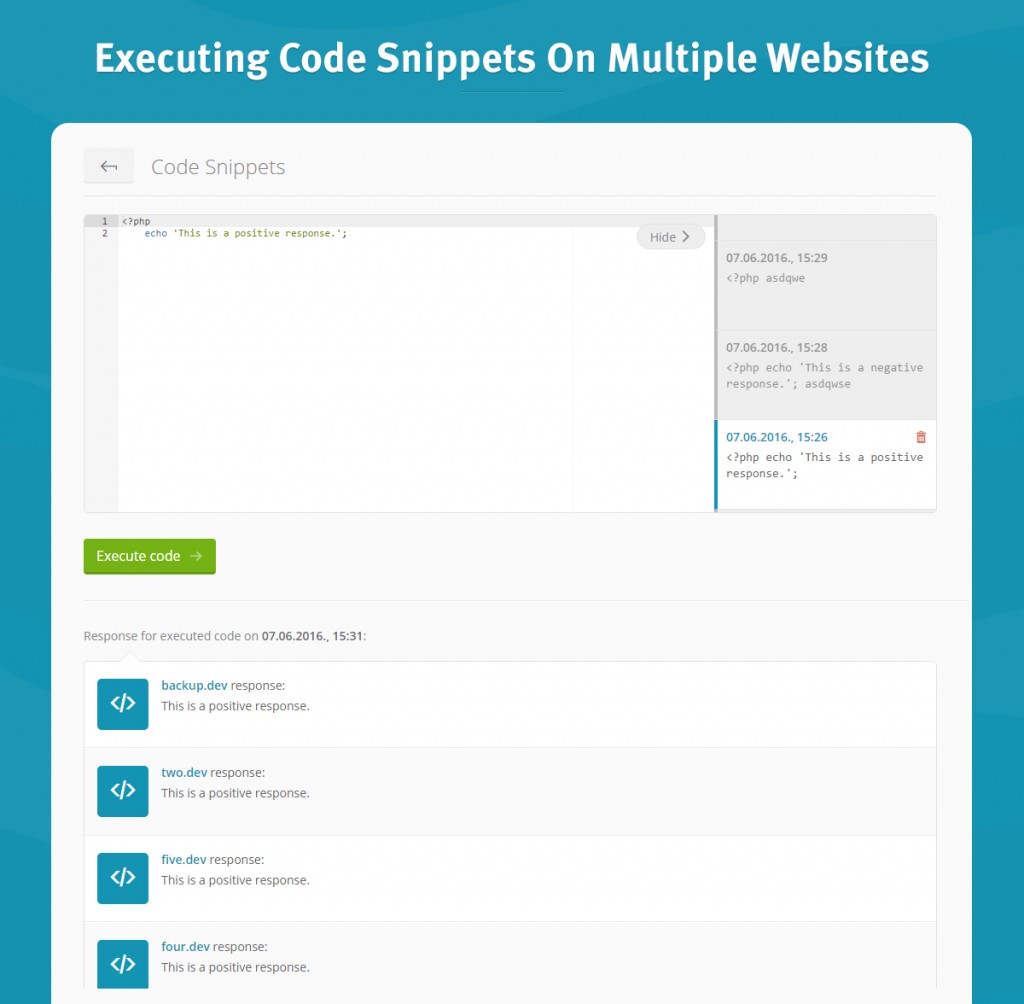 This is what it looks like when executed on an individual website.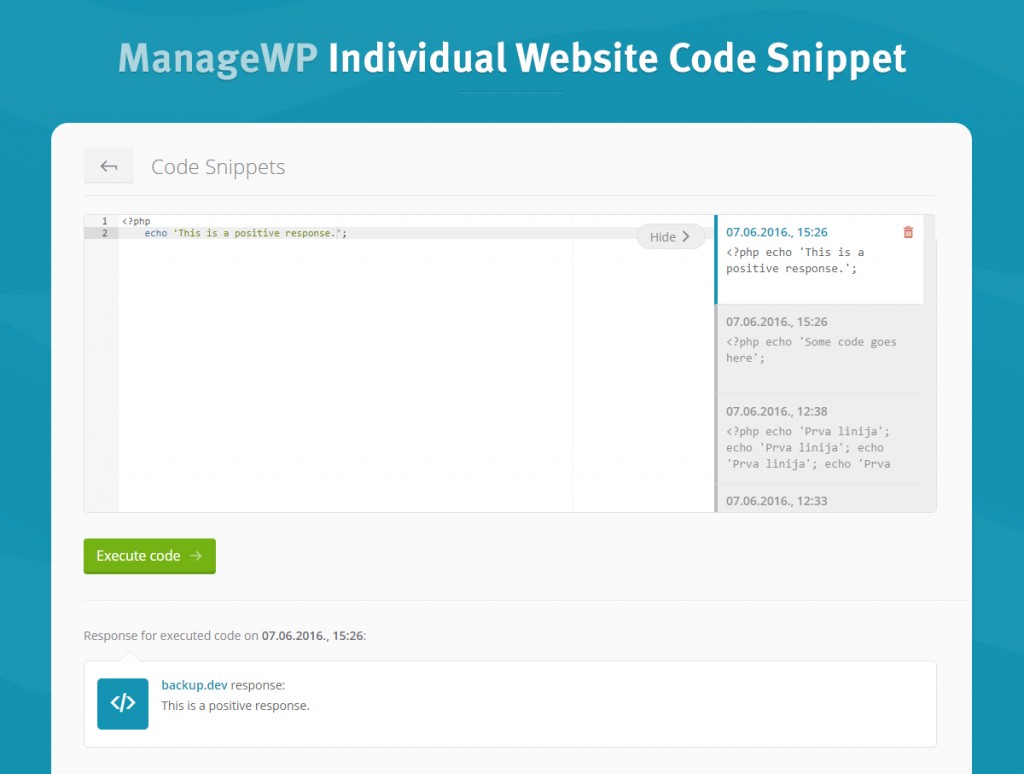 You will also get an error response if your have not successfully executed your Code Snippet.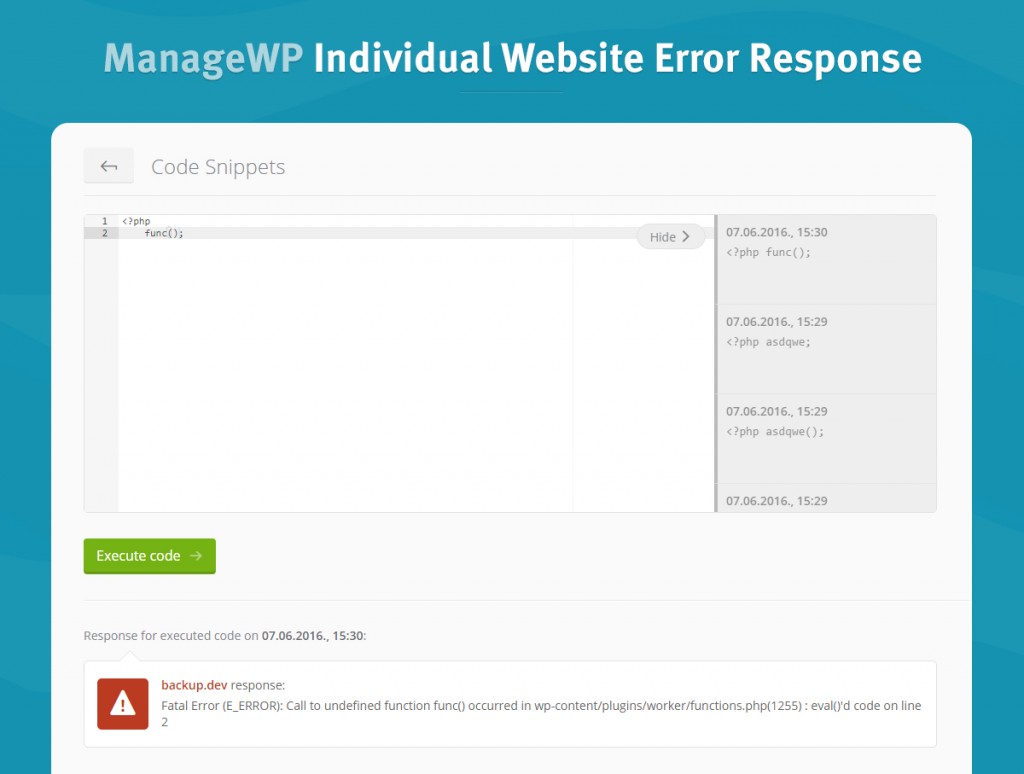 We have made a few changes that we think you will like. Instead of having to save your Code Snippets like in the Classic in order to be able to see them and reuse them, now all snippets you use will be logged in history, so you can select the one you wish to re-execute without having to save a template.
Also, we added an error log for every code snippet you execute, so you can see if something unexpected has happened. This way you can keep an eye out on your Code Snippets.
What we left out is the ability to make Code Snippets public, and enabling personalized saving options such as naming them. This doesn't mean we are not going to add this to Orion, we want Orion to be made just the way you like it. So, tell us do you think it's worth adding the above?
Maintenance Mode is Like Mature Cheddar
Maintenance Mode is getting tastier with time. We all have experience with things going wrong with our websites, and when we don't fancy working on a staging website, there is a quick solution like the Maintenance Mode. The Maintenance Mode gives you the option of letting your visitors know that you are working on fixing the current problems. Maintenance Mode has been redesigned and improved for Orion.
Now we have made two templates for you, Website Under Maintenance and Coming Soon.
This is what it looks like now.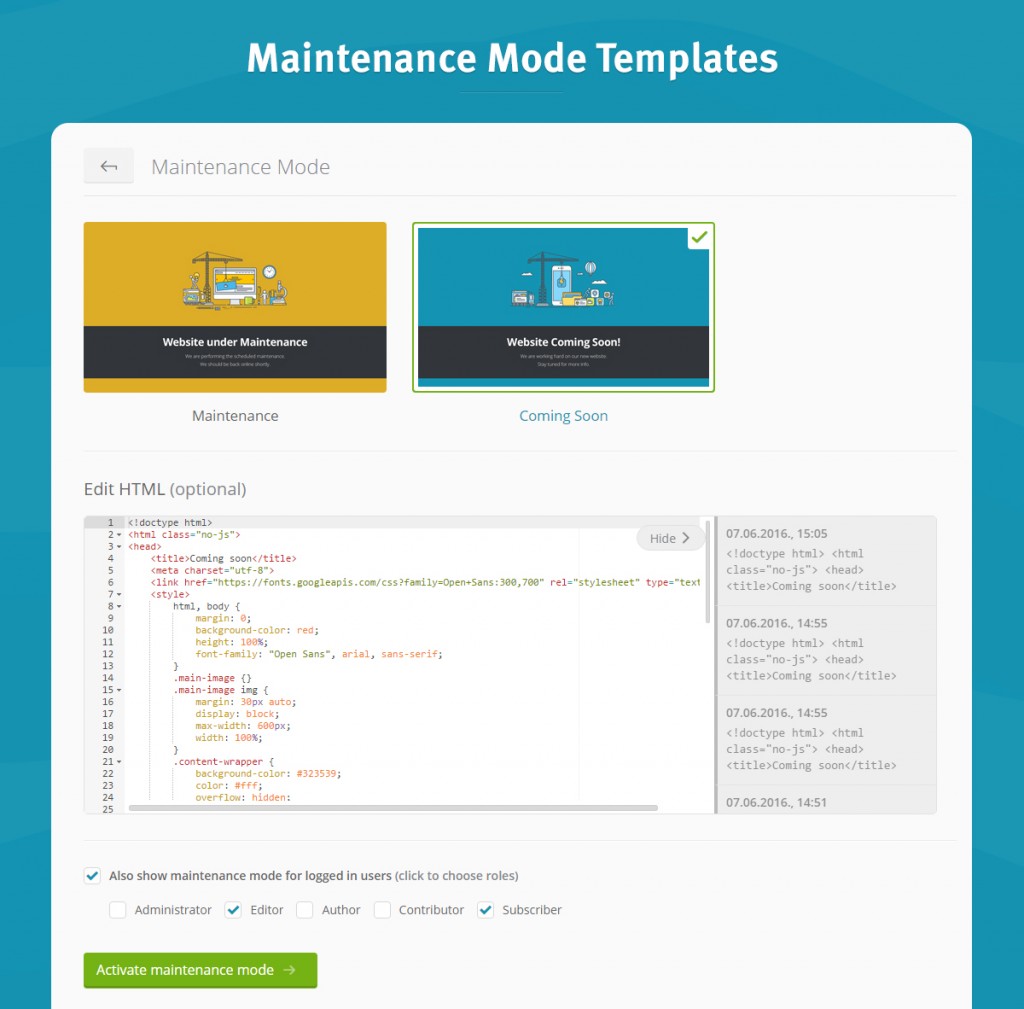 Maintenance Mode can be activated on individual websites only, and you are able to see on individual website view if your website is in Maintenance Mode. You can edit your templates before you go into Maintenance Mode, but also during. This way you can keep your website visitors always updated.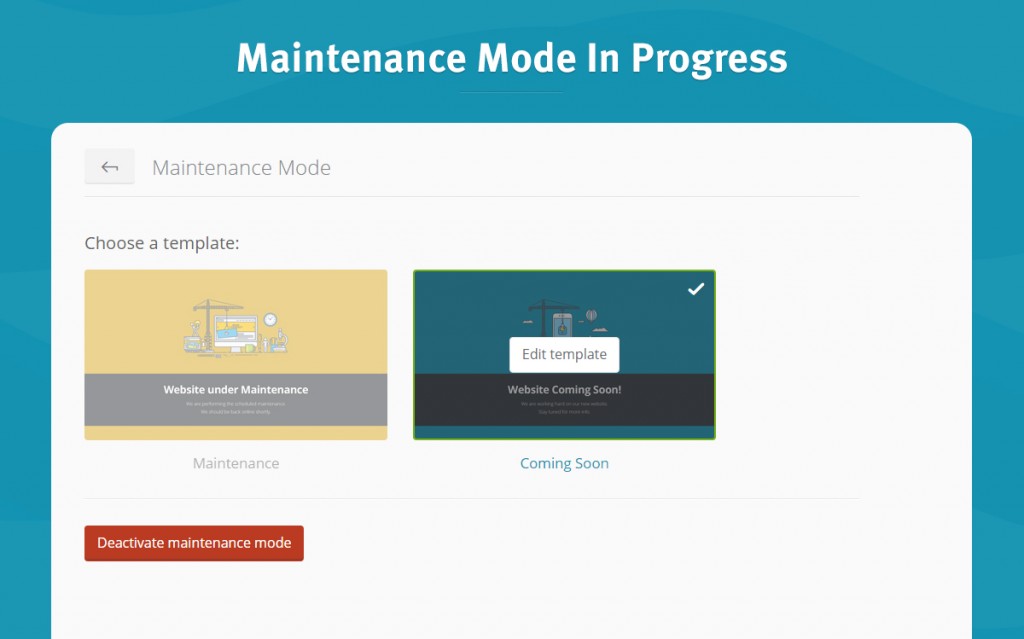 On the Website tab you will also be able to see which websites are in Maintenance Mode. There will be a "traffic light" type icon appear over the website which is under maintenance.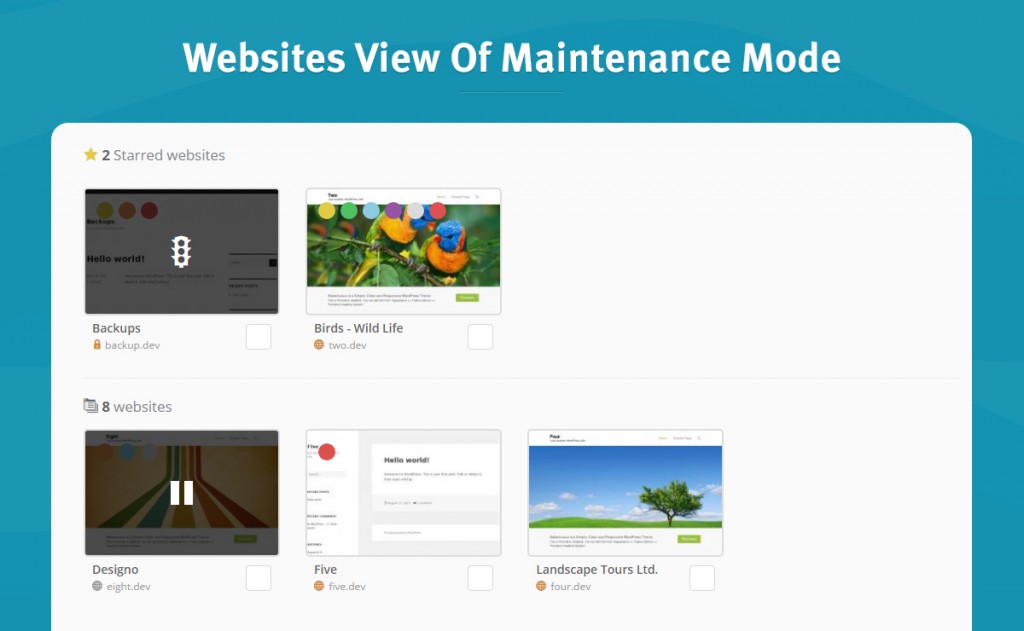 We have kept the option of being able to choose whom you show that your website is in Maintenance Mode. You can still select from Administrator, Editor, Author, Contributor and Subscriber.
That's it in a nutshell. Tell us what you think, do you like the new view and let our design team know if you are enjoying the simplicity and usability of their design.
Perhaps you would prefer looking at the new features with some cheese and wine?