At some point you may find that you want to offer more than one language on your WordPress site.
Perhaps you want to appeal to a more international audience, or maybe you're building an e-commerce site that will serve a diverse community that speaks multiple languages.
Luckily for you, the WordPress community has already thought of this.
Issues to Consider
First things first, let's clear up a long standing myth regarding adding multilingual functionality to your WordPress site: you do not need to use multisite.
Multisite does not offer any features that will help you with multiple languages. Multisite is intended for creating a network of sites and blogs with multiple users who have a variety of roles on the site.
Therefore, what you want instead is a multi-language plugin.
A multi-language plugin will provide you with a means to reproduce your content in another language or languages. This could be done post by post – meaning you would manage it manually – or you could go so far as to reproduce your entire site in the target language. Some plugins even offer automatic translation, although the quality of the translation is questionable at this point in time.
Here are four ways you can make your WordPress site multilingual.
WPML (Premium Plugin)
Packaged with 40 languages pre-installed and with the option to upload more, it is easy to understand why WPML is one of the most popular multi-language plugins.
The plugin provides a language switcher widget with some basic styling options. The widget can be placed in any widget area or in any menu area without any hard coding of the theme. The switcher can display language options as flags or as text.
Once you've got the plugin set up you can move onto translating your site's content. Essentially, what WPML will do is generate a new URL for each page or post that will lead the user to the desired language.
Once the URL is generated you have two options:
Allow WPML to automatically translate the content.
Direct WPML to notify a designated editor that content is ready to be translated.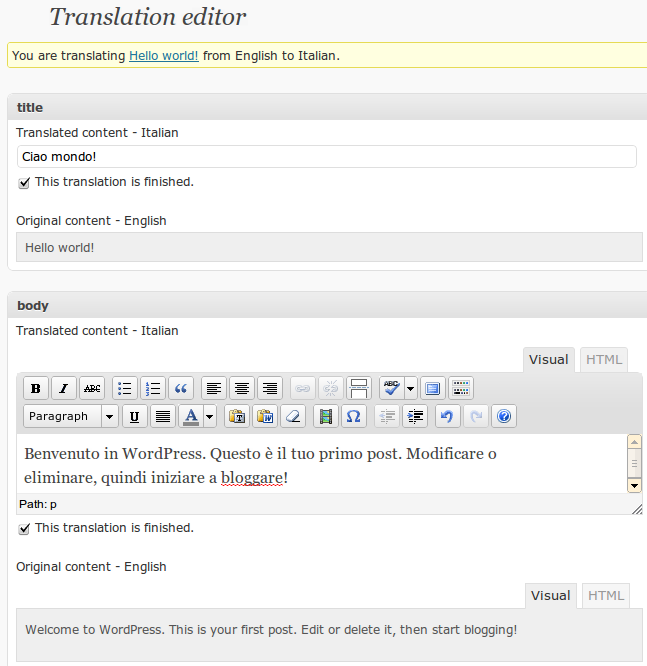 If you don't have anyone available to translate for you, don't worry – WPML provides a directory of affordable translators inside the plugin's admin panel.
Personally, I would recommend a combination of the two options. Allow WPML to automatically translate and then have an editor correct and revise. This method will save you time and will allow editors to focus on the text and not worry about how and where to post.
However, all of this does come with a few downsides.
Firstly, the admin panel can be slightly confusing to get set up, especially for users new to WordPress and plugins. Save yourself a few hours of headaches and walk through the tutorials and support that WPML offers.
Secondly, there is a price tag. To take full advantage of the plugin you'll need to pay $79 up front, and $39 each additional year. For basic functionality you can spend as little as $29 up front and $15 each year additional year.
You can find a full comparison of features here.
Polylang is a free alternative to WPML that is highly rated among users.
The appeal of this plugin (beyond the lack of a price tag) is that has much more straightforward approach and cleaner admin panel than other translation plugins.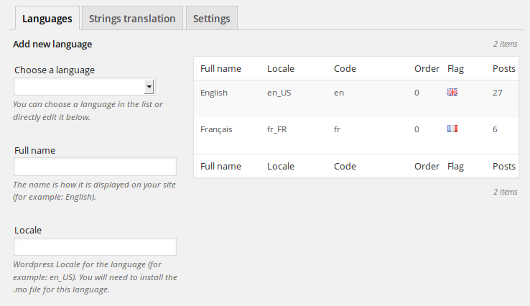 After activating the plugin, users can choose languages which content will be translated into. It is important to note that Polylang does not automatically translate content; you will be required to manually translate it in some manner.
Like WPML, Polylang provides a customizable language switcher. If the built in customization options don't fit with your theme, there is a wealth of code available in the support forums to help you get the look you want. In fact, you will find the support community for this plugin to be very helpful.
Once the plugin is set up, the workflow for translating is quite straightforward. Content can be flagged for translation. For some users this may be a desirable option, particularly if you do not want everything and anything translated on your site. This can also be a great option if you have staff available to translate or if you're outsourcing translation.
Yet another free WordPress plugin, Xili has had over 100,000 downloads since it was released in 2009.
It offers features similar to the other plugins reviewed in this post, in addition to the option to translate from within the Post and Page screens in WordPress.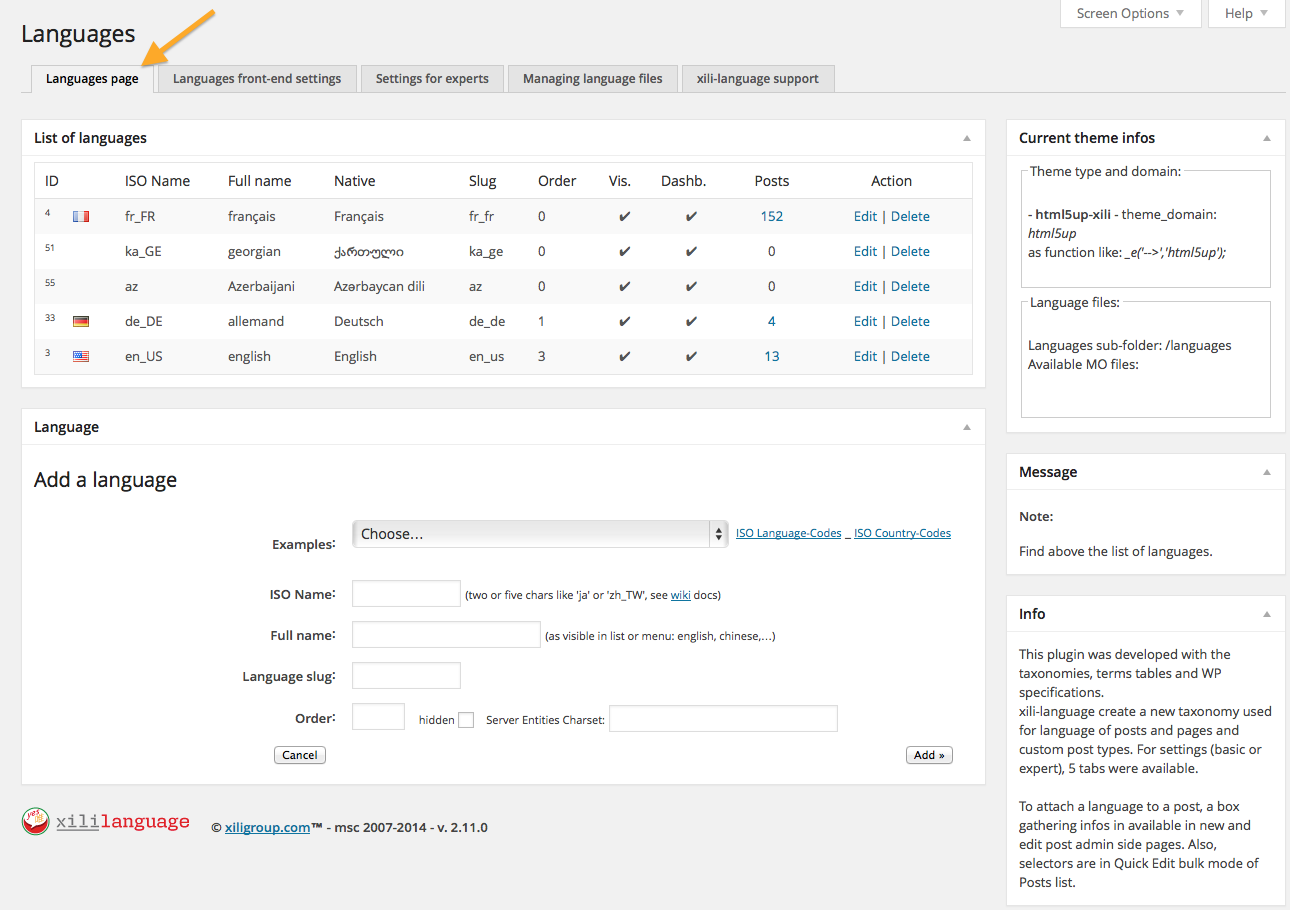 A quick scan of the Xili site reveals that the plugin developers are clearly not fluent English speakers. Instructions provided by the developers can be tricky to understand.
Installation is not easy and requires some preparation of the site's theme and framework. Furthermore, set up is much more hands-on than other plugins we've reviewed here.
However, it is a very popular plugin and is highly rated. This is perhaps a good choice if you are comfortable with the more technical aspects of plugins and themes.
Using WordPress Multisite
An alternative option is to use Multisite to build another site in your target language that is networked with your original site. For example, you could have one site in English and another in Spanish. The original site essentially acts as the parent and the second as the child, similar to – but not the same as – parent and child themes.
This is a complex and time consuming option.
Firstly, you will have twice the work, from setting up the theme to creating each page and all content. The end result is two sites in two different languages, the second sitting in a subdomain of the first. This results in having to publish content twice, once to each site.
Also, you will have to make any and all changes or updates on each site. Site admins will need to learn how manage a network of sites rather than single a standalone site.
However, despite the disadvantages of multisite, there are some advantages.
If you have members of staff that are multilingual, it may make sense for them to build out two sites at the same time within a multisite network. Also, if each site will not contain all the exact same content then this option would also make sense.
If you can find an efficient workflow, multisite can be a good choice, but it can be difficult and time consuming to manage.
Making a Choice
How you choose to add multi-language functionality to your site is a big decision that you should consider carefully. You will want a solution that is user friendly for you in order to allow you stay focused on your content.
No matter which method you choose, one thing is certain: manual translation, whether from the onset or after automatic translation, is still a necessity. Doing this will help you gain and maintain credibility with visitors and also help you avoid penalties from Google for having duplicate content.
When you do decide to add multi-language to your site, it is recommended that you create a non-live test site first. This will allow you to work out any problems that arise. Finally, always be sure to back up your original site, as adding a translation feature will make changes to your database and directory.