At ManageWP we recognize that customer support is one of the most important elements of our service. Although the app itself may provide the functionality that can make life so much easier for WordPress users, it wouldn't be nearly as valuable if we didn't back that functionality up with a superb support system.
Our intention is to buck the trend of simply adequate or even poor customer service — we want to provide the stellar support that our customers deserve. As we said in our last report on customer service back in February, one of the best ways that we can do this is to hold ourselves publicly accountable. That is exactly what we intend to do in this latest post.
Our Customer Support in Numbers
We obsess over our customers and have built not just a custom ticketing system but also a dashboard which is prominently displayed in our office. Here it is in (click to enlarge):
What you see above is what everyone of us sees first when they come to work in the morning. We use this dashboard to measure the quality of our support on a daily basis. It offers us an instant level of detail that is not typical amongst most companies, which in my opinion really reflects how important the quality of our customer service is to us.
We are delighted with our first and average response time (one of the most important statistics for sure), especially when compared with the industry average. A survey carried out by STELLAservice in 2011 revealed that the average email customer response time is an almighty seventeen hours: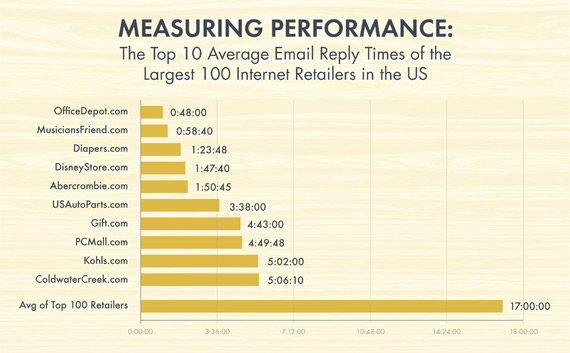 By comparison, we are mighty pleased with our nineteen minute human response time to your ticket (remember this is 24/7), especially when we have worked so hard to bring it down over the past few months. For instance, see how our first response time has decreased month-by-month since April:

As a final note on response times, perhaps the statistic I am most pleased with is as the CEO of ManageWP is that 76% of support queries are responded to within fifteen minutes. We know you're busy and that you need resolutions to problems quickly, so the fact that you can submit a support ticket and expect to get a response with fifteen minutes more often than not is really exciting to us in terms of our aims to deliver a stellar customer experience.
Another statistic we are really proud of is customer resolution — i.e. the proportion of support tickets that we are able to resolve with our first reply: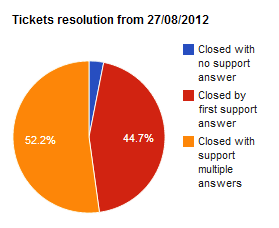 As you can see, nearly half of all support tickets are closed by our first support answer. So in a nutshell, many ManageWP users who submit a support ticket get a response within a few minutes that resolves their problem. As customer service geeks, that gets us really excited, especially when combined with the ratings that we receive from you guys: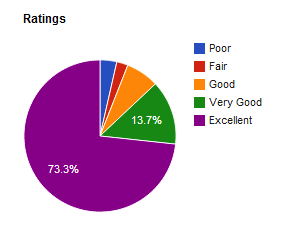 To put that in numbers, the average rating from a ManageWP customer using our support system is 4.22 out of 5. Although to see 5 out of 5 would be perfect, we think that 4.22 is a pretty strong indicator of the quality of our service!
We're Getting Better All The Time
What I'm really excited about is how much better our service has become since our last customer happiness report in February. Consider the following statistics, past and present:
Tickets Per Day: 26 -> 23

First Answer Resolution: 45% -> 45%
Average Response Time: 36 mins -> 19 mins
Response Within 15 Mins: 59% -> 76%
No. of Replies to Resolve Support Issue: 3.19 -> 2.5
Not bad, right? Every single important aspect of customer service has improved drastically (with exception to first answer resolution which remains at a mighty healthy 45%), despite the huge growth of ManageWP in the last few months.
I am enormously proud of the support system we have built and the awesome people that make up our support staff — they are doing a stellar job.
What Does This All Mean?
I hope that this post has served to demonstrate how proud we are of our support system. Furthermore, statistics like our reduced response time over the past few months demonstrates that we are always investing to improve our quality of support, even as our user base gets bigger and bigger. We want to stay ahead of the curve.
Referring back to the report quoted at the top of this post, 89% of consumers began doing business with a competitor following a poor customer experience. We know that you have choices when it comes to WordPress website management, and while we believe that we have by far the best solution, we know that you are well within your rights to test out the competition. We want to ensure that our peerless support is just one compelling reason why we are the best option for you, and why everyone with WordPress management needs should be a ManageWP user.
We're constantly setting ambitious new targets for ourselves too; that is is how we have been able to continue to improve the quality of our customer support so drastically beyond the industry standards. At the start of this post I said that we wanted to hold ourselves publicly accountable for our customer service, so before I sign off I'd like to publish our intended goals for customer service in the coming weeks: to reduce tickets per day to below twenty (by further improving the ManageWP service) and increase customer satisfaction ratings to 4.6 on average.
But of course, statistics are just one aspect of the feedback we love to get on our customer service. We'd also love to read your thoughts in the comments section below, so please don't be shy — give us your feedback now!
Finally, for those of you who are in love metrics and are about to start an SaaS service, you'll be pleased to know that the team behind ManageWP is working on a new startup for SaaS metrics. We call it ChurnBee.