Holidays are over and it's time to get back to work! You'll have an easier time, tho, since we're constantly working hard to improve our dashboard. Here's a quick list of the things we did in December.
  General
Automated WordPress core updates
If you're the kind of daredevil that wants to fully automate WordPress core updates, we have you covered. In addition to automating theme & plugin updates, you can now set up a weekly cycle of automated updates for the core as well.
Just click on the new checkbox while scheduling plugin or theme updates, and you will never have to worry about WordPress core being up to date.

Now you can stop an update
Have you ever done something and regretted it a second after? I bet you did! But fear no more, at least when it comes to plugin or theme updates. With the Stop button implemented into a progress bar, we are giving you the option to change your mind and stop the process. I just hope that Libras won't misuse the feature.
Toggle website search engine visibility
When you make a staging website and don't discourage search engines from indexing it, the live website might wind up as a duplicate. Since you really don't want to make that rookie mistake and become accused of plagiarism by almighty Google, we added an easy fix for this. A new checkbox is available in Advanced settings now, so you can prevent the search engines from indexing the website – straight from your ManageWP dashboard.
Envato integration is here
Finally, you can update themes and plugins from Envato the same way you update the ones from WordPress repository. The only extra step would be to connect your Envato account with ManageWP and the updates will appear on your dashboard. Are you ready for more good news? You can connect an unlimited number of Envato accounts for free!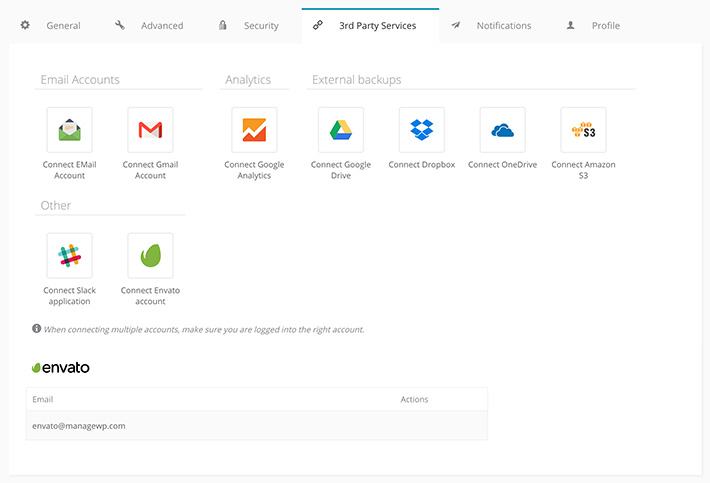 WooCommerce database updates
This new feature is very useful for those of you who manage websites that use this plugin. Unlike other plugins that make changes only in files when the new version rolls out, WooCommerce goes a step further and updates a database, too. To make sure that you catch all these database updates on time, we have added something extra for you. It's a notification that will pop-up on the top-right corner after you update WooCommerce. It will be a sign that database is out of date. Then you can log into the website's backend and run the update from there.
  Addons
Client report detects when an email is opened
If you're one of the people that become anxious not knowing if their message was seen or not, welcome to the club. I remember back in the SMS days when I sent messages to my boyfriend, and he didn't respond. I always wanted to know if he actually read them. I found out the hard way but it is not the topic. The same goes for your clients. When you send them reports, you are showcasing your work in the best possible light and you are probably curious if they actually got and opened the email.
So, how to know if an email is opened? After you send a client report, a closed envelope icon will appear and when a client opens the email, the envelope will also become open. Yes, it is as simple as that.
Quite an impressive list, won't you agree? But this is not all. As you read this, we are already rolling out new features and improvements. Don't worry, I'll keep you posted.