Update: There have been some changes from the time the Orion idea has originated. I would highly suggest reading our newest edition of Developer Diary #8! 🙂

How will ManageWP Orion look and feel? Throughout 2014 we've dedicated ourselves to answering this question. In the first article of the Orion series I've covered some basic concepts of ManageWP Orion. Now it's time to give you a glimpse of ManageWP Orion design; its development was done from scratch, which means that every single feature and detail you'll see in Orion is built to accommodate you, our user, and your needs.
User Experience at its Best
Imagine what that means from user experience point of view. There were no excuses whatsoever to not create everything that suits you in the best possible way.
We did a ton of research: user session analysis, surveys, interviews, going through your feedback, talking to our Customer Happiness team, and more. We also included all of the people from our development team in the design process. Only together were we able to accomplish the task of making Orion all about you. Here's a sneak peek: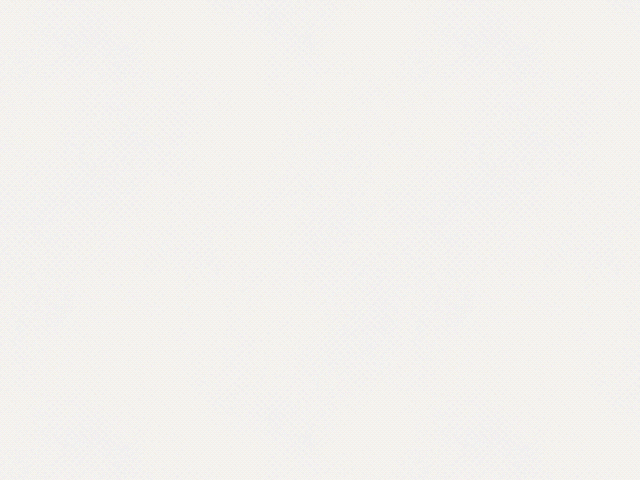 Once you open the Orion dashboard, take a deep breath and look at all the details we've paid attention to in the design stage. Every single detail, subtle animation, interaction and visually intuitive interface element counts, right? Hope you'll like it as much as we do.
Design Matters as Much as the Feature Set
ManageWP has some great features which most of our users found very useful in their WordPress website management workflow. Unfortunately we lacked visual consistency across these features. My team was so busy improving the product itself that we needed to to take a step back and figure out in which direction we want to go with the style of our product. We didn't want to do just a face-lift of the interface; with our experience and knowledge we wanted so much more.
So, overall visual design is changing beyond recognition. In addition to the revised user-flows, improved usability and resolved technical issues, we have a whole new visual style of the user interface; complete visual re-branding of our ManageWP product, which we will continue to nourish in the future.
However, design is much more than just pixels on the screen. There were a lot of design decisions behind the scene that we made to make your life easier, day in, day out. That's why this is just the beginning of what we want to achieve and present to you in 2015. We'll take managing of WordPress sites a few steps further and we already have plans for that in our roadmap for the 2015. So, don't keep an eye just on the release date. There's so much more coming in the upcoming months (and years).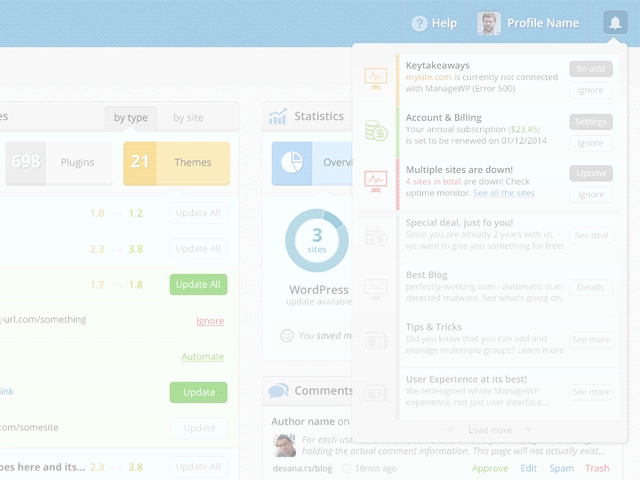 What Do You Want to Do Today?
The whole experience of the ManageWP Orion has been simplified to its extreme. We are focusing on the single task you want to do in our tool, whether it's a website's backup, theme and plugin management, user password change, client report creation, SEO analysis or something else.
You may be good at multitasking, but you are presented with a bunch of tools, interactions and interface elements at once, it's hard and frustrating to find what you are looking for. That was one of the main reasons that our customers weren't able to discover all of the tools within ManageWP.
We are changing that now and focusing on the thing you want to do at the given time by simply asking "What do you want to accomplish (with this tool)?". Most of the current features are still there, but they are logically organised much better than before.
But we didn't want to stop there. We improved the ability of our tool to learn and recognize your needs and behavior so that it can give you the best possible suggestions to help you with your task. For example, if you are updating the same plugin over and over again, we'll ask you if you want to automate the update for you. Or, in case you are confused at any time – our Worker mascot will jump in and point out the things you are looking for, so you could effectively utilize your time with ManageWP.
There are a a couple of new interaction patterns we designed and introduced in the Orion release (e.g. notifications, queue…) of ManageWP as well, but we'll talk a bit more about that in the upcoming Orion articles.
Tomorrow Is Today, Folks!
Research and analysis, including your feedback, is the fundamental basis behind design decisions for the new product. We consider ourselves the most experienced team in the WordPress website management market but it's clear that we couldn't do it without you, our users. So, thank you for using our product for the past three years and providing us with valuable feedback. We hope you will be pleased with ManageWP Orion, but more importantly, we are looking forward to discovering together all the new possibilities and directions in which we can go with our product.
The new era of ManageWP begins and our mission is to boldly go where no team has gone before. Stay tuned for more information and updates from our end.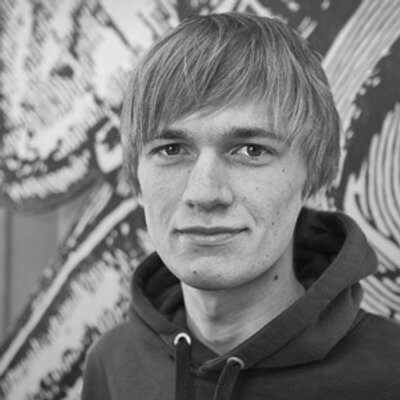 The ManageWP Orion design sneak-peek was brought to you by Antun Debak, our UI/UX designer. He takes most of the credit for the way ManageWP Orion looks and interacts with users. His impressive portfolio includes projects for heavy hitters such as Microsoft, Vodafone and Verizon; In his spare time he does even more UX, travel, cycling, music, and a lot of other things; Some claim that he gave up sleeping in order to squeeze some more awesomeness into his life.
This is the second article in the ManageWP Orion announcement series. See the opening article here.
UPDATE: The third article is out! Join our developer Sergej Grivcov as he shares his insight into ManageWP Orion frontend development