Check out our first in the series of Customer Happiness Reports for the month of February. We will give you an insight into what happens when you submit your support ticket. Stay tuned!
The Theory Behind ManageWP
At ManageWP, we believe that "being different and thinking different makes a person unforgettable".
You might also have heard or read hundreds of stories published by companies on how much they are investing in customer support and how quality Customer Happiness is provided by them while as their customer you know that most of those stories are fables. We don't want to be painted with the same brush.
We built our business for our customers, we focused ourselves on their needs. This is not a revolutionary way of thinking, and businesses have been doing this for years. In other words, it's a customer-centric system, and in theory, ours is no different, but we built it our own way.
We don't think we are always right, but we like thinking outside the box, and today we would like to share the story of our Customer Happiness Team.
The Human Touch
We don't cast a special spell on our Customer Happiness Team, we just like to make sure that every question is answered with understanding, empathy and patience. We like to make sure that we have the "human touch" and we give each customer our full attention. Behind ManageWP sit real people who are ready to help our customers.
Our Customer Happiness Team are successful in their mission because we can see that most people would rather send an e-mail directly to a Customer Happiness Engineer, who they already spoke with and resolved a previous issue than to open a new ticket and wait for a reply from another team member.
You get to know "your" Customer Happiness Engineer and you would rather wait longer for an answer from a familiar face. We grow closer together and we consider our customers as our friends, so we hope that you don't mind if we are sometimes too casual, and we have to admit that we are pleased when you are completely relaxed and unofficial with us too.
We are not chasing a World Record when it comes to the First Response Time, Support Rating or Support Quality. There is only one thing that makes us happy and by which we measure our success as a team, and that is a happy customer.
Anyway, we thought that you might like to see some figures.
February Statistics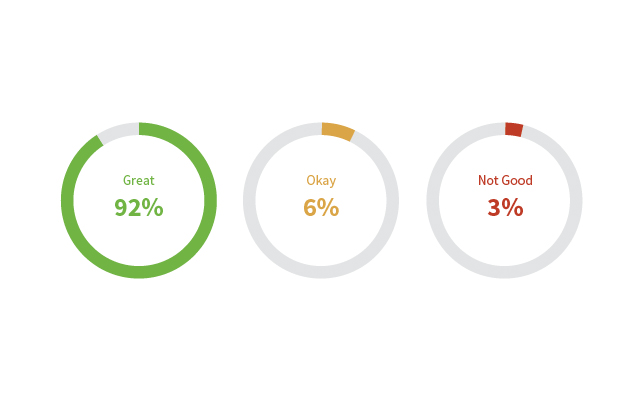 We have nothing to hide and we are proud of our results just because they show that you are HAPPY with us and that you would not replace us with any other service.
For those of you who are Okay and Not Good, we would like to hear more from you on what we could improve to make you feel Great.
We are tracking the most important metrics so that we can have a better idea of the quality of our service, but let's not forget that "he who thinks only of number one must remember this number is next to zero". We track our metrics to be able to see how well we are doing, but numbers don't mean as much to us as our customer's feedback and satisfaction.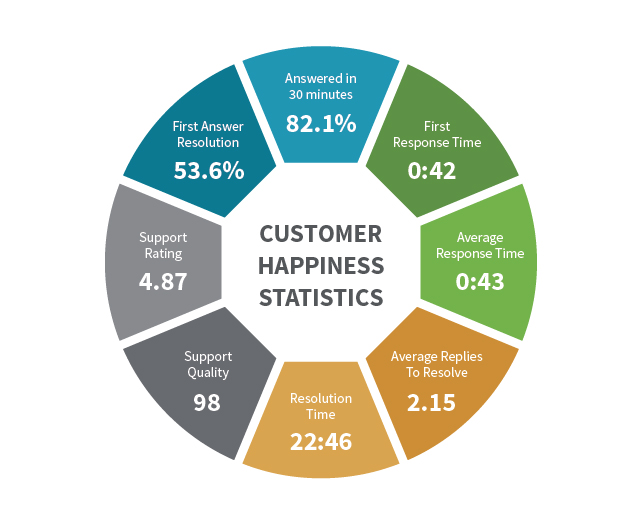 Our First Response Time
In February, our Customer Happiness Team resolved 53.6% of tickets in the First Response.
The study found that 32% of customers expect a response within 30 minutes and our results show that 82.1% of our replies came to you in the first 30 minutes. Please note that you have never received an automatic reply from our Customer Happiness Team.
Our First Response Time or the time needed to answer on a new ticket is on average 42 minutes, and we are looking to reduce this time. Some of our tickets were answered in less than 10 minutes and some after 1 hour – we are aiming to keep everything under half an hour for the next month.
What we are proud of is that we don't send automated responses like – "We are investigating an issue please be patient". Our customers will always receive a reply with a detailed explanation of what is causing an issue and how to resolve it. We go that extra mile at a cost of the response time.
Average Replies to Resolve a Ticket
Average replies to resolve a ticket is an average number of replies before a ticket is resolved and closed, and 2.15 is a result we are happy with.
Resolution Time of Tickets
Resolution time is the average time taken to resolve an issue, our average is 22 hours and 46 minutes. In this time, we have also taken into account tickets that need the attention of developers and further investigation. At times, we also need to contact the hosting provider and even, in this case, our resolution time is less than 24 hours.
Support Rating
Our support rating is based on the average grade that is calculated from your feedback. The options given are: "Please Improve" this is equivalent to Thumbs Down and "It's Awesome" equivalent to Thumbs Up.  Our average grade for this month is 4.87/5.
Support Quality represents the average score based on all metrics and our current score is 98/100.
Customer Feedback
We take all of our feedback very seriously and we use it to improve our service – so thank you dear customers for taking your time to talk to us and tell us how you feel.
We love to hear good news from you. We wanted to share a few comments dear to our heart.
You have saved my site! My hosting company wouldn't help, caused more problems – but your team has stood by me, helping all the way! I was introduced to your service through Bluehost, have switched hosting companies, but will continue to use your service because your support is terrific! Thank you!

Rachel Eileen Wright

Excellent support delivered quickly and clearly. I'm not sure how I got into the situation of building and running multiple sites, but now I am here – I couldn't do it without managewp – and specifically Orion, which is excellent.

Matt Rutherford

The staff who helped me recently were extremely knowledgeable and also demonstrated a great attitude – they were not condescending at all but clearly explained the issue and the process to resolve it. Thank you very much to Maja and Milos.

Meryl Mccay
We are sorry when at times you don't get the service you deserve. However, bad news helps us build our service.
"Okay this is getting weird, I am talking to 3 different people."
We realise that sometimes it can get confusing when you start talking to more than one Customer Happiness Team member, our reason for this is that we don't want to keep you waiting and it's our interest to resolve your issue as soon as possible.
We apologise if you feel at times like we are passing you along, that is not our intention. Next month we will try and be more transparent when our colleague takes over. We will openly acknowledge taking over a ticket with something like "My name is (…), I am going to carry on where my colleague left off".
Leave us a comment below and tell us, do you think this is a good idea? Would you rather wait longer for one person to get back to you?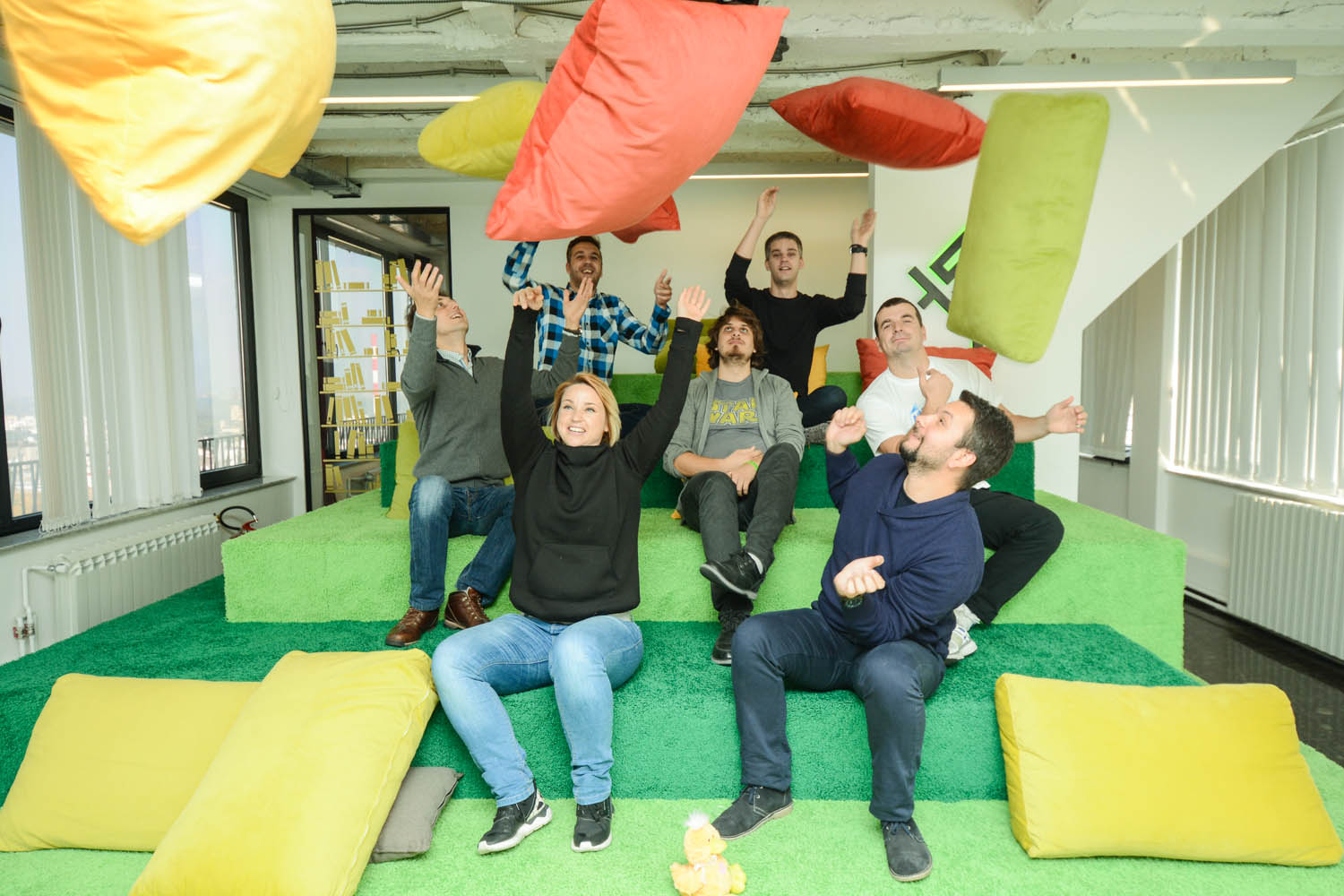 What's Our Secret And How Do We Accomplish The Results?
We are always ahead of our customers expectation and that is an easy task to accomplish when the entire company is one team focused on delivering happiness to customers in every possible way.
Everyone is working hard on their part – Customer Happiness Team is an important part of the big picture.
Developers are killing bugs and improving product reliability.

Designers are providing a user-friendly interface, that makes using our product enjoyable.

The Growth Team is keeping our customers informed about what's happening at ManageWP.

Customer Happiness Team is helping customers understand the product.