For those of you who were around from the very beginning with us, you will fondly remember our Classic dashboard, the very first dashboard that made WordPress website management possible. Today we are announcing the beginning of the end of the Classic, January 1st 2018, the Classic will no longer be available and all of our users will be on Orion.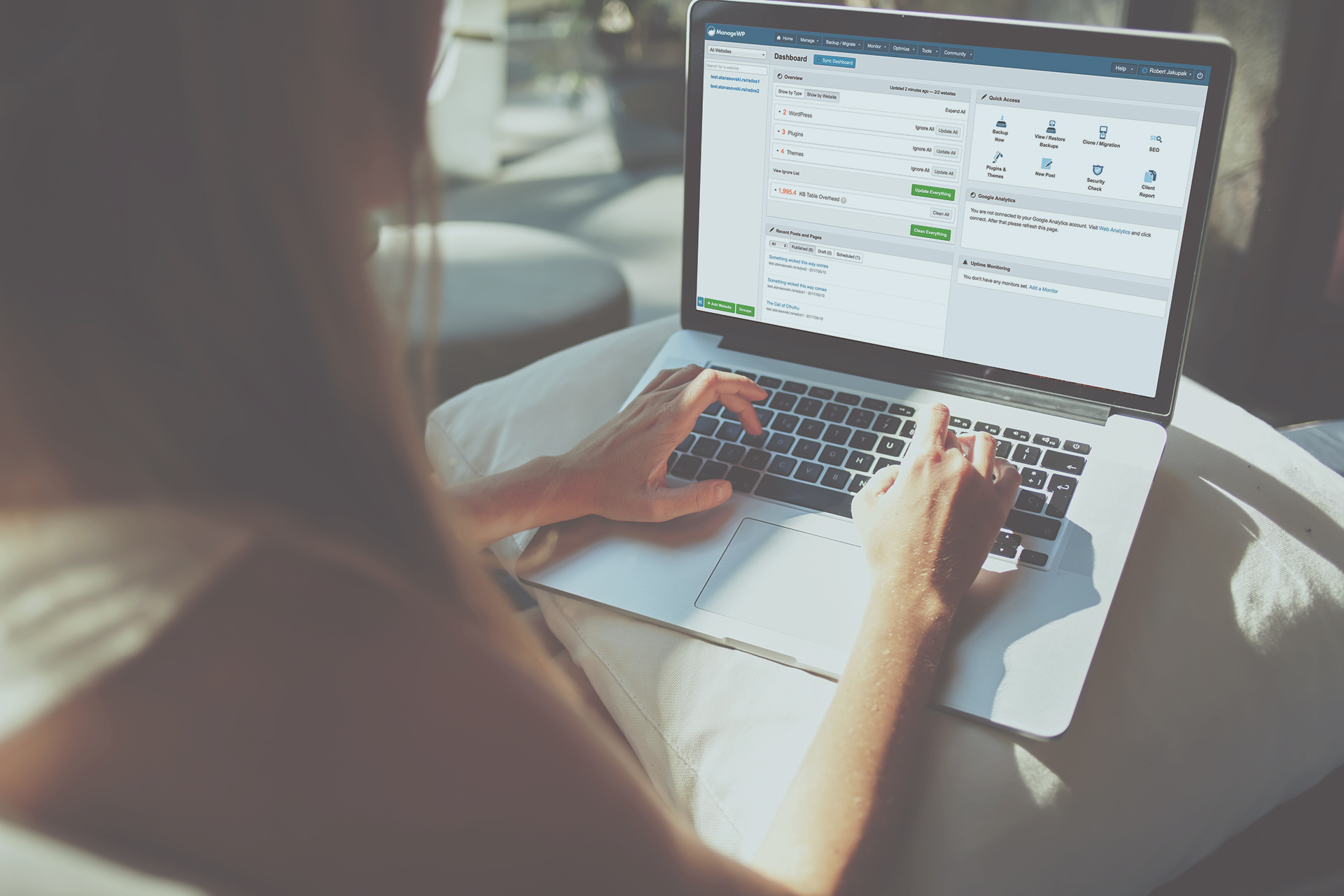 This article will give you all of the information about how to transfer over to Orion, as well as, a written montage of the first ever ManageWP product.
Why have we decided to close ManageWP Classic
The idea behind Orion was to take everything from the Classic that was good, add more features that our users asked for, and make everything faster, more reliable and more cost efficient. Orion was launched in July 2016, and we came out with some major improvements. Incremental backups that run off-site, new sophisticated Client Reports, better client management, per website pricing. This is just to name a few.
Understandably at the beginning a lot of you were hesitant to transfer over. Firstly, Orion didn't have all of the same features, pricing was confusing, and the Classic was a safe bet. Now, this isn't true. Orion has gone above and beyond our expectations, and is proving to be a on a new level when it comes to website management.
With Orion taking the lead, we have been dedicating all of our time to it. Our expert team of software engineers are working every day to make Orion a better platform. Just have a look at our roadmap for this year. With all of our efforts going into one place, and with the improvement in design and technology with Orion, it makes sense to say goodbye to our first dashboard.
How to transfer over to Orion, if you are a ManageWP Classic user
Remember when you transfer to Orion it's a one way transfer. There is no going back. Starting 2018 the Classic dashboard will be closed, and you will no longer be able to access your account on the Classic.
The transfer to Orion is easy. When you login to your Classic dashboard you will see a notification. It will give you more information about the transfer. By selecting yes transfer, we will take all of your websites, website notes and backups over to Orion.
You do, however, have to take care of a few things, such as exporting your SEO results, downloading and saving your Client Reports, and re-adding your Subusers as Collaborators. Full details of what you need to make a note of can be found here.
We do understand that changing dashboards is time consuming and can be challenging, so for this reason I have prepared some materials so you know what to expect from Orion and the transfer itself.
What's waiting for you in Orion
Firstly, awesome pricing. It seems like Orion pricing is complicated, but in reality it has been designed to save you money and get you more features for websites that need them.
Here are the main perks of our new pricing system:
You can add an unlimited number of websites for free.
Most of the premium features have free version as well.
Pay for the features after you use them.
You can create a custom plan for each website.
You can use a feature for less than a month and pay only for the period that you used it.
Have a look at our pricing comparison between Orion and the Classic. I think you will be pleasantly surprised.
New and improved features to play with. Under the hood Orion is run by completely new technology. What you will visibly notice is the new features we introduced that will make website management a breeze. Here is a features comparison between the Classic and Orion so you can have a closer look. Two features that are available in Classic, automatic plugin updates and post management, will be implemented in Orion as well.
Elegant design. With a new client's screen that helps you manage clients more efficiently, you can also expect updated widgets, better website filtering options, and overall a cleaner and neater design. Take a look at the main differences between the Classic and Orion UI.
For all of the other questions that naturally might spring to mind, we have created an FAQ, that also explains how your Classic plans will be transferred over.
A little bit of ManageWP history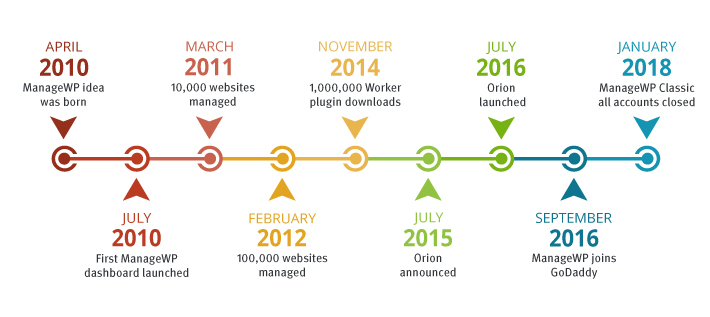 The idea for the first ManageWP dashboard was born in April 2010, and the first ManageWP beta was launched in July. Already by March 2011 we were celebrating 10, 000 blog on ManageWP. Looking back at that time our users were limited to a 100 websites only, and today it's unlimited. In April 2011, we saw the first email notifications made available, and by July of the same year we were working on our first interface re-design.
By December people knew about ManageWP and we were getting lots of love from our users. Here is a golden oldie.
Thank you so much for ManageWP. It is an answer to my prayers! – lovebostons
Early 2012, on February 20th we surpassed 100, 000 managed websites on ManageWP, another proud milestone. A month later the ManageWP crew grew to 10 people. In 2013, we were managing 200, 000 websites and we launched ManageWP.org. By November 2014 we reached 1,000,000 Worker downloads, and in January 2015 we launched the closed beta for Orion. We went from using WordPress for the ManageWP Classic server to building a custom, tailor made server on AWS for Orion.
The ManageWP Classic made all of our early milestones possible, you believed in it and you helped us build it from the ground up. The Classic was born as an idea from us, but really it was made by you. Now to think that we are all 7 years older and wiser, so much has been learnt, changed and improved. We feel that, although, the Classic will always have a special place in our heart it's time for us to let it go, and once again look towards the future.
Today, we are a proud part of the GoDaddy family, with over 45 people working in the GoDaddy Belgrade office as part of the ManageWP team. It's funny to think that 7 years ago some of us were only 15 years old, and today just 7 years later the same people are working tirelessly to make ManageWP the best website management platform of its kind.
Today is the end of one ManageWP lifecycle, but look where it got us, and who knows where we will be in another 7 years.