Are you about to launch a new WordPress blog, but not quite ready to go live yet? Or maybe you're planning a major redesign and need to take your site offline temporarily. Whatever the reason, having a Coming Soon page can help you build anticipation and excitement for your new site while you work on it behind the scenes.
In this tutorial, we'll show you how to create a "Coming Soon" page for your WordPress site or blog, without spending a dime. Let's get started!
Back in the 1990s, 'Under Construction' pages were the bane of many a web surfer. For those of a certain age and experience, memories of the now-defunct GeoCities abound.
But these days, the 'alpha' period of a website's development offers a huge opportunity to give your launch a kickstart. Your 'Coming Soon' page can be utilized to build anticipation, update visitors on the latest development news, link to social media profiles, and (last but definitely not least) collect email addresses. In fact, the pre-launch period can prove to be a very lucrative time in terms of your email signup conversion rate.
Whilst there are some great paid options for 'Coming Soon' plugins/themes (SeedProd being a notable example), it is understandable that you might not want to fork out for something that you will only use for a few days or weeks. With that in mind, I have gathered a selection of the best free 'Coming Soon' themes available for you below.
How to build a Coming Soon page for your WordPress blog for free?
There are three ways to create a dedicated Coming Soon page for your site and in this article, we'll explain them all.
One way is to use ManageWP, yes. One of our core features, maintenance mode comes with two templates to choose from, and it comes with 1 click automated process. Simply choose the desired template, like Coming Soon, for example, click Activate and you're all set. Now, if you're familiar with HTML, you can easily customize or completely edit the template to fit your needs and then Activate it and it's done. Either way, our solution is a valid option, whether you're a novice or an experienced WordPress user.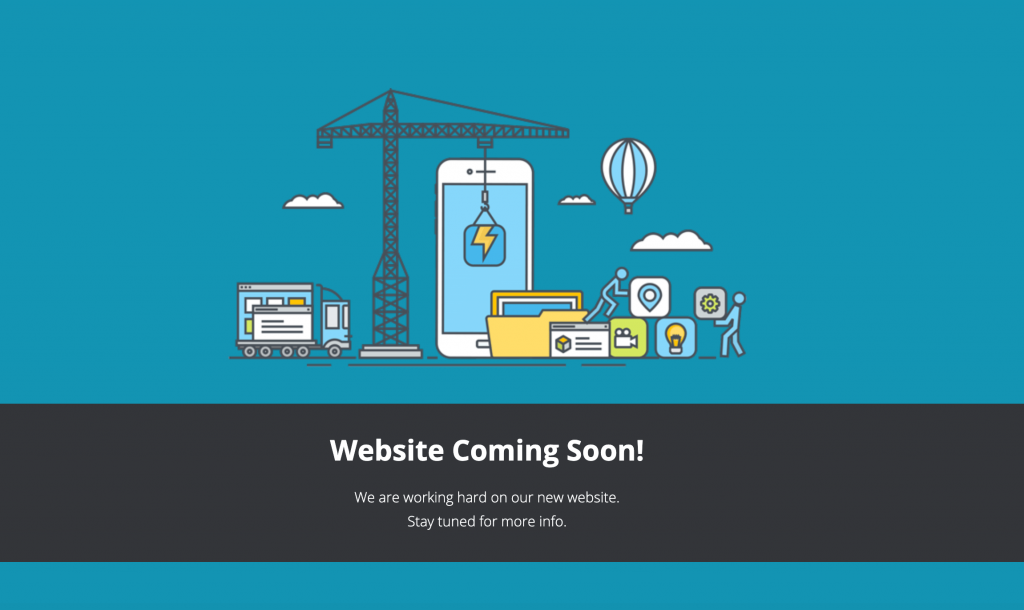 The second way to do it is manually by simply going to your WordPress dashboard, choosing Pages > Add New, then customizing it to fit your Coming Soon needs. That means filling out all the necessary information, contact and what you need to include to inform your visitors to stay tuned. However, this is not simple as it sounds for novice WordPress users, since it requires you to perform one more step within the WordPress dashboard. After creating a Coming Soon page, you need to go back to the left sidebar, choose Settings > Reading, and then pick Static page to select your Coming Soon page. This will ensure that only the Coming Soon page is visible, and not the entire website.
And the third way would be to use the dedicated plugin. Once you install it, simply follow its steps to build and configure the page, define its content, and optimize it and you're done! Now, it is as easy as 1, 2, 3, however… The trick is to know what to include on such a page, which is why we're sharing that information as well.
What to Include on Your Coming Soon Page
We have already mentioned a few key elements that you should consider including on your 'Coming Soon' page, but here's what I consider the full list for your consideration:
Email sign-up form, to mak it easy to contact you if they have any questions
A countdown timer/progress bar, to let visitors know when you're back and live
Social media buttons (i.e. links to your profile(s)), to keep them interested and informed while your site or blog is under construction
Recent tweets/comments relating to the site, to make the page useful, not just an advert lookalike
Testimonials (especially appropriate for products sites), useful for new visitors to make it clear what your blog/site is about
Related news snippets (why not make the static page more practical?)
Other contact details
Overall, the goal of your "Coming Soon" page should be to create anticipation and excitement for your new blog, while also providing visitors with a clear sense of what to expect from your site. Simultaneously, you'll want to keep it pretty simple — I'm not suggesting that you lump all of these elements into your page. For many people, a simple signup form and some social media buttons will probably suffice.
Bonus tip
Couldn't finish this tip without sharing several captivating Coming Soon phrases you can use:
"Get ready for something big!"
"The countdown is on!"
"We're almost there!"
"Coming soon to a screen near you!"
"Stay tuned for our grand reveal!"
"Launching soon – be the first to know!"
"Get excited, something amazing is coming!"
"Our site is under construction, but great things are in the works!"
"The future is almost here – stay tuned!"
"Something awesome is on the horizon – join us soon!"
If you're concerned with SEO issues relating to placing a 'Coming Soon' page, have your fears dispelled by this brief video clip from Matt Cutts:
Free Coming Soon WordPress plugins
Whether it's a brand-new site or you're doing an existing one a facelift, these are some of the best Coming soon plugins to choose from.
This free maintenance mode plugin for WordPress could be a great option for you. While it doesn't offer all the premium features of paid plugins, it provides everything you need for a basic "Coming Soon" page. LightStart comes with all basic customization features for building a useful Coming Soon page:
Fully customizable options (change colors, texts, and backgrounds).
Subscription form (export emails to .csv file).
Countdown timer (remaining time).
Contact form (receive emails from visitors).
Coming soon page;
Landing page templates;
WordPress multisite;
Social media icons;
SEO options;
Exclude URLs from maintenance;
Bot functionality to collect emails in a friendly and efficient way;
and more!
A free plugin that comes with ready-made design options for your maintenance and Coming Soon page needs. Maintenance is an easily customizable plugin that helps you produce a fully professional Coming soon static page with lots of features such as:
Customizable logo, fonts, colors, text icons, backgrounds, title, headlines, etc.
Google Analytics support
Full-screen background and background blur options
Support for all popular caching plugins
503 error on/off
and more.
One of the most popular Coming Soon plugins is a freemium plugin and yet comes with lots of free features that come in handy when creating your page. SeedProd free version works as an easy-to-use page builder and comes with the following features:
Enable Coming Soon, and Maintenance Mode pages with a single click.
Customize pages in real time with live previews and version control.
Import/Export landing pages
100% responsive design
Multisite and BuddyPress support
Use with any WordPress theme
and more.
Top 'Coming Soon' Themes
I've included five of the best free 'Coming Soon' themes that I have been able to find. Each of them offer the basic functionality you would expect with variances in terms of extra features. Enjoy!
Coming Soon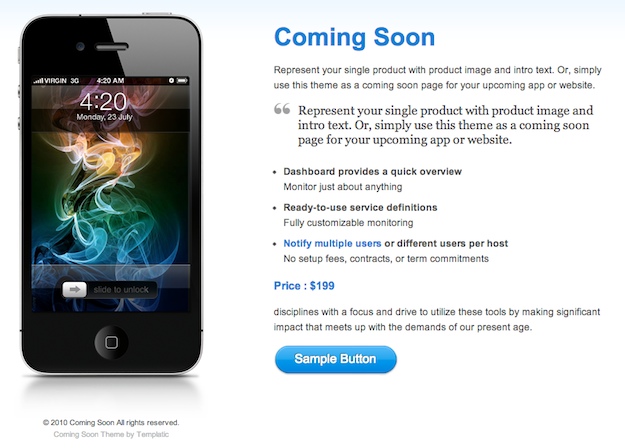 Placeholder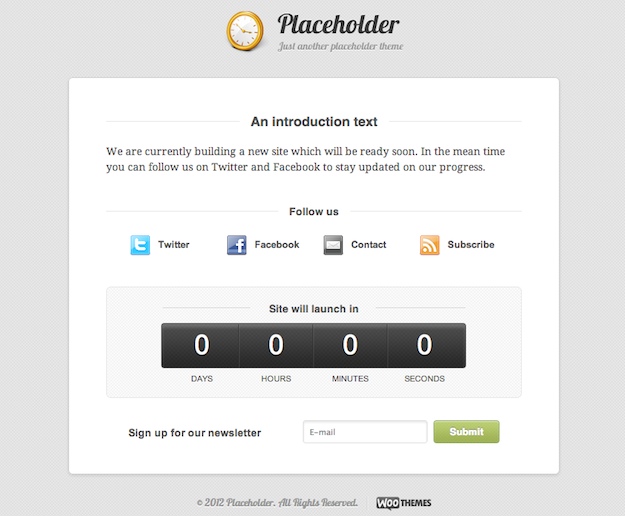 Beback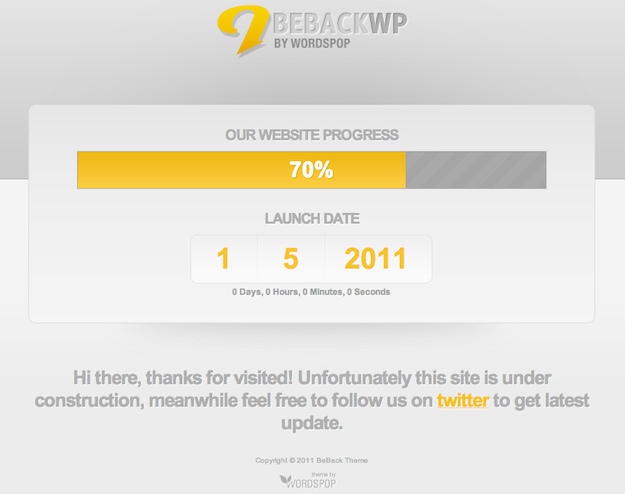 Timelaph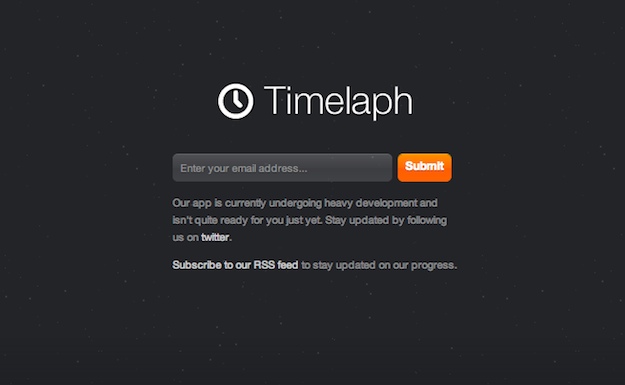 Holding Pattern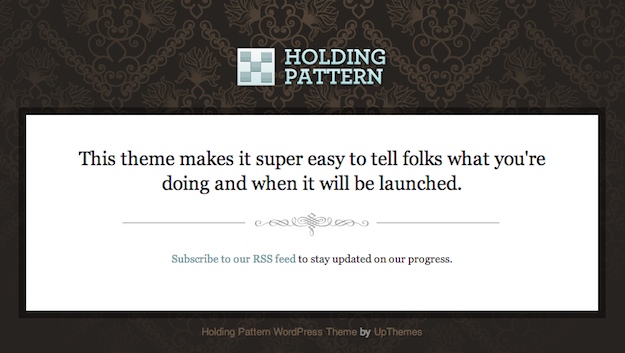 To conclude
The key takeaway is to keep things simple and create a well-informed Coming Soon page that gives your visitors all the necessary details. Hopefully, this beginner-friendly guide comes in handy and helps you create the page you need. And if so – tell us more in the comment section below! 😊
Creative Commons image courtesy of Motherboard