Are you looking for a way to create a membership site on WordPress and unsure where to start? Read our guide and pick the solution that best fits your online business needs!
What is a membership site?
A membership site is a website that offers exclusive content, resources, and services to its registered members. Unlike regular websites that provide information to the general public, membership sites are designed to provide a more personalized and tailored experience to a specific audience. By becoming a member, individuals gain access to premium content, educational materials, community forums, and other valuable resources that are not available to non-members. Membership sites are commonly used by small and medium businesses, online coaches, and educators to monetize their expertise, build a community, and establish a recurring revenue stream.
What are the benefits of having a membership website?
Membership sites offer several advantages for small and medium businesses, online coaches, and educators:
· Monetization: Membership sites provide a platform for generating recurring revenue by offering premium content or services through subscription fees or one-time payments.
· Targeted Audience: By creating a membership site, you can attract and engage a specific audience that is genuinely interested in your niche or expertise. This allows you to build a loyal community and foster deeper connections with your members.
· Exclusive Content: With a membership site, you can create and share high-quality content that is exclusive to your members. This could include in-depth articles, video tutorials, downloadable resources, or online courses that provide immense value and help establish you as an authority in your field.
· Community Building: Membership sites enable you to foster a sense of community among your members. Through features like member forums, discussion boards, and live Q&A sessions, you can facilitate interactions, knowledge sharing, and networking among your members, creating a vibrant community around your brand.
· Recurring Revenue: One of the significant benefits of a membership site is the potential for recurring revenue. By offering different membership tiers or subscription plans, you can create a predictable and sustainable income stream that allows you to focus on delivering value to your members.
Why create a membership website on WordPress?
First of all, here's why WordPress is an excellent choice for a membership site:
· User-Friendly Interface: WordPress offers an intuitive and user-friendly interface, making it easy for beginners to get started with building and managing a membership site.
· Customizability: WordPress provides a wide range of customizable themes and plugins that cater specifically to membership functionality. You can easily personalize the design and layout of your site to align with your brand and create a unique member experience.
· Membership Plugins: WordPress offers a variety of membership plugins that seamlessly integrate with your site and provide essential features such as user registration, content protection, payment gateways, and access control. These plugins eliminate the need for custom development and make setting up a membership site more accessible.
· Extensive Plugin Ecosystem: With WordPress, you can access a vast library of plugins that can enhance your membership site's functionality. Whether you need advanced analytics, email marketing integration, or community management tools, there are plugins available to meet your specific requirements.
·       SEO-Friendly: WordPress is inherently optimized for search engines, making ranking your membership site well in search results easier. With proper optimization techniques and plugins, you can improve your site's visibility, attract organic traffic, and grow your membership base.
If you're just starting out with WordPress, you can find additional guidance on building your first WordPress website here.
How to ensure you'll have a useful membership website on WordPress
It all starts with good planning. Setting the foundation and making sure it's on solid grounds, to provide the best possible outcome for your users. With that in mind, here are the necessary steps in addition to a guide on how to make a membership site on WordPress.
A. Define your goals and objectives for the membership site
Before diving into building a membership site, it's essential to define your goals and objectives. Ask yourself the following questions:
· What is the purpose of your membership site? Is it to provide educational content, offer coaching or other services, build a community?
· What are your revenue goals? Are you aiming for a specific number of members or a certain level of recurring income?
· What value will you provide to your members? Determine the unique benefits, resources, additional material, or services that will make your membership site enticing.
· How will you measure success? Set key performance indicators (KPIs) to track member engagement, revenue growth, and other metrics that align with your goals.
B. Identify your target audience and understand their needs
To create a successful membership site, it's crucial to have a clear understanding of your target audience. Consider the following:
· Who is your ideal member? Define their demographics, interests, and pain points. Understand what motivates them to join a membership site and how your offering can address their needs.
· Conduct market research. Look into existing competitors' membership sites targeting a similar audience. Identify gaps in their offerings and areas where you can provide unique value.
· Create member personas. Develop fictional profiles that represent your ideal members. This exercise helps you tailor your content, features, and marketing messages to resonate with your target audience.
C. Determine the type of content and resources you will offer
Content is the backbone of a membership site. Consider the following:
· Identify your core content offerings. Determine the format, such as videos, articles, webinars, templates, downloadable resources.
· Consider the level of exclusivity. Decide whether you will offer content that is entirely exclusive to members or a mix of exclusive and publicly available content.
· Plan content updates. Determine the frequency of new content releases and whether you will provide it all at once or deliver it over time using a drip content strategy.
· Consider additional features. Explore options such as discussion forums, member directories, expert Q&A sessions, or live webinars to enhance the membership experience.
D. Research and analyze your competitors' membership sites
Analyzing your competitors' membership sites can provide valuable insights. Follow these steps:
· Identify your direct competitors. Research membership sites in your niche that target a similar audience.
· Evaluate their offerings. Analyze their content, pricing models, membership tiers, community features, and overall user experience.
· Identify gaps and opportunities. Look for areas where your competitors are falling short or where you can differentiate yourself by offering unique features or content.
· Learn from their successes. Take note of any best practices or strategies that have proven successful for your competitors. Adapt and improve upon these ideas to suit your own membership site.
E. Set a budget and allocate resources accordingly
Creating and maintaining a membership site requires careful budgeting. Consider the following:
· Hosting and domain costs: Allocate a budget for hosting your website and purchasing a professional domain name. Choose a reliable hosting provider that can handle the traffic and functionality of a membership site.
· Plugin and theme costs: While WordPress itself is free, premium membership plugins and themes may have associated costs. Research and budget for these expenses based on your desired features and design.
· Content creation: Determine whether you will create the content yourself or hire professionals. Consider any associated costs for video production, graphic design, or content writing.
· Marketing and promotion: Set aside a budget for marketing your membership site. This could include online advertising, social media campaigns, email marketing, or influencer collaborations.
· Ongoing maintenance and support: Account for ongoing maintenance and support costs, including plugin updates, security
The ultimate guide to creating a WordPress membership site
Once you apply all the steps we mentioned above, it's time to set up and structure a membership site on WordPress. And you can do this in two ways: with the dedicated plugin or by making a part of your site a private, members-only place. Here are recommended membership site plugins:
If you're looking for a comprehensive membership plugin to turn your WordPress website into full-on members area machine, MemberPress is the way to go. It gives you complete control of what content and area of the site your users can see, based on what membership or digital product they choose. Perfect for selling online courses, digital downloads, and other relevant resources. Some of the features you can use are WordPress Affiliate plugin, Coupons, WordPress Subscriptions… On top of that, it comes with various third-party integrations, from email services to Amazon Web Services, podcast hosting, and more. And for the full membership site experience, MemberPress comes with built-in Apple Pay, Google Wallet, PayPal, and Stripe payment gateways. Lots of reasons to keep this one in mind!
A go-to tool for building an online business, not just online courses. Thrive Apprentice comes with full design control and is filled with all the marketing tools you need to step up your membership site with WordPress. Easy to use and start with, Thrive Apprentice lets you use different media formats to create course lessons. Every piece of membership website is customizable with this plugin and the same goes for certificates as well. Your courses are not in English? Not to worry, Thrive Apprentice supports all the languages, and it comes with SendOwl, ThriveCart, and WooCommerce integration that allow you to easily integrate with PayPal, Stripe, and many other payment providers.
If these two mentioned above scare you or you need an even easier and simpler solution, look no further than WPForms. Initially a very powerful and one of the most popular contact plugins, WPForms has more in its sleaves. Choose this plugin if you only need users to register and log in from frontends, not accessing the WordPress admin area. So, if sign-ups, user registration, text or article submission is all you need – WPForms will take care of it with ease.
However, if you're running an e-commerce business and need a solid, reliable membership tool, look no further! The WooCommerce Memberships plugin by SkyVerge offers a range of powerful benefits for creating and managing membership sites on WordPress. With it, you'll transform your store into a fully-functional membership site, to help you monetize your content and services. One of the key benefits is the ability to restrict access to specific products, pages, or content based on membership levels, ensuring that only registered members can view and purchase exclusive offerings. This plugin provides flexible membership plans, allowing you to set up different subscription levels with varying pricing, duration, and content access. It also offers seamless integration with other popular WooCommerce extensions, such as Subscriptions and Bookings, allowing you to create comprehensive membership packages.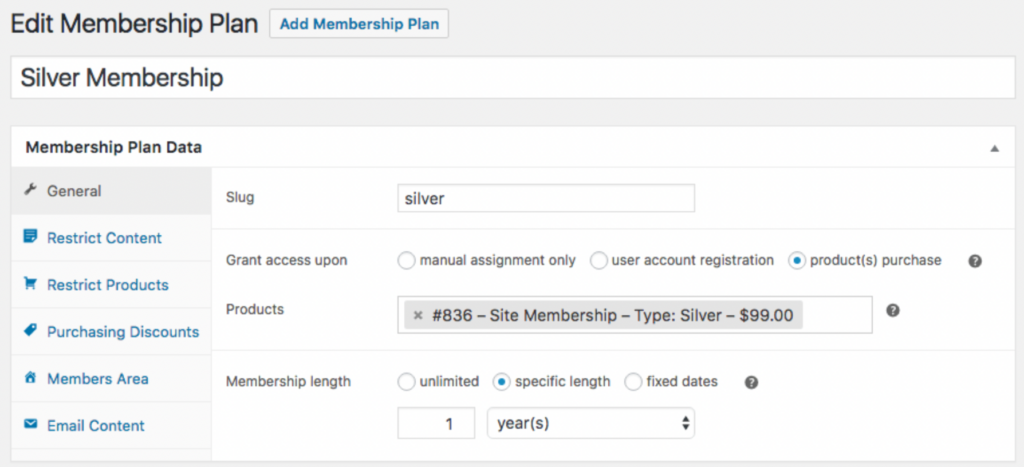 For more details on how to use and integrate this plugin, be sure to check out Carrie Dils's course "Building a WordPress Membership Site with Ecommerce" on LinkedIn. And also, take a peek at these great case studies to see all the ways to use this plugin.
Make your WordPress website, or part of it, private
If, in any case, you don't need the whole site to be a membership one, just a part of it, there is a way. Say you need a Page or a Post hidden, visible to only your paying users, here's what you're going to do:
· Go to the dedicated Page or Post
· Click on the Publish section then the Visibility feature
· Click Edit
· Choose Password Protected or Private

Congratulations! You have limited access to premium content for your paying users, just like that!
In conclusion
There you have it. An easy and easier way to create a membership site on WordPress. Whether you choose one of the advanced membership plugins or you opt in for a simpler solution, you have all you need to have a well-functioning membership business in WordPress. And to manage it, keeping everything safe and secure – take a look at how ManageWP can help and let us know in the comment section what more we can do for you!