Have you ever tried running a blog? Or maybe even more than one? If you are a blogger, content marketing strategist or agency you will know how time consuming driving relevant traffic to sites via a blog is. However, if you know how to plan and equip yourself with the right tools, blog management can become more productive, more efficient, and pretty fun! Here are a few tips and tricks to get you started.
Enjoy It
Blog management can seem overwhelming and even boring at times, but if you put energy into an attitude, that attitude grows. So if you find it frustrating at the beginning, chances are you will be in a pretty bad mood at the end. Get yourself in a good mood, fire up your passion for your blog, and do it with enthusiasm!
I am going to use bananas as an example, because it is easy to feel enthusiastic about that smiling yellow sunshine fruit!
Plan. Plan. Plan.
Strategic planning when it comes to blogging can save you hours. Just think, it is much easier to reach your final destination when you have a good map, or sat-nav. You need to think about a few things when planning.
What's going on in your market, what is the demand? Don't write about apples, if people are eating bananas. Make sure you know what your readers are after, so that you can start planning.
What are your competitors doing? You don't need to copy your competitors, but it is definitely worth seeing how they are thinking, it might just give you the right idea. If they are already blazing a trail, could you shift your blog focus to complementary ideas? Banana hooks and boxes perhaps?!
Who are you writing for? This is the oldest trick in the book, but it often gets overlooked. Take the time to learn about your audience. Don't try sell your bananas to lions when there are plenty of monkeys in the market already.
Create a content plan. Decide in what order, from what perspective, and from what angle you want to talk about bananas. Come up with some concrete titles (you can always change them), but give yourself an idea to follow.
For example:
5 Reasons Bananas Make A Great Snack And Dessert
All The Benefits Bananas Can Have On Your Body
Why Are Bananas That Shape?!
Three completely different ideas, yet they can be equally effective on certain audiences.
Set Goals
Setting goals is key to blog management. With a goal in mind for each week or month, you can cut out tasks that are unnecessary. If say you are aiming to rank for a certain keyword (like bananas!!) then there is no point in writing a blog post on anything but bananas. Say you're next week's goal is to up the ante on your image quality, you might focus your efforts on Photoshop and putting finishing touches on your latest banana snaps. With clearly defined goals in mind, you can easily judge if what you are doing is improving your blog, and stop wasting time with things that are not working for you.
Set Deadlines
Too often blog posts get rescheduled or posts go up when you "get round to it", for effective blog management you need to avoid this as much as possible and set clear deadlines. Some might argue that deadlines are arbitrary. In my experience this hasn't been the case and with deadlines I tend to be more productive. Listening to Parkinson's Law, work expands so as to fill the time available for its completion, it would make sense that setting a deadline for your post will encourage you to get it done by that date.
Setting deadlines means you can control how many post you post per month, that's important in the game of productive blog management. HubSpot worked out that the number of posts per month directly affects your web traffic. The impact of monthly blog posts on inbound traffic is extensive.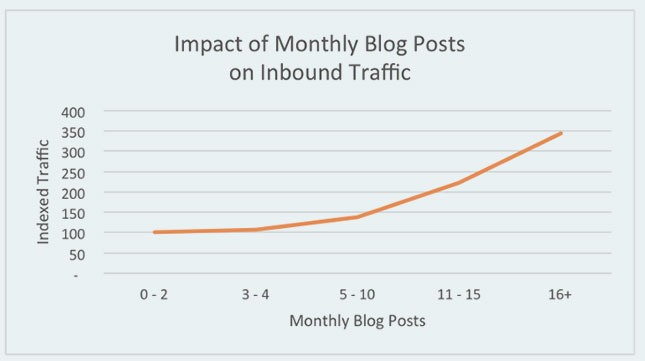 By setting deadlines you can encourage yourself to complete work on time and aim to hit the required number of posts per month to increase traffic.
Do Social Media Right
Have you found yourself spending an equal amount of time writing and promoting your blog post? Firstly, the best type of blog promotion is by others, if you create a high quality blog post you will get re-tweeted, liked, and shared without having to do anything. However, you also need to have your own SM strategy, that takes less time than writing the actual article. I recommend you sign up for Buffer, you can sit down and write all of your tweets, and posts at once and schedule them through buffer. It means you don't need to worry about having something to say everyday.
The more research you do at the beginning, when you are planning your blog, less time you waste from then on.
Blog Management Tools
Blog management tools are your secret weapon. No one can see them, but you, yet they make you indestructible. The above steps are important and require careful planning and execution, but to make doing them easier you need to have all of the right tools at your fingertips. Sit down and choose a platform or dashboard, like ManageWP, that will do all of the manual labor for you. Even if you have one blog, management dashboards beat your stock WordPress dashboard. With a website management dashboard, you save yourself hours of repetitive work. Instead of checking up on every blog, or worrying/ remembering what needs updating you have everything neatly organized in one place. Not to mention that with ManageWP you have Google Analytics integrated (for as many accounts as you want), so you don't have to leave your dashboard to keep track of your results. It's the banana on top of the banoffee pie.
Track Your Progress
How do you know if you are managing your blog well and being more productive unless you have results to go by. You need to make sure you have a way of tracking results and also comparing them from month to month. Create your own comparison chart, table, excel, whatever works best for you. It's important to reflect on your results and see how many bananas people are eating this month. Just a word of warning, don't become obsessed with checking your comments, and page-views. Don't tie up your worth with the number of readers. It's your job to keep trying out new things and keep producing quality content. Readers will come.
Do You Feel More Productive?
Blog management and productivity are not a sexy subject, yet they are crucial to the success of your website and the number of conversions. Unfortunately, most blog management  is based on traditional project management ideas that don't work in an online dynamic setting. When managing a blog you need to be more flexible and iterating, and you need the right tools to help you along the way.
One last thing, do you feel like bananas?! Go on, treat yourself!